As reported sightings of the sun across the UK seem to indicate that this unusually cold and wet spring period is giving way to more usual weather, Emergency Departments (ED) in England are experiencing unseasonably busy days. Social media posts from ED staff and private message forums reveal that many hospitals are experiencing near record level of attendances and almost unprecedented demand for this time of year.
It is unsurprising that Dr Katherine Henderson, president of the Royal College of Emergency Medicine (RCEM), has called for urgent support for the entire health system, against a background of primary care colleagues providing record numbers of booked appointments amid intense pressures, and major increases in ED attendances. There appears to be a real threat of a further wave of COVID, and an exhausted workforce has had little chance to recuperate from a bleak and often harrowing winter period. It is a coincidence that this fell on Emergency Medicine Day (27 May),  the aim of which is to make the population and the decision makers think and talk about emergency medicine and emergency medical care.
This ramping up of pressure within the ED is occurring whilst the primary measurable metric, the 4-hour target, is undergoing replacement. This target has been in place for over 16 years and has not been achieved nationally since 2015. There are reasonable grounds to update this target, as there have been advancements in emergency medical care, significant changes in population demographics and in access to other services. The 4-hour target was a useful tool to drive huge improvements in the delivery of emergency care and to increase resources, but it was wrongly focused on just ED performance, when many other variables remain important both from clinical and patient perspectives.
New Proposals
The newly published consultation document, proposed  a bundle of metrics (below), that should provide better information than the blunt 4-hour target.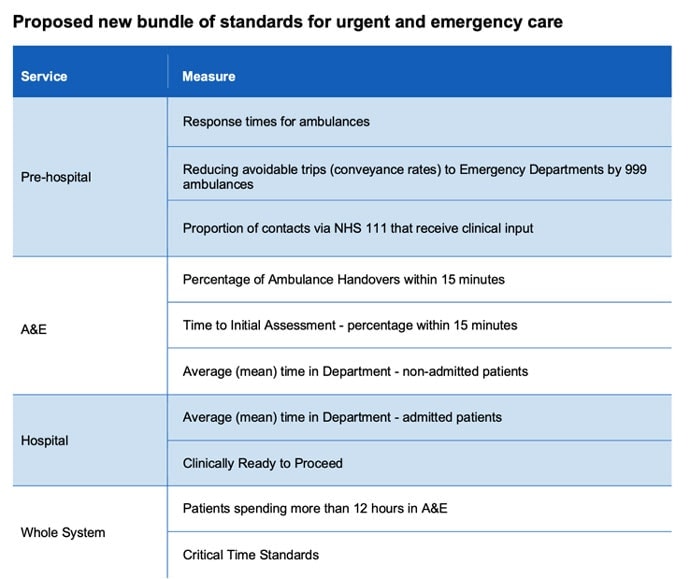 Perhaps unsurprisingly, the consultation document and the subsequent response from interested stakeholders has been largely positive, possibly illustrating that the 4-hour target has had its day.
RCEM supports the implementation of the bundles and emphasises the need for a clear programme of implementation ahead of winter, once again highlighting the need to avoid unacceptable overcrowding and 'corridor care', with the inherent increased risks of spreading infections. EM staff will welcome the clarity that '12-hour waits' will be measured from time of arrival, to allow proper comparisons and to avoid possible 'gaming' and it is clear that it can rarely be for the patient's benefit to be in the ED for over half a day. I do wonder what they will do about the unfortunate mental health patients who are those that most frequently endure such long and unacceptable delays
The intentions of some of the proposed metrics in the bundles are somewhat obvious and self-explanatory eg, it is inarguable that response times for ambulances are important and that delays can be catastrophic, but others may need some clarification including establishing the thresholds and reporting intervals.
To better manage non-emergency attendances to EDs across the country, NHS-111 has been able to book appointments in the ED following telephone assessment. Anecdotally, this appears to be contributing to increased ED workload and many of these patients do not need specialist emergency care and would be better streamed elsewhere. There is obvious scope for improvement in the NHS-111 system, and surely it should be possible for it to access other parts of the urgent care system, whether that be GP out-of-hours services, or ambulatory care pathways within secondary care settings.
Related to this is the conveyance rates to EDs by 999 ambulances. Although it can be a difficult and unenviable task to manage, a large proportion of patients that are brought to the EDs by emergency ambulances plainly do not have an emergency problem. Our pre-hospital colleagues need support and could be empowered  to access to the right care at the right time in the right setting, and this should include speciality assessment areas, bypassing the ED if no emergency interventions are required.
Clinically Ready to Proceed
One of the new metrics is "clinically ready to proceed", which NHS England has defined in the data dictionary as: 
"An emergency care clinically ready to proceed timestamp is the first date and time that the care professional, authorised to discharge the patient from the emergency care department, makes a clinical decision that the patient no longer requires ongoing care in the emergency care department."
From experience, this metric is likely to be useful to identify flow issues. We know that when patients are delayed in being admitted to wards it pushes further pressure back onto the ED. RCEM stress that this must be owned by EM clinical staff, as we are best placed to decide that a patient has had appropriate care (adequate pain relief, time critical intervention like antibiotics etc) and is ready to be discharged or admitted. RCEM also state that from this time stamp, it should be less than 60 minutes until leaving the ED.
On initial viewing of these bundles, I think they may prove useful, but we need to ensure that the whole system is set up and resourced to provide this more holistic approach to patient care. There are already fears being voiced that the abandonment of the 4-hour target may reduce the pressure on trusts to maintain flow thorough the EDs, and if this is the case it will result in over-crowding with its inherent risks to patients and staff.
Although identifying and diverting non-emergency patients to more appropriate care settings will hopefully help to improve the situation in the EDs, it is worth noting that most of our current 4-hour breaches, are not these patients, but are the patients waiting for admission. These new bundles will do little to address the chronic shortage of NHS availability, which remains diminished due to COVID infection control measures.
We cannot go back to the state of play before the introduction of the 4-hour target when patients could sometimes spend days on trolleys waiting for a hospital bed to become available.