Dr Anthony Cunliffe Explains How Fast-track Services Can Support GPs to Refer Patients With Nonspecific but Concerning Symptoms Suggestive of Cancer
Read This Article to Learn More About:
the role of rapid diagnostic centres (RDCs) in investigating patients with nonspecific but concerning symptoms
the importance of gathering a robust patient history and completing all relevant filter function tests before referral
the potential for RDCs to improve the patient experience by faster diagnosis of cancer, or provision of reassurance.
Diagnosing cancer in primary care can be difficult. A typical full-time GP will see only eight or nine new cancer diagnoses each year, but they will see patients every day who present with symptoms that may represent an underlying cancer.1 Various factors hinder the recognition of cancer, not least that few people walk through the door with 'red-flag' symptoms that clearly warrant an urgent referral for suspected cancer.
The reality is that patients often present with symptoms that are likely to be caused by a benign condition, but that are among the myriad symptoms with which cancer can present. This list is long, but there is a shorter list of symptoms that regularly cause concern without necessarily indicating referral via the 2-week wait pathway (which requires that patients referred for suspected cancer are seen within 2 weeks). We all see patients with symptoms such as persistent abdominal pain, weight loss, bloating, nausea, or fatigue that trigger a 'gut feeling' that something serious may be wrong, but who present a dilemma because they do not meet the 2-week wait criteria. Increasingly, we also see patients who do meet the 2-week wait criteria, but who are outside the age ranges specified. What should we do for these patients? We know that we should trust our hunch because there is evidence to support its value,2,3 but if there is no clear referral pathway, how can we ensure that these patients are swiftly and appropriately investigated?
The 2-week wait criteria do give us some leeway in allowing referrals outside of the requirements,4 but an additional problem is that many of these symptoms can represent multiple underlying cancers, posing a challenge to GPs as to which pathway to choose. Another challenge with 2-week wait pathways is that, because they are tumour specific, it is possible to refer a patient who is then investigated and has that specific cancer ruled out, but is left with symptoms that persist undiagnosed.
The Accelerate, Coordinate, Evaluate Programme
In recognition of these challenges, NHS England, in partnership with Cancer Research UK and Macmillan Cancer Support, launched the Accelerate, Coordinate, Evaluate (ACE) Programme in 2014, with a key objective of providing evidence to support new diagnostic pathways, including for patients with nonspecific but concerning symptoms.5,6 The ACE Programme, triggered by work undertaken in Denmark,6,7 examined various different service models with the potential to address the gap identified in England,8,9 and led to the launch of rapid diagnostic centres (RDCs),10 which are part of the Cancer area of work in theNHS long term plan.11,12
In all areas of the country, GPs are now required to have access to an RDC to which they can refer patients who have nonspecific but concerning symptoms that could be indicative of cancer, but who otherwise have no easy-to-access, expedited diagnostic pathway.13 Figure 1 was produced as part of the ACE Programme to show how multidisciplinary diagnostic centres, the precursors to RDCs, could achieve faster diagnosis and improve the experience of care for these patients.8,14
Figure 1: How Multidisciplinary Diagnostic Centres Could Improve Early Cancer Diagnosis14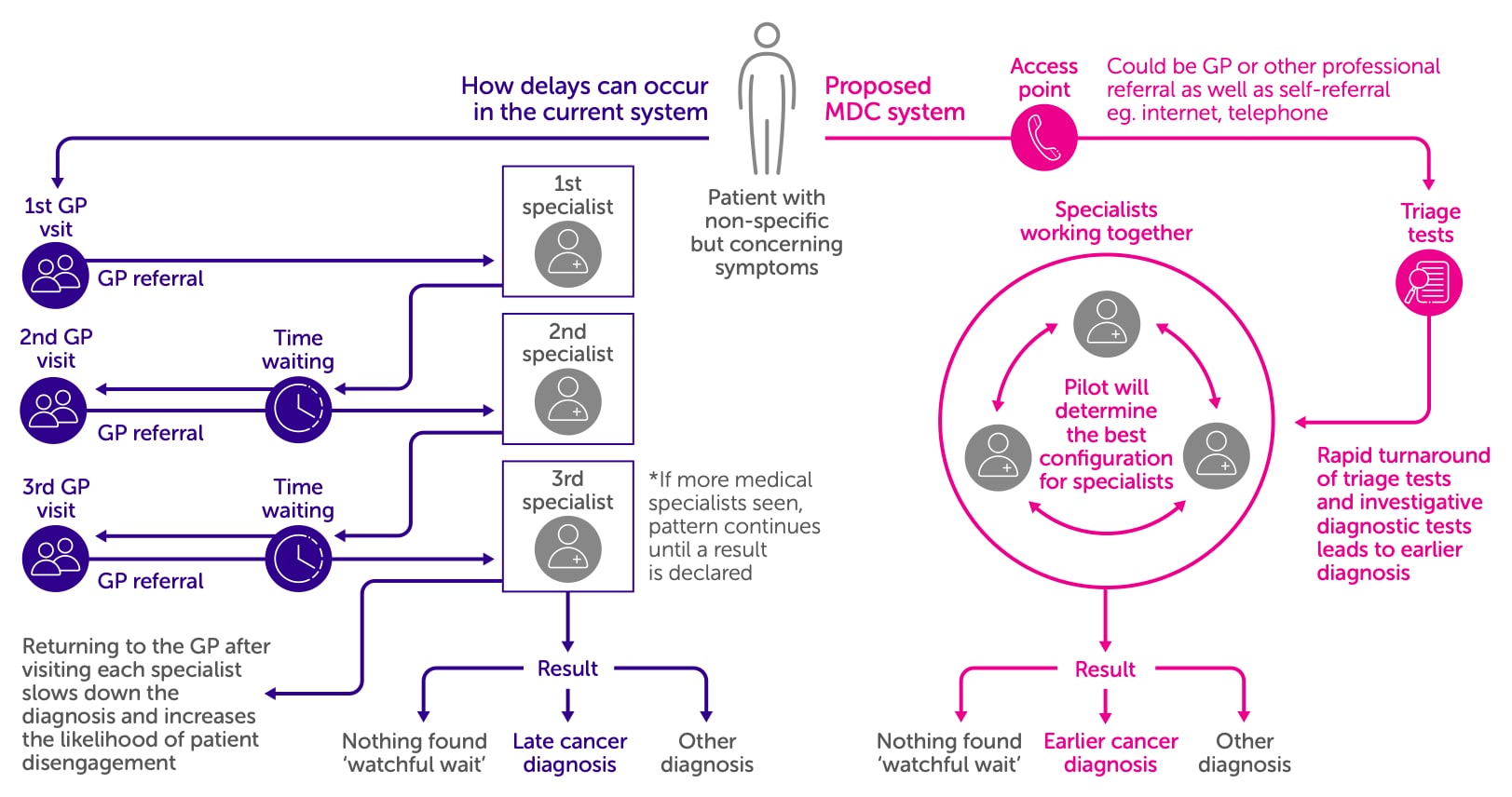 What Are RDCs?
RDCs vary in style and structure across the country,8 but essentially they all provide a single point of access for patients with nonspecific but concerning symptoms for whom there is no clear, single, urgent suspected cancer pathway. Their purpose is to achieve:10
earlier and faster cancer diagnosis
a better, personalised experience for patients
more efficient diagnosis of serious but benign conditions.
Although there is no 'one-size-fits-all' model, NHS England and NHS Improvement states that all RDCs should include the seven elements shown in Figure 2.10
Figure 2: Key Components of Rapid Diagnostic Centres10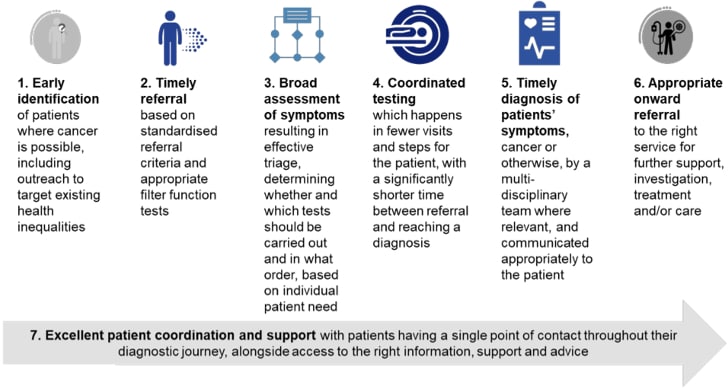 As the structure of RDCs varies, the clinicians leading them will also vary; the RDC team may include general physicians, oncologists, GPs, and advanced nurse practitioners, among others. However, they should all be able to ensure that the elements shown in Figure 2 are provided, and offer a second opinion on possible diagnoses rather than simply a route to diagnostic investigations.
Who can be Referred to an RDC?
Some RDCs may restrict their referrals to patients with a suspected underlying cancer, but others will welcome any patient about whom a GP is concerned. NHS England and NHS Improvement has identified the following core referral criteria for nonspecific symptoms, which all RDCs need to incorporate into locally agreed pathways:10
new, unexplained, and unintentional weight loss (either documented weight loss greater than 5% in 3 months or with strong clinical suspicion)
new, unexplained constitutional symptoms of 4 weeks or more (less if very significant concern), including loss of appetite, fatigue, nausea, malaise, and bloating
new, unexplained, vague abdominal pain of 4 weeks or more (less if very significant concern)
new, unexplained, unexpected, or progressive pain, including bone pain, of 4 weeks or more
GP gut feeling of cancer diagnosis, reasons to be clearly described at referral.
Some RDCs may expand significantly on this list of core referral criteria by including, for example, patients with certain abnormal investigation results that do not indicate a clear diagnosis, such as persistently raised platelets or elevated C-reactive protein with infection excluded.10 I am sure that all GPs have encountered patients who have caused them persistent concern and diagnostic dilemmas, for whom an RDC would have been an effective solution.
Filter Function Tests and Information at Referral
Although the level of scrutiny will vary, all referrals will be reviewed, so that only appropriate patients are seen in an RDC.10 A robust patient history, including relevant test results, should form the basis of all referrals to an RDC to provide the reviewing clinician with as much information as possible in advance; this will make the patient's appointment smoother and, when appropriate, faster.
As well as asking for a comprehensive history and reasons for referral, all RDCs will have testing requirements that must be met in advance of referral.10 These filter function tests are designed to distinguish nonspecific from tumour-specific symptoms, and are used to determine the most appropriate referral route for the patient.10 If a patient meets the criteria for a tumour-specific 2-week wait pathway—for example, test results such as confirmed iron-deficiency anaemia or raised cancer antigen 125 in the presence of specific symptoms and attributes—then the best route to diagnosis will be the relevant 2-week wait pathway (for colorectal and gynaecological cancer, respectively, in these examples).4 Currently, the function of RDCs is not to replace these diagnostic routes, but to bolster them.10
In addition, some RDCs will perform virtual triage, and the results of filter function tests will aid in this process.10 This will ensure that the patient experiences the smoothest and fastest route to diagnosis or reassurance.
Some patients seen in RDCs will receive a serious but benign diagnosis, such as thyroid dysfunction. Many of the common filter function tests will support these diagnoses, and prevent people from being referred inappropriately.10 Testing for these conditions in advance of referral can achieve an even speedier diagnosis,10 meaning that patients can either be managed in primary care or referred directly to a specialist centre. These tests are therefore essential for the success of RDCs.
The specific tests that each RDC requires will vary, but NHS England and NHS Improvement has provided a list of core tests to be undertaken in primary care before a decision to refer is made (see Box 1).10
Box 1: Filter Function Tests to be Undertaken in Primary Care10
Core tests for patients with nonspecific symptoms:
CXR
urinalysis
FIT
FBC
ESR and/or CRP
U&E with eGFR
LFTs (including globulins)
TFTs
HbA1c
bone profile
CA125 (women)
PSA (men).
CXR=chest X-ray; FIT=faecal immunochemical test; FBC=full blood count; ESR=erythrocyte sedimentation rate; CRP=C-reactive protein; U&E=urea and electrolytes; eGFR=estimated glomerular filtration rate; LFT=liver function test; TFT=thyroid function test; HbA1c =glycated haemoglobin; CA125=cancer antigen 125; PSA=prostate-specific antigen
NHS England and NHS Improvement. Rapid diagnostic centres—vision and 2019/20 implementation specification. London: NHSEI, 2019. Available at: www.england.nhs.uk/wp-content/uploads/2019/07/rdc-vision-and-1920-implementation-specification.pdf
Contains public sector information licensed under the Open Government Licence v3.0.
The 2-week waiting time, along with other cancer waiting times, has been reviewed with the introduction of a new performance standard called the Faster Diagnosis Standard, which requires that anyone referred for suspected cancer is investigated and either reassured or given a diagnosis within 28 days.11,15 The plan is for all patients referred to an RDC to be incorporated into this performance standard,10,11 which highlights the importance of including all the relevant information and test results in referrals.
Outcomes From RDCs to Date
Each RDCs will have varying structures and ways of working that will result in different outcomes for the patients being seen. When RDCs were initially explored as part of the ACE Programme, it was hoped that these services would lead to diagnosis of cancer at an earlier stage and, therefore, improved outcomes.5,8 Earlier-stage diagnosis has not yet been proven for RDCs, but they have demonstrated a conversion rate (the percentage of referrals that results in a diagnosis of cancer) comparable to or better than some of the tumour-specific 2-week wait pathways.16,17
The proportion of benign serious conditions diagnosed will also vary between RDCs, but the conditions seen will generally involve a wide range of noncancer specialties, including rheumatology, gastroenterology, vascular medicine, and infectious diseases. Mental health conditions are also a common diagnosis, with many patients being identified for the first time as having anxiety and depression.14
Figure 3 shows the proportions of different diagnoses at an RDC in south-east London.
Figure 3: Diagnostic Split in a Rapid Diagnostic Centre in South-east London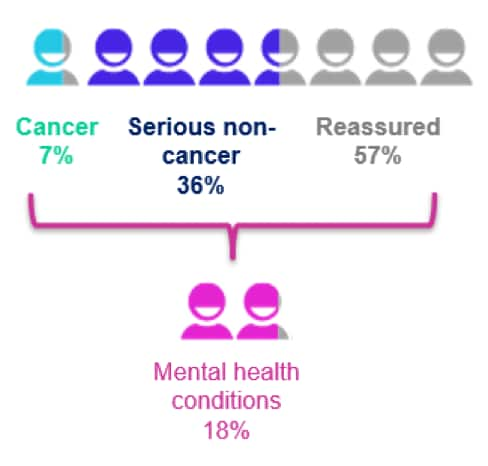 The Primary Care Network Directed Enhanced Service
The Primary Care Network (PCN) Directed Enhanced Service (DES) emphasises the importance of primary care teams being aware of RDCs in their area, stating that PCNs are required to 'review use of their non-specific symptoms pathways, identifying opportunities and taking appropriate actions to increase referral activity'.18 This recognises that these pathways benefit a group of patients who may not have a smooth route to diagnosis or a good experience of care during their diagnostic journey. This element of the PCN DES requires us to ensure that all clinicians are aware of the expedited referral routes for these patients, how to access them, and the referral criteria, including the tests that need to be done in advance.
Case Studies
The following fictional case studies aim to show how RDCs can support GPs to:
refer patients with nonspecific but concerning symptoms
obtain a second opinion on their symptoms from another clinician
gain rapid access to tests.
This will enable patients to be swiftly diagnosed and referred to the relevant specialist or discharged with reassurance.
Case 1
A 54-year-old man presents to his GP complaining of a few weeks of vague abdominal discomfort. He has presented rarely over the preceding 10 years. The results of blood tests undertaken by the GP are all normal, showing only raised blood sugar (although HbA1c is normal) and slightly abnormal LFTs. He returns for the results, and says that the pain is persistent. The GP is concerned, and refers him to the RDC. The patient has a CT scan, which shows a slightly dilated bile duct, but otherwise nothing abnormal. An MRI scan is performed that shows a mass at the head of the pancreas. After further investigations, a nonmetastatic pancreatic carcinoma is diagnosed.
Case 2
A 65-year-old man visits his GP with a 3-month history of weight loss and abdominal distension. The GP orders blood tests that show a slight drop in haemoglobin, but normal iron levels. The results of a FIT are negative. The GP is concerned, and refers the patient to the RDC. A CT scan is performed, and shows a large abdominal sarcoma.
Case 3
A 78-year-old woman presents to her GP having noticed some weight loss. The patient's medical records show that she was last weighed 4 months ago, and confirm that she has lost 7 kg since then. Initial investigations show new anaemia (although the results of iron studies are normal), raised ESR, normal FIT results, and a normal chest X-ray. The patient is well known to the GP, who decides to refer her to the RDC rather than to the colorectal 2-week wait pathway in light of the normal FIT results. The patient undergoes a CT scan of the abdomen, plus upper and lower gastrointestinal endoscopies, all of which are unremarkable. Further blood tests show raised antinuclear antibody, so rheumatology is consulted. The patient is diagnosed with a large vessel vasculitis, and started on treatment.
Summary
GPs often see patients who raise suspicions about an underlying condition such as cancer, but who present a diagnostic dilemma because it is not obvious how they can be referred and seen quickly.
RDCs provide GPs with an ideal route to refer patients with nonspecific but concerning symptoms, obtain a second opinion from another clinician, and get rapid access to diagnostic tests, so that these patients can be diagnosed swiftly and referred to the relevant specialist or discharged with reassurance. Making ourselves and our colleagues aware of these services can empower us to manage these patients efficiently and provide a better patient experience.
Key Points
Patients often do not present to primary care with 'red-flag' symptoms; RDCs provide a rapid referral route for those with nonspecific but concerning symptoms for whom there would otherwise be no expedited pathway
Gut feeling on the part of the GP is a strong predictive tool; GPs must act on it and make use of urgent referral pathways, such as RDCs, to achieve expedited diagnoses or reassurance for their patients
The referral criteria and filter function tests required will vary between RDCs; as emphasised by the PCN DES, referring clinicians must familiarise themselves with their local RDC and how to refer patients to it so that they are more likely to use it for patients about whom they are concerned
For RDCs to provide the most efficient diagnostic journey for patients, primary care clinicians must ensure that robust referral information is provided, and that all relevant filter function tests are performed in advance of a referral
The filter function tests for RDCs not only help specialists to reach a diagnosis, but also ensure that there is not a more appropriate referral pathway, including the 2-week wait pathway
Many serious but benign conditions are identified in RDCs, providing an expedited diagnosis for these patients and, hopefully, more efficient specialist review and management of their symptoms
Not all patients referred to RDCs will have an organic cause for their presenting symptoms; many will be reassured, but others may be diagnosed with a mental health condition that may be related to their presentation.
RDC=rapid diagnostic centre; PCN DES=Primary Care Network Directed Enhanced Service
Dr Anthony Cunliffe
Joint National Lead Macmillan GP Adviser, Macmillan GP Adviser London; Joint Clinical Chair, South East London Cancer Alliance