This summary is currently being updated
Overview
This Guidelines summary covers key recommendations for managing chronic obstructive pulmonary disease (COPD), including a range of prescribing options according to COPD phenotype.
COPD Management and Prescribing
Algorithm 1: COPD Management and Prescribing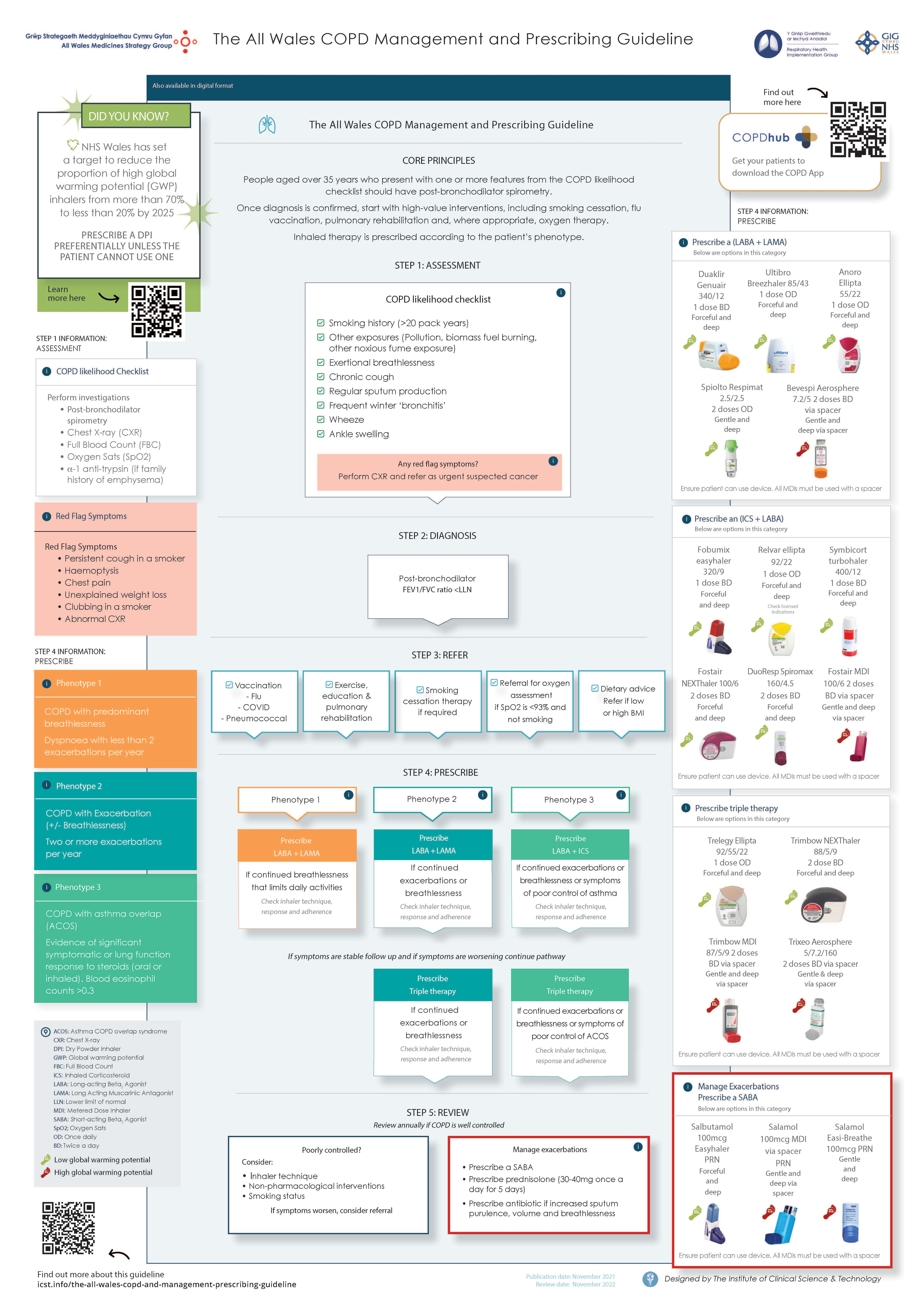 Core Principles
People aged over 35 years who present with one or more features from the COPD likelihood checklist (see Algorithm 1) should have post‑bronchodilator spirometry
Once diagnosis is confirmed, start with high-value interventions, including smoking cessation, flu vaccination, pulmonary rehabilitation, and, where appropriate, oxygen therapy
Inhaled therapy is prescribed according to the patient's phenotype.
Supporting Information
Spirometry is necessary to make a diagnosis of COPD. It cannot be made on the basis of radiological appearances, symptoms, or smoking history alone. Inhalers should not be prescribed in the absence of spirometry, except when patients have asthma–COPD overlap syndrome (ACOS) in which raised peripheral blood eosinophils and good response to steroids are helpful markers
While the Global Initiative for Chronic Obstructive Lung Disease (GOLD) and NICE use a fixed ratio of less than 0.7 forced expiratory volume in 1 second/forced vital capacity to diagnose COPD, the Respiratory Health Implementation Group (RHIG) advises the use of the lower limit of normal, which reflects changes in lung elasticity with age. Using a fixed ratio will misidentify up to 30% of healthy, non-smoking, 80-year-old patients as having COPD. Given the more widespread availability of trained spirometry practitioners going forward, RHIG is recommending this switch in the method for diagnosis
Non-pharmacological interventions are highlighted as first steps in Algorithm 1, since they are the highest value interventions. Smoking in particular should be addressed at every opportunity
Ensure that patients with ACOS do not have their inhaled corticosteroid stopped. If they have clearly predominant asthmatic symptoms (episodic wheeze, tight chest, or cough which improves with steroids), despite obstructive spirometry, then manage them as asthmatics
The use of short-acting beta2 agonists on a regular basis for stable COPD is not recommended in line with GOLD guidance
Currently, the carbon footprint of inhaler usage in Wales each year is equivalent to 60,000 tonnes of CO2 being emitted, 98% of which is due to MDIs and only 2% due to dry powder inhalers (DPI). Salbutamol MDI alone accounts for 66% of the total carbon footprint. Prescribe a DPI preferentially unless a patient cannot use one
An essential part of COPD management is to minimise exacerbations, which have been shown to increase mortality, worsen quality of life, and result in lung function decline. Patients who have two or more exacerbations in the community, or an exacerbation leading to a hospital admission within the last 12 months, should be regarded as 'high risk' for exacerbations, and should have a step up in their pharmacotherapy. Other interventions which have been shown to reduce exacerbations include smoking cessation, flu vaccination, and azithromycin and roflumilast in selected patients (these drugs should be initiated in secondary care)
Nebulised bronchodilators confer no significant advantage over inhaled bronchodilators and are likely to cause more side effects. They should only be considered in palliative patients or when the use of a nebuliser during exacerbations is likely to avoid admission to hospital
In patients with chronic bronchitis (chronic sputum producers), particularly when this is thick and difficult to expectorate, give a trial of carbocisteine 750 mg three times a day for 2 weeks, then reduce to 750 mg twice a day long term. Reassess and stop if no clinical improvement after 2–3 months
Rescue packs can, in certain instances, be a useful means by which patients can initiate prompt and effective treatment for an exacerbation of airways disease. They are NOT suitable for all patients in all circumstances. Healthcare professionals issuing rescue packs need to be confident that the individual patient is able to recognise a true exacerbation and be able to differentiate it from chronic symptoms. Ideally, such patients should have attended a COPD education programme. Rescue packs should not be a substitute for a consultation where this is clinically indicated.