Clinicians working with teenagers and young people with cancer are becoming increasingly anxious about a post-COVID surge in cases, after reports that suspected urgent cancer referrals to specialist units in England have fallen by as much as 75% since the beginning of the pandemic.
The Teenage Cancer Trust, which has 28 specialist cancer units for 13 to 24-year-olds across the UK has been collecting anecdotal reports from its lead clinicians, which indicate a sharp decrease in the numbers of new referrals nationally for April and May. Some units, like the one in Bristol, have also had to close temporarily while the young patients were treated in adult services.
Director of Services for the Teenage Cancer Trust, Dr Louise Soanes, said: "We know that seven young people every day get diagnosed with cancer but many of our nurses are reporting back to us that in their area, they are seeing reductions. Some haven't had any new cases referred in some weeks whilst others have gone from having three a week to one or two."
This is in line with the national picture for adult cancers. The number of people being assessed by a cancer doctor after referral fell to 79,573 in April - a drop of 60% compared to the same month last year, according to Macmillan Cancer Support.
Dr Soanes warned: "We are concerned about a surge in referrals in teenagers and young people later in the summer and that they will present at a later stage with more serious symptoms and therefore suffer poorer outcomes."
Around 2500 children and young people under 24 are diagnosed each year with cancer. It is the biggest cause of death in this age group. Young adults are notorious for their failure to access GP services. This, coupled with the strong media messages urging the public to stay away to protect the NHS, are believed by Dr Soanes to provide a partial explanation for the plunging diagnosis figures.
Falling Cases 
The picture is particularly stark at the Freeman Hospital in Newcastle where Teenage and Young Adult cancer lead for the North East and Cumbria, Karen Hamlen said figures had 'fallen off the cliff face' particularly in the older age group. Normally the unit has around 10-15 referrals per month but for March and April 2020 it had three for each month.
"We don't know what is coming round the corner," she said, "But I am keeping my fingers crossed that young people have not been sitting on symptoms, and that we'll see a surge in referrals in July and August."
At the Christie in Manchester, consultant haematologist and clinical lead for the TYA (teenage and young adult) unit, Dr Anna Castleton, is also observing a concerning decrease in the numbers through the multi-disciplinary team (MDT) meetings. This group presents ongoing challenges, she points out, because many of their cancers present with non-specific symptoms such as tiredness and weight loss, leading to under recognition and delays in diagnosis.
She said: "It's very possible that we will see further impacts of COVID on this group further down the line in terms of more advanced staging in the disease or in patients who are more unwell when they present." 
 
Psychological Burden
One big area of concern among clinicians is the additional psychological burden experienced by young people going through cancer treatment during the pandemic. 
A report today from the Teenage Cancer Trust warned that 53% of 118 young people with cancer it polled have had difficulty accessing psychological support during the pandemic.
Of the 81% of respondents shielding, 88% had been affected by shielding.
A raft of new online mechanisms were introduced in many cancer units to provide support whilst still maintaining social distancing.
TYA unit Youth Support Coordinators adapted to the coronavirus by replacing outings and face-to-face meetings with almost entirely remote communication, to provide care packages to young people in the community, support them to achieve AQA qualifications, give one-to-one support, and run psychological support groups.
Liz Watt - lead nurse for TYA cancer for Scotland, based at Glasgow's Beatson Hospital - believes that whilst many young people living outside their families, have suffered from extreme social isolation as a result of the distancing required by lockdown restrictions, the move to digital has been "really useful" in some cases for young adults from rural areas and the Scottish islands who before the pandemic had little or no access to peer support. 
The Teenage Cancer Trust has targeted its #BestToCheck campaign at teenagers to educate them on the signs and symptoms not to ignore. It is also going to review the psychological impact on TYAs with cancer during the epidemic.
 
One Teenager's Story
Sam Smith, whose son Charlie Hull, 15, is currently undergoing proton beam therapy (PBT) at the Christie, Manchester for Ewing's sarcoma, confirmed that the pandemic had significantly changed his treatment course, most notably the fact that he is having PBT in the UK rather than going to the USA.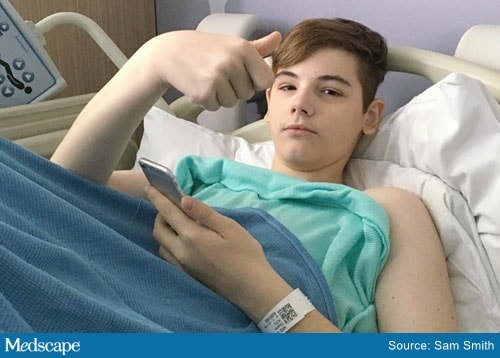 "Having cancer in a pandemic must be one of the worst things to go through," she says. "You are living with uncertainty about your health and then there is this extra layer on the top."
Charlie was diagnosed in October 2019 and began a course of chemotherapy at Queen's Medical Centre, Nottingham.
This year there were growing concerns about coronavirus. He needed an operation to remove a large tumour from his chest and to replace one rib with a synthetic one, but this was cancelled once at the beginning of April because the unit was shut for 2 weeks whilst the hospital decided how to respond to COVID-19 restrictions. 
This caused stress because Sam knew that Charlie could not have the chemotherapy and radiotherapy he would need to shrink the tumour, without having the surgery first. Sam described many 'scary times in limbo' as decisions on treatment were held up. She found herself wondering whether the procedure should go ahead at the peak of COVID-19 for fear of her son contracting the virus in hospital. But without the operation to remove the tumour and replace one rib with a synthetic one he could not proceed to chemotherapy, radiotherapy and eventually to PBT.
The operation finally took place in the middle of April, at the height of the pandemic. 
Whilst accepting that shielding measures for the family and PPE for the clinical staff were vital to protecting Charlie during his illness, she said the teenager found the sudden changes in the appearance of healthcare staff, lack of face-to-face contact and confinement (often to his room) difficult. "It has isolated him more," she said. "He is more depressed.
"At the end of the day, the NHS is doing a great job at a horrible time. The measures to deal with the pandemic have taken away small things that would have made things easier for the whole family."