Latest Guidance Updates
June 2022: updates to both algorithms, wording changes (notably, lateral flow test [LFT] replacing polymerase chain reaction [PCR] test), updates to the sections on COVID-19 Oximetry @home monitoring and COVID-19 medicines delivery units.
Overview
This updated Guidelines summary provides key information for primary care on the assessment, monitoring, and treatment of patients who present to general practice with symptomatic COVID-19.
Reflecting on Your Learnings
Reflection is important for continuous learning and development, and a critical part of the revalidation process for UK healthcare professionals. Click here to access the Guidelines Reflection Record.
Adult Primary Care COVID-19 Assessment Pathway
Algorithm 1: Adult Primary Care COVID-19 Assessment Pathway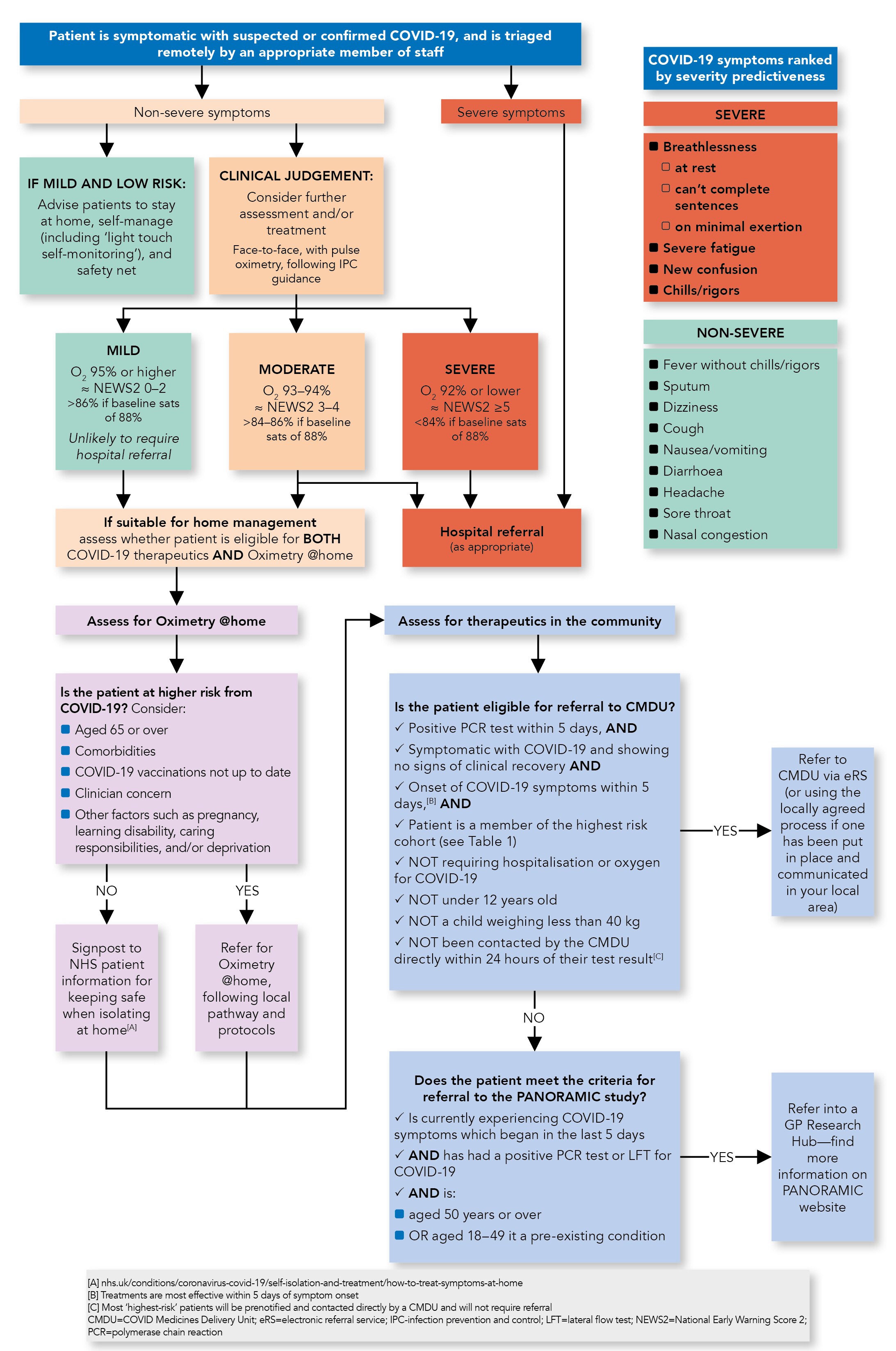 COVID-19 Oximetry @home Monitoring
As per Algorithm 1 in the section, Adult Primary Care COVID-19 Assessment Pathway, patients who are at higher risk and are well enough to be managed at home should be considered for COVID Oximetry @home (CO@h)
The CO@h pathway should be available to people who are:

diagnosed with COVID-19: either clinically or positive test result and
symptomatic and either
aged 65 years or older or
under 65 years of age and at higher risk from COVID-19, or where clinical judgement applies considering individual risk factors such as pregnancy, vaccination status, learning disability, caring responsibilities, and/or deprivation

Pregnant women being referred to a CO@h service should also be asked to contact their maternity team for specific advice around pregnancy and COVID-19
CO@h is a self-monitored and self-escalated pathway, with optional check-in calls for some patients. Patients are provided with a pulse oximeter, a supporting pack including instructions on self-monitoring, and clear guidance on safety netting and escalation
For those patients in whom a self-monitored pathway is not clinically deemed to be sufficient, a referral to local CO@h services providing proactive telephone calls to support patient monitoring should be considered
All patients who are eligible for COVID-19therapies should also be considered for CO@h monitoring, as they are in high-risk groups.
COVID-19 Treatments
As per Algorithm 1 in the section, Adult Primary Care COVID-19 Assessment Pathway, the highest risk patients with mild-to-moderate symptoms should be considered for treatment with new antibody and antiviral treatments if they are within 5 days of symptom onset
Two types of COVID-19 treatments are available:

neutralising monoclonal antibodies usually given by infusion or injection in a local hospital or health centre
oral antiviral treatment—currently molnupiravir (Lagevrio) in capsule form that can be taken at home

Patients who are eligible for these treatments should be referred to COVID-19 medicines delivery units (CMDUs)
Patients who are not eligible for COVID-19 treatments could be eligible for the PANORAMIC trial.
COVID-19 Medicines Delivery Units
GP practice teams can still refer potentially eligible patients if they have tested positive for COVID-19. COVID-19 treatments must be delivered quickly following symptom onset. Practices and 111 should use the clinical policy document to help identify if a symptomatic patient is potentially eligible. GP teams should check the patient meets the criteria for referral. The CMDU will confirm eligibility and discuss treatment options
Therefore, if you are assessing a patient who is at highest risk (for the full list of eligible patient criteria, see Table 1), has not been contacted by a CMDU, and meets the following referral criteria, you should refer to a CMDU. If your area is using e-Referral Service (eRS) to refer patients to CMDUs, the NHS has asked commissioners that their CMDU services are listed in the infectious diseases specialty, under a nonspecific ('not otherwise specified') clinic type, but to include in the service name, the words 'COVID-19 medicine delivery unit (CMDU)'. Some services may have been established with the service name 'COVID MABS delivery unit (CMDU)'.
Referral criteria for CMDU:

positive test for COVID-19 and
symptomatic with COVID-19 and showing no signs of clinical recovery and
onset of COVID-19 symptoms within the last 5 days and
patient is a member of the highest-risk cohort
NOT requiring hospitalisation or oxygen for COVID-19
NOT under 12 years old
NOT a child weighing less than 40 kg
NOT been contacted by the CMDU directly within 24 hours of their test result

The main message for everyone is that vaccination is key and is still the mainstay of protecting people against COVID-19.
Table 1: Eligibility for COVID-19 Medicines Delivery Unit Referral
Cohort
Description
Down's syndrome

All patients with Down's syndrome

Sickle cell disease

All patients with a diagnosis of sickle cell disease

Patients with a solid cancer

Active metastatic cancer and active solid cancers (at any stage)
All patients receiving chemotherapy within the last 3 months
Patients receiving group B or C chemotherapy 3–12 months prior
Patients receiving radiotherapy within the last 6 months

Patients with a haematologic malignancy

Allogeneic HSCT recipients in the last 12 months or active GVHD regardless of time from transplant (including HSCT for non-malignant diseases)
Autologous HSCT recipients in the last 12 months (including HCST for non-malignant diseases)
Individuals with haematological malignancies who have:

received CAR-T cell therapy in the last 24 months, or
radiotherapy in the last 6 months

Individuals with haematological malignancies receiving SACT within the last 12 months, except patients with chronic phase CML in molecular response or first- or second-line TKIs
All patients with myeloma (excluding MGUS), or chronic B-cell lymphoproliferative disorders (e.g. chronic lymphatic leukaemia, follicular lymphoma), or MDS who do not fit the criteria above
All patients with sickle cell disease
Individuals with non-malignant haematological disorder (e.g. aplastic anaemia or paroxysmal nocturnal haemoglobinuria) receiving B-cell depleting systemic treatment (e.g. anti-CD20, ATG, and alemtzumab) within the last 12 months

Patients with renal disease

Renal transplant recipients (including those with failed transplants within the past 12 months), particularly those who:

received B-cell depleting therapy within the past 12 months (including alemtuzumab, rituximab [anti-CD20], ATG)
have an additional substantial risk factor which would in isolation make them eligible for nMABs or oral antivirals
had not been vaccinated prior to transplantation

Non-transplant patients who have received a comparable level of immunosuppression
Patients with CKD stage 4 or 5 (an eGFR <30 ml/min/1.73 m2) without immunosuppression

Patients with liver disease

Patients with cirrhosis Child's-Pugh class B and C (decompensated liver disease)
Patients with a liver transplant
Liver patients on immune suppressive therapy (including patients with and without liver cirrhosis)
Patients with cirrhosis Child's-Pugh class A who are not on immune suppressive therapy (compensated liver disease)

Patients with IMIDs

IMID treated with rituximab or other B-cell depleting therapy in the last 12 months
IMID with active/unstable disease on corticosteroids, cyclophosphamide, tacrolimus, cyclosporin, or mycophenolate
IMID with stable disease on either corticosteroids, cyclophosphamide, tacrolimus, cyclosporin, or mycophenolate
IMID patients with active/unstable disease, including those on biological monotherapy and on combination biologicals with thiopurine or methotrexate

Primary immune deficiencies

CVID
Undefined primary antibody deficiency on Ig (or eligible for Ig)
Hyper-IgM syndromes
Good's syndrome (thymoma plus B-cell deficiency)
SCID
Autoimmune polyglandular syndromes/APECED syndrome
Primary immunodeficiency associated with impaired type 1 interferon signalling
X-linked agammaglobulinaemia (and other primary agammaglobulinaemias)

HIV/AIDS

Patients with high levels of immune suppression, who have uncontrolled/untreated HIV (high viral load), or who present acutely with an AIDS-defining diagnosis
On treatment for HIV with CD4 <350 cells/mm3 and stable on HIV treatment or CD4 >350 cells/mm3 and additional risk factors (e.g. age, diabetes, obesity, cardiovascular, liver or renal disease, homeless, those with alcohol dependence)

Solid organ transplant recipients

All recipients of solid organ transplants not otherwise specified above

Rare neurological conditions

Multiple sclerosis
Motor neurone disease
Myasthenia gravis
Huntington's disease

Abbreviations: AIDS=acquired immunodeficiency syndrome; APECED=autoimmune polyendocrinopathy candidiasis ectodermal dystrophy; ATG=anti-thymocyte globulin; CAR=chimaeric antigen receptor CD=cluster of differentiation; CKD=chronic kidney disease; CML=chronic myeloid leukaemia; CVID=common variable immunodeficiency; eGFR=estimated glomerular filtration rate; GVHD=graft versus host disease; HSCT=haematopoietic stem cell transplant; HIV=human immunodeficiency virus; IMID=immune-mediated inflammatory disorder; Ig=immunoglobulin; IgM=immunoglobulin M; MDS=myelodysplastic syndrome; MGUS=monoclonal gammapathy of unknown significance; nMABs=neutralising monoclonal antibodies; SACT=systemic anti-cancer treatment; SCID=severe combined immunodeficiency; TKI=tyrosine kinase inhibitor
© NHS England, 2022. Contains public sector information licensed under the Open Government Licence v3.0.
For information on eligibility for the PANORAMIC study, refer to the full guideline.
For further information on CMDUs, refer to the full guideline.
COVID-19 Treatment Pathway—Overview for GPs
Algorithm 2: COVID-19 Treatment Pathway—Overview for GPs/111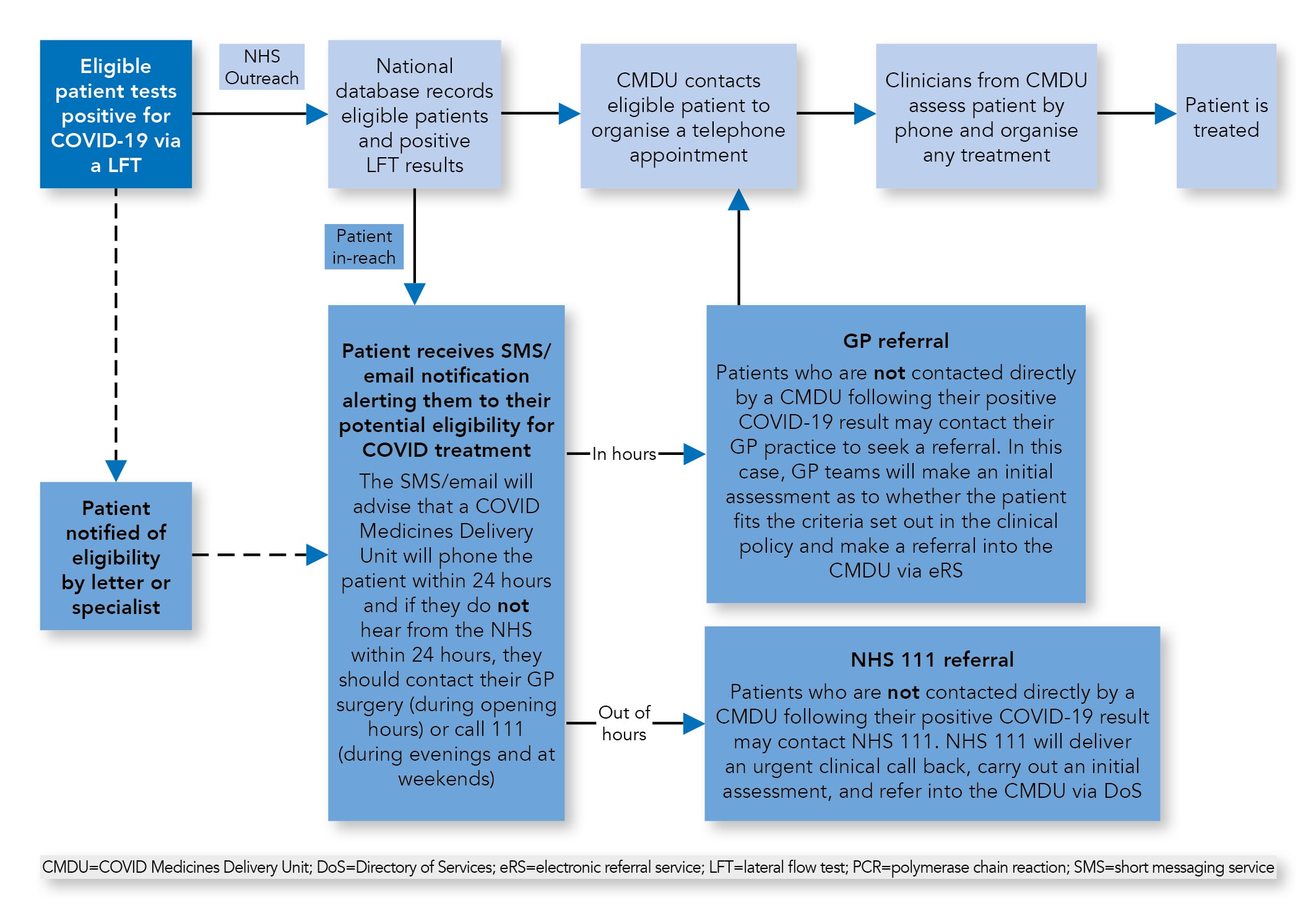 For information on the PANORAMIC study and additional resources, refer to the full guideline.