Information is intended for healthcare professionals only.
This management algorithm was developed by WebMD Medscape UK Ltd and supported by Chiesi Ltd through the provision of a grant for its production. Chiesi Ltd had no editorial control other than to check factual accuracy. See end of algorithm for full disclaimer.
In this algorithm:
Top tips for getting it right
Top tips: devices
Top tips: the right device for the right patient
Top tips: supporting the patient
Top tips: patients—ICE: Ideas, Concerns, and Expectations.
Algorithm: Assess, Choose, and Train
Click on the thumbnail to expand the algorithm.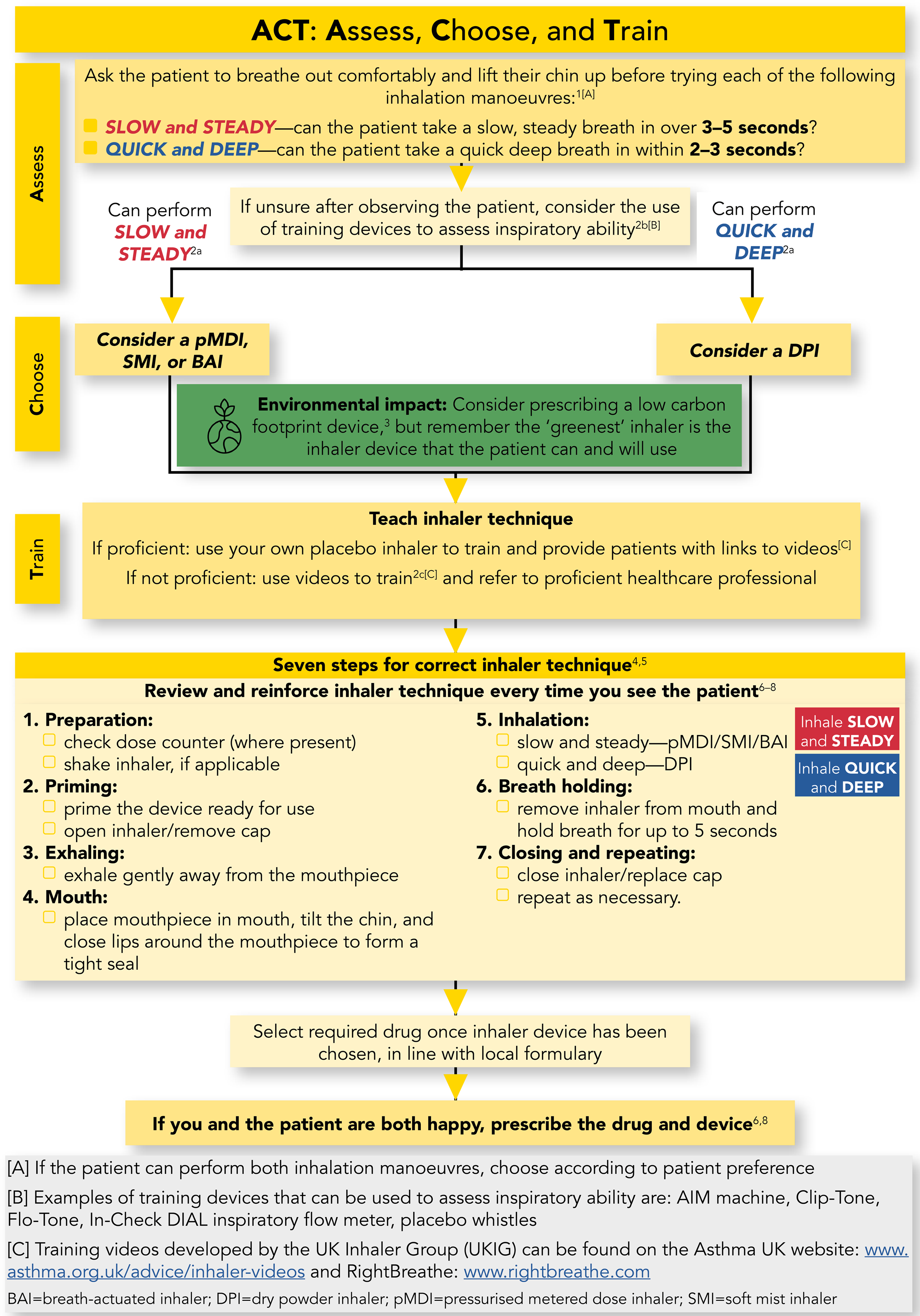 Top Tips for Getting it Right
Box 1: Environmental Position
The NHS Long Term Plan for England 2019 has committed the NHS to reducing greenhouse gas emissions from inhalers, with a target to reduce the carbon impacts of inhalers by 50% by 2030, and a drive to reduce pMDI prescribing3
The Group's opinion is, however, that this should be secondary to making sure that patients are able to use their inhalers correctly: it is essential that a new inhaler device is only prescribed after inhaler technique has been taught and checked6
Inhalers with reduced global warming potential (GWP) impact should be chosen for all patients who can use them, but those patients who cannot may need an inhaler with a greater GWP impact
Avoiding overprescribing, and ensuring that inhaler devices are used correctly and not overused, will also help the environment
Patients should be encouraged to return their inhalers to pharmacies for recycling or incineration3,6
Top Tips: Devices
Different devices require different techniques:

single-dose capsule DPIs —insert the capsule into the inner chamber not into the mouthpiece chimney, and pierce capsule only once to prevent the capsule from shattering
reservoir DPIs —prime the inhaler in the upright position, as it loads vertically
aerosol devices (pMDIs/BAIs)—require vertical loading so keep upright when priming; most but not all need shaking
need to coordinate activation of the device with inhalation when using pMDIs/SMIs2

The internal resistance of DPIs may affect the patient's ability to breathe in, and some may require a high inspiratory flow rate to deaggregate the powder and achieve the required dispersion for therapeutic effect9
Signs that the patient may not be suitable for, or may not engage with, a DPI device include:

discomfort when inhaling (e.g. coughing, exhausted)

pMDIs and SMIs are aerosol-based devices and so a slow and steady inhalation is optimum to reduce oropharyngeal deposition and optimise delivery into the lungs2,3
Many patients using a pMDI should be given a spacer to improve drug delivery and reduce oropharyngeal deposition6,8
Top Tips: the Right Device for the Right Patient
Consider whether the patient is physically capable of carrying out each step of the inhaler technique correctly:

do they have sufficient hand-breath coordination?
are they able to form a good seal over the mouthpiece?
are they able to open, manipulate, and prime the device?
are they able to inhale at the correct speed?

Consider the impact of cognitive impairment:

does the patient have the ability to remember all the necessary steps, and to remember when to take their inhaler?

Comorbidities (e.g. obesity or respiratory muscle weakness) and ageing can negatively affect inspiratory flow rate and may cause the patient to have difficulty using a particular device
If a patient demonstrates difficulty in using a particular device or with treatment adherence, consider an alternative device that may, for example, have a reduced number of operational steps, include a dose counter, or support a formulation with a lower dosing frequency
For a list of currently available inhaler devices and their respective drug formulations, visit www.rightbreathe.com
Top Tips: Supporting the Patient
Ensuring that patients are comfortable with their device can improve adherence to treatment
Support the patient in assessing whether they have received the dose, for example (if applicable):

checking the dose counter
listening for sound from the device dung correct inhalation
being aware of powder/spray taste

Check inhaler technique:

many patients inhale too fast from pMDIs2
many patients inhale too slowly from DPIs2

If prescribing an inhaler as part of a treatment combination, aim to limit confusion by prescribing inhalers that use the same inhalation manoeuvre, i.e. either all DPIs ('quick and deep') or all pMDIs/SMIs/BAIs ('slow and steady').6
Consider the use of stickers stating the inhalation manoeuvre (e.g. 'quick and deep' or 'slow and steady') that can be affixed to the patient's inhalers, for example:  

Make sure carers (e.g. relatives, nursing home staff, or homecare team) can assist the patient to use the device if necessary
Top Tips: Patients—ICE: Ideas, Concerns, and Expectations
The belief systems or patients' attributions of their illness are the basis of their health-seeking behaviour
By simplifying these beliefs into ideas, concerns, and expectations (ICE), healthcare teams will be able to understand patients' motivations and improve their satisfaction and adherence with medical advice
To truly understand a patient, their ideas and beliefs about their asthma or COPD need to be addressed, for example through questions/statements such as:

'tell me what you think is aggravating your condition'
'do you have any ideas about treatment yourself?'

This should include any concerns the patient has, especially about the medications prescribed, such as side-effects, or whether taking medication daily makes it less effective:

'is there anything in particular that you are concerned about?'
'what concerns you most about what we have discussed?'

Finally, expectations about their treatment and its effects should be discussed:

'how do you think this treatment will change your symptoms?'
'do you think that this plan will work for you?'
'what are your goals from treatment?'10,11