Dr Maria Dyban reviews General Medical Council Guidance on Remote Consultations, Covering the Ethical Issues to Consider When Providing Care Remotely
Read This Article to Learn More About: 
deciding whether a remote consultation is appropriate
making decisions in collaboration with patients, and obtaining their consent remotely
the keeping of records and recordings associated with remote consultations.
Since the beginning of the COVID-19 pandemic, many clinicians have had to acquire new skills to enable them to conduct consultations remotely. These include learning how to use various secure information technology systems to conduct video consultations, and improving their telephone triage skills.
Demand for GP appointments was high throughout the pandemic, and this continues to rise despite the fact that GPs are seeing more patients than ever—a British Medical Association analysis of NHS Digital data shows that GP appointment bookings in England reached a record high of over 30 million in both October and November 2021.1,2 In addition, waiting lists for hospital treatment are significantly higher than before the pandemic, with over 7 million people waiting for treatment as of August 2022;3 primary care clinicians continue to provide care for these patients, as well as for those whose referrals have been rejected because of capacity issues. As a result, the primary care workforce is even more stretched, with many GPs experiencing fatigue, turning to part-time work, and leaving permanent positions.1 
To balance the use of available resources and accommodate changing patient preferences, it is very likely that many of us will continue to conduct remote consultations. In August 2022, an estimated 30.6% of consultations in general practice were remote, whereas 66.1% were conducted face-to face.2 This mixture of face-to-face and remote consultations is likely to be the ongoing way that we provide healthcare services to our patients. Consequently, it is as important as ever that primary care clinicians are adhering to best practice when consulting and prescribing remotely. This article covers the General Medical Council (GMC) guidance on remote consultations, outlining the principles involved in providing safe patient care by remote means.
Standards of Care for Remote Consultations 
The standards of the GMC's key ethical guidance, Good medical practice,4 apply to remote consultations as much as they do to face-to-face consultations.5 If these standards cannot be met via remote means, then the GMC stresses that the consultation should be conducted face-to-face.5 The most suitable mode of consultation, using the resources available, should be agreed with the patient.5 
A remote consultation may be appropriate when:5
the patient's clinical needs and treatment are not complex
the information that the patient wants or needs can be provided remotely
the patient does not need to be examined and has mental capacity
the clinician has access to the patient's medical records
it is safe to prescribe.
The guidance advises that face‑to‑face consultations are preferable in situations where an examination needs to be conducted, the patient lacks mental capacity, the patient has complex needs, the clinician does not have access to the patient's medical records, or the consulting clinician is not the patient's usual GP.5 Face-to-face consultations are also recommended when not all of the information a patient needs can be provided by remote means, or when injectable cosmetic products are being prescribed.5 
The GMC's guidance on remote consultations includes a useful diagram outlining the key considerations when choosing a remote or face-to-face consultation (see Figure 1).5
Figure 1: Is a remote consultation appropriate?5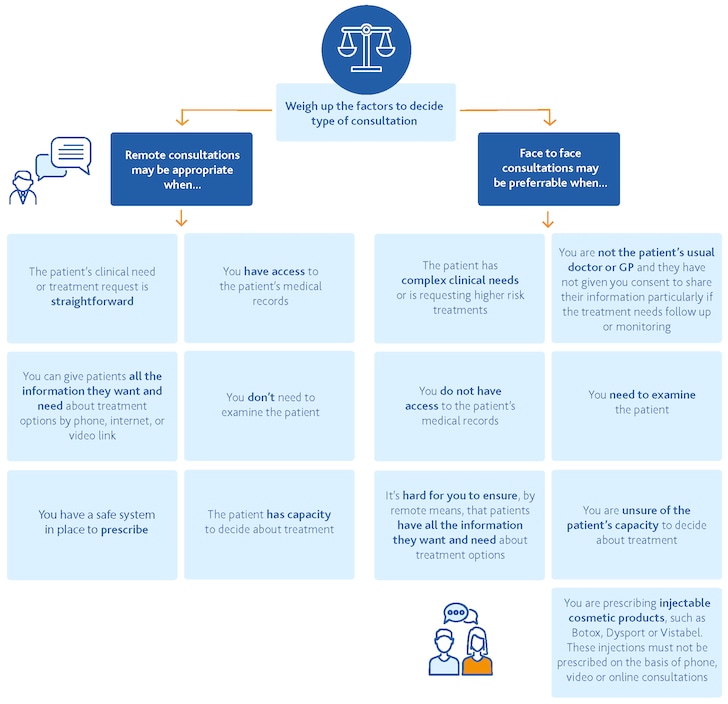 Principles for Remote Consultations and Prescribing 
Ten principles for remote consultations and prescribing, detailed in Box 1, have been co-authored and agreed by 13 professional bodies, including the Academy of Medical Royal Colleges and various healthcare regulators.6
Box 1: The Ten Key High-level Principles for GPs Providing Remote Consultations and Prescribing Remotely6
Make patient safety the first priority and raise concerns if the service or system they are working in does not have adequate patient safeguards including appropriate identity and verification checks[A]
Understand how to identify vulnerable patients and take appropriate steps to protect them
Tell patients their name, role and (if online) professional registration details, establish a dialogue and make sure the patient understands how the remote consultation is going to work
Explain that

They can only prescribe if it is safe to do so
It's not safe if they don't have sufficient information about the patient's health or if remote care is unsuitable to meet their needs
It may be unsafe if relevant information is not shared with other healthcare providers involved in their cared
If they can't prescribe because it's unsafe they will signpost to other appropriate services

Obtain informed consent and follow relevant mental capacity law and codes of practice
Undertake an adequate clinical assessment and access medical records or verify important information by examination or testing where necessary
Give patients information about all the options available to them, including declining treatment, in a way they can understand
Make appropriate arrangements for after care and, unless the patient objects, share all relevant information with colleagues and other health and social care providers involved in their care to support ongoing monitoring and treatment
Keep notes that fully explain and justify the decisions they make
Stay up to date with relevant training, support and guidance for providing healthcare in a remote context.
[A] NHS Digital has published the Identity verification and authentication standard for digital health and care services (2018). For guidance on safe and appropriate online and remote provision of sexual health services, please refer to Faculty of Sexual & Reproductive Healthcare (FSRH) and British Association for Sexual Health and HIV (BASHH) Standards for online and remote providers of sexual and reproductive healthcare services.
General Medical Council website. Remote prescribing high level principles. www.gmc-uk.org/ethical-guidance/learning-materials/remote-prescribing-high-level-principles (accessed 28 September 2022). Reproduced with permission.
The overarching aim is to ensure patient safety.6 The principles advise that clinicians should check each patient's identity, explain their role and the limitations of remote consultations and prescribing, and obtain informed consent from patients when required.6 Healthcare professionals should also follow mental capacity law and codes of practice and conduct thorough clinical assessments—in all remote consultations, clinicians are required to review the relevant clinical records, as well as conduct the necessary remote examinations and tests.6
In the discussion, clinicians must be able to provide information about treatment options in a way that their patients can understand, including the option to decline all treatment.6 They should also organise aftercare arrangements for their patients, including the sharing of relevant information with colleagues and other health and social care providers involved in their care, and take notes to justify decision making.6 Finally, clinicians must keep up to date with relevant guidance on remote working.6 
Consent to Treatment
The Seven Principles of Decision Making and Consent
The GMC also provides seven principles of consent to treatment (see Box 2), all of which apply to remote as well as face‑to‑face consultations.7
Box 2. The Seven Principles of Decision Making and Consent7
One
All patients have the right to be involved in decisions about their treatment and care and be supported to make informed decisions if they are able.
Two
Decision making is an ongoing process focused on meaningful dialogue: the exchange of relevant information specific to the individual patient.
Three
All patients have the right to be listened to, and to be given the information they need to make a decision and the time and support they need to understand it.
Four
Doctors must try to find out what matters to patients so they can share relevant information about the benefits and harms of proposed options and reasonable alternatives, including the option to take no action.
Five
Doctors must start from the presumption that all adult patients have capacity to make decisions about their treatment and care. A patient can only be judged to lack capacity to make a specific decision at a specific time, and only after assessment in line with legal requirements.
Six
The choice of treatment or care for patients who lack capacity must be of overall benefit to them, and decisions should be made in consultation with those who are close to them or advocating for them.
Seven
Patients whose right to consent is affected by law should be supported to be involved in the decision-making process, and to exercise choice if possible.
General Medical Council website. The seven principles of decision making and consent. www.gmc-uk.org/ethical-guidance/ethical-guidance-for-doctors/decision-makingand-consent/the-seven-principles-of-decision-making-and-consent (accessed 30 September 2022). Reproduced with permission.
These key principles cover all aspects of patient involvement in decision making, advising that clinicians should listen to their patients, involve them in all decisions, and provide them with the support and time they need to make a decision.7 The doctor–patient dialogue has to be meaningful and tailored to what matters to the individual patient, covering the benefits and harms associated with proposed treatments as well as the option to take no action.7
In every consultation, whether remote or face to face, doctors must start from the presumption that all adult patients have the capacity to make decisions about their treatment and care.7 If an assessment of capacity is required, it should be tailored to a specific decision and should involve the patient and those close to them, and all resulting treatment must be of overall benefit to the patient.7 
Obtaining Consent
Most clinical decisions rely on a patient's verbal or nonverbal consent. In situations where quick, nonverbal consent is suitable, like an ordinary noninvasive examination, GMC guidance advises clinicians to:8 
'explain what you [are] going to do and why
make [it] clear [that] the patient can say no, and stop immediately if they do
be alert for any sign that they may be confused or unhappy about what you are doing.'
To consent to treatment, a patient must be able to consider all the relevant information and agree to go ahead with the proposed intervention.9 The clinician must therefore make sure that the patient understands what they are consenting to, and is aware of the likely outcomes, benefits, risks of harm, uncertainties, and alternatives.9 The essence of consent to any particular treatment, therefore, is a meaningful discussion about the benefits and harms of that treatment.9,10
The GMC guidance recommends that clinicians should include the following information in discussions about benefits and harms:10
'recognised risks of harm that you believe anyone in the patient's position would want to know. You [will] know these already from your professional knowledge and experience
the effect of the patient's individual clinical circumstances on the probability of a benefit or harm occurring. If you know the patient's medical history, you [will] know some of what you need to share already, but the dialogue could reveal more
risks of harm and potential benefits that the patient would consider significant for any reason. These will be revealed during your discussion with the patient about what matters to them
any risk of serious harm, however unlikely it is to occur
expected harms, including common side effects and what to do if they occur.' 
Regarding procedures for which written consent is required, efforts should be made to obtain it.9 The guidance states that consent forms can be helpful, and can be a standard way to record a decision and remind clinicians of earlier discussions, but that they should not be used as a substitute for meaningful discussion tailored to the individual patient.11 
In all consultations, GMC guidance on decision making advises clinicians not to rely on assumptions about:10
'the information a patient might want or need
the factors a patient might consider significant
the importance a patient might attach to different outcomes.'
Any decisions on consent to treatment should be recorded in a patient's clinical records, regardless of whether written consent is obtained.9 It is advisable to record both verbal and nonverbal consent.8 
Remote Prescribing 
Remote prescribing can be a convenient way to access healthcare for many patients and clinicians, and is likely to continue after the pandemic. However, it must be recognised that there are limitations to remote prescribing, and that safeguards must be in place so that harm to patients is prevented.6 If safe prescribing standards cannot be met remotely for any reason, a consultation should be rearranged in person.5 According to the GMC guidance on remote prescribing (see Box 1), in remote consultations, 'clinician[s] must explain that:6
'they can only prescribe if it is safe to do so
[it is] not safe if they [do not] have sufficient information about the patient's health or if remote care is unsuitable to meet [the patient's] needs
it may be unsafe if relevant information is not shared with other healthcare providers involved in their care
if they [cannot] prescribe because [it is] unsafe, they will signpost to other appropriate services.'
It is also important to recognise the limitations of remote prescribing, especially as certain categories of medication require additional safeguards to be in place.6,12 For example, controlled drugs, including opioids and gabapentinoids, are governed by the Misuse of Drugs Act 1971 and the Controlled Drugs (Supervision of Management and Use) Regulations 2013.12 For further information, the General Pharmaceutical Council has issued guidance to pharmacies in England, Wales, and Scotland on providing pharmacy services at a distance, including on the internet.13 
Audio and Video Recordings of a Consultation
When making a recording as part of a consultation, it is important to follow the GMC guidance Making and using visual and audio recordings of patients.14,15 Recordings can include audio and video recordings, as well as photographs and other images taken on any recording device, such as a mobile phone.15 A recording made as part of a patient's clinical care forms part of that patient's medical records,5,15 and its handling should therefore comply with principles of confidentiality and consent.14,15 Consent for the recording must besought, except in specific situations where consent to recording is implicit in the consent given for the treatment (such as an X-ray or an ultrasound image).15 It must be explained to the patient why a recording would help with their clinical care, what form the recording will take, and that any recording will be stored securely.5,15 It is good practice to document this discussion in clinical records.15 For instance, a common scenario would be asking a patient to take a photo of amole and send it to the GP surgery. The patient should be advised on how to send the image securely, where it will be stored, and the reasons behind the request. If the image then needs to be sent to a dermatologist for advice about the best treatment, this should also be explained to the patient.
Currently, most phone calls in primary care are routinely recorded, often for medicolegal purposes, and providers should take reasonable steps to ensure that callers are aware that their calls may be recorded.16 According to the guidance, recordings that patients make themselves belong to the patient, and do not have to be stored with medical records.11 However, if a clinician asks a patient to make a recording to aid diagnosis, such as a photograph of a mole, the image has to be stored in their medical records, along with the patient's consent.11
Intimate Examinations
When a patient requires an intimate examination, a face-to-face appointment should be arranged.5 In the rare circumstance that there is no alternative to a remote intimate examination, GMC ethical advice must be followed,5,17 and a chaperone offered. The GMC also advises taking particular care when requesting and storing images of patients' intimate areas; clinicians should follow relevant laws regarding intimate images of adults, and safeguard vulnerable adults.5 
Remote Consultations with Children and Young People
The same principles apply when assessing the healthcare needs of children and young people either remotely or face to face.5 Treating children and young people as individuals and respecting their views is paramount, and clinicians should consider their physical and emotional welfare, as well as potential safeguarding issues.5 At the age of 16 years, a young person is presumed to have the capacity to consent to medical treatment; a young person under the age of 16 years may also have this capacity, depending on their level of maturity and their ability to understand what is involved in a particular treatment.5,18 It is important to explain to any young person their right to confidentiality, whether you are conducting a remote or a face-to-face consultation.5
GMC guidance on patients aged 0–18 years advises that doctors should:5,19
'find out what children, young people and their parents want and need to know
talk directly to children and young people who are able to take part in discussions about their care 
explain things using language or other forms of communication they can understand.' 
Complaints
The GMC advises that complaints during the COVID-19 pandemic should be assessed on an individual basis, to determine whether the incident poses a risk to patients and public confidence.20 In 2020, the GMC issued guidance for decision makers intended to aid decisions when concerns are raised about a doctor's practice during the COVID-19 pandemic.20
Conclusion
Just like face-to-face consultations, remote consultations must comply with the standards outlined in the GMC guidance Good medical practice.4 Clinicians should therefore be familiar with up to date guidance on remote consultations and prescribing. If a clinician is not able to gather all the relevant information regarding a patient's care or presenting complaint, or cannot provide safe treatment remotely, then a consultation must be conducted face-to-face instead.5 If any recordings relevant to a consultation are made, their safe storage in medical records and the reason for the recording's use must be explained to the patient.5,15 It is recommended that clinicians record all conversations and decisions relating to patients' consent to treatment in their clinical notes, even when written consent is obtained.8,9,11,14 As remote consultations are likely to remain in use for the foreseeable future, clinicians should be aware of and adhere to the relevant GMC guidance.