There are calls for the NHS to bring in system-wide changes to cater for the 93% of female clinicians who say they have been affected by the menopause, and the 36% who have been forced to cut back on their hours and are even considering quitting as a result of their physical and mental suffering.
This call for action to 'normalise' menopause has come from the BMA following the publication of its report, Challenging the culture on menopause for working doctors, and based on a survey sent to all of its 30,000 female members aged 45-55 before the pandemic (and completed by 2000). The report reveals not only the numbers of those affected, but that nearly 50% felt unable to discuss the issue with their manager.
Vacancies
One of the motivations for the survey was a bid to understand the observed pattern of senior female clinicians leaving the profession at a time of national doctor shortages, and a concern that menopause might be a factor. Before the pandemic the UK had, according to The Independent, 10,000 unfilled medical vacancies.
Respondents spoke of crippling insomnia affecting their confidence and decision-making abilities, being refused altered hours to cope by their managers, the lack of women left at a senior level in their specialities, feeling overwhelmed and unable to manage their workload effectively, their feelings of failure and worthlessness, and an unforgiving culture.
Dr Helena McKeown, BMA representative body chair and a practising GP, said: "We cannot afford as a society to lose doctors who are at the peak of their productivity. We have not had such good evidence before. The first step is to normalise menopause and to get rid of the taboos around it.
"We work in very pressured jobs and decisions are rapid. The decisions we make often have to be made quickly and the effects of my getting them wrong could be catastrophic.
"Menopause is a short-term thing. We are not asking for time off, we are asking for normalising the discussion and for small things to be done, which could make a huge difference."
Survey Findings
The key findings of the survey are that:
93% of survey respondents had experienced symptoms as a result of the menopause, with 65% experiencing both physical and mental symptoms
90% said that these symptoms had impacted their working lives, with 38% saying that the impact was significant  
36% of respondents had made changes to their working lives as a result of menopause and 9% intended to make changes
38% wanted to make changes to their working lives as a result of menopause but said they were not able to
Only 16% had discussed their menopause symptoms with their manager and 47% wanted to but did not feel comfortable doing so
Compassionate Culture
The report called for a number of measures to be introduced across NHS England as part of a more compassionate culture and workplace with tailored support during the years they might need them (on average 4-5 years).
Practical actions highlighted by doctors which could make a positive difference include:
Breaking the taboo by making employers responsible for normalising menopause and raising awareness in the workplace, with managers in particular, of the impact symptoms can have on work
Access to flexible working - this would enable doctors to manage their symptoms and improve their morale. It should be available across all specialities and for those in, or applying for, senior roles
Improved room ventilation, access to toilet facilities, drinking water, and rest breaks. The BMA Fatigue and Facilities Charter, whilst developed to support trainees, could be looked at as guidance for the types of facilities
Mental health support according to the standards in the BMA's mental wellbeing charter
Developing a more supportive culture where respondents can receive more understanding and compassion from colleagues and managers, with action to address the sexist and ageist behaviour that prevents women speaking about menopause and asking for support
People Plans
NHS Wales introduced a Menopause Policy in 2018 with the declared aim of making organisations individually responsible for understanding the menopause and related issues, ensuring managers understand the support and reasonable adjustments that are available, in order to reduce menopause-related sickness by supporting staff to remain in work rather than having to take sick leave (or in some cases resign).
Although NHS Employers acknowledges that menopause is a concern, given that a million women work for it, and a few NHS trusts such as Sherwood Forest have developed individual menopause plans, the UK still does not have a national policy.
A spokesperson for the NHS made the following statement to Medscape UK in response to a question about the impact of menopause on senior clinicians: "The vast majority of women experience menopausal symptoms at some point in their lives, and your GP can offer treatments and suggest lifestyle changes that will make a difference, so it's important that people come forward to get the help they need, while it's right that employers do what they can to recognise the health impacts of menopause."
A Department of Health and Social Care spokesperson told Medscape UK: "The health and wellbeing of all of our NHS and social care staff is our absolute priority. It is incredibly important that staff feel that they work in a safe and supportive environment where they are able to raise any issues which may affect their work with managers or colleagues.
"The recently-published NHS People Plan sets out the actions that will be taken to help the NHS become a modern and model employer and aims to improve physical and mental support for all staff." This includes the introduction of individual wellbeing talks with managers from September 2020.
Case Study
Dr Helen Fidler loves her job as a gastrointestinal consultant at Lewisham and Greenwich NHS Trust and is ambitious for her service, but menopause symptoms forced her to consider resignation, which she only avoided by limiting her career aspirations.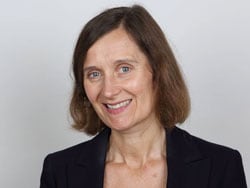 Menopause hit Dr Fidler, who is also deputy chair of the BMA UK Consultants Committee, at 50, just at the point when she was planning to take on the more challenging role of medical director and to pursue super-specialist provider status. Like her mother, she expected to sail through without her career being affected, but she told Medscape UK: "I was blindsided by the symptoms. The sudden flooding was something I was not prepared for - in the middle of carrying out a procedure when I could not take time off. It was hugely embarrassing.
"The worst thing was the sleeplessness as a result of the hot flushes at night which made me feel as if I was thinking in a fog. Job planning became terrifying and I was afraid of being given something that I could not do. I questioned whether I should be doing the job at all. As the only female in the team, menopause was not something I had ever discussed.
"I felt that I was treading water and letting my colleagues down. They looked to me as an inspiration and I was not coming up with it.
"My GP was the most helpful person and pointed out the obvious to me - that what I was suffering was symptoms of the menopause and that they would end. There was no workplace support, but I did not think of asking for it. I decided to step back from leadership roles and watched male colleagues take over.
"After 4 years everything has started to ease and I am back to normal functioning but it would have been so easy to give up my career.
"We need to be having gender-sensitive assessments for women of 45-55 and to be looking at practical support at work such as ventilation, hydration, sanitary products as well as adjustments of timetables for sleepless nights.
"The NHS should be all over this. It's an employment issue and it's their responsibility to tackle it. It's all about culture. Menopause is the last taboo and we have got to sort it out."