England goes into a second national lockdown for 4 weeks from Thursday, Boris Johnson announced.
"The virus is spreading even faster than the reasonable worst-case scenario of our scientific advisers," the PM told a Downing Street news briefing.
"Overrunning the NHS would be a medical and a moral disaster." he said. "Doctors and nurses would be forced to choose between saving COVID patients and non-COVID patients."
So, he said: "Now is the time to take action, because there is no alternative."
Household mixing indoors is mainly banned. Pubs, restaurants, non-essential shops, and leisure venues will close, but schools, colleges, and universities stay open.
He continued: "I know how tough shielding was and we will not ask people to shield again in the same way. But we are asking those who are clinically extremely vulnerable to minimise their contact with others, and not to go to work if they are unable to work from home."
Mr Johnson said: "Christmas is going to be different this year, perhaps very different, but it's my sincere hope and belief that by taking tough action now, we can allow families across the country to be together."
He stressed the NHS was still open for non-COVID patients: "Unless your clinicians tell you otherwise, you should continue to use the NHS, get your scans, turn up for your appointments, and pick up your treatments."
He promised a "massive expansion" in quick turnaround testing with logistical help from the army.
The PM also returned to a previous slogan: "Stay at home, protect the NHS, and save lives."
U-turn
The announcement was reported to have been brought forward from Monday because of media leaks. The PM had previously insisted local tiered restrictions were the right approach, and did not act on SAGE advice for a circuit breaker at the end of September.
Wales and Northern Ireland are already taking circuit breaker, or 'firebreak' measures, and Scotland has a five tier system.
France went into its second lockdown yesterday and Germany follows on Monday.
The number of people in the UK who've tested positive passed the one million landmark today and now stands at 1,011,660.
MPs will have a vote on the measures on Wednesday.
Hospital Admissions
The PM's announcement came after the latest data was presented by Chief Medical Adviser Professor Chris Whitty. He said: "Across virtually the entire country now, there is a significant rate of increase."
He cited ONS data: "We now have around 50,000 new cases a day, and that is rising."
And, "Things are going up across the whole country."
Plus hospital admissions are rising: "Basically anyone over the age of 45...there's a rise in the number of people going into hospital with COVID over time."
He warned: "If we do nothing...the inevitable result will be that these numbers will go up and they will eventually exceed the peak that we saw in spring of this year."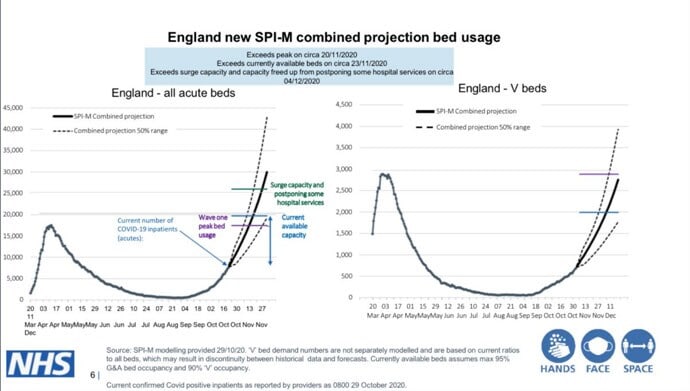 This. and other slides presented at the briefing were shared on the Downing Street website.
Several hospitals now have more COVID-19 inpatients than in the first wave, Prof Whitty said.
"Fortunately, the death rate, although rising is still significantly below the peak, but the mortality rate, the death rate, will track the number of people going into the NHS over time, with a significant delay."
Projections
Chief Scientific Adviser Sir Patrick Vallance said modelling showed that "in terms of deaths over the winter, there's the potential for this to be twice as bad or more...compared to the first wave."
And on hospital admission modelling, "over the next 6 weeks into early December, the numbers exceed the numbers of hospitalisations in the first wave peak".
If nothing is done, deaths could exceed the first wave peak, he said, and NHS bed occupancy calculations show peak usage would be exceeded on 20 November.
Tough Questions
Mr Johnson was asked if the delay in taking action cost lives: "This is a constant struggle and a balance that any government has to make between lives and livelihoods and obviously lives must come first. But we have to be mindful the whole time of the scarring the long-term economic impact of the measures that we're obliged to introduce so I do think it was right and rational to go for the regional approach," he said.
He was asked if he regretted not following SAGE advice in September. "These judgments are incredibly difficult, and we have to find the right balance," he said.
Prof Whitty added: "There is basically no perfect time and there are no good solutions, all the solutions are bad. And what we're trying to do is have...the least bad set of solutions." 
However, he said he was optimistic looking ahead to spring. "There are now multiple shots on goal from science, and the scientific effort that is going on at the moment is absolutely unparalleled from the UK," he said.

No 'Right Time' for Lockdown
Dr Samantha Batt-Rawden, President of the Doctors' Association UK commented: "This situation without increased measures to safeguard our NHS is simply untenable. Therefore, doctors will welcome this latest announcement today.  
"It is now vital the Government now puts urgent measures in place to support NHS staff and key workers to continue to do their jobs. This includes access to transport, accommodation for those needing to live away from home during lockdown to protect vulnerable family members, and ensuring the key workers can still access supermarkets via priority slots if necessary."
Experts commented via the Science Media Centre ahead of the formal announcement.
Dr Stephen Griffin, associate professor, School of Medicine, University of Leeds, said: "Yet again, the UK has been slow to act, delaying decisive action until the last moment. Much like a forest fire, the longer things burn, the harder they are to extinguish, and the more damage ensues from both the fire and the water. Ironically, by delaying, the harm done to industries and society will be far worse compared to had the advice of SAGE been followed in September."
Professor Sir Simon Wessely, regius professor of psychiatry,  King's College London and director, Health Protection Research Unit in Emergency Preparedness and Response and the King's Centre for Military Health Research, KCL, said: "There is no 'right time'  for a lockdown. Great harm results from not locking down, and great harm results from locking down. Either option is a dreadful one, and we should refrain from saying 'I told you so', and accept that lockdown is a political, and not solely a medical, decision." 
Dr Jeremy Farrar, director of the Wellcome Trust, said: "No one envies the job ministers have right now. The evidence is stark but this is still a very tough call and the Government deserves credit for changing its approach in the light of a very fast-moving epidemic."
England's Children's Commissioner Anne Longfield tweeted: "We've always said that schools should be the last to shut and first to open. It would be a disaster for children's wellbeing and education if they were to close."
Daily Data
In today's daily data another 21,915 UK positive tests were reported.
There were also 326 deaths announced, 10,918 COVID-19 patients are in hospital, and 978 ventilator beds are in use.