As we move into the New Year, it appears that the COVID-19 crisis is continuing to accelerate in the UK. I have been reflecting on how we've come to this position.
Early stages of the Government plans in March last year were to 'flatten the sombrero', to try to ensure that the first wave of COVID infections did not coincide with normal seasonal illnesses and make demands on already stretched resources. This delay should have meant that test, track, and trace could be embedded, which was one of the tools that would hopefully avoid a second peak. The time was also vital for the development of potential vaccines and to assess the efficacy of other treatments. Both of which have seen positive developments more recently.
Test and Trace
Remember test, track, and trace and the £22 billion spent on it? World Beating by June 1?
Although there does seem to have been a marked improvement in its performance throughout December, it would appear that this was very much 'after the horse had bolted' and has plainly failed in its implementation, leaving the country exposed and vulnerable to the current second wave of infections.
Having been fortunate to be one of the early recipients of the Pfizer vaccine, I briefly allowed myself to feel optimistic about the coming months and looked forward to life regaining some normality. I bought tickets for concerts scheduled for summer and later in the year, and we even discussed some ideas for family holidays. This optimism was quickly crushed with news of the more infectious new variant of COVID-19 that had been first identified in Kent in September and was spreading rapidly in the South East.
I'd suggest that it was not just NHS workers that had serious misgivings about the Government's plans to relax some of the social distancing rules over the Christmas period. The Prime Minister took great pleasure in mocking the leader of the opposition for having the temerity to want to 'cancel Christmas', only to promptly make another U-turn and impose harsher restrictions for much of the south east of England. This prompted a mass getaway from London, with many reports of  crowded stations and trains departing the capital, and helped to ensure that the new variant was spread far and wide throughout the country (if it already hadn't been).
It is no surprise, that roughly 2 weeks after this Christmas period, where family and household mingling was still permitted, that positive case numbers, hospital admissions and, sadly, COVID-related deaths have reached record levels. It seems that allowing increased social contacts whilst there is a highly infectious disease widespread in the community results in increased transmission of the disease. Who could possibly have predicted that? Well, the Government's own SAGE committee did, and it seems somewhat surprising that subsequently the Prime Minister was still advocating that schools were safe and should be kept open, before yet another U-turn. When the inevitable public enquiry regarding the handling of this pandemic occurs, I'm sure there will be questions asked as to whether sending approximately three million children back to school for one day, allowing extra transmission of the virus, was a good idea. That U-turn was particularly galling from the perspective of the teachers and schools that were trying to put plans into place for mass testing of secondary school pupils for the start of term, and for all of the other teachers that then had to change to providing education online at such short notice. Thankfully, we can take consolation in the Home Secretary's assertion that the Government has been 'consistently ahead of the curve', despite all of the evidence to the contrary.
Emergency Departments
Currently the Emergency Departments (ED) in much of the country are looking at London with increasing concern, much as we were looking at Italy before the first wave. The numbers infected and being admitted due to COVID-19 are hugely alarming, with 6000 patients being admitted due to COVID in just 8 days, and there are very worrying reports suggesting that hospitals face being overwhelmed within 2 weeks even under a 'best case' scenario. The London Mayor, Sadiq Khan, declared a major incident as the London Ambulance Service was taking near record numbers of calls and facing long delays to off-load patients at overstretched EDs.  Managers in the region are involved in discussions to see how many more critical care beds can be made on top of their 'super-super surge level'.
Unlike the first wave, EDs now feel palpably busier and more crowded. The latest reported figures for November 2020 show that despite the overall number of attendances being down by 24.2% compared with November 2019, the number of patients treated within the 4-hour target had reduced by 29.1%.
Significantly, the number of patients waiting more than4 hours from decision to admit to admission increased from 66,795 in October 2020 to 71,041 in November, although that compared with 88,922 in the same month of 2019. Of those experiencing waits, 2141 were delayed over 12 hours, compared with 1111 the previous month. This is worrying as it means that patients are not moving through the EDs in a timely fashion, which may be as a result of capacity reductions due to COVID distancing measures, amongst other things, as these have resulted in approximately 7000 fewer beds being available.
I have no doubt that the December figures, when published, will show that the system is under even more pressure.
Staff
Going into this latest surge in the pandemic, many of us are more concerned than ever. Staff morale is at a low ebb and resilience is near exhausted for many. Staff absenteeism is much higher than usual, and the latest data suggests that almost 50 % of absences were due to COVID, either illness or staff needing to isolate. This has led to a growing clamour to vaccinate frontline staff as a matter of urgency.
NHS staff will meet the challenge in the coming weeks, but I fear that the Government has badly let down both the UK population and the NHS staff who are already stretched to the limit. I am concerned regarding the toll that this will take on many of the staff, as well as the tragic consequences of the illness in terms of deaths and potential 'long COVID'. In addition, the consequences of delays in the usual NHS care for cancer and other conditions will likely result in poorer outcomes for many, even though not directly related to COVID.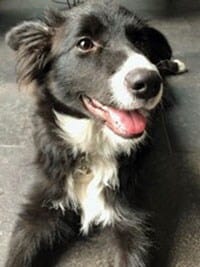 Maddie the (unofficial) therapy dog may be needed.