Doctors whose lives were devastated when they developed long COVID as a result of doing their jobs have told Medscape News UK they deserve more support from the Government and the NHS.
One hospital doctor unable to work for almost 3 years since developing the condition described to us a lack of support and care from the NHS, while a GP partner who was forced to switch to part-time work after becoming ill called for better access to occupational health and flexible sick pay.
Financial Hardship
Their comments coincided with a report by The BMJ that detailed the experiences of scores of doctors left unable to work and facing financial hardship after being infected with SARS-CoV-2 and developing long COVID.
Dr Kelly Fearnley, 37, developed COVID-19 in 2020 during her foundation training at Bradford Royal Infirmary. She became severely unwell, hasn't worked since, and is back living with her father. "I spent 10 hours a day for 5 consecutive days surrounded by infectious patients, so I was subjected to high viral loads on a ward with no ventilation and an absence of respiratory protective equipment," she told the journal's freelance reporter, Adele Waters. "It was essentially a COVID soup."
Long COVID forced her to relinquish her provisional registration and she is unable to work as a doctor. As a result, she co-founded a support network in 2022 — Long Covid Doctors for Action (LCD4A) — that campaigns for greater recognition of long COVID and mitigations to reduce its impact on doctors' health and careers. Members include doctors who have been dismissed as they can't work anymore, those who've had to retire prematurely, and others who've lost their places on training programmes.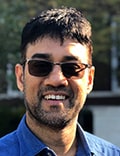 Dr Asad Khan, 47, was working as a respiratory consultant in Manchester before he developed long COVID. He hasn't worked since November 2020. He told Medscape News UK: "I was bedbound, unable to eat or drink. I couldn't even stand my kids being in the same room as the stimulus was so intolerable and I really felt close to death."
Dr Khan was diagnosed with multiple blood clots, mast cell activation syndrome (MCAS), postural orthostatic tachycardia syndrome (POTS), post-traumatic stress disorder (PTSD), and pre-diabetes. He also experienced a range of post-COVID symptoms including chest pain, urticaria, cognitive impairment, and fatigue. "I'm a lot better now than I was when I was in that terminal state, but I can't stand or walk for too long otherwise I get chest pain and a rapid heart rate."
NHS Guidance on Long COVID "Not Fit for Purpose"
Dr Khan said he experienced a lack of support and care from the NHS.
"At best some doctors were empathetic and trying to be supportive in a conventional way. At worst I experienced horrific disbelief, gaslighting, and minimising. Once after making suggestions regarding my management, I was told by a colleague of mine to 'remember I was the patient, not the doctor here'. I was astonished," he said.
"Part of the problem is there's no helpful guidance for doctors to follow. NICE guidance isn't really fit for purpose. They don't give any specific recommendations for low-risk treatments to help people feel better," Dr Khan added.
Widespread Incidence of Long COVID 
Long COVID— or post COVID syndrome — is an umbrella term for a range of symptoms , from fatigue and respiratory problems to heart palpitations and joint pain that develop during or after COVID-19 and continue for more than 12 weeks and are not explained by an alternative diagnosis. 
There's no official number of cases in the UK but the latest available figures from the Office for National Statistics in March 2023 estimated 1.9 million people were living with the condition.
Similarly, there's no exact figures for how many doctors and other health workers have long COVID. But ONS Figures from May 2021 suggested that 122,000 healthcare workers and 31,000 social care workers were self-reporting having the condition.
The British Medical Association (BMA) joined forces with LDC4A earlier this year to survey doctors who had long COVID. Out of the 603 doctors who responded, 18% said they were unable to work due to their post-acute COVID ill-health. The survey also revealed that 49% of doctors said they had experienced some form of loss of earnings because of long COVID.
Doctors Demand More Help
The BMA and LCD4A also set out a list of recommendations to help those affected. These included recognising l ong COVID as an occupational disease ; financial support for those with long covid; better access to physical and mental health support services for doctors and other healthcare workers, as well as greater workplace protection and better support for returning to work.
The Department of Health and Social Care (DHSC) told The BMJ that it recognised that long COVID can have a debilitating impact on people but the "evidence in relation to making long COVID an occupational disease is at present insufficient, given continuing uncertainties around its definition, fluctuating nature, and range of symptoms".
Dr Rachel Ali , 44, w as a GP partner in Plymouth working 50 hours a week before she developed long COVID. Afterwards, she lost her partnership role and now works part time. 
"My main problems were significant cognitive impairment and fatigue – for a long time I wouldn't have been safe to see patients," she told Medscape News UK. "At my worst I was doing things like putting the kettle in the fridge. I couldn't stand long enough to make a sandwich and couldn't drive my car." 
Dr Ali has now begun a slow, phased return to work, working 16 hours a week split over four mornings. "It's exhausting and I'm not sure I'll be able to do much more than this for a very long time to come, if ever. I struggle to manage my fatigue. I need a nap every afternoon in order to be able to function with my family in the evening and I can't do anything spontaneously. I miss my old life." 
Dr Ali added: "I think doctors with long COVID need access to excellent occupational health, flexible sick pay, and understanding from colleagues. We need to support GP partnerships to find ways to keep GPs with long COVID as partners. More importantly we need to be acting to stop more colleagues getting long COVID. We need to stop thinking of COVID as a minor viral illness. Its sequelae are devastating to too many of us."
For Dr Khan, having long COVID has changed his whole outlook to his profession. He told us: "I went through a phase of being absolutely furious about how I was being treated but I didn't have the energy to fight it. Now my energies are focused on being a more empathetic and open-minded doctor. My aim, when I hopefully return to work, is to be a physician who will listen to patients with conditions that have been misunderstood. I have been there." 
For more news, follow Medscape on  Facebook, Twitter, Instagram, and YouTube