In 2021, Guidelines Live returned as an in-person event—what were the best bits from the most popular clinical streams?
Guidelines Live welcomed more than 1266 in-person attendees to ExCeL London on 30 November and 1 December 2021. GPs, nurses, pharmacists, and other healthcare professionals attended from all over the UK to understand how to put the latest clinical guidance into practice. Here, we share some key messages taken from the most popular streams.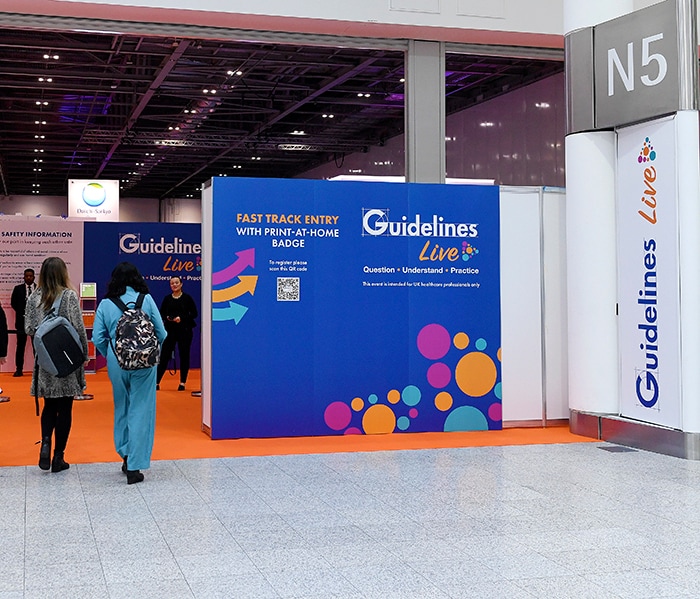 Keynote—Guidelines: Useful, Usable, and Used
Presented by Dr Paul Chrisp
The event opened with the keynote address from Dr Paul Chrisp, Director of the NICE Centre for Guidelines, who outlined NICE's 5-year strategy to make its guidance more useful and accessible. He revealed that, as part of its new approach, NICE will group guidelines into connected 'topic suites' to make them easier to access. These topic suites will focus on recovery from the COVID-19 pandemic and addressing the backlog of care, as well as health inequalities and the prevention agenda. A diabetes guideline in March 2022 will be the first to be published in the new format. Further details on the Keynote speech are available here.
Cardiovascular
Chaired by Helen Williams
In the first of two cardiovascular (CV) streams, Consultant Pharmacist Helen Williams presented on primary care networks (PCNs) and cardiovascular disease (CVD) prevention, outlining the scale of the challenge to address the ABCs—atrial fibrillation, blood pressure, and cholesterol. The Quality and Outcomes Framework and PCN Directed Enhanced Services/Investment and Impact Fund provide levers to improve the detection and management of these high-risk conditions, and she also highlighted the UCLPartners Proactive Care Frameworks, which support general practice to identify patients at greatest risk and optimise care. 
Dr Raj Thakker focused on hypertension, calling for improved detection and management. Hypertension is everyone's responsibility, he said, with innovation, strong leadership, culture change, and imagination required to develop local solutions to address gaps in care.
98% of delegates would recommend 
Guidelines Live
 to a colleague
Gastroenterology
Chaired by Dr Charlie Andrews
The well-attended gastroenterology stream covered the management of flares of inflammatory bowel disease (IBD) and how to investigate abnormal liver function tests (LFTs). 
Key messages on IBD were that patients with mild-to-moderate symptoms or who are systemically well may be suitable for community treatment; steroid-sparing therapies should be considered in those with ulcerative colitis; and patients should be reviewed regularly to identify those not responding to treatment, and their treatment escalated accordingly.
Abnormal LFTs can occur for many reasons, and patient history must be correlated with biochemical findings to guide further assessment. Around 20–30% of the population have non‑alcoholic fatty liver disease (NAFLD); of these, 10–15% will develop liver fibrosis, which may lead to cirrhosis and an increased risk of hepatocellular carcinoma. The Fibrosis-4 Index or an NAFLD Fibrosis Score should be used to risk assess patients with NAFLD, or an enhanced liver fibrosis blood test if this is available locally.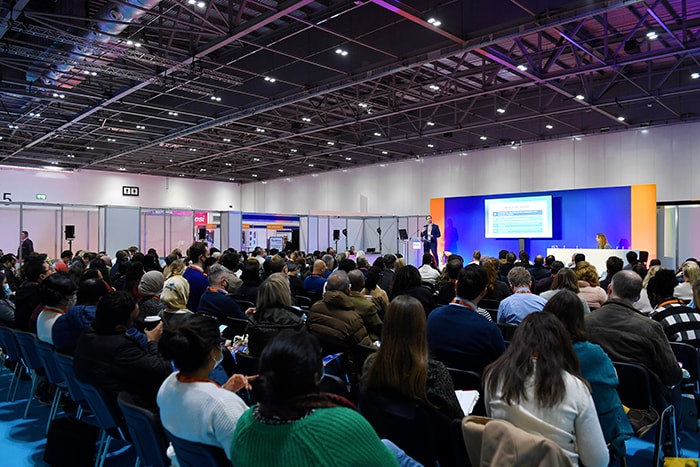 Health Promotion
Chaired by Dr Toni Hazell
The session discussed tobacco dependency and practice wellbeing. Melanie Perry of the British Thoracic Society assessed the audience's confidence in giving advice about smoking, and provided a sobering reminder of the harms caused. She discussed e-cigarettes, in which there was much interest, and an intervention that can be delivered by GPs in 30 seconds; confidence in providing stop smoking advice had greatly increased by the end of the session. 
Dr Vasumathy Sivarajasingam covered the vital topic of practice wellbeing, outlining the actions she has taken at Hillview Surgery, Perivale, and providing practical ideas based on five key tenets—connect, take notice, keep learning, be active, and give. The audience shared their own experiences, and left with plenty of ideas to improve wellbeing in their workplaces.
Chronic Obstructive Pulmonary Disease 
Chaired by Dr Kevin Gruffydd-Jones
Opening the stream, Dr Gruffydd‑Jones outlined the common causes of acute cough and major causes of chronic cough (lasting more than 8 weeks). Clinical assessment should aim to identify features that warrant urgent referral, and patients who can be initially managed with a trial of therapy. 
Dr Ashish Chaudhry and Dr Harsha Master discussed long COVID, the symptoms of which are due to multisystem malfunction and are dominated by fatigue and breathlessness. Autonomic dysfunction is characterised by postural hypotension, vasovagal symptoms, and postural orthostatic tachycardia syndrome. They emphasised that other causes should be excluded, and that once the diagnosis has been established, patients should be referred to local post‑COVID-19 rehabilitation teams.
86% of delegates said they either completely or mostly met their objectives
Women's Health
Chaired by Dr Anne Connolly
Dr Connolly discussed the physical, social, and psychological problems caused by endometriosis, which affects about 5–10% of the population, and the need for earlier recognition and management. With reference to typical cases seen in primary care, she offered tips on appropriate investigations, treatment options, when referral is indicated, and hormone replacement therapy (HRT) recommendations post-surgery.
Dr Toni Hazell spoke about the importance of providing safe and effective contraception for women aged over 40 years. She discussed the challenge of supporting women with the information they need, making the appropriate assessment, advising on when contraception is no longer required, and prescribing contraception safely alongside HRT during the perimenopause. 
Diabetes
Chaired by Dr Kevin Fernando
Discussing diabetes and multimorbidity, Dr Amar Puttanna reminded delegates that CVD is one of the leading causes of death in people living with type 2 diabetes. He looked at diabetes medications demonstrating CV benefits independent of their glucose‑lowering effects, and recommendations in the joint consensus report from the American Diabetes Association and the European Association for the Study of Diabetes in relation to type 2 diabetes and atherosclerotic CVD, heart failure, or chronic kidney disease (CKD).
In 'Diabetes unfiltered', Dr Kevin Fernando pointed out that CKD is a harbinger of poor outcomes and an independent risk factor for CVD, and that it is now recommended that CKD be classified by both estimated glomerular filtration rate stage and albumin–creatinine ratio category, because each independently stratifies the risk of future adverse renal and CV outcomes. He also looked at the NICE CKD guideline, updated in 2021, and the recent UK Kidney Association guidance.
To dedicate time to your continuing professional development, book now for Guidelines Live 2023 on 21 and 22 November at ExCeL London. Guidelines Live is an educational event made possible by sponsorship from organisations including pharmaceutical companies. Sponsors have had no input into the agenda of the meeting unless through sponsored session(s) as indicated on the main programme.