This working party guideline was developed and published in 2006 for use with adults who develop a hot swollen native joint acutely—typically with a history of 2 weeks or less—affecting any joint except the axial skeleton. The guideline focuses on the diagnosis and management of septic arthritis; hot swollen joints commonly have other underlying diagnoses, including crystal arthritis, reactive arthritis, and a monoarticular presentation of polyarthritis.
The scope of this guideline does not include children under the age of 16 years, management of gout, management of septic arthritis beyond 6 weeks, management of reactive arthritis, osteomyelitis, infection of the axial skeleton, or management of septic prosthetic joints.
This Guidelines summary has been produced for use by primary care health professionals, where diagnosis of septic arthritis may take place. Management of septic arthritis takes place in secondary care, but management recommendations have been included here for information. For the complete set of recommendations, refer to the full guideline.
Diagnosis and Management Algorithms
Algorithm 1: Algorithm for Patients Presenting With Acute Increase in Pain and/or Swelling in One or More Joints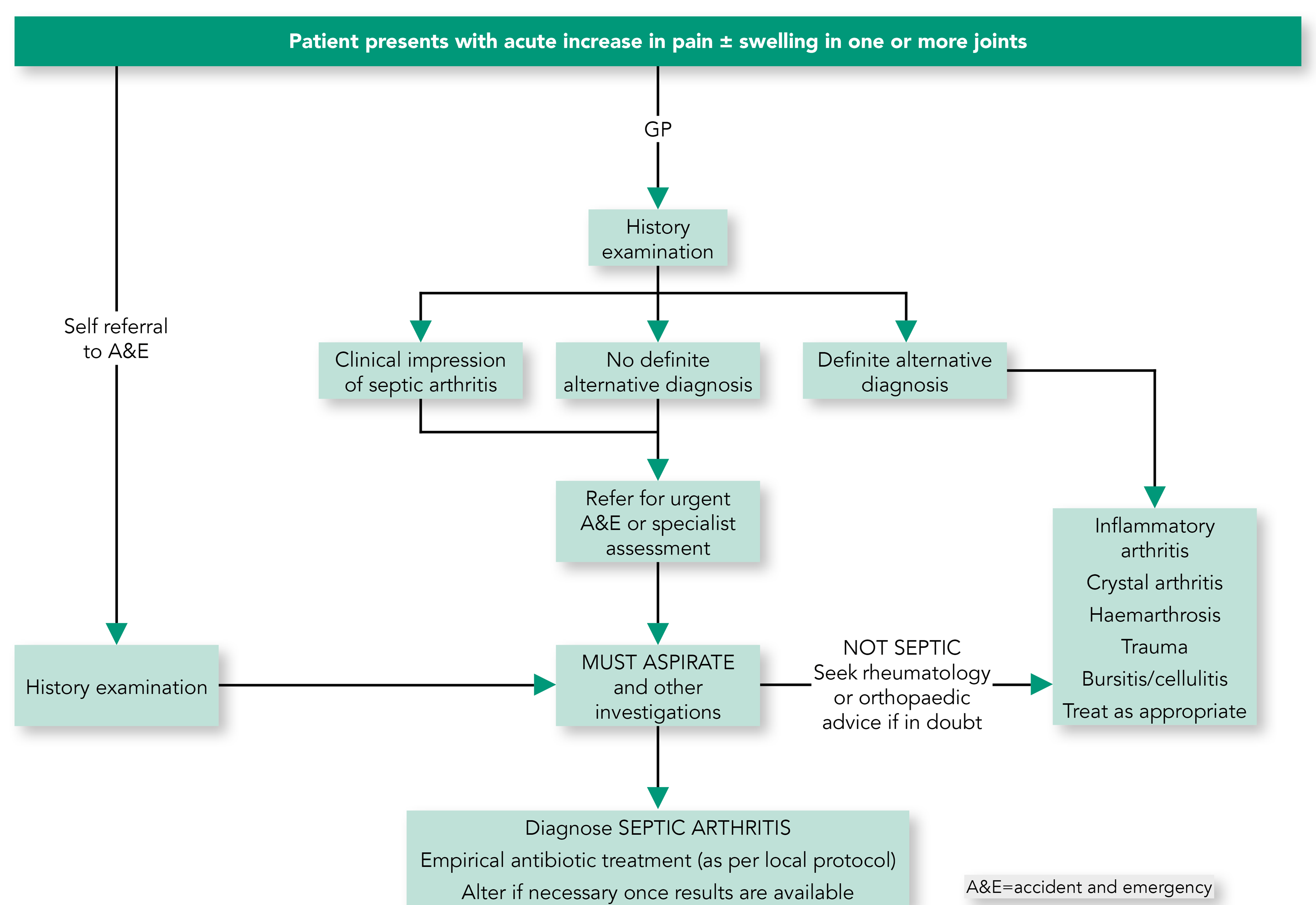 Algorithm 2: Algorithm for the Management of Septic Arthritis in Secondary Care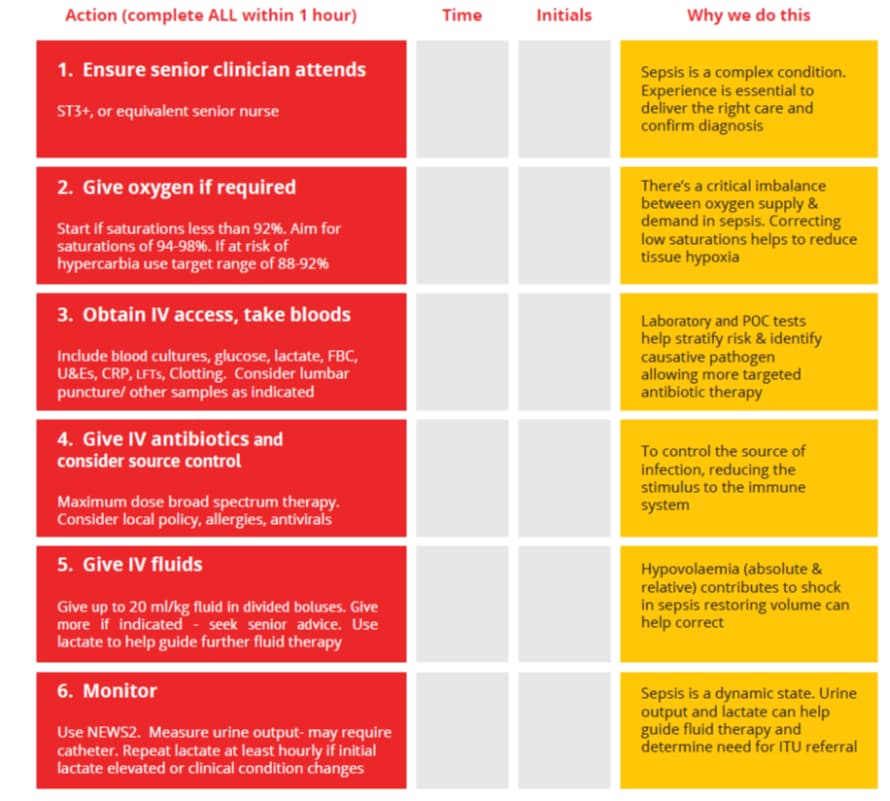 Symptoms and Signs Suggestive of Septic Arthritis
Patients with a short history of a hot, swollen, and tender joint (or joints) with restriction of movement should be regarded as having septic arthritis until proven otherwise
If clinical suspicion is high, then it is imperative to treat as septic arthritis even in the absence of fever.
Risk Factors for Joint Sepsis
Risk factors for the development of joint sepsis include:

pre-existing joint disease, usually rheumatoid arthritis or osteoarthritis (OA)
prosthetic joints
low socio-economic status
intravenous drug abuse
alcoholism
diabetes
previous intra-articular corticosteroid injection
ulcerated skin

A number of factors constitute poor prognostic features in septic arthritis. These include older age, pre-existing joint disease, and the presence of synthetic material within the joint.
Organisms Causing Septic Arthritis
In the UK, the most common causative organisms of septic arthritis are either Staphylococcus aureus (S. aureus) or streptococci, with an increasing incidence of methicillin-resistant Staphylococcus aureus (MRSA)
In young adults, there is a significant incidence of gonococcal arthritis
Gram-negative organisms are more common in elderly and immunocompromised people than in young people
Anaerobic organisms are more likely when there is a history of penetrating trauma.
Investigation of Synovial Fluid in Cases of Suspected Joint Sepsis
The synovial fluid must be aspirated, Gram stained, and cultured prior to starting antibiotics
Anticoagulation with warfarin is not a contraindication to needle aspiration
A possibly infected prosthetic joint should always be referred to an orthopaedic surgeon
Neither the absence of organisms on Gram stain, nor a negative subsequent synovial fluid culture, excludes the diagnosis of septic arthritis. If clinical suspicion is high, it is imperative to treat it as septic arthritis even in the absence of laboratory confirmation
Specimens must be sent fresh to the laboratory and obtained prior to starting antibiotics; there is currently no evidence to support routine bedside inoculation into blood culture bottles. The laboratory should process all specimens
Specimens should be cultured in either broth culture or with lysis centrifugation in addition to agar culture
Routine polymerase chain reaction is not currently indicated
Polarising microscopy to evaluate crystals should be carried out on all synovial fluid samples. This should be performed on a fresh sample by a microscopist experienced in crystal identification and in a laboratory with adequate standardisation and quality control. If samples cannot be processed immediately, they should be stored at room temperature overnight, since artefactual crystals can form on refrigeration.
Other Laboratory Investigations in Cases of Suspected Joint Sepsis
Blood cultures should always be taken
The white cell count (WCC), erythrocyte sedimentation rate (ESR), and C-reactive protein (CRP) should be measured
The absence of a raised WCC, ESR, or CRP does not exclude the diagnosis of sepsis and if clinical suspicion is high then treatment for infection should always be instituted. The inflammatory markers are often useful for monitoring response to treatment
The serum urate level is of no diagnostic value in acute gout or sepsis
Urea, electrolytes, and liver function should be measured to detect end-organ damage, which is a poor prognostic feature in septic arthritis, and because renal function may influence the choice of antibiotic
If the history suggests the possibility of genitourinary, respiratory tract, or other infection, then appropriate cultures and swabs should be taken prior to starting antibiotics.
Imaging 
Plain radiographs of the affected joint are of no benefit in the diagnosis of septic arthritis, but may show chondrocalcinosis suggestive of pyrophosphate arthropathy. They should be performed as a baseline investigation for assessing any future joint damage
Scintigraphy and magnetic resonance imaging (MRI) both perform well for distinguishing sepsis from OA, but cannot distinguish between sepsis and inflammation and are therefore not indicated routinely in the investigation of the hot swollen joint
The working party recommends that if advanced imaging is necessary then MRI would be most appropriate since it is sensitive in detecting osteomyelitis, which may require a surgical approach
In suspected hip sepsis, diagnostic aspiration will usually require the use of ultrasound or an image intensifier.
Recommendations Specific to Primary Care and the Emergency Department
The commonest hot joint to present in primary care is the great toe metatarsophalangeal joint. This is almost always due to gout and can be diagnosed on clinical grounds without requiring needle aspiration or referral to hospital. Referral should be made if there is an inadequate recovery (see also the British Society for Rheumatology guideline on gout)
Some GPs regularly aspirate and inject joints for patients with inflammatory arthritis or OA. However, if they aspirate unexpectedly cloudy fluid from a joint, they should send the sample with the patient to the local emergency department, and not inject corticosteroid
GPs and doctors in the emergency department should refer patients with suspected septic arthritis to a specialist within the hospital who has the expertise to aspirate the joint
Patients should be admitted to hospital if sepsis is suspected
If there is any doubt about whether sepsis might be present, intra-articular steroids should not be used
The skills necessary to aspirate a joint in hospitals will commonly be held by specialists and trainees in emergency medicine, orthopaedics, and rheumatology.
Antibiotic Treatment of Septic Arthritis
Recommendations for antibiotic treatment of septic arthritis in secondary care have been included for information.
Gram staining of synovial fluid is critical to early, targeted antibiotic therapy and must be performed as soon as possible in order to give immediate guidance on antibiotic choice
Likely pathogens are S. aureus and streptococci, and initial bactericidal antibiotic therapy prior to organism identification should reflect this
Gram-negative organisms are more common in the elderly and in those with sources of infection or immunosuppression. Antibiotic choice in these groups of patients should reflect this
MRSA should be considered especially in 'at-risk' groups, such as nursing home residents or recent hospital inpatients
Routine cover for Neisseria gonorrhoeae (N. gonorrhoeae) or Haemophilus influenzae type B is no longer required in the absence of specific clinical indicators
Shorter and less intensive courses of antibiotics for N. gonorrhoeae are normally sufficient
Demographic and clinical risk data should also be used to make judgements on the likelihood of the involvement of atypical organisms
Antibiotic therapy must be amended as results on culture, sensitivity, and specificity become available
There is no evidence on which to advise the optimal duration of intravenous or oral antibiotics. Conventionally, they are given intravenously for up to 2 weeks or until signs improve, then orally for around 4 weeks, which should be able to achieve adequate joint and bone concentrations. Symptoms, signs, and acute-phase responses are all helpful in guiding the decision to stop antibiotics. Expert review may be required if the expected resolution does not occur. 
Joint Drainage and Surgical Options
Recommendations for joint drainage and surgical options for the treatment of septic arthritis in secondary care have been included for information. 
Septic joints should be aspirated to dryness as often as is required. This can be done either through a closed needle approach or arthroscopically according to local preferences
If the response is not satisfactory with a closed needle approach, or pus is thick and inspissated, arthroscopic aspiration should be used to allow biopsy and repeat culture, washout, and perhaps debridement
There is no evidence to indicate whether septic joints should be splinted or mobilised, and local preferences should be followed
In suspected hip sepsis, there should be early referral for an orthopaedic opinion. The risks of avascular necrosis and chondrolysis are greatest in the hip and urgent open debridement is often necessary.