Dr Toni Hazell Gives an Overview of Appraisals, Underlining the Benefits of Effective, Organised Reflection for Continuing Professional Development
Read This Article to Learn More About:
the purposes of appraisal and revalidation
myths about appraisals and portfolio requirements, and why they are unsubstantiated
effective ways to reflect on your practice, including the 'What? So what? Now what?' model and the Guidelines in Practice Reflection Record.
I am a portfolio GP and I wear many hats, one of which is that of a GP appraiser. Colleagues' reactions vary when they find this out. Some consider me a disgrace to the profession, taking part in a system that is burdensome, is full of unnecessary administration, and exerts too much control over GPs. These colleagues point out that appraisal and revalidation are very unlikely to catch the next Harold Shipman (whose arrest accelerated the introduction of revalidation to obtain a licence to practise medicine in the UK1), and that the current system, in which feedback from colleagues is only sought every 5 years, may not even identify every poorly performing doctor.
To a certain extent, these people are right. I do not think that an appraisal would have identified Shipman. Appraisals did not uncover the crimes of Ian Paterson,2 Ralph Harper,3 or Myles Bradbury.4 However, appraisals are not designed to stop criminal doctors1—the only way to be sure that no criminal ever infiltrates medicine is for every interaction with a patient to be supervised, and investigations following criminal behaviour have demonstrated that there will never be the appetite or the resources for that.4  
There is also some truth to the idea that appraisals do not identify every poorly performing doctor.1 When I appraise someone, I am relying largely on what they tell me—structured feedback from colleagues is required once every revalidation cycle,5 but as feedback is anonymous, you cannot check who has provided it. Complaints and significant events are documented and discussed, but in the spirit of learning rather than blame.4
However, the appraisal process is not designed to spot poorly performing doctors either; there are other processes that fulfil this role. The General Medical Council (GMC) has a system for reporting and addressing concerns about a doctor,6 and the Care Quality Commission7 and local performance advisory groups8 exist to regulate, investigate, and manage the performance of doctors. Complaints can also be processed through the NHS England system9 or local patient advice and liaison services.10
So, if appraisals are not intended to stop criminals or identify poorly performing doctors, what are they for? And what should be included in portfolios to make the system as time-efficient and effective as possible?
The Purpose of Appraisals
Fundamentally, appraisals are intended to support the appraisee, as demonstrated by this useful description of the aims of the appraisal process by the Academy of Medical Royal Colleges (AOMRC):11
'The main focus of the appraisal process is to support the professional and personal development of the doctor. To achieve this, appraisal must be a safe and confidential space for a doctor to review their achievements, challenges, and aspirations. By participating in appraisal, doctors demonstrate the key professional behaviour of learning from reflection. This reflection needs to encompass the entire scope of their work—be it in direct clinical service, in education and training, in research, or in what is broadly termed "health policy".'
Those who maintain that appraisal is an exercise in control may snort at this notion, and say something along the lines of: 'If it's there for support, and I don't need support, why can't I opt out of the whole process?' However, in my opinion, I think that this idea is untenable. I cannot imagine that the Government or the general public would ever allow a return to the days when doctors had no appraisal of their practice at all over a career spanning several decades. Something is required, and I personally prefer the current system to other possibilities—do we really want a compulsory exam, potentially set by secondary care practitioners, that may or may not have questions relevant to general practice? Or a system in which doctors are appraised not by their peers, but by managerial staff?
I am proud to work in a system in which I appraise (and am appraised by) my peers, and I do my utmost to make it a supportive experience. It is not such a terrible thing to have some protected time to talk about yourself—your career, your work–life balance, and your hopes for the future—with a person who has skills in coaching and mentoring, as well as a detailed knowledge of revalidation requirements. Some appraisees have told me that our discussions have prompted them to make significant changes to their working week, and that this has stopped them going down the road to burnout and kept them in general practice. Given that 644 individual GPs (364 full-time-equivalent GPs) left the NHS between September 2021 and September 2022, and that 16% of primary care respondents to a British Medical Association survey stated that they intend to leave the NHS once the pandemic is over,12 general practice needs all the help it can get.
Administrative Concerns
If appraisals exist to support appraisees, it follows that the administrative aspect of the process should not be too onerous, and this element has significantly improved in recent years. Indeed, the Royal College of General Practitioners recommends that appraisees should not need to spend more than half an hour collecting supporting information and updating their portfolio when preparing for an appraisal.13 At the outset of the COVID-19 pandemic, the appraisal process was adapted to focus more on professional development and wellbeing, with GPs no longer having to supply large quantities of supporting information and pre-appraisal paperwork.14,15 This adaptation has now been formalised in the 2022 guidance, after an NHS England survey yielded positive responses.14
Pre-Appraisal Preparation
A doctor's personal information and the scope and nature of their work are unlikely to need much updating, so the main substance of this pre-appraisal process consists of the appraisee selectively collecting supporting information and documenting:16
any challenges, achievements, and aspirations that have arisen since their last appraisal
their reflections about their personal and professional wellbeing
their progress since their last appraisal in relation to their personal development plan.
This preparation facilitates the appraisee's self-evaluation, allows the appraiser to get an overall view of how things are going, and helps to guide the discussion during the appraisal itself.16
According to the GMC,5 the information that GPs should bring to their appraisal falls into four categories (see Figure 1).
Figure 1: Categories of Supporting Information to Bring to the Appraisal5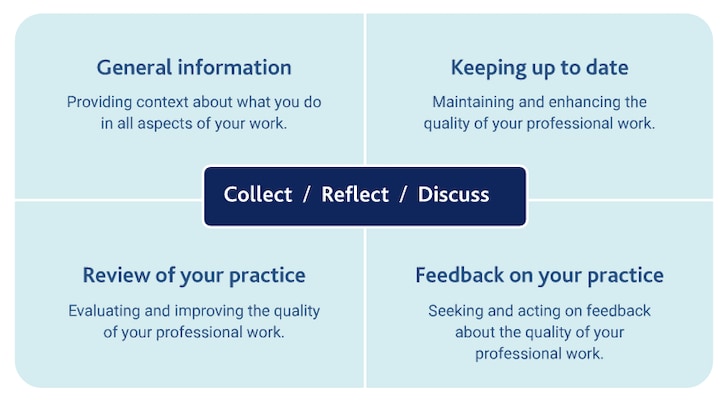 Myths About Appraisals and Portfolio Requirements
There are several commons myths about what doctors need for appraisal and revalidation, all of which can get in the way of the success of the process.
'GPs must have conducted five appraisals in 5 years to be revalidated'
Importantly, the GMC emphasises that annual appraisals can be missed for clear and reasonable mitigating circumstances, and that doctors do not necessarily need to complete five appraisals for revalidation.5 Many of my appraisees have been through revalidation with four, three, or occasionally only two appraisals—usually because of long-term sick leave or maternity leave, but also because of disruption caused by COVID-19.
'GPs need to have participated in an audit every year or revalidation cycle'
The perceived need for an annual audit is probably the most pervasive myth associated with appraisal. Appraisers are meant to draw out some sort of quality improvement activity (QIA) from each appraisee every year to be discussed in their appraisal, and audits are one particular domain of quality improvement—be they clinical or local audits, or those of a particular aspect of a doctor's practice.5 If a doctor has participated in an audit, that can certainly be incorporated here. However, QIA can also include:5
case review—discussing an interesting or challenging patient, or one who is still on the appraisee's mind for some reason
analysis of a learning event, in which something maybe did not go as planned, but the situation was not serious enough to be considered a significant event
review of a doctor's performance against local, regional, or national benchmarks.
QIA can also include analysis of the effectiveness of teaching,5 so feedback from a trainee, foundation year 2 doctor, or medical student would also count. Reflection can centre on what the trainee has said, what the doctor thinks about that, and how they are planning to change their teaching in the future as a result of this feedback. Practice development also counts for QIA, and includes consideration of innovations at the appraisee's practice, changes in drug monitoring or appointment systems, and ways of interacting with the local primary care network.5
'GPs must document basic life support, safeguarding, and mandatory training for appraisal and revalidation'
There are certain areas of a GP's work that should not be considered in revalidation or appraisal, but are commonly mistaken as requirements. Training on topics such as basic life support, fire safety, the General Data Protection Regulation, or safeguarding for children or adults is the responsibility of doctors' employers, not their appraisers.5,17 However, it may be advantageous to document such training, so that the information is easily to hand for any future job applications.
'GPs need to demonstrate 250 hours of learning over a revalidation cycle, and scan certificates to prove continuing professional development'
There is no longer any need to count hours of continuous professional development (CPD) or achieve a certain number of CPD points—this was never a GMC requirement anyway, and is not mentioned in Good medical practice18 or the GMC guidance on meeting revalidation requirements.5 Relatedly, certificates are not necessary for demonstrating CPD, as they only prove that the person attended an event, not that they actually learned anything. Please don't scan them on an appraiser's account—I'm certainly not going to look at them.
Reflection on CPD is a key part of the appraisal process, and as an appraiser I am much more interested in what someone has learnt from a CPD event than whether they attended. The GMC suggests thinking broadly about the activities that can be considered CPD,5 and I use a inclusive definition of a CPD event to reflect this. It could be a lecture (face to face or virtual), an article the appraisee has read, a guideline they have reviewed, or a flowchart they have found useful and stuck on their wall, to mention a few common examples.
'Reflection must always be extensive'
The GMC stresses quality over quantity in terms of supporting information and reflection for appraisals.5 Its guidance emphasises: 'It is important that your supporting information covers your whole scope of practice [and] is of sufficient quality to support your learning and development, … but [you should not collect] multiple examples that demonstrate reflection and learning of the same skills.'5 In appraisals, it is more important for a doctor to consider particular activities and events that they found meaningful and valuable rather than spending a long time collecting huge amounts of information and documentation, with little purpose other than as 'evidence'.
Reflecting on Your Practice
It can be difficult to know how best to reflect on your practice throughout the year, but keeping a record of reflections can make the appraisal process easier and more beneficial. There are various effective methods of reflection, but I'm a simple soul, so my favourite model is also very straightforward (and not very time consuming): the 'What? So what? Now what?' model, outlined in Box 1.
Box 1: What? So What? Now What?19
What?—describing what happened

What happened?
What did I do?
What did I notice that is of particular interest?

So What?—considering why the event was significant

Why does this event matter?
What have I learned?

Now What?—proposing suitable next steps

What am I going to do with this information, and how will it affect my practice?
How can I be better prepared in future in light of this event?
Documenting Reflection
There are many ways to document reflection, depending on whether you prefer making notes on pen and paper, using a computer, working on a particular app on your mobile phone, or another method. Personally, I have given up on pen and paper, as I can never find the information again when I need it, and I can type faster than I can write.
One option that I like to use is the Guidelines in Practice Reflection Record.20 You can type directly into a copy and upload it to your portfolio, or print it out and fill it in by hand—whichever you prefer—then attach it as a photo or a scan to your appraisal portfolio. It has several sections that expand on the 'What? So what? Now what?' model, outlined in Box 2.
Box 2: Areas Covered by the Guidelines in Practice Reflection Record20
What?
Which aspects of this article or video really made you think?
What ideas arose from your reading or viewing that challenged your current practice?
So What?
Have you identified any gaps in your knowledge? If so, how will you address this?
Now What?
How have you changed your practice, or what will you do differently in the future?
When do you plan to review your progress?
Conclusion
Let's return to that paragraph from the AOMRC about the purpose of appraisal: 'By participating in appraisal, doctors demonstrate the key professional behaviour of learning from reflection.'11 All doctors reflect, all the time. We chat with colleagues over lunch or coffee about a complicated patient, or seek advice at a practice meeting. We think about whether we have made the right decision—occasionally, it keeps us awake at night. We sometimes change our minds if a patient's presentation evolves, or if more information comes to light.
Using a template, such as the one mentioned above, is an easy way to formalise those reflections, so that when it comes to your appraisal, you don't have that sinking feeling of opening an entirely blank portfolio and remembering nothing about what you've done in the preceding year. Instead, you already have reflections uploaded from talks or webinars you have attended or articles you have read, and the half-hour preparation time can become a reality, not another myth.
I hope your next appraisal goes well. It is your time—use it in a way that is useful to you.
Key Points
The intention of appraisal and revalidation is to support the individual practitioner and allow them time for reflection
Appraisals are not supposed to expose criminals or identify poorly performing doctors, for which there are other processes
The collection of information in advance of an appraisal should not be too onerous, and can be made easier if doctors document their reflections and CPD throughout the year
Reflection Records and the 'What? So what? Now what?' model are particularly useful for reflecting on an individual event, be it structured CPD, a talk, an article, or a particular case, incident, or interaction in a doctor's practice
Appraisals can be missed for clear and reasonable mitigating circumstances, and this will not affect revalidation
Audits are not the only form of QIA, and are not a prerequisite for any revalidation or appraisal
Many forms of training are not required for appraisals, including BLS, health and safety training, or mandatory training on topics like fire safety, and safeguarding, as they do not directly relate to professional and personal development
There is no longer any need to log a certain number of hours of CPD or demonstrate attendance of events, as the emphasis of appraisals is on what the practitioner has learnt or wants to work on rather than meeting specific criteria
In appraisals, doctors should focus on activities and events that they consider to have been meaningful or valuable, rather than collecting huge amounts of information that has no significant purpose.
CPD=continuing professional development; QIA=quality improvement activity; BLS=basic life support