Blue raspberry, apple peach, and cotton candy ice all sound attractive and harmless, but might the appeal of these flavours damage children's health if used to entice them to start vaping.
The NHS is clear that vapes — or e-cigarettes — are substantially less harmful than smoking and an effective tool to help smokers quit. But the advice only applies to adults and the potential dangers for young people are unknown, particularly when vapes include nicotine. Children and young people's developing lungs and brains are more sensitive to its effects, so it may come with additional health risks, the NHS warns.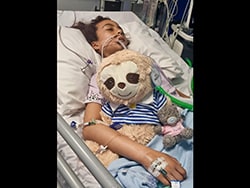 One 12-year-old girl is now very aware of those risks. Sarah Griffin, from Belfast, who has asthma and was a heavy vaper, suffered a lung collapse and spent 4 days in an induced coma last month. 
She and her mother, Mary Griffin, recently went public with their story. "The doctor showed me an X-ray of Sarah's lungs and explained one had been badly injured," said Mary. "The other was therefore working overtime and aggravating her asthma. Sarah also had an infection, so everything combined had a massive impact on her body, extremely quickly." 
Mary added: "The doctors explained that if Sarah hadn't been vaping, she would have been in a better position to fight off the infection. Vaping had left her lungs very weak." 
Although Sarah is out of hospital, she has been left with permanent lung damage. She shared with BBC News her advice to other children about vaping. "Don't start doing it, because once you start doing it, you don't stop doing it."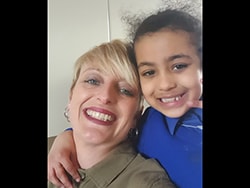 Sarah and her mother are backing a campaign by Northern Ireland Chest Heart and Stroke (NICHS) to highlight the dangers associated with vaping.
Fidelma Carter, head of public health at NICHS said: " The long-term health implications are unknown - just as they once were with tobacco. Vapes are designed to deliver vaporised liquids into your lungs when you breathe in. This vaporised liquid isn't water and it almost always contains nicotine, flavours and either/or a combination of humectants such as propylene glycol, vegetable glycerine or glycerol. Many flavours and humectants have been approved in the UK for oral ingestion but not for inhalation. Therefore, the health risk is not well known, when consumed in this manner. "
Ms Carter continued: "There is also emerging evidence and increasing concerns about the impact of vaping on our lungs, hearts, and blood vessels, which could lead to future cardiovascular and respiratory illness. People could go on to develop serious health conditions as a result of their vaping, which can also exacerbate existing conditions like asthma." 
How Can Doctors Advise?
It's rare to get a clinical outcome like that of Sarah Griffin. Figures for 2022 obtained from NHS Digital show that 32 patients under 18 years of age who were admitted to hospital in England had a vaping-related disorder recorded. In 2021 there were eight admissions. Overall last year, across all age groups, there were 344 such admissions. 
Dr Mike McKean, a consultant in respiratory paediatrics, told Medscape News UK: "I am thankfully not seeing children with severe reactions. I aware of small numbers who have become ill, but these remain small numbers." 
He feels it's easy for health professionals to give advice but admits "it's likely quite difficult for parents to help their children who become addicted to nicotine in vapes to stop". 
Dr McKean, who is vice president of policy at the Royal College of Paediatrics and Child Health, said: "Every single paediatrician and children's nurse I have spoken with about vapes — and that is many — have felt strongly that this is a potentially dangerous activity. 
"It is quite simple: vapes are not licenced to sell to children, children should not vape. However, I would also add that we do need to have some robust long-term data to fully understand the long-term effects of vaping. I look to our research bodies to fund some studies that can do this." 
Harriet Edwards, head of policy and external affairs at Asthma + Lung UK told Medscape News UK that children and adults who don't smoke shouldn't start vaping, whether they have a lung condition or not. "E-cigarettes aren't risk-free and we would never advocate those who don't smoke already to start vaping," she emphasised. "We always advise that healthcare professionals ask children and parents whether they smoke and whether they use e-cigarettes, so cessation support can be provided if needed.
"Currently there isn't enough evidence to show if some people are more at risk of being hospitalised from vaping than others. But we do know that nicotine affects the developing brain, which impacts children and young people more than adults. This is why we must urgently act to stop children accessing vapes."
Vapes and the Law 
Even though it's illegal to sell e-cigarettes to anyone under the age of 18, it's clear that young people are getting hold of disposable vapes. One in five children (20.5%) in 2023 had tried vaping, according to recently released figures from Action on Smoking and Health (ASH), which said this was up from last year's figure of 15.8%.
Much concern has been focused on how disposable e-cigarette manufacturers pitch their products to the youth market. Apple, peach, and raspberry are in a line-up that makes fruit-flavoured nicotine vapes the most popular range among nicotine vape products, accounting for 60% of business, according to ASH.
Professor Sir Chris Whitty, England's chief medical officer, has described making vapes appealing to children "utterly unacceptable". The Government launched a consultation last week that included plans to make it more difficult for children to buy vapes, to restrict the flavours on offer, and to tighten rules on promotional packaging. 
The consultation will last 8 weeks, but Dr McKean believes there's no need to delay acting on restricting vape sales to children. "I must be honest and say that I was disappointed, as I believe it is clear that action is needed now," he told us. "The Secretary of State for Health has already taken evidence from a wide range of stakeholders and I am aware of many opinions based on sound evidence that is a need for much stronger regulation of vapes. 
"It is also absolutely clear that children are being ruthlessly exploited by marketing that includes bright colours, sweet flavours, and availability in many shops next to sweet and chocolate counters. If our Government truly cared about the wellbeing of our children, they would act on these issues now." 
For more news, follow Medscape on Facebook, Twitter, Instagram, and YouTube