Muhammad Siddiqur Rahman Describes how Clinical Pharmacists Became Involved in Prescribing and How Their Skills are Increasingly Being Used in General Practice
Read This Article to Learn More About:
how and why prescribing rights were extended to non-medical healthcare professionals
the Clinical pharmacists in general practice programme
the Royal Pharmaceutical Society competency framework for all prescribers.  
Prescribed medication is the most common healthcare intervention that patients receive;1 in 2015 alone, over 1 billion prescription items were supplied in England.2 In 2000, The NHS Plan outlined a vision for healthcare professionals to devise and improve ways of working with the wider multidisciplinary team (MDT) while upholding the main principle of the NHS, namely free healthcare at the point of delivery.3 A year later, through section 63 of the Health and Social Care Act, the Government extended prescribing rights to other healthcare professionals (HCPs), including pharmacists.4 This aimed to best utilise the varied skill mix of HCPs, improve access to medicines, and increase patient choice, without compromising safety.5
By 2003, suitably trained pharmacists were allowed to prescribe as supplementary prescribers within the framework of a clinical management plan (CMP) that was agreed between an independent medical prescriber (doctor or dentist) and the patient for any chronic condition within their competence.6 This was hailed as a landmark for the pharmacy profession, but uptake was limited by funding problems, the need to involve another medical prescriber, and a lack of support from the medical profession.7
Legislation was passed in 2006 that allowed pharmacists to independently prescribe any medication in the British National Formulary (BNF) (except certain controlled drugs) within their scope of practice.5,8 By November 2015, 3944 pharmacists were annotated prescribers on the General Pharmaceutical Council (GPhC) register, of whom 2567 were independent prescribers, 425 were supplementary prescribers, and 952 were both independent and supplementary prescribers.9 A summary timeline of developments in non-medical and pharmacist prescribing is shown in Figure 1.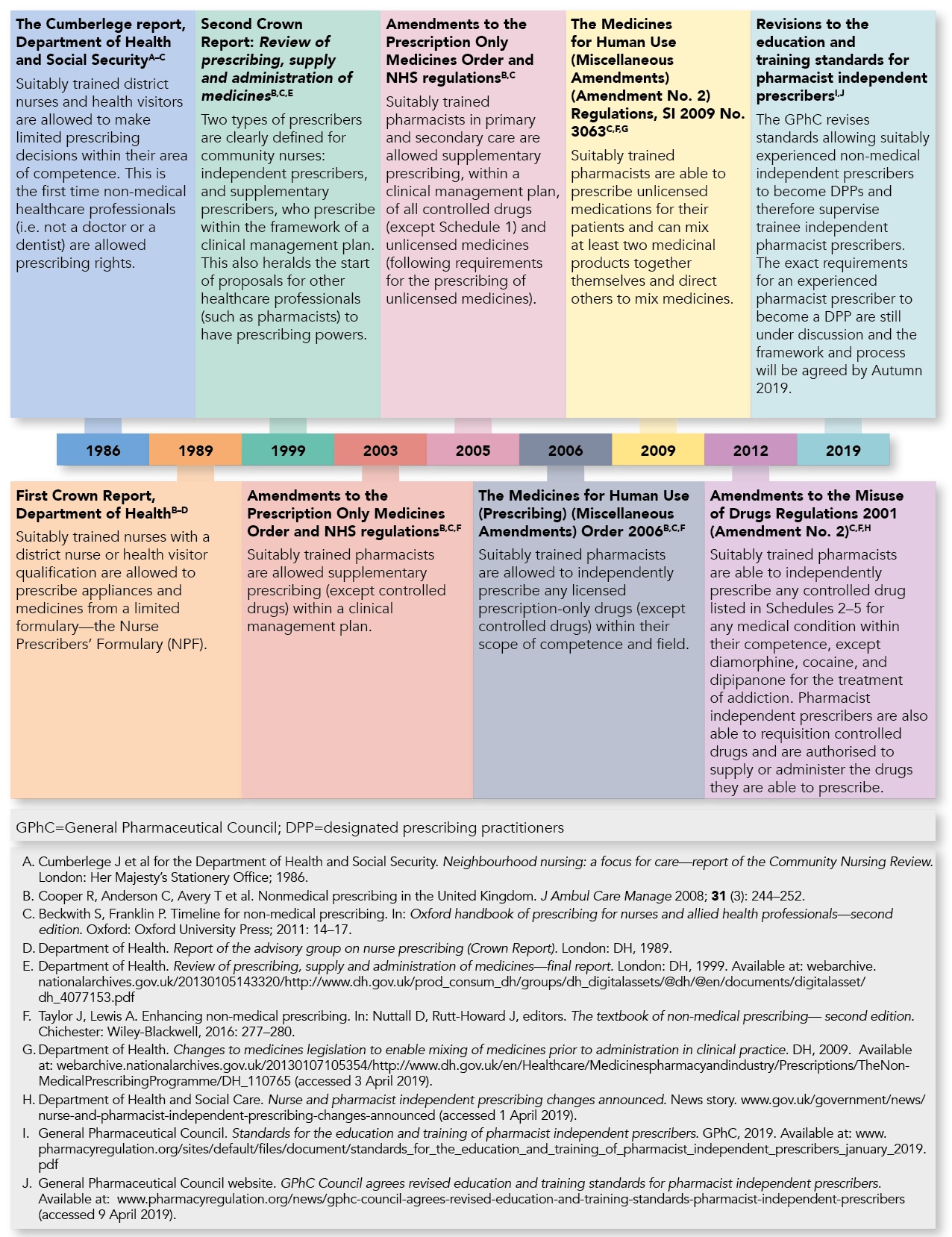 Pharmacists in General Practice
The Clinical pharmacists in general practice  programme was launched as a pilot scheme in 2016. Over 450 clinical pharmacists were placed in general practices to utilise their pharmacological skills and knowledge to manage chronic conditions and ease workload pressures in primary care.10,11 The initial pilot proved to be a success and subsequently the General practice forward view announced funding for a further 1500 clinical pharmacists to be placed into general practices by 2020.12,13 For this initiative to be a success, the ability for pharmacists to prescribe independently was key, although non-prescriber clinical pharmacists still add immense value to general practices. Non-prescriber clinical pharmacists utilise their pharmacological and clinical skills for a wide variety of tasks such as medication reviews, audits, actioning alerts and recalls issued by the Medicines and Healthcare products Regulatory Agency, monitoring high-risk drug medications, delivering training sessions to other healthcare professionals and non-clinical staff, administering influenza vaccinations, and much more.
Competency Framework for Prescribers
The Royal Pharmaceutical Society (RPS) has published a prescribing competency framework for all prescribers to uphold their responsibilities and expectations to deliver high standards of care.14 Working within a multidisciplinary setting can cause confusion over accountability between healthcare professionals15 but the RPS framework defines accountability to the individual prescriber.14 It also gives useful guidance on prescribing safely and professionally to ensure that confidence and competence in prescribing is maintained. Prescribing pharmacists follow this framework within their scope of practice to maintain a strict code of conduct and professional responsibility for their patients.
Muhammad Siddiqur Rahman
Clinical practice-based pharmacist prescriber, trainee Advanced Clinical Practitioner, Court View Surgery, kent
Board Member of the Pharmacist Cooperative