Latest Guidance Updates:
April 2023: recommendations on molecular testing delivered by the Genomic Laboratory Hub for metastatic patients have been updated. A recommendation for providing genomic samples has been included in the 28-day best practice timed pathway 
Overview
This specialist Guidelines summary covers NHS England advice on the implementation of a timed colorectal cancer diagnostic pathway. Best practice timed pathways aim to shorten diagnosis times, reduce variation, and improve experience of care. 
This is a summary of the guidance for secondary care oncology teams. For further information, please refer to the full guideline. 
The Faster Diagnosis Standard
The Faster Diagnosis Standard (FDS) should ensure people are told they have cancer, or that cancer is excluded, within a maximum of 28 days from referral. The new standard is intended to: 

reduce the time between referral and diagnosis of cancer
reduce anxiety for the cohort of people who will be diagnosed with cancer or receive an 'all clear'
reduce unwarranted variation in England by understanding how long it takes people to receive a diagnosis or 'all clear' for cancer
represent a significant improvement on the current 2-week wait to first appointment target, and a more person-centred performance standard. 
28-Day Best Practice Timed Pathway
Figure 1: 28-Day Best Practice Timed Colorectal Cancer Diagnostic Pathway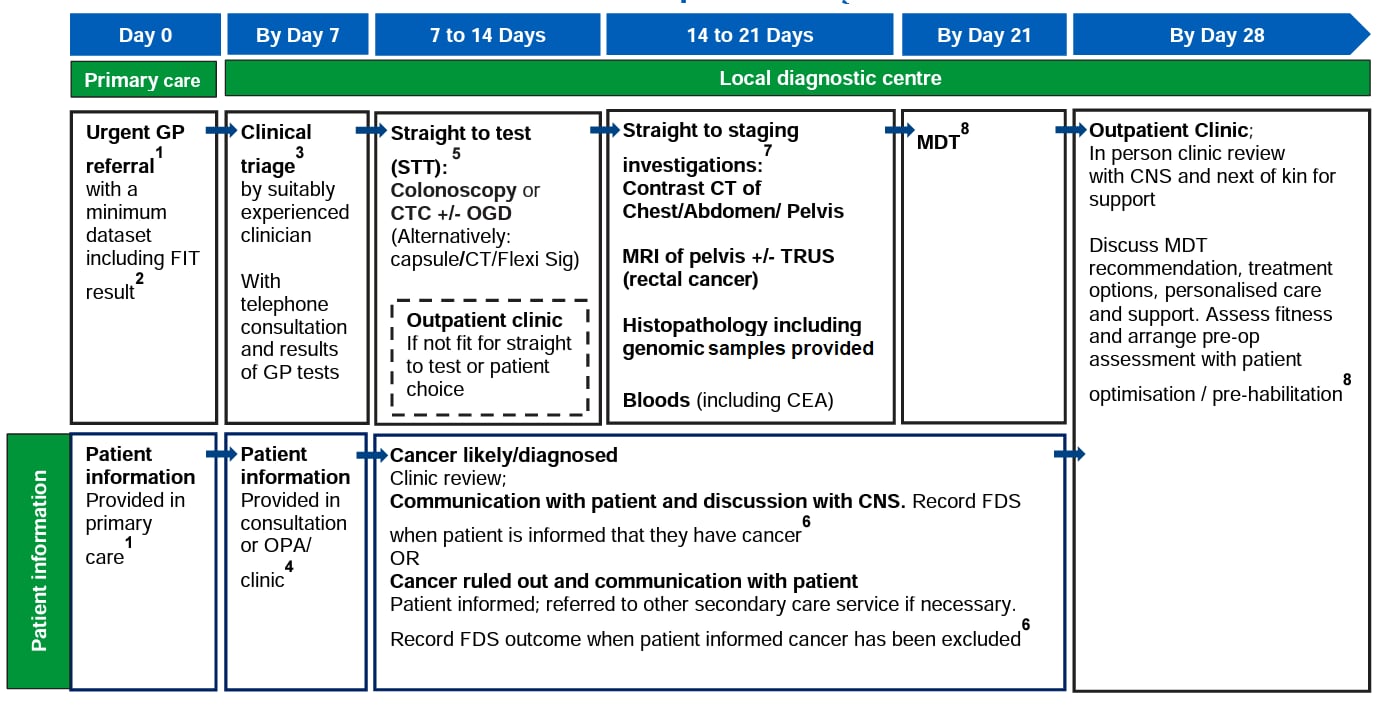 Detailed Information
Referral from General Practice
When patients with a faecal immunochemical test (FIT) result of less than 10 μg Hb/g are referred to secondary care for evaluation—for example, when a GP has ongoing clinical concern—there should be a clinical assessment. If there are no persistent unexplained signs or symptoms of suspected colorectal cancer, the patient should either be discharged back to their GP or rerouted to an alternative pathway for definitive diagnosis [1]
For patients referred on an urgent cancer pathway, it is essential that the FIT result alongside full blood count result is included on the referral form so that it can be used by lower gastrointestinal triage teams to determine the appropriate onward pathway for the patient [1]
A minimum dataset should be agreed locally with GPs to accompany the referral and facilitate straight-to-test, which includes: [1]

patient demographics
patient symptoms in line with the NICE guideline on suspected cancer (NG12)
past medical history (including previous colorectal investigations and comorbidity)
family history
anticoagulant status
World Health Organization performance status
smoking status and alcohol intake
prescribed medication (when auto-populated if possible in practice IT system)
need for interpreter
mental capacity to consent
primary care investigation results (full blood count, ferritin, C-reactive protein, mean corpuscular volume, urea and electrolytes, estimated glomerular filtration rate, FIT)
digital rectal examination findings.
Clinical Triage 
Clinical triage for straight-to-test investigation can be done by a suitably experienced clinician; this may be a supervised clinical nurse specialist (CNS) [2]
If a patient is assessed as medically unfit by a GP, or if hospital triage raises concerns, the patient should be assessed in person in clinic [2]
If the patient is deemed medically fit, appropriate first-line investigations should be performed and reported within 7–14 days, so that this cohort can progress on the pathway in the same timeframes [2]
Patients should have same-day investigations to reduce repeat visits and improve patient experience [2]
Telephone or video consultations should be used to determine suitability for straight-to-test and pre-assessment, provided it does not delay the pathway; preparation for any tests can be communicated to patients at this stage [2]
Bowel preparation can be arranged during triage or by primary care depending on local arrangements [2]
Communication with Patients
Patients and carers should be: [3]

asked what information they require about the pathway
provided with standard leaflets about investigations when sending confirmation of appointment
given confirmation of next steps 
informed of any preparations for the day (for example, whether they can eat and drink beforehand)
asked whether they have any disabilities or language barriers

Preferences for amount of information and when it is provided will vary, and therefore it will help to provide caseworker/navigator telephone contact details to give support throughout the pathway and outside of clinic times, provide signposting to charities and support services, provide information about carers attending appointments, and offer follow up if patients do not receive confirmation of an appointment in the expected timescale [3]
When possible, continuity of caseworker/navigator should be provided to enable familiar contact and to build trust [3]
Patients should be informed that they may receive one or more procedures and/or diagnostic tests on the same day, at the first face-to-face appointment [3]
Straight-to-Test
Straight-to-test should be carried out within 7 days of triage [4]
Following tissue sampling results, confirmed cancer tumours should be tested for all molecular markers required to determine onward management, including Lynch syndrome (as per NICE guidance) [4]
For metastatic patients, molecular testing should be delivered by the Genomic Laboratory Hub, preferably by gene panel analysis to include all relevant gene markers [4]
Results from initial tumour tests should be discussed at the multidisciplinary team (MDT) meeting, as diagnosis may impact treatment options [4]
On Diagnosis
Patients should be informed about cancer being ruled out or diagnosed at the earliest face-to-face opportunity, unless the patient has expressed an alternative preferred method of communication to speed up communication. In this timed pathway, this can be done at a straight-to-test clinic, follow-up testing, or a results outpatient appointment [5]
Early consideration of patients' fitness for radical therapy and requirements for pre-habilitation should be addressed as soon as possible in the pathway to minimise delays in expediting treatment [5]
All patients diagnosed with cancer should have a referral to relevant allied health professionals within 7 calendar days of diagnosis and, when required, will also be involved during treatment planning [5]
Local protocols and initiatives should be developed in collaboration with perioperative medicine, elderly care, and specialist dietitians [5]
When colorectal cancer has been ruled out but other cancers have not been ruled out, it may be appropriate, following initial investigation, to refer the patient on to an alternative tumour site specific pathway, or a pathway where non-specific or vague symptoms can be assessed [5]
When cancer is ruled out but symptoms suggest further diagnostic tests are necessary, it may be appropriate to request these before onward referral to a non-cancer routine pathway [5]
When cancer is excluded, the FDS 'clock stop' can be completed at this point of communication with the patient; most commonly, this will be immediately following a colonoscopy, at which time they should also be provided with a copy of the report [5]
When colorectal cancer is diagnosed it is best explained to the patient in person with the support of a CNS and next of kin. At this point the FDS 'clock stop' is also completed, but the 62-day standard from GP referral to treatment commencement continues [5]
Cancer waiting time rules including 'clock start', 'adjustments', and 'clock stop' are set out in the National cancer waiting times monitoring dataset guidance [5]
Staging investigations should be requested as 'straight-to-staging' when the straight-to-test results or colorectal cancer diagnosis is available. They should be completed in 7 days [6]
Multidisciplinary Team
The core roles at the specialist colorectal cancer MDT meeting (to be carried out with diagnostic and staging investigation results) are lead clinician, colorectal surgeons, specialist radiologist, specialist pathologist, clinical and medical oncologists, palliative physician, expert colonoscopist, CNSs, and pathway navigator/MDT coordinator [7]
Locally agreed criteria for referral to the specialist MDT, for example, when there is an unexpected finding of colorectal cancer from another clinical team, can also support with efficient pathway management [7] 
Personalised Care and Support Planning 
Personalised care and support planning should be based upon the patient and CNSs completing a holistic needs assessment (HNA), usually soon after diagnosis [8]
The HNA ensures conversations focus on what matters to the patient, considering wider health, wellbeing, practical issues, and support, in addition to clinical needs and fitness. This enables shared decision-making regarding treatment and care options [8]