Overview
This specialist Guidelines summary covers NHS England advice on how diagnosis within 28 days can be achieved for the suspected gynaecological cancer pathway. Best practice timed pathways aim to shorten diagnosis times, reduce variation, and improve experience of care.
This is a summary of the guidance for secondary care oncology teams. For further information, please refer to the full guideline.
Reflect on your learning and download our Reflection Record.
The Faster Diagnosis Standard
The Faster Diagnosis Standard (FDS) should ensure people are told they have cancer, or that cancer is excluded, within a maximum of 28 days from referral. The new standard is intended to:

reduce the time between referral and diagnosis of cancer
reduce anxiety for the cohort of people who will be diagnosed with cancer or receive an 'all clear'
reduce unwarranted variation in England by understanding how long it takes people to receive a diagnosis or 'all clear' for cancer
represent a significant improvement on the current 2-week wait to first appointment target, and a more person-centred performance standard.
28-Day Best Practice Diagnosis Pathway
Figure 1: 28-Day Best Practice Timed Gynaecological Cancer Diagnostic Pathway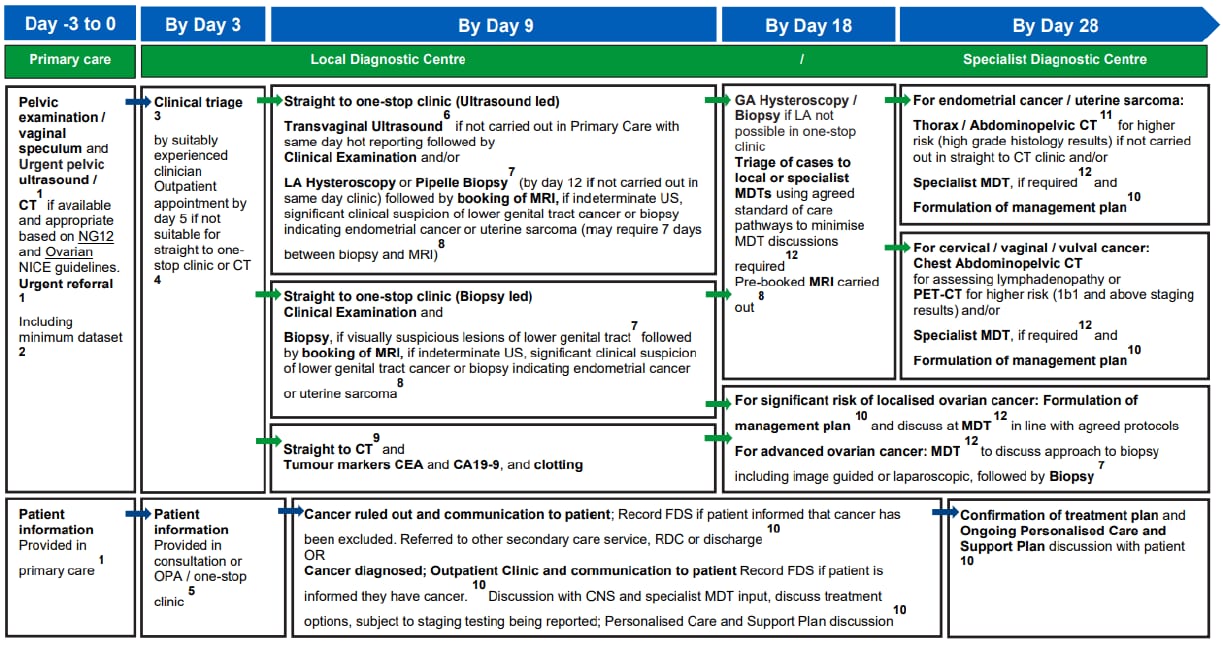 Note: Most of the footnotes in the pathway are outlined in the 'Detailed Information' section below.
Detailed Information
Referral from General Practice
Urgent GP referral pathway should be used for patients who meet the criteria in the NICE Guideline on Suspected Cancer (NG12) for suspected cancer pathway referrals [1]
In a scenario where the GP refers the patient for a direct access test, and the ultrasound or computed tomography (CT) is abnormal and suspicious of cancer, patients should be followed up directly by secondary care, without the need for an additional referral from their GP. The patient would then join the pathway after the first diagnostic test (labelled on the pathway diagram as 'straight to one-stop clinic'). If a patient already meets the NG12 risk threshold for an urgent referral, it should not be delayed for primary care investigations or direct access testing [1]
GP examination of the patient before referral is advised, unless local protocols have been agreed for direct referral. Referral should not be delayed for examinations or other investigations. The National Cancer Waiting Times Monitoring Dataset Guidance sets out consultant upgrade rules, including from non-GP scenarios, such as A&E and acute settings. Cancer alliances may set out local arrangements to facilitate patient self-referral access to this pathway [1]
Information to be provided by primary care to the patient includes information about FDS, urgent suspected cancer pathway, and expected timelines, including that the patient should be available within the next 9 days initially for appointments and tests, which is likely to include straight to test [1]
As part of recovery of services and effective referral management, cancer alliances are encouraged to use this guidance and other policies to support work locally, with commissioners, to provide educational opportunities for GPs on cancer symptoms, urgent referral processes, and the locally agreed minimum dataset, including in hard to reach and outlier GPs [1]
A minimum dataset to accompany the referral and facilitate straight to clinic and immediate diagnostics, to be agreed locally, should include: [2]

description of referral reason in line with NG12 
patient demographics
estimated glomerular filtration rate 
full blood count
urea and electrolytes
renal function, including creatinine
anticoagulant status
World Health Organization performance status
comorbidities, including:

diabetes status
dementia
mental health conditions, such as claustrophobia

body mass index
prescribed medication (when auto-populated in practice IT system)
allergies
family history of cancer
presence of metal implants or pacemakers
need for interpreter
mental capacity to consent

For patients with suspected ovarian cancer, minimum dataset should also include tumour marker cancer antigen 125 (CA125), with confirmation of suspicious features of ovarian cancer on ultrasound (when carried out to International Ovarian Tumour Analysis [IOTA]/Royal College of Obstetricians and Gynaecologists [RCOG] standards); and in patients <40 years, also include alpha-fetoprotein, Beta-hCG, and lactate dehydrogenase, if available—the referral should still be made while awaiting results [2]
For patients with suspected vulval cancer, minimum dataset should include information on high-risk human papillomavirus status, or chronic vulval inflammatory condition, for example, lichen sclerosis [2]
Clinical triage can be undertaken by a suitably experienced clinician. This includes a clinical nurse specialist (CNS), who has the training and authority to triage to one-stop clinics, or order imaging investigations, such as CT, to allow the patient to go straight to imaging [3]
Patients can be triaged into one of the three straight-to-clinic services, or if complex, may require a face-to-face outpatient appointment (detailed below). For simpler cases, it may be possible to agree local criteria, and for a non-clinical member of staff to triage these patients; for example, this may be appropriate for patients presenting with postmenopausal bleeding who will be triaged to the one-stop clinic (ultrasound-led), and may require ultrasound and/or hysteroscopy and biopsy, or where there is suspicion of ovarian cancer for women >50 years with elevated CA125 and palpable mass and/or ascites or with previous ultrasound with risk of malignancy index >200, who will be triaged straight to CT [3]
Telephone or video consultation should only be used to determine suitability for straight to one-stop clinic and pre-assessment, if a face-to-face appointment is not suitable, as physical clinical assessment should inform the referral. Preparation for any tests can be communicated to patients [3]
Suitability for treatment and any requirements for prehabilitation (for example, diabetes, weight reviews, insertion of inferior vena cava filters) should be considered at this stage in the pathway. Patients should be triaged using IOTA models, or risk of malignancy algorithms to low, high, or indeterminate risk, referring also to European Society of Gynaecological Oncology (ESGO)/RCOG guidance [3]
An outpatient appointment (OPA) should be provided for this cohort of patients (those medically unfit for straight to one-stop, or who require a face-to-face appointment). The recommended first-line investigation should be performed and reported within 6 days of OPA, so that this cohort can progress on the pathway in the same timeframes. If a suspicious lesion is identified, patients should have access to a CNS with expertise in gynaecology cancer for support (from this stage onwards) [4]
Patients who attend OPA should have same-day tests to reduce repeat visits and improve patient experience. If this is not possible, tests should be on the next day (within 24 hours). Consider ringfencing urgent cancer slots in advance and releasing them if no longer required. The clinical triage consultation or first OPA is also an opportunity to collect minimum dataset items from the patient, if not provided in the primary care referral, and to collect tumour markers cancer antigen 19-9, and carcinoembryonic antigen [4]
Patients and caregivers should be asked what information they require about the pathway, provided with standard leaflets about investigations when sending confirmation of appointment, confirmation of next step(s) and any patient needs required to prepare for the day (for example, can they eat and drink beforehand), and whether they have any disabilities or language barriers [5]
Preferences for amount of information and when it is provided will vary, and therefore it will help to provide caseworker/navigator telephone contact details to provide support throughout the pathway and outside of clinic times, provide signposting to charities and support services, provide information about caregivers attending appointments, and offer follow-up if patients do not receive confirmation of appointment in expected timescale [5]
When possible, continuity of caseworker/navigator should be provided to enable familiar contact, and to build trust. Patients should also be informed that it is likely they will receive a procedure and/or diagnostic test on the same day at the first face-to-face appointment [5]
Imaging
Transvaginal ultrasound should ideally be carried out by a specialist practitioner in gynaecology ultrasound, based on IOTA/RCOG standards, whether in clinic or externally provided, measuring endometrial thickness and appearance of the junctional zone to determine management, and to a locally agreed minimum reporting dataset and algorithm. If ultrasound is suboptimal or incomplete, the next step should be rapid referral for an expert ultrasound scan, which should be carried out by day 12 [6]
Hysteroscopy should be carried out in the event of a focal lesion or polyp, or patients on tamoxifen, or recurrent bleeding with negative biopsy. Outpatient hysteroscopy environment needs to be considered and delivered to a high standard, including equipped and staffed recovery facilities [7]
Patients may not tolerate outpatient hysteroscopy, so may need to allow for time to book a general anaesthetic (GA) hysteroscopy or endometrial biopsy. In these circumstances, the patient should be added to the admissions list, and coordination with pre-operative assessment units and anaesthetists should commence, with the GA hysteroscopy/biopsy needing to be completed by day 15. Consider ringfencing slots in advance and releasing them if same day hysteroscopy is carried out. Pain control/management/recovery facilities should be in place to support more effective outpatient hysteroscopy, and reduce failure rate [7]
Pipelle biopsy should be carried out if ultrasound indicates endometrial thickness ≥4 mm, or suspicious appearance of the junctional zone, which should be carried out according to British Gynaecological Cancer Society Guidelines. All patients with significant suspicion of endometrial or ovarian cancers should be informed that genomic tests may be performed on their tissue samples [7]
Image-guided biopsy procedures should be carried out within 5 days of request. Histopathology reports for tissue sampling should usually be available in 7 days. This may be longer if ancillary tests are required to establish a diagnosis, or if the pathway for a sample reaching the reporting laboratory is delayed. All histopathology should have a designated point of receipt, sign off, and management responsibility to ensure that reporting is not lost between different clinicians [7]
Draining of ascites for symptom control in ovarian cancer should be carried out, when technically possible, at the same time as the biopsy, and within 7 days of the request. It is recognised that biopsy may need to be delayed until draining of ascites can be carried out; when possible, this should be done on the same day [7]
Booking of MRI should be carried out at the one-stop clinic when further investigation is required for cervical, vaginal, vulval, or endometrial cancers, or uterine sarcoma. The patient should be supported to discuss next steps and prepare for an MRI appointment. General cancer dedicated ringfenced MRI slots should be available. MRI should be carried out to Ovarian-Adnexal Imaging-Reporting-Data System minimal standards, to avoid the requirement for repeat procedures [8]
For patients with persistent abdominal symptoms, raised CA125, and normal pelvic scan, consider use of the local 'non-specific symptoms rapid diagnostic centre pathway', which would include where there is no other obvious cause for the symptoms, and findings such as endometriosis, heart and liver failure, or known inflammatory bowel conditions. These patients have a significant incidence of malignancy in other sites [8]
Straight to CT should be considered for women >50 years with elevated CA125 and palpable mass and/or ascites, or with previous ultrasound with risk of malignancy index >200 [9]
When CA125 is elevated and the patient has abdominal symptoms, but normal pelvic ultrasound scan and no other obvious cause for elevated CA125, or abdominal symptoms on primary care ultrasound, consider redirecting to non-specific rapid diagnostic centre (RDC) pathway after a CT. They may still have gynaecology/peritoneal malignancy, or other urgent conditions that would be more appropriate in a non-site specific RDC pathway, rather than being discharged to primary care [9]
This could also be considered in presentations of clinically apparent ascites, raised CA125, and pelvic mass in primary care if there is no local capacity within required timeframes [9]
Patients should be informed about cancer being ruled out, or diagnosed at the earliest face-to-face opportunity, unless the patient has expressed an alternative method of communication to speed up communication. In this timed pathway, this can be done at a one-stop clinic, a follow-up testing or results outpatient appointment, or at a treatment planning outpatient clinic [10]
When cancer is ruled out, the patient may still require further routine testing in secondary care before an alternative non-cancer diagnosis can be identified. Best practice would be to refer the patient to an alternative routine in a secondary care service within the same provider if one is identified, rather than being discharged back to primary care [10]
Running parallel general gynaecology clinics alongside ultrasound-led clinics using 'hot slots', can allow patients to undergo an ultrasound scan and be followed up by the gynaecology clinic on the same day [10]
When gynaecology cancer is ruled out or highly unlikely and other cancers are not ruled out, it may be appropriate, following a CT, to refer the patient to an alternative tumour site specific pathway, or an RDC pathway, where non-specific or vague symptoms can be considered [11]
When cancer is diagnosed and a discussion with the patient has been held, the patient will be followed up through the relevant pathway for cervical, vaginal, vulval, endometrial, or ovarian cancer. They will be added to a waiting list for surgery, if appropriate, or seen at a cancer centre for consent and pre-operative assessment on the same day, and fast access ringfenced anaesthetic review appointments to avoid unnecessary travel and improve patient experience [11]
For continuity of care, it is best practice for the CNS from triage and diagnostics to be available in the clinic. For endometrial cancer, the patient could be consented for Lynch syndrome testing as per NICE Guidance; and for ovarian/peritoneal cancer, consented for t.BRCA/HRD/g.BRCA/PALB2, if included in local policy, advising patients that testing may not be required if histology does not show ovarian/peritoneal cancer. This will support timely opportunity for access to poly (ADP-ribose) polymerases (PARP) inhibitors [11]
Cancer waiting time rules (including 'clock start' and 'clock stop') are set out in the National Cancer Waiting Times Monitoring Dataset Guidance. Formulation of management plan should consider next steps [11]
Outpatient clinic should include the CNS assigned to the patient earlier in the pathway, from clinical triage (day 0 to 3) or when a likely cancer diagnosis was discussed (day 1 to 18). Personalised care and support planning should be based upon the patient and clinician(s) completing a holistic needs assessment (HNA), usually soon after diagnosis [11]
The HNA ensures conversations focus on what matters to the patient, considering wider health, wellbeing, practical issues, and support, in addition to clinical needs and fitness. This enables shared decision making regarding treatment and care options [11]
Early consideration of the patient's fitness for radical therapy should be addressed as soon as possible in the pathway to minimise delays in expediting treatment. Local protocols and initiatives should be developed in collaboration with perioperative medicine, elderly care, and specialist dietitians. Anaesthetic assessments for patients with comorbidities should also be undertaken [11]
Multidisciplinary Team
Thorax/abdominopelvic CT should be carried out to locally agreed standards by a member of the gynaecology/gynae-oncology radiology multidisciplinary team (MDT), covering minimum reporting dataset for malignancy scans. General cancer dedicated ringfenced CT slots should be available [12]
The local diagnostic MDT should be used for patients when there is still uncertainty or unconfirmed suspicion. The core roles at the specialist MDT are lead clinician, radiologist, and pathologist, to review investigation results with a CNS and pathway navigator. An oncologist with an interest in gynaecological cancer and a radiologist with an established gynaecological interest should be present at the specialist MDT [13]
The capacity required to deliver these core roles should be reflected in job plans. Other specialist MDT advice may need to be sought for rare and unusual tumours that cross over with other specialities [13]
National guidance on how to maximise effectiveness of MDT meetings is also available. Locally agreed, clear criteria for referral to specialist MDT can also support efficient pathway management [13]
A multidisciplinary clinic with surgeon, oncologist, pre-op staff, including an anaesthetist, and allied health professionals, such as a therapeutic radiographer and specialist dietitian, should be considered. This aims to improve patient experience, improve communication, and prevent delays in starting treatment [13]