Overview
This specialist Guidelines summary covers NHS England advice on the implementation of a timed oesophago–gastric cancer diagnostic pathway. Rapid diagnostic and assessment pathways aim to provide the highest quality care to patients, and reduce variation in patient access. The guidance sets out how diagnosis within 28 days can be achieved for the oesophago–gastric cancer pathway. 
This is a summary of the guidance for secondary care oncology teams. For further information, please refer to the full guideline. 
Reflect on your learning and download our Reflection Record
The Faster Diagnosis Standard
The Faster Diagnosis Standard (FDS) should ensure people are told they have cancer, or that cancer is excluded, within a maximum of 28 days from referral. The new standard is intended to:

reduce the time between referral and diagnosis of cancer
reduce anxiety for the cohort of people who will be diagnosed with cancer or receive an 'all clear'
reduce unwarranted variation in England by understanding how long it is taking people to receive a diagnosis or 'all clear' for cancer
represent a significant improvement on the current 2-week wait to first appointment target, and a more person-centred performance standard. 
28-day Best Practice Timed Pathway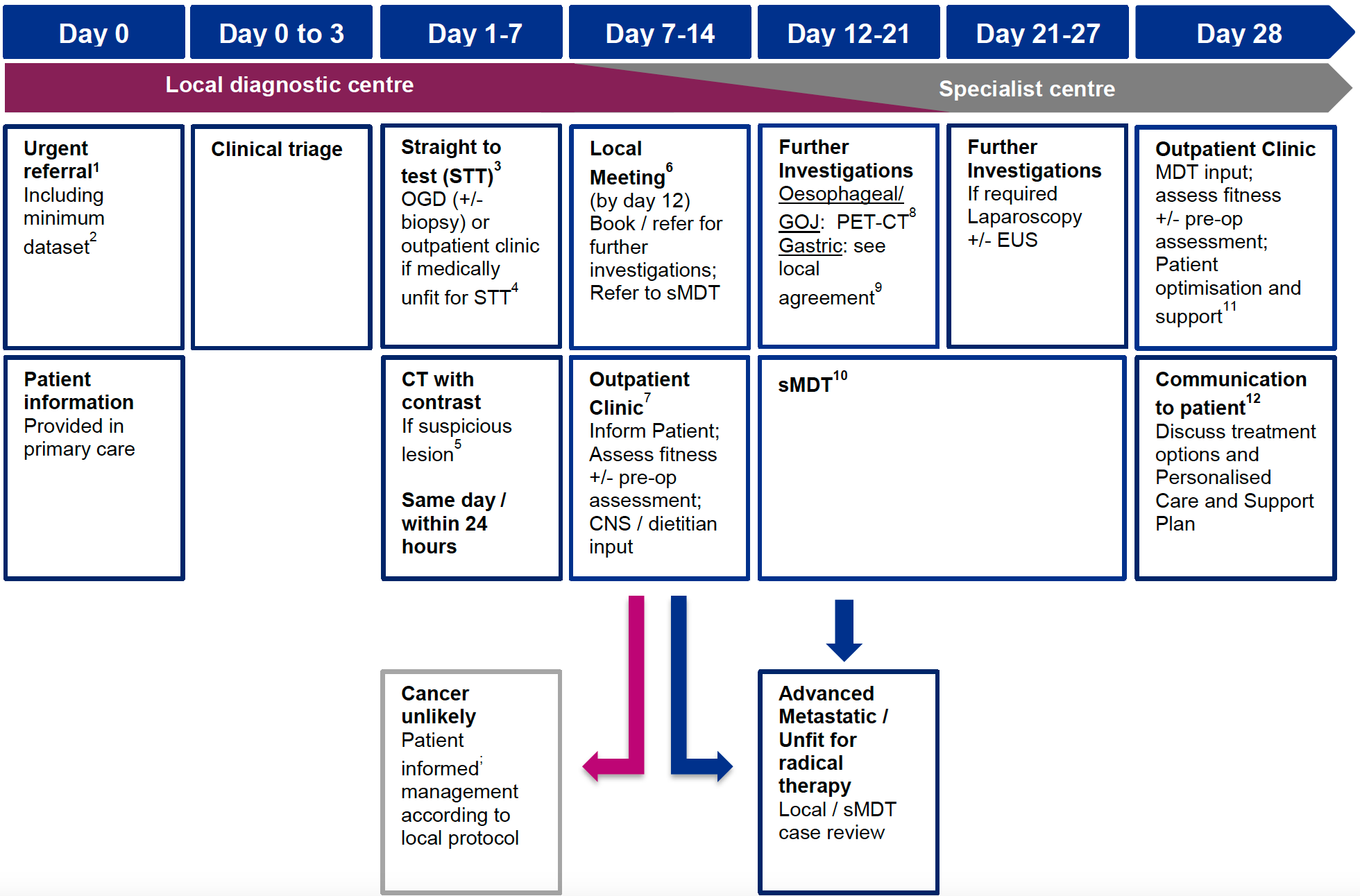 Detailed Information
Referral from General Practice
This pathway should be used for patients who meet the criteria in the NICE guideline on suspected cancer (NG12) [1]
In a scenario where the GP refers the patient for a direct access test and the upper gastrointestinal endoscopy is abnormal and suspicious of cancer, patients could be followed up by secondary care directly from endoscopy (without the need for an additional referral from their GP). The patient would then join the pathway after the first diagnostic test (labelled on the pathway diagram as 'straight-to-test') [1]
The national cancer waiting times monitoring dataset guidance sets out these rules. Cancer Alliances may set out local arrangements to facilitate patient access to this pathway [1]
A minimum dataset to accompany the referral and facilitate straight-to-test and immediate computed tomography (CT) scan is: [2]

patient demographics
full blood count
estimated glomerular filtration rate
anticoagulant status
performance status
comorbidity
locally agreed nutritional assessment tool, for example, malnutrition universal screening tool assessment with referral for dietitian assessment if score two or greater
medication
need for interpreter
mental capacity to consent. 
Initial Testing
Oesophago–gastro duodenoscopy should be performed to the British Society of Gastroenterology and the Association of Upper Gastrointestinal Surgery quality standards to minimise false negatives or inadequate biopsies [3]
Histology results taken during endoscopic procedures should be reported within 72 hours of the biopsy [3]
In this cohort of patients (those medically unfit for straight-to-test) the recommended first-line investigation should be contrast CT. This should be performed and reported within 5 days so that this cohort can progress on the pathway in the same timeframes [4]
If a suspicious lesion is identified, patients should have access to a clinical nurse specialist with expertise in oesophago–gastric cancer for support (from this stage onwards) [5]
Patients should have a same day CT to reduce repeat visits and improve patient experience. If this is not possible, CT should be on the next day (within 24 hours). This should be reported within 72 hours, ideally by a radiologist with an established gastroenterology interest. [5]
Multidisciplinary Team
'Local meeting' in the context of this pathway is a local unit multidisciplinary team (MDT), where these exist [6]
The core roles at the local meeting are lead clinician, radiologist, and pathologist, to review investigation results with a pathway navigator [6]
An oncologist with an interest in oesophago–gastric cancer and a radiologist with an established gastroenterology interest should be present at the local meeting [6]
Patients considered suitable for radical therapy should be booked (or referred) for appropriate staging tests as set out in the pathway, and should also be referred directly to the specialist MDT [6]
Input of specialist MDT clinicians to local meetings (for example, via videolink) can facilitate faster staging decisions. [6]
Holistic Needs
Personalised care and support planning should be based on the patient and clinician(s) completing a holistic-needs assessment (HNA), usually soon after diagnosis [7]
The HNA ensures conversations focus on what matters to the patient, considering wider health, wellbeing, and practical issues, in addition to clinical needs and fitness. This enables shared decision making regarding treatment and care options [7]
Early consideration of patient's fitness for radical therapy should be addressed as soon as possible in the pathway to minimise delays in expediting treatment [7]
All patients diagnosed with cancer should see a specialist dietitian within 7 days of diagnosis, and this should ideally be at the specialist centre [7]
Local protocols and initiatives should be developed in collaboration with perioperative medicine, elderly care, and specialist dietitians. [7]
Further Investigations
For oesophageal or gastro-oesophageal junction cancer: [8]

positron emission tomography (PET) CT should be performed in line with the NICE quality standard on oesophago–gastric cancer, which includes a 7-day standard from requesting to reporting
further investigations could be provisionally booked at the same time as PET–CT is booked (as part of a predetermined standard of care to reduce delays) or booked into dedicated weekly slots available to perform these tests within 7 days of the PET–CT report
laparoscopy with or without endoscopic ultrasound (EUS) should not be performed until the PET–CT report is reviewed by the specialist MDT, and EUS should only be used in select cases where it will help to guide ongoing management

For gastric cancer: [9]

protocols should be developed collaboratively between local units and specialist centres for gastric cancer staging
a subset of suspected gastric cancers may be suitable for direct referral to a specialist centre for laparoscopy, and this may be agreed across a cancer alliance level as part of a predetermined standard of care
other cases may need specialist MDT review to determine the most appropriate staging, in which case the specialist MDT should take place as soon as possible to determine a complete diagnostic plan.