Overview
This specialist Guidelines summary covers NHS England advice on the implementation of timed prostate cancer diagnostic pathways. Best practice timed pathways aim to shorten diagnosis times, reduce variation, and improve experience of care. The guidance sets out how diagnosis can be achieved within 28 days, and signposts resources to support implementation. The guidance complements existing resources such as NICE guidelines, and should be read alongside them.
This summary is for secondary care oncology teams. For further information, please refer to the full guideline. 
Reflect on your learning and download our Reflection Record.
The Faster Diagnosis Standard
The Faster Diagnosis Standard (FDS) should ensure people are told they have cancer, or that cancer is excluded, within a maximum of 28 days from referral. The new standard is intended to: 

reduce the time between referral and diagnosis of cancer
reduce anxiety for the cohort of people who will be diagnosed with cancer or receive an 'all clear'
reduce unwarranted variation in England by understanding how long it is taking people to receive a diagnosis or 'all clear' for cancer
represent a significant improvement on the current 2-week wait to first appointment target, and a more person-centred performance standard. 
28-day Best Practice Timed Pathway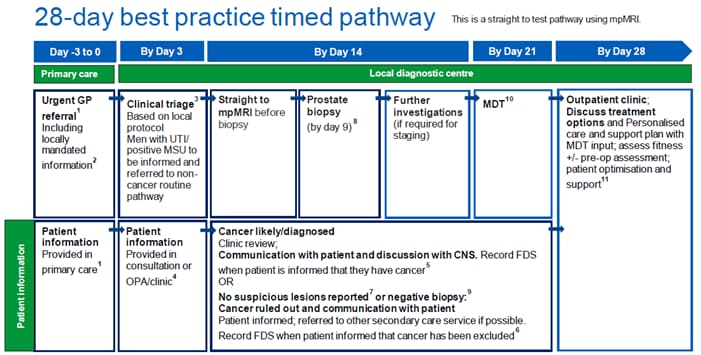 21-day Best Practice Timed Pathway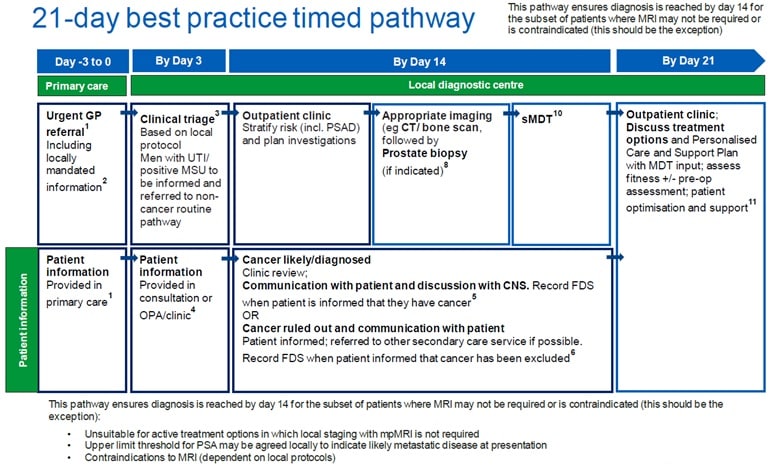 14-day Best Practice Timed Pathway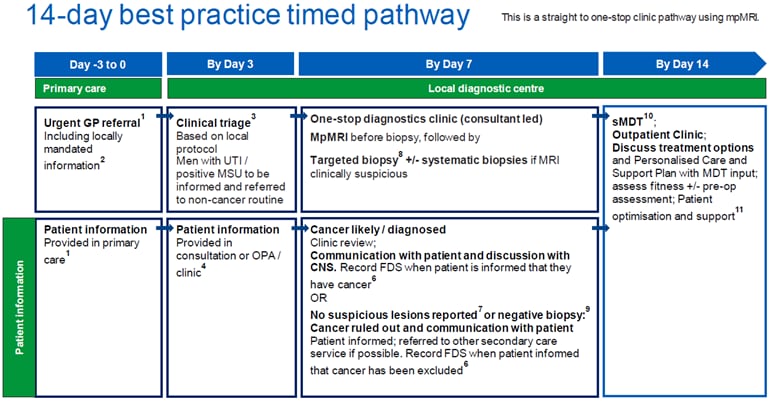 Detailed Information
Referral from General Practice
A minimum dataset should be agreed locally with GPs, to accompany the referral and facilitate straight-to-clinic and diagnostic testing, which includes:

patient symptoms in line with NICE guidance on Suspected Cancer: Recognition and Referral
patient demographics
anticoagulant status
World Health Organization performance status
comorbidity
weight and body mass index 
smoking status and alcohol intake
prescribed medication (when auto-populated, if possible, in practice IT system) 
investigation results:

prostate-specific antigen (PSA)
urea and electrolytes
estimated glomerular filtration rate
urine dipstick (and mid-stream urine result, if dipstick positive)
digital rectal examination

need for interpreter
mental capacity to consent
magnetic resonance imaging (MRI) scanning exclusion criteria

A rectal swab may also be required
Capacity will need to be considered for completing missing dataset tests in the first outpatient appointment or clinic, following referral from primary care
PSA of over 3ng/ml should be used as referral rate for men aged 50–69. 
Clinical Triage
Clinical triage according to NICE guidance on prostate cancer, can be done by a suitably experienced urologist physician or cancer clinical nurse specialist
If deemed medically fit, the appropriate first-line investigations should be performed and reported within 3 days of triage so that this cohort can progress on the pathway in the same time frames
Patients should have same-day investigations to reduce repeat visits and improve patient experience
Telephone or video consultation could be used to determine suitability for straight-to-test and pre-assessment. Preparation for any tests can be communicated to patients at this stage
If a patient is medically unfit for straight-to-test, they should be reviewed in clinic. 
Communication with Patients
Patients and caregivers should be asked what information they require about the pathway, provided with standard leaflets about investigations when sending confirmation of appointment, confirmation of next step(s), and any patient needs required to prepare for the day (for example, can they eat and drink beforehand), and whether they have any disabilities or language barriers
Preferences for amount of information and when it is provided will vary, and therefore it will help to provide caseworker/navigator telephone contact details to provide support throughout the pathway and outside of clinic times, provide signposting to charities and support services, provide information about caregivers attending appointments, and offer follow-up if patients do not receive confirmation of appointment in expected timescale
When possible, continuity of caseworker/navigator should be provided to enable familiar contact and to build trust
Patients should also be informed that they may receive one or more procedures and/or diagnostic tests on the same day, at the first face-to-face appointment.
On Diagnosis
Patients should be informed about cancer being ruled out or diagnosed at the earliest face-to-face opportunity, unless the patient has expressed an alternative preferred method of communication to speed up the process. In this timed pathway, this can be done at a testing clinic, a follow-up testing appointment or a results outpatient appointment
Early consideration of patient's fitness for radical therapy and requirements for pre-habilitation should be addressed as soon as possible in the pathway to minimise delays in expediting treatment
All patients diagnosed with cancer should have a referral to relevant allied health professionals (AHPs), including a specialist dietitian and speech and language therapist within 7 calendar days of diagnosis and, where required, will also be involved during treatment planning
Local protocols and initiatives should be developed in collaboration with perioperative medicine, elderly care, and specialist dietitians
When cancer is ruled out, and specific symptoms suggest further diagnostics are necessary, in some cases it would be appropriate to provide an MRI or a computerised tomography scan before onward referral to a non-cancer routine pathway
When prostate cancer is ruled out, but other cancers are not ruled out, it may be appropriate to refer the patient on to an alternative tumour site specific pathway, or a pathway where non-specific or vague symptoms can be considered
When cancer is excluded or confirmed, the FDS 'clock stop' can be completed at this point of communication with the patient
Cancer waiting time rules (including 'clock start', 'adjustments' and 'clock stop') are set out in the National cancer waiting times monitoring dataset guidance.
When No Suspicious Lesions are Reported
When no suspicious lesions are reported the following cases can be downgraded from the urgent cancer pathway: 

Likert or prostate imaging reporting and data system (PIRADS) 1/2, or 
Likert or PIRADS 3 with PSA density less than 0.15 ng/ml or 0.12 ng/ml, depending on local clinical choice for threshold (currently both are reported in the literature)

Also consider risk factors such as family history
Dependent on local expertise in multiparametric MRI (mpMRI) reporting, mpMRI patients may be offered shared-decision making around biopsy or PSA observation.
 Prostate Biopsy
Prostate biopsy could be transrectal, transperineal targeted (visual-estimation or image-fusion) depending on local expertise, protocols and availability of equipment
Transperineal template sectoral or mapping biopsies should only be used in select cases
When biopsy is negative, arrange imaging review meeting (with radiology and urology), and consider re-biopsy, surveillance or discharge, depending on mpMRI and histology findings

Likert or PIRADS 4/5 with no atrophy or inflammation might be a 'miss', so consider re-biopsy/surveillance
Likert or PIRADS 1–3 can be discharged to GP with a personalised PSA threshold for re-referral. 
Multidisciplinary Team
The core roles at the full multidisciplinary team (MDT) meeting (to be carried out following cancer diagnosis) are lead clinician, radiologist, pathologist, oncologist, CNS, and relevant AHP
The MDT should review investigation results with a pathway navigator
An oncologist with an interest in urological cancer and a radiologist with an established urology interest should be present at the full MDT
The capacity required to deliver these core roles should be reflected in job plans
Locally agreed, clear criteria for referral to specialist MDTs can also support efficient pathway management
It is unlikely that all necessary management decisions will be made at a single MDT meeting; some cancer patients require more than one MDT discussion before final diagnosis and treatment options are reached. This can consist of a diagnostic planning meeting or mini-MDT between radiologist, oncologist, referring surgeon, and pathologist by day 21. Some cancers may only require one discussion
MDTs could consider direct referral from pathologists and radiologists, ensuring that a robust process is implemented to ensure the patient's diagnosis is communicated before receiving any subsequent appointments. 
Personalised Care and Support Planning 
Personalised care and support planning should be based on the patient and clinician(s) completing a holistic needs assessment (HNA), usually soon after diagnosis
The HNA ensures conversations focus on what matters to the patient, considering wider health, wellbeing, practical issues, and support, in addition to clinical needs and fitness
This enables shared decision-making regarding treatment and care options.