Dr Richard Baxter Examines Five Case Studies in Which a Structured Approach to Chronic Disease Management (CDM) Has Improved Care, and Presents a Framework for CDM Optimisation
In England, treatment and care for people with long-term conditions are thought to account for 70% of health and social care expenditure.1 An effective approach to chronic disease management (CDM) is therefore vital if primary care is to accommodate the rising tide of CDM requirements without drowning—but how can primary care providers structure this management without losing patient, community, and workforce engagement or inadvertently increasing health inequalities? 
This question is addressed in this article, in which I: 
briefly explore how disparate contractual arrangements in England, Northern Ireland, Wales, and Scotland encourage differing approaches to CDM
discuss five case studies that show how introducing a structured approach can deliver efficiencies and transform care
present a nascent framework that I am helping to develop with colleagues across Cardiff and Vale University Health Board (UHB), setting out some factors that are critical to an effective, comprehensive, engaging, and equitable CDM process. 
Further discussion of opportunistic and structured CDM models can be found in the first part of this two-part series,
Optimise chronic disease recall in general practice
.
Important Considerations in CDM
As leaders of healthcare systems have tried to implement some of the theoretical frameworks associated with CDM—including the Chronic Care Model (CCM), Minimally Disruptive Medicine, the Patient-Centred Medical Home, and the Ten Building Blocks of High-Performing Primary Care2,3—a number of important considerations have emerged. These critical success factors are examined below, and also reflected in the case studies discussed later in this article.
Patients' engagement with care and ownership of their conditions is now recognised as essential for improving CDM.4 In studies using the CCM, improved outcomes have been seen with initiatives for managing long-term diseases that involve effective design of the care-delivery system and that support patients to engage in self-management.2 In addition, a focus on multimorbidity (including frailty), rather than single diseases, is increasingly recognised as important to clinical outcomes, although evidence is sparse concerning the practical application of methods to balance treatment burden and CDM.5–7
Effective use of the wider clinical team can help to maximise the use of limited resources, the idea being that CDM services are led, but do not always need to be delivered, by GPs.8 Involving pharmacists in primary care, through comprehensive medication reviews alongside clinical condition reviews, is a measure that has been shown to improve a range of clinical outcomes.9 However, this adaptation is associated with challenges regarding continuity of care, which is more difficult to deliver across a multiclinician team.10
Any health-improvement initiative must also be structured in a way that ensures that inequalities are not inadvertently increased. The Deep End Project, involving GPs working in 100 practices serving the most socioeconomically deprived communities in Scotland, is a reminder of this: it was found that differential uptake of quality-improvement initiatives by different social groups only served to widen health inequalities.11
Contracts, Frameworks, and Quality-Improvement Incentives across the UK
The way in which quality improvement and CDM are financially incentivised may have a significant impact on the way that CDM is organised now and in the future, as can be seen in the differences between the UK nations.
England and Northern Ireland
In England, the Quality and Outcomes Framework (QOF) is still in place—at least until the 2023–2024 GP Contract is completed, when the QOF is to be reviewed.12 This framework does ensure universal incentives and target-specific funding, but it seems to do little to promote the more difficult work involved in CDM, such as chasing people who are hard to reach and persevering with those whose disease is hard to control. It also suffers from a rush to meet specific, and increasingly challenging, disease-control and health-promotion targets by 1 April each year.13 The QOF is in place in Northern Ireland as well, but it is organised by the Northern Ireland Department of Health's Strategic Planning and Performance Group instead of NHS England.14
However, although the QOF may focus efforts on patients who are easier to reach or control at a practice level, the Primary Care Network (PCN) Directed Enhanced Service (DES) in England, with its associated Investment and Impact Fund, is an alternative source of funding that PCNs could use to deliver CDM more comprehensively and effectively, as it facilitates the introduction of shared staff—such as pharmacists, link workers, paramedics, and physician associates—across localities.15,16
Wales
In Wales, the QOF was replaced by the Quality Assurance and Improvement Framework (QAIF) in 2019, with fewer specific targets and a greater emphasis on promoting practice improvements.17 This year, funding for all clinical markers has been moved to the core General Medical Services contract, and assurance indicators have been removed18,19—therefore, practices retain the responsibility to deliver CDM but no longer have target-driven funding incentives. This change has the potential to free practices to concentrate their resources on higher-impact clinical activity; however, income is no longer reserved specifically for CDM, so it may be neglected.
Scotland
The QOF was discontinued in Scotland in 201620 and, in 2018, a new contractual arrangement was phased in whereby GPs retain responsibility for their key roles—including undifferentiated presentations, complex care, local and whole-system quality improvement, and local clinical leadership—but other responsibilities pass to alternative healthcare professionals.21,22 To this end, health boards and health and social care partnerships were originally supposed to reconfigure six key services over a 3-year period, including the provision of vaccinations, urgent care, and community link work.21 However, reflecting the initiative's slow progress during the pandemic, a revision in 2021 has focused the reforms on three priorities: the vaccination programme, pharmacotherapy, and community treatment and care services (including chronic disease monitoring).23 The move from specific targets with dedicated funding to a broader promotion of healthcare improvements and changes in primary care infrastructure has the potential to help the NHS in Scotland to undertake a more radical overhaul of its CDM processes.
Case Studies on Improved CDM Processes
The following case studies are examples of initiatives across the UK through which developments in organisation and structure have improved CDM in primary care. They demonstrate the potential for primary care to make the CDM process much more efficient and effective. Key measures that have helped include:
involvement of the multidisciplinary team (MDT)
use of birth-month-aligned recall processes
comprehensive planning.
Leeds: Improving Coordination Through Birth-Month-Aligned Reviews
In 2017, two surgeries in Leeds collectively serving 28,000 patients took the opportunity of their merger to rationalise and restructure their annual review processes for long-term conditions, which were known to be confusing, inconsistent, and unstructured.
24
They settled on a structured, birth-month-aligned process that allows for patients with multiple conditions to streamline and amalgamate their review appointments.
24
As a result, both surgeries have increased their total numbers of reviews, achieved better patient monitoring, and found that, in general, the CDM process takes up less patient and clinician time because fewer services are being unnecessarily duplicated.24 The change also helped the practice team to understand each other's roles more clearly, and enabled greater visibility of where any individual patient is in their review process.24
Bournemouth: Overhauling Medication Reviews with Pharmacist Support
In 2017–2018, Steve Williams took up the role of Senior Clinical Pharmacist at Westbourne Medical Centre (WMC) in Bournemouth as part of the NHS's pilot scheme for practice-based clinical pharmacists.25 He worked with Dr Lawrence Brad, the practice's prescribing lead and one of its GP partners, to introduce a stratified structured medication review (SMR) system that enables patients with polypharmacy and multimorbidity to reliably receive appointments for comprehensive CDM review.25 Through this process, patients with chronic obstructive pulmonary disease, asthma, cardiovascular disease, or diabetes, and who are on more than eight regular medicines, are invited for a CDM review that incorporates their multiple QOF reviews and SMR, after a blood test appointment.26
This is one part of a whole package of improvements led by an effective MDT at the practice, with other measures including a major overhaul of the repeat prescription system and a drive to assess both process and patient outcomes.27 Indeed, WMC estimates that the work of one full-time pharmacist has saved the practice 80 GP hours per month.27 
In general, the introduction of practice-based pharmacists into NHS primary care seems to have been an impactful and cost-effective intervention, reducing medicine-related problems, inappropriate prescribing, and unnecessary telephone consultations in general practice.28,29 In my communications with Steve and Lawrence about this, Lawrence said: 'A proactive, stratified SMR and CDM process provides an essential platform for the patient to engage in true shared decision making about their medications and, once undertaken, [the process] helps other clinicians to consult with [the patient with] much more efficiency and focus on any subsequent clinical presentation.'26 WMC is currently considering aligning its reviews with patients' birth months in 2023–2024.26
Supporting Pharmacists to Practise Safely
Although Steve and Lawrence are strong advocates for the involvement of clinical pharmacists in general practice, they are keen that these pharmacists are used and supported appropriately, and are leading initiatives in the Poole Bay and Bournemouth PCN to improve use of the MDT for CDM.26,30 I have heard several anecdotes about pharmacists being used inappropriately or having a poor understanding of what they can, and should not, do. In my opinion, there is a pressing need for PCN clinical directors to understand and embrace this.
Staffordshire: Reducing Workload by Aligning Reviews to Birth Month
In 2019, after realising that repeat prescriptions and medication review processes were consuming a significant amount of GP time, a practice in Staffordshire serving 11,800 patients freed up the equivalent of 168 GP appointments per month by improving the structure of its medication review process.31 The practice reduced repeat attendances by instituting more effective sequencing of investigations, creating a 'one-stop shop' in which patients receive clinical and pharmacist-led medication reviews in one visit.31 It was found that aligning reviews loosely to a patient's birthday and having a single point of organisation—the clinical pharmacist—maintained consistency in the process.31 These improvements, which were made in collaboration with the whole team, are appreciated by patients considerably.31
Subsequently, the practice discovered a downside to birth-month alignment: patient expectation (the other side of patient engagement) led to pressure on particular team members, who lacked the capacity to keep up.32 The practice still offers a comprehensive review service of this kind, which streamlines blood tests, clinical review, and medication review, but the timing has been adjusted to match practice capacity.32
Glamorgan: Reducing GP Involvement by Streamlining Processes
In 2019, Western Vale Family Practice (WVFP) employed a pharmacist, Rachel Brace, to help streamline their processes around CDM, SMRs, and QOF/QAIF achievement.33 After much research and discussion, as well as audits, pilots, and attendance at a costing workshop, the practice developed and launched a comprehensive, birth-month-aligned annual review process in summer 2019.33 
The Streamlined Process
Prior to each patient's birth month, review needs are collated and, for certain conditions, pre-appointment questionnaires are sent out.33 Patients attend in person for blood tests and basic metrics, then undergo a clinical and medication review with an appropriate non-GP prescriber.33 The choice of prescriber is based on individual prescribers' scopes of practice, and patients can choose between telephone and face-to-face reviews.33 Subsequently, when safe to do so and when a person's conditions are well controlled, medications are authorised and issued through repeat dispensing for the appropriate maximum periods.33
WVFP has concentrated on streamlining this process for patients with simpler, well-controlled conditions, through paper reviews where appropriate, so that time can be reserved for more complex or vulnerable patients.33 When conditions need better control, these patients are passed to a named clinician to designate responsibility and ensure continuity of care.33
Impact and Reception
It is generally accepted at the practice that this process makes the best use of the MDT's full range of knowledge and skills, including those of nurse practitioners, healthcare assistants, pharmacists, and pharmacy technicians.33 Through this service, over 90% of the practice's CDM activity can be delivered safely and effectively without direct GP involvement, and the team has noticed many improvements as a result, including:33
improved diagnostic coding
clinicians not having to worry about opportunistic delivery
increased condition coverage. 
The process also served the team well through the pandemic, helping them to plan ahead and adapt to their workload.
33
Patients seem to approve of the approach, coining the phrase 'birthday MOT' to describe it, and no patient has yet said that they would rather see a GP.33 GPs are also satisfied that they can concentrate on more complex cases, with one GP even describing the CDM team as 'the elves of chronic disease' because everything seems to happen seamlessly behind the scenes.33 Furthermore, when this process was presented at a meeting of their patient interest group, the All Wales Therapeutics and Toxicology Centre expressed an interest.33
WVFP continues to refine this process with 'Plan, Do, Study, Act' cycles,34 and is currently working on inclusion of hormone-replacement therapy reviews, partly to adapt to the fragility of the supply chain.33
Surrey: Performing Structured Medication Reviews at the PCN Level
In 2020, under the Additional Roles Reimbursement Scheme, Nipa Patel was employed by a PCN in Surrey as a senior clinical pharmacist.35 She introduced pharmacist-led SMRs to the practices in the PCN, with initial benefits identified including improvements in:35 
inhaler prescribing
patient self-awareness in diabetes management
appropriate involvement of social prescribing
communications between community, primary, and secondary care. 
Implementing a Clear Recall Process with Follow-up Procedures
Nipa is now employed across two PCNs: SASSE Networks 2 and 3.
36
Within some practices, she introduced a 'birthday MOT', linking an SMR with a comprehensive clinical review.
37
She found this effective at a previous practice, where patient feedback helped the team to realise that birthday-aligned cohorts were less confusing than alphabetical ones.
37
Annual recalls are arranged by a single text message, which includes a unique code that allows the patient to book a dedicated time slot online or over the phone.37 After 7 days, nonresponders are chased directly to fill the remaining slots of this type.37 When possible, if a patient does not attend, a designated care coordinator contacts them to ask why; however, most patients do attend their self-booked appointments.37 The practices ensure consistency in their reviews and coding through appropriate training and use of third-party-designed templates.37 When it is safe and measures are under control, repeat dispensing allows a community pharmacy to continue issuing a specific medication until the next annual review.37 Those patients who require better control of disease markers are offered follow up by a single clinician to ensure continuity of care until control is achieved.37 
When I spoke to Nipa recently, she noted that the practices that have introduced this process are now significantly more effective at covering QOF, and report exceptions less often, than those that have not yet done so.37 By structuring the review, the practices are also able to utilise many available allied health professionals' roles more appropriately.37 Clinicians at these two PCNs have commented that they prefer this method considerably to the 2-month rush to tick all the QOF boxes, and have noticed that the process allows for 'more time for intricate clinical discussion and optimising treatment plans using shared decision making with patients'.37 Nipa has also noticed that there are downstream benefits on phlebotomy, hospital, and community services, as referrals are spread more evenly throughout the year.37
The team is currently working on streamlining the physical checks to create more of a 'one-stop shop' framework, as well as modelling future demand to workforce availability.37
Cardiff and Vale UHB: Developing a Framework for Understanding CDM Processes
The five case studies presented above demonstrate that there are various ways to improve CDM services in the UK. In Cardiff and Vale UHB, we are currently developing a framework to help practices identify areas for improvement in their own CDM processes, outlined in Figure 1 and detailed below. 
Areas for improvement fall broadly into 10 sections, which group into three domains—quality, efficacy, and integration—and are all affected by the balance of opportunistic versus structured CDM. In our experience, if clinicians are feeling the pressure to capture every opportunistic moment, this is evidence that their structured process lacks capacity or efficiency.
Figure 1: Areas to Consider When Optimising Chronic Disease Recall Processes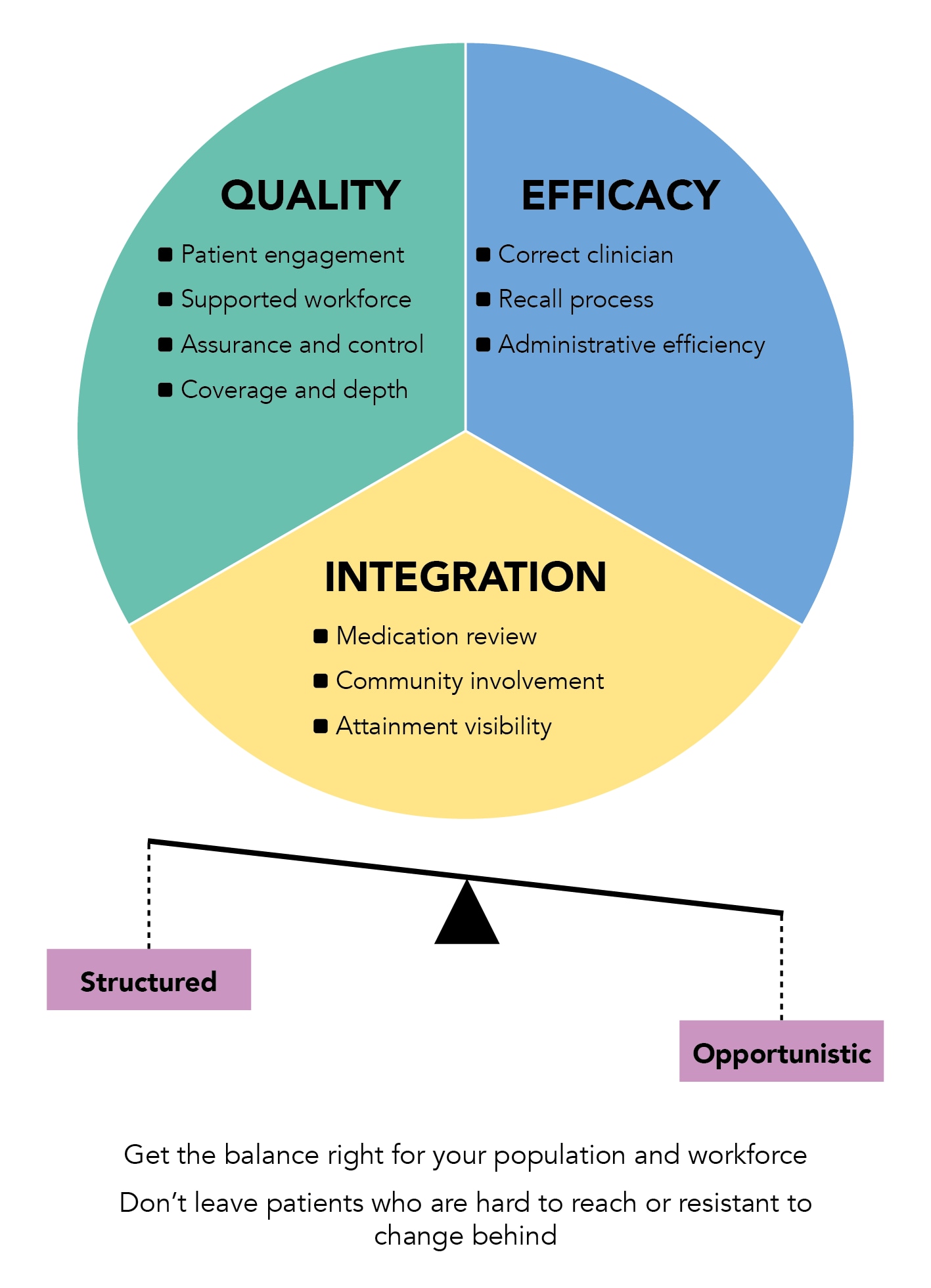 Quality Domain
An effective CDM process relies on providing a high-quality service that is flexible and consistent, with strong patient engagement, workforce support, and the ability to be measured, quality assured, and improved.
Patient Engagement
It is easy to see how the structure of any CDM process can strongly influence patient engagement, which is the key to any effective method of recalling patients. We have identified the following factors as particularly relevant:
communication and clarity about what should occur and at what time
choice of methods for contacting patients
the optimum use of opportunistic moments (it is not inefficient to duplicate a message when it is timely) 
codesign with patient participation groups
continuity of care (ideally continuity of care with a single contact, whether that is the choice of a patient or clinician) 
minimising the unnecessary burden of CDM, such as by reducing patient visits.
Supported Workforce
In an effective team, everyone knows what they should be doing and is equipped to do it. Factors to consider here include: 
training
supervision
design of templates used in the CDM process
everyone knowing how the system is meant to work, and having a route to bring forward improvements.
Coverage and Depth
An ideal CDM structure will ensure that every intended measure for every patient and every relevant condition gets addressed at the desired frequency, including for new patients. It will also have the flexibility to scale up and down, for the sake of contingency, and will provide consistency across all reviews. 
In addressing its CDM coverage, a practice may wish to consider allocating greater seniority or more time to those patients with greater need or more challenging circumstances. If the same patients miss their review every year, this may also need to be addressed with a different approach.
Assurance and Control
If a CDM process is to be effective, the people delivering it will benefit immensely from the ability to measure and assess relevant metrics, allowing them to check whether they are delivering care as intended and work out how they can tackle abnormal results. Continuous quality improvement is a key aspect of assurance and control.
Efficacy Domain
A worthwhile CDM process must be effective in the ways it utilises clinicians, recalls patients, and is administered.
Correct Clinician
Failure to use clinicians to the full extent of their roles has possibly the greatest potential for waste, frustration, reduced quality, and excess cost. For a practice or PCN assessing whether it is using the correct clinician for any aspect of CDM, questions should include:
do we have the right skill mix and number of clinicians to meet the chronic care needs of our patients, and are we able to calculate this?
could we share workforce across our PCN or cluster?
does our system reliably ensure that the right appointments occur at the right time?
does everyone know what services each person can safely provide? 
Recall Process
Proactive care requires effective recall. Practices and PCNs may wish to consider whether they have mapped and measured their recall processes recently to ensure that they are optimised for their resources and population. There are various ways to improve this process:
with some systems, it is now possible for patients to receive a unique link that gives them access to a specified subset of appointments
a receptionist ringing a list of patients may be more effective for improving attendance than a message asking those same patients to ring in
pre-appointment questionnaires may be an effective way to save clinicians' time 
use of an app may be cheaper than use of a text-messaging service
some methods of recall may result in lower did-not-attend rates, so may be more useful
certain metrics may be more useful for assessing the cost effectiveness of a particular recall process, such as 'cost per actual attendance'.
Administrative Efficiency
A number of administrative considerations can lead to inefficiency in CDM. High on this list are wrongly sequenced interventions (for example, a clinical review taking place before blood test results are available). Practices and PCNs may also wish to consider whether their software is optimised to their needs, and if messaging to patients is clear (do they ring back for clarification?). Unreliably stocked rooms can also cause considerable inefficiency and frustration.
Integration Domain
To maximise effectiveness, a CDM framework needs to involve the coordination of processes, wider primary care services, and individual staff members.
Medication Review
The alignment of clinical and medication reviews, with both being comprehensive and performed by the correct clinician, is now well understood to be a fundamental part of an optimal CDM process, particularly for patients with polypharmacy, multimorbidity, or frailty. 
Community Involvement
An effective system would easily allow other organisations to complement the review and management process. Community pharmacies are the obvious example of this, but community nursing, social services, and the voluntary sector are other providers that could enhance patient experience and quality of review in a system that deliberately considers their involvement.
Attainment Visibility
Clarity on the purpose, goals, and achievements of a CDM process is essential for its success. When a clinician or receptionist is deciding whether to take an opportunity to discuss CDM with a patient, for example, it is useful for them to know how well the review process is going, both in general and for the individual patient. The benefits are enhanced if the staff member in question knows how and when reviews will occur—this is especially evident when reviews are aligned by birth month. 
Ambitions at Cardiff and Vale UHB
Our next step with this framework is to identify critical questions, exercises, and measures that can be used to appraise primary care recall systems more objectively. We would welcome any comments on our proposed framework, including any other factors, objective measures, or exercises we should include.
Summary
I have presented here several case studies that illustrate the benefits, and potential challenges, of structuring CDM recall in a more systematic way, particularly by birth month. Although other methods of organisation—such as by multimorbidity, polypharmacy, disease severity, or level of engagement—have also been demonstrated to be effective, all of these can be combined within a primarily birth-month-aligned approach. 
It is unclear how prevalent this birth-month-aligned approach to CDM is, and therefore what opportunities exist for any consequent improvements in health, patient experience, cost, and clinical work life. Within Cardiff and Vale UHB, about 20% of practices have adopted this model, and we are working to refine it and collect more evidence of its effects so that we can scale it effectively. Other practitioners I have spoken with have estimated that up to 50% of practices in their area have adopted the model. Personally, I think that this model is a potential key to the transformational improvements the NHS so desperately needs, and I welcome communication from anyone about it, particularly concerning any issues they have experienced with this approach and any information they have about its prevalence across the UK.