Lauren Hurley Explains the Role of Integrated Care Boards, Examining Their Impact on Primary Care and the Wider NHS After Their Formalisation as Legal Entities 
Read This Article to Learn More About:
the establishment, structure, and purpose of integrated care boards
the place of primary care in the restructured NHS
assessing the performance of integrated care systems in future.
The previous Secretary of State for Health, Lord Lansley, introduced the Health and Social Care Act of 2012,1 which triggered extensive reorganisation and marketisation of the NHS.2 Subsequently, these reforms came to be regarded by many as a mistake,3–5 and ever since, efforts have been made to reverse the measures introduced and move towards a more integrated and collaborative system. In 2014, Sir Simon Stevens became the Chief Executive of NHS England, and went on to develop the 2014 Five year forward view6 and the2019 NHS long term plan,7both of which paved the way for integrated care.
Published in January 2019, the NHS long term plan called for all areas of England to be covered by an integrated care system (ICS) by April 2021.7 In line with this plan, in July 2022, the Health and Care Act 2022 replaced CCGs with 42 ICSs, each with an integrated care board (ICB)—a statutory body with an approved constitution—accountable for performance and spending therein.8–10 The Act also merged NHS England and NHS Improvement, gave the Government various powers of direction over national and local NHS bodies, redeveloped methods of payment for social care providers, and introduced new commissioning and procurement arrangements for the NHS.9,11
Formerly sustainability and transformation partnerships (STPs),12 ICSs are intended to transform the organisation of the health and care system, bringing together healthcare providers and local authorities and organisations of all kinds.9 These institutional changes will have a substantial effect on the ways in which NHS services are planned, commissioned, and delivered.
This article discusses the roles and responsibilities of ICSs, how they are structured, and—although it is very early to determine what effect they are having—ways in which their effectiveness can be measured in future.
What Has Changed?
Many people (including a large part of the ICS workforce) have struggled to understand the myriad names and roles involved in an ICS, ICB, or integrated care partnership (ICP). A visual representation of the new structure of the NHS in England is shown in Figure 1,13 and an outline of the different partners involved in an ICS is provided in Figure 2.14
Figure 1: The Current Structure of the NHS in England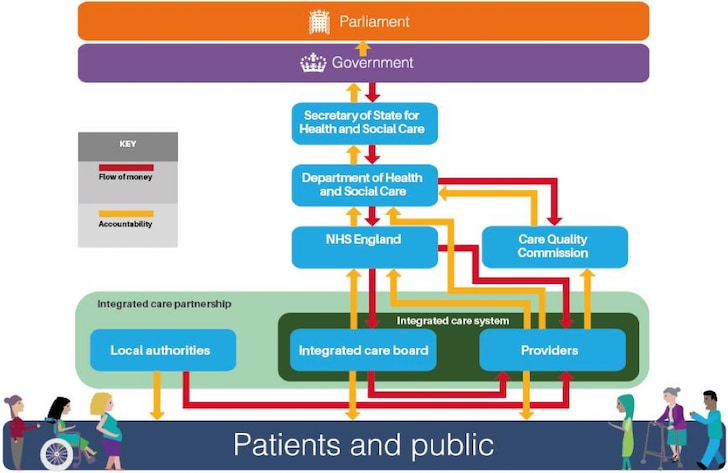 Figure 2: Partners in an Integrated Care System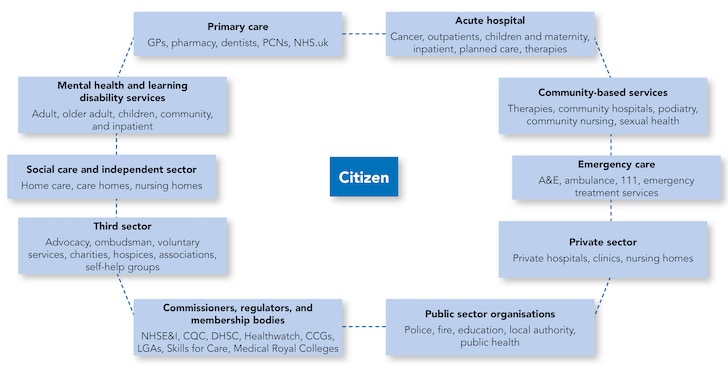 Several different types of organisational body have existed in England in the last decade, including CCGs, STPs, and accountable care systems, all of which have been replaced by ICSs following the passing of the Health and Care Act 2022.1,9 There are two key components in an ICS: an ICB, and an ICP.15 
Integrated Care Boards
ICBs will take on the functions previously fulfilled by CCGs, becoming regional commissioners with some additional responsibilities handed down by NHS England.9 They will be led by a leadership team that will include a chief executive and a chair, with representation from local NHS trusts, local authorities, and primary care colleagues.15,16 Each ICB will produce a 5-year plan for how providers can meet the needs of the local population, developed in consultation with the public.15 
Integrated Care Partnerships
Local authorities and ICBs are required by law to set up and run an ICP for their area.17 ICPs are committees intended to bring together the many organisations that influence the development and provision of healthcare in England.15,16 These organisations include NHS and local authority partners, as well as public health, social care, housing services, and voluntary, community, and social enterprise organisations.9,15 Together, the members of the partnership are responsible for developing a strategy for integrated care within the geographical region of the ICS.16 
The ICP is the statutory committee of the ICS, in which ICBs and local authorities are equal partners.17 The ICP does not have a commissioning role, as this is the responsibility of the ICB.9,15
Geographical Division
Each ICS covers a particular geographical area, typically containing around 1–3 million people.18 These systems can be further broken down into places (250,000–500,000 people) and neighbourhoods (30,000–50,000 people),18 and different organisations will be appropriate to different levels.15 Organisations working on a place-based level may include health and wellbeing boards and place-based partnerships, whereas neighbourhood‑based organisations include primary care networks (PCNs).15 
Neighbourhood-level initiatives are intended to help integrate multidisciplinary teams, and strengthen primary care through the development of PCNs and the use of services, like social prescribing, that draw on resources across the community, voluntary, independent, and public sectors.18 Place-level initiatives are at the councillor borough level, and are intended to integrate hospital, council, and primary care teams, and develop models for both anticipatory care and out-of-hospital care centred on specialties.18 Some organisations and initiatives will be able to work at different levels across the system, building in a flexibility that aims to allow each system to meet the needs of the local population.15
Why Do We Need ICSs?
Coordinated Care and Efficiency
For a long time, there have been fears about patients 'falling through the gaps' in care.19 Many patients have complex, chronic conditions or multimorbidities, and they are often unable to get the continuity of care they need in a system where individual services are not coordinated or communicating effectively.9,19 The need to assess this fragmentation of care will only increase as people continue to live longer, with more complex comorbidities and greater health inequalities.9 Integrated care aims to solve these issues by being person-centred, putting the needs and experiences of individuals at the heart of how services are organised and delivered.20 A multiorganisational approach to care would ideally result in a single pathway tailored to each patient, including effective communication between services that would never before have conversed with one another. Integrated care also aims to make the health system more efficient, reducing duplication of care by different services and decreasing the waiting times that result from transfers of care.9 This is no easy task, and some aspects are not adequately addressed by the ICS structure. For example, long ambulance waiting times and bed blockages, often the result of failure to discharge medically fit patients, are thought to be partly caused by an insufficient social care workforce21,22—this issue may not be within the control of an ICS.
However, more communicative relationships between different providers should create important learning opportunities, enabling an ICS to become better informed about the services that are required most by its population. For example, an ICP in Surrey, after identifying that almost 3000 patients aged over 65 years were on four or more waiting lists, brought together local GPs in Guildford and Waverley with regional geriatricians to develop an integrated care hub to serve this previously unrecognised group.23
Addressing Health Inequalities
One of the duties of an ICS is to tackle health inequalities.9,11,16 Since Fair society, healthy lives—the Marmot review—was published in 2010,24 health inequalities in the UK have continued to escalate, a situation exacerbated by the COVID-19 pandemic.25 On average, the population can anticipate that more of their lives will now be spent in poor health; health gaps between the most and least deprived areas are wider than ever; and improvements in life expectancy have stagnated, particularly in deprived areas—female life expectancy even declined in the most deprived 10% of neighbourhoods between 2010–2012 and 2016–2018.26It is an established fact that health inequalities are linked to mental and physical health outcomes, and directly impact life expectancy.27 For example, according to 2012–2014 statistics, a baby girl born today in Manchester can expect to live in good health for 17.8 fewer years than a baby girl born in Richmond upon Thames.28 
The cost of health inequalities to the NHS in England alone was estimated at £4.8 billion per year for 2011–2012,29and this will only have increased as inequalities have widened—indeed, in 2022, it was estimated that health inequalities cost the Welsh NHS £322 million per year.30 The Health and Care Bill 2022 therefore included a 'triple aim', requiring all NHS bodies to consider the effects of their decisions on health inequalities.31
Each year, ICBs will be required to prepare a report to demonstrate how effectively they have been able to fulfil their obligations, and NHS England will then assess how successfully they have worked to reduce health inequalities.32 The focus on collaborative working between organisations, including voluntary and community organisations that have vital, ground-level knowledge of local populations, should help ICSs to develop and implement their strategies regarding health inequalities.
NHS England has published various local case studies on the positive impact of integrated care on health inequalities.33,34 West Yorkshire ICS, for example, has developed NHS and social care hubs, to which GPs can refer a patient with multiple needs to be seen by the appropriate nurse, occupational therapist, physiotherapist, social care practitioner, voluntary worker, housing officer, or mental health specialist.35 In their first 6 months, the hubs have seen almost 2000 people, including 636 urgent referrals.35 Nevertheless, scaling this kind of success to a national level will be a mammoth task.
Impact on Primary Care
In November 2021, Amanda Pritchard, Chief Executive of NHS England and NHS Improvement, asked Dr Claire Fuller, ICS Chief Executive Officer Designate and GP, to report on how primary care integration could be implemented and supported by ICSs.36 Dr Fuller consulted with primary care stakeholders across many systems, directly involving over 1000 people in her research, and through this process produced a vision for integrating primary care by improving the access and experiences of, and outcomes for communities.36 Her strategy centres around three key aims:36
'streamlining access to care and advice for people who get ill but only use health services infrequently: providing them with much more choice about how they access care and ensuring care is always available in their community when they need it
providing more proactive, personalised care with support from a multidisciplinary team of professionals to people with more complex needs, including, but not limited to, those with multiple long-term conditions
helping people to stay well for longer as part of a more ambitious and joined-up approach to prevention.'
This 'stocktake' report provides a detailed and comprehensive vision of the role primary care must take within an ICS to achieve success, and offers a pragmatic yet optimistic perspective on how these aims can be achieved. The chief executives of all 42 ICSs responded by signing a letter to Ms Pritchard endorsing the recommendations set out in the report,37 sending a message to the Government, the NHS, and local providers that the success of ICSs will rely on their addressing the plethora of challenges currently faced by primary care.
Development Areas
As an employee of an ICS, I feel optimistic. I am lucky to be working in a team that has been operating across three CCGs for quite a while, and to be a member of an ICS filled with committed, positive-minded staff who truly want the best for the residents of the area. This does not mean that things have been straightforward; one recent stumbling block for my team was the need to have separate contracts for localities within different counties.
Not everyone will be lucky enough to work within an ICS like this of course, and it may take others longer to iron out any issues that arise. I am also aware that changes to organisational structures can make people feel uneasy, and that others may not feel so optimistic. With CCGs, the original 211 that existed in 2013 had become 106 by April 2021;38,39 similarly, it is likely that there will be some settling around geographical areas and possible changes of boundaries for the current 42 ICSs.
From a wider perspective, there are concerns that many ICSs lack clinical representation at board level. The British Medical Association (BMA) has campaigned passionately for amendments to the Health and Care Act, calling it 'the wrong Bill at the wrong time'.40,41 The BMA argues that clinical representation should be ensured for voting positions, and that it should be a requirement to include a public health consultant on each ICB.42 It also states that decision-making bodies should be free from private involvement, and that efforts should be made to ensure that decision making is not dominated by NHS trusts.41
In September 2022, the BMA published an analysis of all 42 ICB constitutions, which showed that:43
20 ICB constitutions fail to mention a single public health role
only two ICBs guarantee voting positions for public health specialists
just 17 ICBs specify that their primary care representative should be a GP. 
The BMA does support greater collaboration within the health sector, and recognises the value of integration, but has substantial concerns regarding the variation in clinical representation within ICSs,43,44 which may lead to 'postcode lotteries' for patients.
Assessing the Performance of ICSs
Although it may be too early to assess the performance of ICSs more than informally at this point, it is important to know how to measure this in the future. For formal assessment, NHS England has committed to developing an 'Integration Index' to assess how well services are working together,45 but this work is still underway. Multiple stakeholders are working on the too land, in addition, local Healthwatch pilots have been conducted in some areas to gauge patients' experiences by reviewing existing policies and strategies, assessing existing user experience data, and conducting research through one‑to‑one interviews and focus groups.45 Individuals receiving support from multiple services should feel as though they are being cared for by one organisation, and this initiative is intended to achieve that.45
In parallel, the Care Quality Commission is adjusting its approach to inspecting and monitoring providers collaborating in ICSs to better assess system working, as directed by the Health and Care Act 2022.9
The NHS Confederation's First Annual Report
The NHS Confederation has released its first annual report on the development of ICSs, which provided some preliminary data on their progress;46 although only including the views of ICS leaders, it does contain some interesting insights. According to the report, 90% of ICS leaders feel that they have already been able to improve joint working, and almost 80% said that they are confident of achieving a 'one‑workforce' approach in 2022.46
However, fewer than one in 20 of the responding ICS leaders believe that they have been effective in delivering progress in local social and economic development.46 This may be the toughest aim of the ICS restructure, but one that could potentially have the biggest impact on the health of the local population. Some of the largest drivers of health inequalities are the social determinants of health,47 such as income, housing, and food security, and unfortunately the healthcare system alone cannot tackle these issues. Addressing these inequalities will require a cross‑Governmental approach,48 something that feels further away than ever.
In the report, primary care leaders admit uncertainty around how insights gained at a neighbourhood level will inform system-level decision and strategy,46 and anecdotally there are concerns that secondary care, which has historically received the bulk of the budget, will have a louder voice. Areal test of an ICS will be its ability to live up to the ideals stated in the letter of response to Dr Fuller's stocktake report,37 and to heal the traditional divisions in practice between primary and secondary care.
Useful Resources
The below box contains some helpful sources of information for primary care practitioners who want to learn more about ICSs.
Useful Resources
ICS=integrated care system; BMA=British Medical Association
Summary
It will undoubtably take time to establish the full integration required for an ICS to function properly, but the renewed focus on patient experience, joined-up care, and health inequalities has the potential to create a truly holistic healthcare system. However, this cannot be achieved without Government support: the NHS alone cannot address staffing shortages, alleviate demand‑related pressures, and act on the social determinants of health, and the full potential of integrated systems may never be realised until these issues are resolved.
Key Points
On 1 July 2022, ICSs were established as statutory bodies covering the whole of England
Within ICSs, ICBs are the commissioning bodies, and ICPs are the committees responsible for developing a strategy for integrated care within the geographical region of an ICS
Integrated care is intended to improve service efficiency and coordination, and help healthcare providers to tackle existing healthcare inequalities
For ICSs to improve primary care, they will need to streamline access to care, provide more proactive, personalised care, and help people to stay well for longer
ICSs are likely to have various teething problems, and their overall structures may require further development
Comprehensive systems for ICS assessment and improvement are being developed, and should aid the integration of care
Preliminary data and case studies are promising, but there is still a lot to be done if ICSs are to prove successful.
ICS=integrated care system; ICB=integrated care board; ICP=integrated care partnership