Guidelines presents Primary Care Hacks, a series of clinical aide-memoires across a range of topics. Developed by Dr Kevin Fernando, Primary Care Hacks aim to provide a quick and easy resource for primary healthcare professionals and ultimately help improve patients' lives.
Take a Look at Medscape UK's other Primary Care Hacks
Interpreting Iron Studies in Primary Care
This Primary Care Hack is intended to aid you in interpreting results of conventional laboratory tests of iron status—commonly referred to as 'iron studies'. This Hack covers ferritin, transferrin, serum iron, and transferrin saturation and how to interpret results of these tests; managing raised serum ferritin levels in patients; and top tips and pitfalls to avoid when interpreting iron studies. 
Latest Update
August 2023: A new reference was added to the References section (4) following the publication of the clinical paper, Managing raised ferritin in primary care in the British Medical Journal in July 2023. Among other points, the paper recommends that 'raised levels of ferritin can be associated with several serious underlying conditions and should be investigated appropriately'.
What Are Iron Studies?
Ferritin
Ferritin reflects total body iron stores and is the best investigation for suspected IDA. Ferritin is an acute phase protein so can be falsely elevated or normal in inflammatory disorders, liver disease, alcohol excess, and malignancy when in reality iron stores are low 
Transferrin
Transferrin is the main iron transport protein that controls the level of free iron. It increases in IDA to maximise use of available iron and reduces in iron overload
Serum iron
Serum iron is the level of circulating iron bound to transferrin. Serum iron levels are highly variable and affected by dietary intake, inflammation, infection, and malignancy

an isolated low serum iron level has poor diagnostic specificity for iron deficiency

Transferrin saturation (TSAT)
TSAT is the proportion of iron-binding sites of transferrin occupied by iron. A high TSAT (>50%) is a sensitive and specific test for iron overload (e.g. haemochromatosis), whereas low values are poorly specific for iron deficiency

pregnancy, COCP use, and chronic illness all lower TSAT without iron deficiency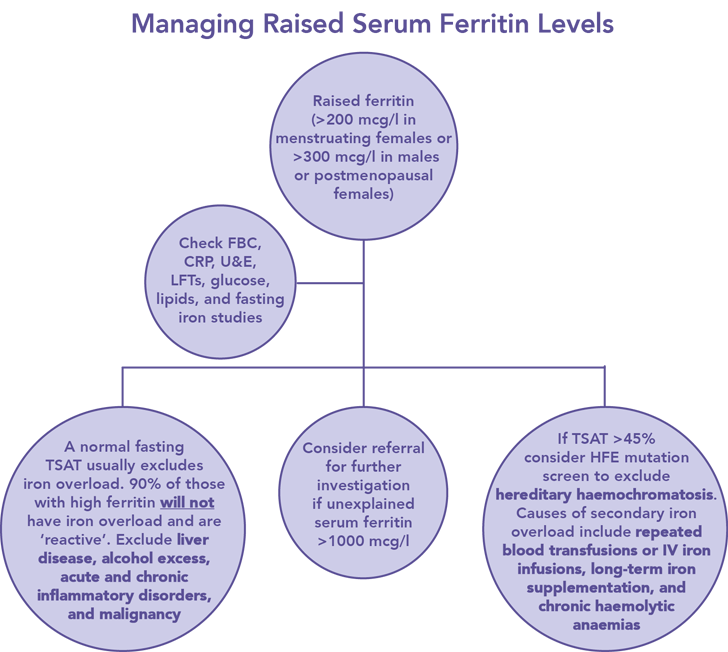 Interpreting Iron Studies
Condition
MCV (NR 80–96 fl)
Ferritin (NR 20–300 mg/l in men and postmenopausal women, 15–200 mcg/l in menstruating women)
Serum Iron (NR 14–32 mcmol/l)
Transferrin (NR 2–4 g/l)
Transferrin Saturation (NR 12–45% in women, 15–50% in men)
IDA
Lowered
Lowered
Lowered
Raised
Lowered
Aneamia of chronic disease
Lowered or unchanged
Raised or unchanged
Lowered
Lowered
Lowered or unchanged
Iron overload, e.g. haemochromatosis
Raised or unchanged
Raised
Raised
Lowered
Raised
Top Tips and Pitfalls to Avoid When Interpreting Iron Studies
Iron studies should be measured on a fasting morning sample as serum iron levels undergo diurnal variation and may rise with food ingestion, temporarily increasing TSAT 
Individuals should not be tested during acute illness where iron levels may fall and artificially lower TSAT 
A normal or high serum ferritin can be secondary to infection, inflammation, liver disease, or cancer, and therefore mask the presence of iron deficiency

check CRP to exclude underlying inflammation

Do not assume all microcytic anaemias are IDAs—check ferritin levels

low ferritin is diagnostic of IDA
however, as mentioned above, a normal or high ferritin does not exclude iron deficiency. In such cases, check serum iron and transferrin on a fasting sample—low serum iron and transferrin ≥3 g/l are then diagnostic of IDA

If the cause of a high ferritin is unclear, the most useful test to differentiate true iron overload from other causes is TSAT.
Abbreviations Used in this Primary Care Hack
COCP=combined oral contraceptive pill; CRP=c-reactive protein; HFE=human homeostatic iron regulator protein; IDA=iron deficiency anaemia; IV=intravenous; MVC=mean corpuscular volume; NR=normal range; TSAT=transferrin saturation
Click on the link below for a downloadable PDF of the Primary Care Hack
Interpreting Iron Studies in Primary Care
This Primary Care Hack was developed by Medscape's Guidelines editorial team in conjunction with Dr Kevin Fernando, GP Partner, North Berwick Health Centre; GP with special interest in CVRM and medical education; Content Advisor for Medscape UK and Medscape Global. Primary Care Hacks are for information for primary healthcare professionals in the UK only. They bring together currently available recommendations and/or prescribing information and indications for therapeutics licensed within Great Britain. Licensed indications and/or prescribing information for Northern Ireland may differ. You are advised to review local licensed indications before prescribing any therapeutic. Primary Care Hacks are reviewed intermittently to ensure the information is up to date at the time of publication. Primary Care Hacks are independently produced by WebMD, LLC and have not been created in conjunction with any guideline or prescribing body.