On the last day of the 4-day junior doctors' strike on Friday, protestors gathered in major cities, including London, Newcastle, Leeds, and Birmingham, and made a public case for why they felt they deserved more pay.
In Birmingham, hundreds of junior doctors gathered near the Bull Ring marketplace chanting "overworked underpaid", "full pay restoration", and "claps don't pay the bills". Some of the junior doctors are newly graduated and in their 20s, but others who have been working in the role for 10 or more years were out in the rain, some with their children.
Speaking to the crowd, BMA Industrial Relations Officer Andrew Jordan said that 98% of junior doctors voted for strike action with over 77% voting at a time when the BMA has the highest level of membership among junior doctors in the history of the union.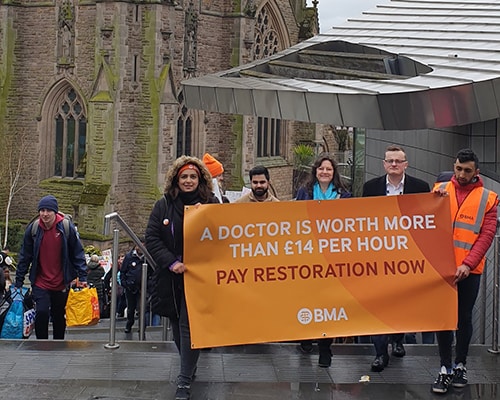 "This generation of junior doctors will succeed to bring the pay that the profession so desperately needs," he said.
Mr Jordan later told Medscape News UK: "This event is not alone, in London we had tens of thousands of people in Trafalgar Square, we had thousands upon thousands of people on the picket lines across the country, just as we had in March and it really is a demonstration of just how unified this profession is and the strength of feeling and the determination to do something about a level of pay erosion which has been grossly unfair."
He discussed the frustration of not moving forward in pay negotiation with the Government.
"We hope the government will speak to us, we keep on making that offer, we are demonstrating our willingness to talk, we hope they will do so, we hope they will prioritise getting junior doctors to a point of pay restoration and ending this industrial action.
"The emphasis is now on the government to come to the negotiating table. We have been trying to get them to do this since August of last year. Positions need to be discussed around a negotiating table, we have to refrain from this kind of playing negotiating positions through the media. I don't think that benefits anybody."
Almost 200,000 Appointments Cancelled
The 4-day strike last week caused 195,000 NHS appointment cancellations, with 27,361 staff absent due to industrial action, according to NHS England (NHSE) on Monday. NHSE added that there was a high number of nil returns on the workforce data collection, therefore their figures may not present "the full picture". The previous 3-day strike in March, there were an estimated 175,000 cancellations.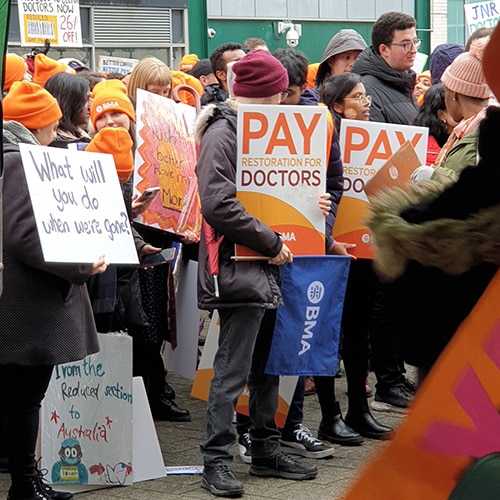 NHS National Medical Director, Professor Sir Stephen Powis, said: "[Monday's] figures lay bare the colossal impact of industrial action on planned care in the NHS. Each of the 195,000 appointments postponed has an impact on the lives of individuals and their families and creates further pressure on services and on a tired workforce – and this is likely to be an underestimate of the impact as some areas provisionally avoided scheduling appointments for these strike days.
"Our staff now have an immense amount of work to catch up on hundreds of thousands of appointments, all while continuing to make progress on tackling the backlog of people who have been waiting the longest for treatment. We have now seen nearly half a million appointments rescheduled over the last 5 months, and with each strike, it becomes harder. While our staff are doing all they possibly can to manage the disruption, it is becoming increasingly difficult and the impact on patients and staff will unfortunately continue to worsen."
BMA Junior Doctors Committee Co-Chairs Dr Vivek Trivedi and Dr Robert Laurenson, responded that the pressures were not new to junior doctors, and the strikes are not to blame for the waiting lists: "Junior doctors know all too well the frustration of patients waiting too long for care, and with a waiting list of 7.2 million in England, we are facing difficult conversations with them every single day.
"These millions of patients are not in this position because of strikes though. Persistent under-resourcing of the health service and under-valuing staff – exacerbated by a pandemic – mean we simply don't have the workforce and capacity to provide the high-quality and timely care that patients need and deserve.
"This is why we have been led to strike, and while we are of course sorry to anyone who had their care disrupted, this is the same apology we're already having to give to patients on a daily basis because the NHS cannot cope."
Pay Restoration Versus 35% Pay Increase
In the media, there is a back and forth regarding the pay demand that junior doctors are making. Health Secretary Steve Barclay has said that the BMA is demanding a 35% pay increase, while the BMA has said that they want to address the 26% pay erosion over the past 15 years.
Dr Sumi Manirajan, co-deputy chair of the BMA UK junior doctors committee, also addressed the rally on Friday, where she brought up the issue of pay. 
"We are asking for £5 to £10 an hour to retain and recruit doctors in our workforce. You'd be hard pressed to find anyone who thinks that is unreasonable, she said to the crowd.
Talking to Medscape News UK, Dr Manirajan said: "Our pay has taken a beating, and I spoke in front of the crowd to motivate them, to tell them to keep going, we are on the right track, and we are on the right side of this argument.
"I think we will win this argument, with the support of our membership," she added.
Keeping the NHS Afloat - And Pay Plays a Part
As the protest moved from St Martin in the Bull Ring Church and towards Corporation Street in the centre of Birmingham, people took pictures and clapped to express their support. 
Although the protestors may have had different reasons for striking, they were united in saying that the strike was not just about pay, but also about saving the NHS as a service free for patients at the point of access.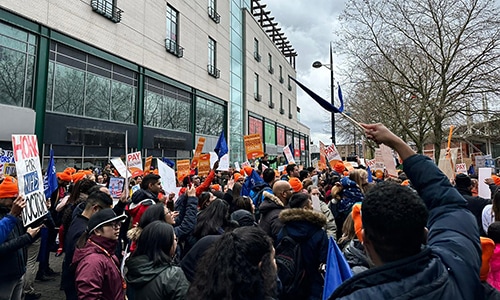 A young man wearing a University of Leicester shirt who wished to remain anonymous said: "You see a wide range of participants: the older ranks are striking because of the changes that the NHS has gone through since 2008; the younger ranks are striking because they are being poached from Canada, Australia, America, where they are paying doctors higher salaries – you can say, market rates to retain and to attract the talent. Britain is taking a different approach and you are seeing a brain drain now. Essentially, we are just rearranging the deck chairs of the Titanic as it sinks and if we don't strike and achieve our demands the health care system in this country will be second rate."
Charles, a doctor from Birmingham who qualified in 2014, said: "I am here to protest for all the doctors who are leaving the health service and on behalf of all the future doctors who want to join the health service but are not going to stay because the service is not going to last. 
"The reasons why I am here is because the health service is falling apart, not just doctors but nurses, paramedics, ancillary staff, the service is falling apart, and doctors are a part of that. We need to keep doctors working, we need to incentivise them to stay, and pay is part of that. 
"The waiting lists are sky rocketing, the rotas are understaffed, the waiting times to be seen are going through the roof. I hope that this will change the narrative around doctor's pay and there will be a realistic discussion about how to incentivise staff in the NHS. We are on the same team as the nurses, we all see the same problems and we all care about the NHS and we all want to make it last. "
Sophie, a doctor from Birmingham who qualified 10 years ago said: "It is not just about me as an individual, it is about all of us. People who are coming out of med school now, are coming out with 80-100K worth of debts and their pay packet looks a lot like mine did 10 years ago. Meanwhile, the cost of everything has gone up.
"The decisions we make will have a knock-on effect on other health care professionals who are trying to achieve similar things. Ultimately, it is all about recruitment and retention, and at the moment the NHS cannot recruit and retain not just doctors, but nurses and paramedics as well, across the board and that is what needs to be addressed. 
"I am hoping that the pay will be more in keeping with inflation not just for us, but hopefully across the health service. We need to keep the NHS a service which is free at the point of access. In terms of where the NHS can be leaner, I guess there are areas around procurement and use of physical resources that we can focus on, but it needs to be properly funded. "
What's Next?
Late last week, it was reported that the conciliation service ACAS has been brought in to help with the negotiations. Yet, as of late Monday, the BMA said they had not yet sat down with the Health Secretary.
"While we have said we are happy to talk anytime, anywhere, Mr Barclay continues to demand that we drop our opening position of calling for a reversal of the pay erosion experienced by junior doctors before he will even enter discussions," said Dr Vivek Trivedi and Dr Robert Laurenson.
"So once again we urge them to drop their barriers to talks and meet with us in good faith, whether that is through the conciliation service ACAS, or directly, so that we can solve this dispute for the good of junior doctors, patients and the NHS."
Speaking to the Commons on Monday afternoon, Mr Barclay said the timing of the 4-day strike was "regrettable".
"It's regrettable that the BMA junior doctors committee chose the period immediately after Easter to cause maximum disruption, extending their strike to 96 hours and asking their members not to inform hospitals, whether they intended to strike making contingency planning much more difficult."
The Health Secretary told MPs that he did want to meet with the BMA, but that they had not moved on their original "not affordable" position.
"I do want to see a deal that increases junior doctors' pay and a deal that fixes many of the non-pay frustrations that they articulate but the junior doctors committee co-chairs have still not indicated that they will move substantially from their 35% pay demand which is not affordable and indeed, not supported by the bench opposite."