Overview
This Guidelines summary provides healthcare professionals in primary care with key information and advice to support patients who are living with post-COVID syndrome (long COVID), along with resources to support communications with communities.
The guideline was published alongside the NHS plan for improving long COVID services and the revised National commissioning guidance for post COVID services.
For recommendations on tackling inequalities and further resources, refer to the full guideline.
Reflecting on your Learnings
Reflection is important for continuous learning and development, and a critical part of the revalidation process for UK healthcare professionals. Click here to access the Guidelines Reflection Record.
Assessment and Referral
Patients may present with a wide range of symptoms, including but not limited to: breathlessness, fatigue, chest pains, cognitive impairment, or psychological symptoms
The initial role of healthcare professionals in primary care is to exclude acute or life-threatening complications and other unrelated diagnoses
Assessment may include blood tests, chest X-rays, or clinical tests, depending on the patient's signs and symptoms (as per NICE/Scottish Intercollegiate Guidelines Network/Royal College of General Practitioners guidance)
Advice, treatment, or referral to the relevant acute or specialist services may be required
Symptoms at 4 weeks from acute COVID-19 infection are common, and in most people they represent the normal tail of recovery from the acute infection. Appropriate reassurance about the pace of recovery is likely to be helpful
If 'ongoing symptomatic COVID-19' is diagnosed (from 4 weeks after infection) and other diagnoses ruled out, the following options should be discussed with the patient as appropriate to their needs:

signposting to self-management support, including the online platform Your COVID Recovery (see the section, Self management: Your COVID Recovery, for more detail)
supported self-management from the practice or primary care network team; this may include input from social prescribers, health and wellbeing coaches, and care coordinators who can also link into community groups or other existing community services as appropriate
referral into a post-COVID service any time from 4 weeks after the start of acute COVID-19 illness. However, typically referral will not be immediate due to the need to rule out alternative diagnosis and undertake relevant investigations

To consider a diagnosis of post-COVID syndrome, patients must have a clinical history consistent with an acute COVID-19 infection, but do not need to have had a positive SARS-CoV-2 test, antibody test, or a previous COVID-19 diagnosis code
As emerging evidence suggests the severity of initial COVID-19 symptoms is not directly linked to the development of long COVID, assumptions should not be made about the longer-term impact of the virus.
Algorithm 1: Primary Care/Community Post-COVID Syndrome Pathway for Adults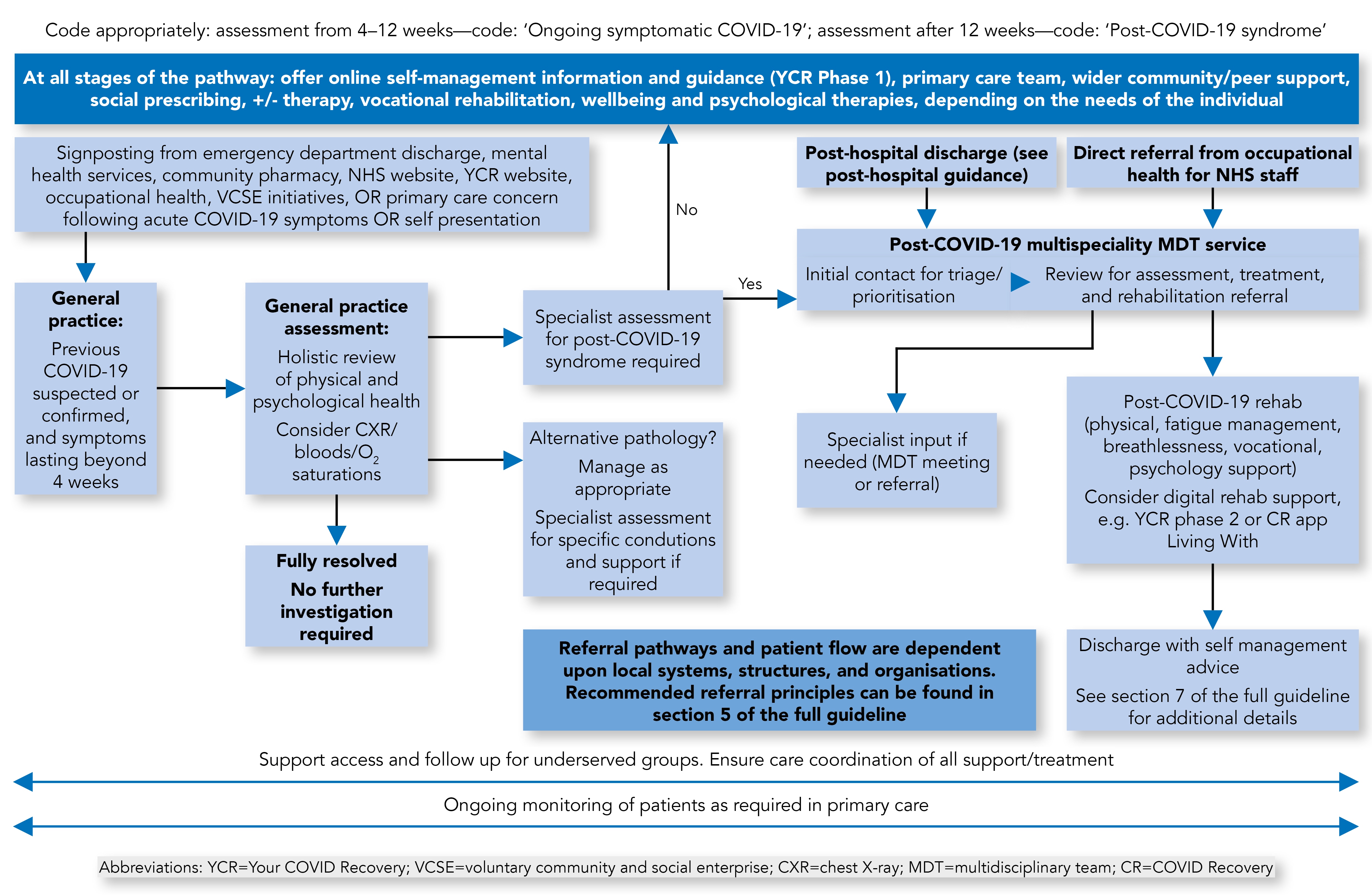 Self Management: Your COVID Recovery
The Your COVID Recovery service provides a digital, interactive, personalised recovery programme for people recovering from COVID-19. This has two phases:

phase 1 is a public website providing information on all aspects of recovering from COVID-19, and anyone with ongoing symptoms of COVID-19 can be signposted to the site to aid their recovery, regardless of whether they were managed in hospital or the community. The information and resources cover a range of biological, psychological, and social areas of care, including physical, emotional, and psychological wellbeing support offers
phase 2 is a tailored self-management rehabilitation plan that is remotely supported by healthcare professionals to reduce symptom burden. It enables people to set goals for their mental and physical health and receive peer-to-peer support through social community forums. It has an 'ask the expert' facility for patients to contact their local rehab service, and allows patients to be monitored by their local rehabilitation teams to ensure that they are on track with their care
patient access to phase 2 is only available after a referral from a post-COVID service, once a patient is deemed fit for rehabilitation. To sign up to offer Your COVID Recovery phase 2, email yourcovidrecovery@uhl-tr.nhs.uk. Providers will be onboarded and trained in how to maximise use of the programme to support patients.
Post-COVID Services
After ruling out acute or life-threatening complications and alternative diagnoses, primary care clinicians should consider referring people to a post-COVID service any time from 4 weeks after the start of acute COVID-19 illness
The decision to refer should be made jointly with the person, using shared decision-making principles, and the support, treatment, and rehabilitation needs agreed
The referral should, where available, provide the following details:

date of acute COVID-19 if known
care during acute COVID-19, in other words, community, hospitalisation, intensive care unit care
duration and trajectory of ongoing symptoms following initial illness
scope of symptoms, following full systems history
impact of symptoms on the person's life, including social impact, employment, and psychological affects, as well as health
findings on clinical examination appropriate for symptoms, which may include:

respiratory, cardiovascular, and neurological examination
cognitive and psychological assessment
lying and standing blood pressure and heart rate
peripheral oxygen saturation on rest and exertion

results of appropriate investigations, which may include:

blood tests (if not already performed during the acute illness), such as full blood count, kidney and liver function tests, C-reactive protein, ferritin, B-type natriuretic peptide, HbA1c, and thyroid function tests
chest X-ray, if not performed previously or still symptomatic after 12 weeks
12-lead electrocardiogram.
Vocational Rehabilitation
Most people experiencing long-term symptoms of COVID-19 are of working age. Return-to-work personalised advice and support should be offered as a core component of rehabilitation, and recommendations made for the person's employer where appropriate
Where possible, consider referring to the person to occupational health for advice on returning to work.
Data Management and Coding
Data on long COVID needs to be consistently and accurately coded and captured in primary care. The core SNOMED codes for general practice are:

post-COVID-19 syndrome (1325161000000102): 12 weeks plus after infection
ongoing symptomatic COVID-19 (1325181000000106): 4–12 weeks after infection
referral to post-COVID assessment clinic (1325031000000108)
signposting to Your COVID Recovery (1325021000000106): when signposting patients to the public Your COVID Recovery website (phase 1)
post-COVID-19 syndrome resolved (1326351000000108): to be used at the patient's and clinician's discretion when all symptoms have fully resolved and there is no evidence of persisting organ impairment, or if an alternative diagnosis has been made that accounts for all symptoms

Please note that healthcare professionals need to enter 'Post-COVID' (with the dash) when searching for the codes. Further guidance on coding, including recommended code sets, is available in the national commissioning guidance for post COVID services. A number of templates are available within the major EPR systems to support general practice assessment and coding of long COVID. These have been co-designed with and align with NHS England guidance, for example:

TPP SystmOne: Long Covid Management Primary Care 1.0: access using 'Search Features' function → type 'long' to bring up
EMIS: Long COVID Management v1.0: access using Template Runner → type 'long' to bring up
Ardens: Long COVID Template: see website for details on how to access and use

To improve detection of possible cases of long COVID, practices are encouraged to routinely code COVID-19 diagnosis (or add COVID-19 as a 'Problem') for those who test positive for COVID-19.
For recommendations on tackling inequalities, refer to the full guideline.
Supporting Children and Young People with Long COVID
Healthcare professionals who are concerned that a child has long COVID should refer them either to the local paediatric service or local post-COVID service (if it accepts paediatric referrals), which will then decide whether to refer onto a paediatric hub as appropriate.
Patient-facing Resources
Long COVID Patient Information Leaflet
This printable patient leaflet contains key messages on recovering from COVID-19 and the support available to patients, their families, and unpaid carers.
Your COVID Recovery
The information and advice on Your Covid Recovery, including the guidance on managing common symptoms, is available as downloadable PDFs and can be printed for patients who prefer paper copies.
Patient-facing Channels
Key messages for patients and the public, for example on practice websites or social media channels, include:

most people infected with COVID-19 feel better within a few days or weeks of their first symptoms and make a full recovery within 12 weeks. For some people, symptoms can last longer
if you are concerned about any of your symptoms, contact your GP surgery—they can offer you an initial consultation, and provide access to any further assessments or care they determine you need
you should contact your GP surgery if you are experiencing:

new or worsening symptoms following COVID-19 infection, especially if you are concerned about symptoms that have been present for 4 weeks or longer, as you would for any other health issue
any symptoms that are affecting your ability to carry out normal daily activities

you do not need to have had a positive COVID-19 test result to get help. A member of the general practice team will assess you and provide the support you need in the first instance
after your assessment, your general practice team will talk to you about what they think is happening and discuss the support they think you need to help you get better. For example, you may be signposted to the Your COVID Recovery website for online advice on self-management, or referred to a specialist post-COVID clinic, a specialist with expertise in your specific problem, or a rehabilitation service.
For additional resources, refer to the full guideline.