Overview
This is an updated summary of the British Association for Parenteral and Enteral Nutrition's guidance on the use of the 'Malnutrition Universal Screening Tool' (MUST), a five-step tool to identify adults who are malnourished, at risk of malnutrition (undernutrition), or obese. It also includes management guidelines that can be used to develop a care plan. 
The MUST is intended for use in community, hospital, and other care settings and can be used by all care workers. 
Reflecting on your Learnings 
Reflection is important for continuous learning and development, and a critical part of the revalidation process for UK healthcare professionals. Click here to access the Guidelines Reflection Record.
The Five MUST Steps
Algorithm 1: The Five MUST Steps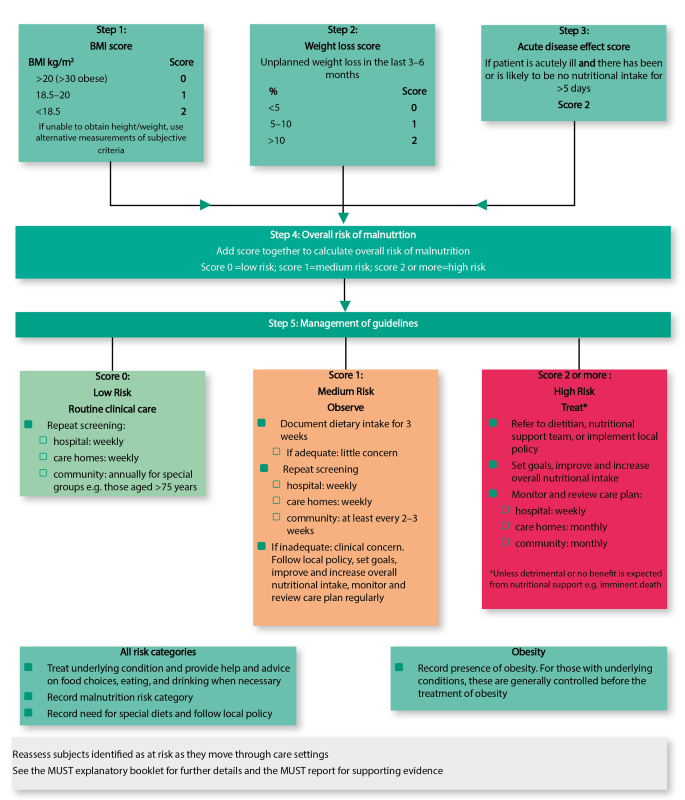 Step 1
Measure height and weight to get a body mass index (BMI) score.
Step 2
Note percentage unplanned weight loss and score.
Step 3
Establish acute disease effect and score.
Step 4
Add scores from steps 1, 2, and 3 together to obtain overall risk of malnutrition.
Step 5
Use management guidelines and/or local policy to develop care plan
Refer to 'The 'MUST' Explanatory Booklet for more information when weight and height cannot be measured, and when screening patient groups in which extra care in interpretation is needed (for example, those with fluid disturbances, plaster casts, amputations, critical illness, and pregnant or lactating women). The booklet can also be used for training. 
See the 'MUST' Report for supporting evidence. Please note that 'MUST' has not been designed to detect deficiencies or excessive intakes of vitamins and minerals and is of use only in adults.
Alternative Measurements and Considerations
Step 1: BMI
If height cannot be measured:

use recently documented or self-reported height (if reliable and realistic)
if the subject does not know or is unable to report their height, use one of the alternative measurements to estimate height (ulna, knee height, or demispan).
Step 2: Recent Unplanned Weight Loss
If recent weight loss cannot be calculated, use self-reported weight loss (if reliable and realistic).
Subjective Criteria
If height, weight, or BMI cannot be obtained, the following criteria which relate to them can assist professional judgement of the subject's nutritional risk category. Please note, these criteria should be used collectively not separately, as alternatives to steps 1 and 2 of 'MUST' and are not designed to assign a score. Mid upper arm circumference may be used to estimate BMI category in order to support your overall impression of the subject's nutritional risk
BMI:

clinical impression—thin, acceptable weight, overweight. Obvious wasting (very thin) and obesity (very overweight) can also be noted

Unplanned weight loss:

clothes and/or jewellery have become loose fitting (weight loss)
history of decreased food intake, reduced appetite, or swallowing problems over 3–6 months and underlying disease or psycho-social/physical disabilities likely to cause weight loss

Acute disease effect:

Acutely ill and no nutritional intake or likelihood of no intake for more than 5 days.
Other Criteria
Further details on taking alternative measurements, special circumstances, and subjective criteria can be found in the 'MUST' explanatory booklet (see bapen.org.uk to obtain a copy).