Dr Emma Nash discusses the challenges of assessing and addressing poor mental health in the context of COVID-19
Read This Article to Learn More About:
the balance of positive and negative factors that contributes to mental wellbeing
the impacts of the COVID-19 pandemic and its associated restrictions on mental health
assessing and managing mental ill health in the context of COVID-19.
Find key points at the end of this article
The disease caused by the severe acute respiratory syndrome coronavirus 2 (SARS-CoV-2), termed COVID-19, first appeared in December 2019 and rapidly spread worldwide. On 11 March 2020, COVID-19 was declared a pandemic by the Director-General of the World Health Organization (WHO).1 The last pandemic was H1N1 influenza in 2009,2 but the WHO was clear that the COVID-19 pandemic '… is the most challenging crisis we have ever faced' 3 —a scary statement from such a large and influential organisation. COVID-19 is a respiratory illness that can cause severe disease in certain individuals,4 and news reports have described swathes of people in intensive care and huge numbers of deaths as a result. The mantra 'Stay home, protect the NHS, save lives' was the Government's message for daily life.5 Recreational and business activities that were deemed non-essential were instructed to cease, and home became the workplace as well as the site for leisure and education. Although lockdown restrictions have varied a little over the last year or so, and a roadmap to return to normal life has been published,6 the key theme has been avoiding physical closeness.

Humans are social creatures. Although social distancing is not the same as social isolation, it is on the same spectrum. Total isolation is at the most extreme end, whereas living near-normally but physically distanced from those around us is a more moderate state. Feeling isolated can result in the sadness that loneliness brings. In addition to feelings of isolation caused by social distancing, people with suspected or proven COVID-19 may be treated negatively, resulting in further isolation. Use of masks can compound feelings of isolation triggered by the pandemic for certain groups, such as people who are hard of hearing. Furthermore, the circumstances in which people are obliged to social distance can have a negative impact on their mental health—for example, in the case of domestic abuse. However, the pandemic has not had the same effect on everyone's mental health and wellbeing, and there are a number of potential reasons for this. Although psychiatry as a speciality is reconsidering the value of the biopsychosocial understanding of psychiatric disorders,7 it still holds much value for understanding mental health in the context of COVID-19.

This article will look at mental health during the pandemic in the primary care setting, with a particular focus on the effect of COVID-19 on the experience and management of mental ill health.
Positive and Negative Influences on Mental Health
Most of us will have been taught during our training about predisposing, precipitating, and perpetuating factors for mental ill health.8 Figure 1 condenses these factors a little, but is still a good illustration of how a mismatch between stressors and protective factors can contribute to mental illness. Unless a favourable balance is achieved, through understanding and addressing negative factors and optimising resilience, wellbeing will be eroded, with a negative impact on mental state potentially continuing into mental illness.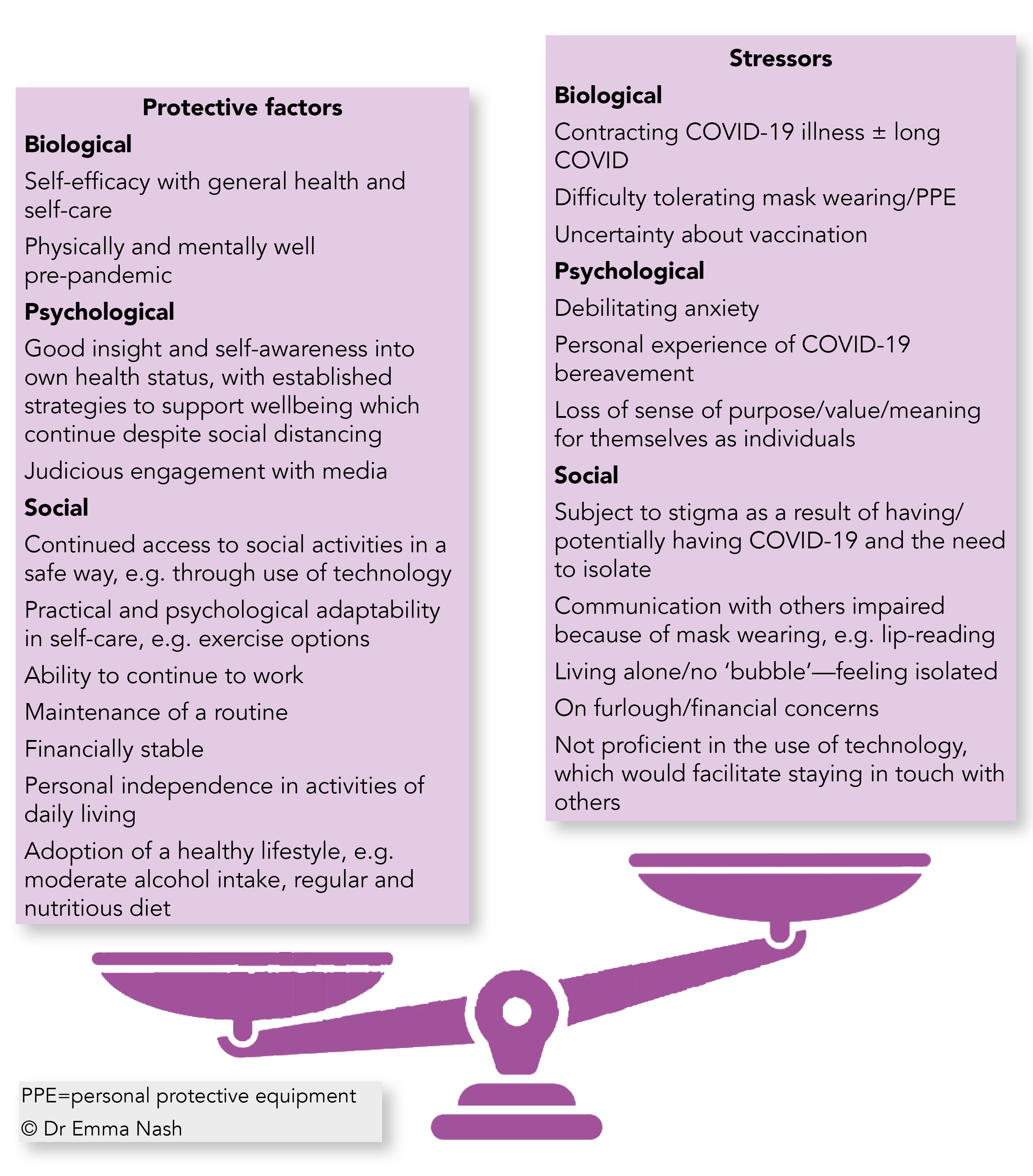 These lists are not exhaustive, but they illustrate some areas that can be addressed to positively affect mental health, such as discussing anxieties around COVID-19 vaccination and highlighting potential benefits. Along similar lines, Friedli wrote about what is needed to create positive mental health (see Box 1).9 Our role in primary care can be summed up by addressing these four determinants of mental wellbeing. How we achieve this  depends on an individualised approach with the patient, and requires negotiation and a joint management plan.
Box 1: Factors Contributing to Good Mental Health9
Positive mental health includes:
positive emotion (affect/feeling)
optimised cognition (perception, thinking, and reasoning)
good social functioning (relations with others and society)
coherence (sense of meaning and purpose in life).
Reprinted with permission from: Friedli L. Mental health, resilience and inequalities. Copenhagen, Denmark: World Health Organization, 2009. Available at: www.euro.who.int/__data/assets/pdf_file/0012/100821/E92227.pdf
Assessing Mental Health in the COVID-19 Era
Making an assessment of someone who is struggling can be an additional challenge at the moment. What is a normal reaction to a difficult situation, and where does it cross into pathology? NICE Clinical Guideline 90 on depression in adults states that the degree of functional impairment should be considered before making a diagnosis;10 similarly, regarding the diagnosis of generalised anxiety disorder, NICE Clinical Guideline 113 cites the need to observe 'clinically significant distress or impairment in social, occupational or other important areas of functioning'.11 Considering these in the context of impairment caused by the COVID-19 pandemic is therefore important, with professional judgement needed to ascertain the symptoms of the person versus the level of impairment or distress experienced by the wider population. The symptoms need to be 'out of the ordinary' by comparison.

Thus, a challenge in managing COVID-19-associated mental illness lies in identifying it. This requires an index of suspicion, as well as an awareness that COVID-19-related issues may be different from the symptoms of mental illness that we typically see.
COVID-19 and Prior Diagnosis of Poor Mental Health
Notwithstanding the pandemic, patients with significant mental illness and substance misuse are already known to have a lower life expectancy and higher incidence of physical illness than the general population.12,13 Consequently, it is hypothesised that there may be more physical and psychological sequelae of the pandemic in this cohort.13 Formulating mental healthcare plans for patients with a psychiatric diagnosis is considered to be good practice, especially for those with serious mental illness, and these plans have the potential to be very helpful in this situation.10,14 Time spent previously reflecting on, and documenting, signs of relapse can help practitioners to distinguish between a response to an acutely stressful situation and a deterioration in mental health. It is also useful to review what have previously been identified as protective factors and work towards optimising them, because early intervention can help to avoid a crisis or severe relapse. It is important, however, to be cautious when first exploring a relapse prevention and management plan.
Management of Mental Ill Health During the Pandemic
Medication may be required to manage mental ill health, but this is something that is not specifically related to COVID-19, and will not be discussed here.

When working on management plans with patients who are struggling with poor mental wellbeing, practitioners must be mindful that some common support elements may be unavailable, such as access to important individuals as a result of shielding. Bereavement in the era of COVID-19 brings an added level of complexity—because of restrictions, the number of attendees permitted at funerals has been limited, and funerals have not run in the normal way. This means that there is potential for an unexpected bereavement from a new illness, but that 'saying goodbye' in the usual way is not possible. This can cause psychological trauma requiring cognitive therapeutic input, disrupting the grieving process and adding to the psychological distress brought about by COVID-19.15 This situation may be further compounded when the person who died from COVID-19 was a key member of the support network for the mentally unwell person.

Sharing information can help to normalise people's feelings, as shown by the cut-out-and-keep information leaflet provided in Figure 2. There can be an expectation from some people that they should feel a certain way, and it can cause concern or distress if they don't. This guide explains that there are a variety of responses, and has suggestions for self-help, sources of support, and how to respond to crisis. You may find it helpful to adapt this for your practice with some extra local information.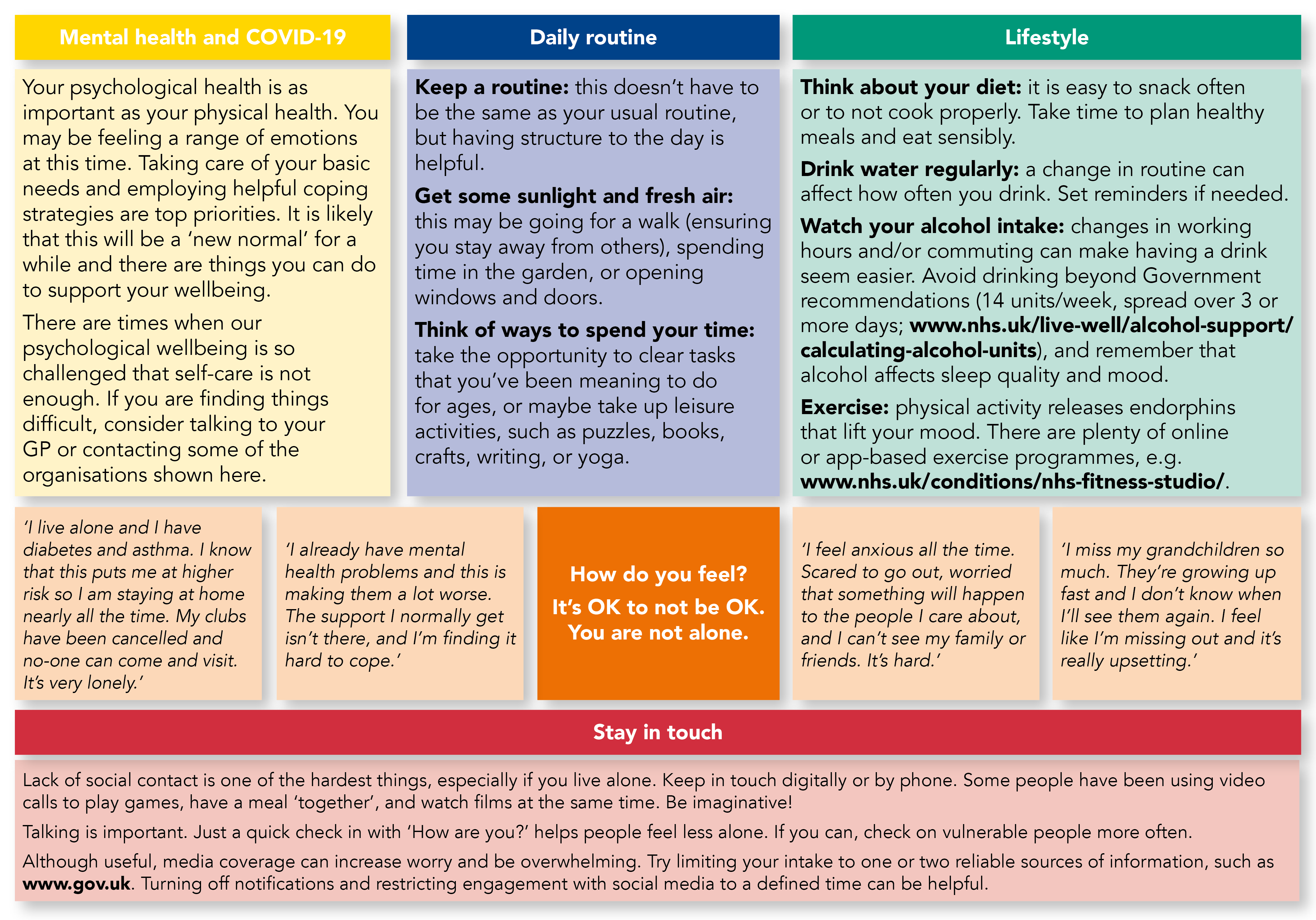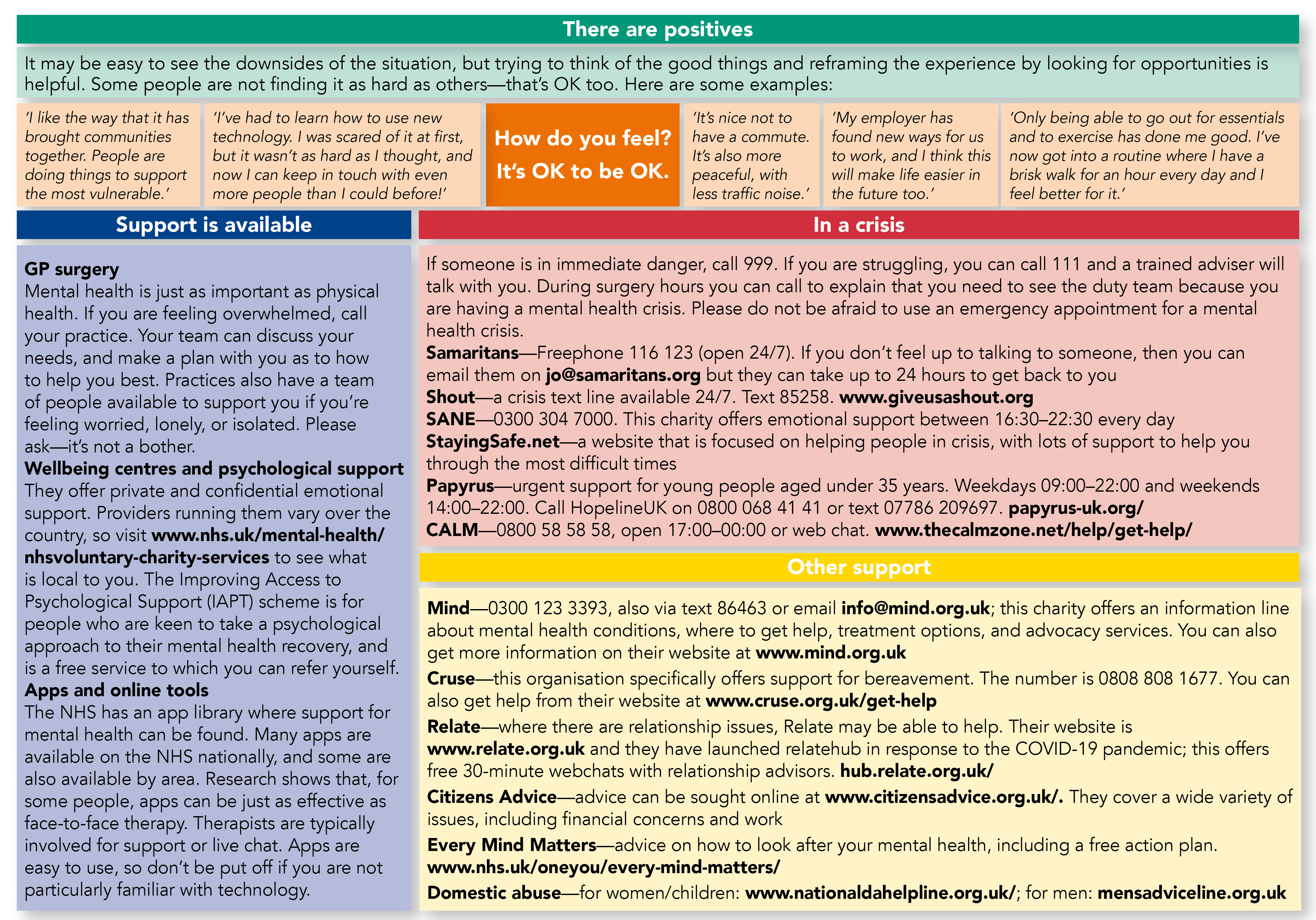 Summary
Although COVID-19 is a new disease, many aspects of the response to the pandemic will be familiar to practitioners. Poor mental health predisposes to physical illness and worse outcomes, and mental illness can be precipitated or exacerbated as a result of COVID-19-related losses of significant others and/or lifestyle factors. Being mindful of enquiring after someone's mental health can help to identify undiagnosed illness and put the person on the path to proper support and treatment.
Key Points
The COVID-19 pandemic has brought new factors that can precipitate and perpetuate mental distress
Achieving a positive balance between stressors and protective factors is key to keeping mentally well
COVID-19 can be a factor in triggering a relapse in someone with mental illness; a personalised care plan can help to differentiate between a relapse and appropriate difficulties as a result of the changes in society
There are plenty of sources of support available, but people need to be educated about what they are and how to access them—this can be done using a national leaflet, which could be modified to provide something more bespoke to your practice area
Be mindful that common triggers of distress, such as bereavement and funerals, are not taking their usual form—this can add to the upset suffered by the person, and practitioners need to understand that there may be additional dimensions to loss than would usually be expected
There is stigma associated with COVID-19 (potential or proven)—social isolation results and people can be treated negatively, so it is important to educate and reassure people about the guidance on risk and infectivity
Remember that masks can impair communication for some people, especially those who are hard of hearing—consider alternative facial coverings where the lips can be seen or alternative means of communication in this situation, otherwise these patients can end up feeling isolated
Enquire about assistance for patients whose usual support networks have been disrupted by the COVID-19 pandemic—consider signposting to local or national organisations that can provide help with their needs so that they are not left unsupported
Encourage vaccination, challenge erroneous beliefs, and educate about the benefits of vaccination, including about how it can be a step towards reintegrating into the community
Recognise that relationship difficulties and domestic abuse may be more common during lockdown—ensure that there is a raised index of suspicion for safeguarding needs and don't be afraid to enquire. 
Dr Emma Nash

GP and CCG lead for mental health, Hampshire