Eoin Moroney and Anja St Clair Jones Describe the Benefits for General Practice of a Mentoring Scheme for Junior Pharmacists Transitioning to Work as Part of the Primary Care Team
Read This Article to Learn More About:
the benefits and goals of mentoring for junior pharmacists appointed by primary care networks
development and implementation of a pharmacist mentoring scheme in Brighton and Hove during the COVID-19 pandemic
mentees' experiences of and satisfaction with the pharmacist mentoring scheme.
Find key points and implementation actions for clinical pharmacists in general practice at the end of this article
 
Medication is integral to patient care—because of their in-depth knowledge of medicines, pharmacists are well placed to take on the therapeutic management of patients. Traditionally, pharmacy training has covered the long-term pharmaceutical care of patients through community pharmacy services, or hospital inpatients through ward-based clinical pharmacy services. Now, pharmacists need to develop good consultation skills to look after patients effectively while working in patient-facing roles as part of the primary care multidisciplinary team (MDT). Evidence suggests that the addition of pharmaceutical skills to the MDT increases its focus on patient-centred medicines optimisation, facilitating the provision of high-quality, cost-effective patient care.
1
The Benefits of Mentoring
Anderson and Shannon define mentoring as 'a nurturing process in which a more skilled or more experienced person, serving as a role model, teaches, sponsors, encourages, counsels, and befriends a less skilled or less experienced person for the purpose of promoting the latter's professional and/or personal development'.2 As a 'critical friend', a mentor can listen, question, and challenge, as well as provide constructive feedback, to ensure that mentees are realising their full potential. Mentoring is widely recognised as an essential part of developing competent healthcare practitioners, and is a core component of medical training.3 Reportedly, mentoring is an important influence on personal development, career guidance, career choice, and productivity—including research productivity, publication, and grant success—among medical students and physicians.3

The Royal Pharmaceutical Society (RPS) of Great Britain encourages mentoring because of the professional and emotional support it offers to practitioners early in their careers, which can increase their resilience and assist them with transitions into new roles.4,5 This support has been particularly useful in the pandemic, during which the sector has been under immense pressure, and junior pharmacists have experienced increased stress and disruption to their career development.4

Pharmacists transitioning from community or hospital ward-based pharmacy practice to primary care must be supported to develop consultation and shared decision-making skills, and acquire the knowledge and expertise necessary to function as medication experts. In view of their isolation—these are often the only pharmacists working in a GP surgery—professional mentoring is essential to ensure that they develop into distinct practitioners, with a clearly defined role within the surgery and MDT that uses their unique skills effectively and appropriately. The mentor, as an experienced pharmacist involved in delivering patient-facing consultations, can effectively and impartially support the development of junior pharmacists into MDT leads for patient-centred medicines optimisation.

In this article, we report on our experience of supporting two newly appointed junior pharmacists with a more experienced pharmacist peer mentor in a primary care network (PCN) setting. The scheme employed an external consultant pharmacist to create a safe environment for the junior pharmacists to discuss any issues impacting patient care, their practice, and their careers, and to review their development needs. The intention was that mentor support would help the junior pharmacists to develop into patient-centred, medicines optimisation-focused practitioners to complement their surgeries' MDTs.
Developing the Pharmacist Mentoring Scheme
The mentoring programme was based on the latest evidence in pharmacy mentoring practice6,7 and the RPS mentoring scheme.5 In addition, the scheme was designed to complement the national learning pathway Developing clinical pharmacists in general practice developed by the Centre for Pharmacy Postgraduate Education (CPPE),8 and the Royal College of General Practitioners' GP mentoring model was also consulted.9,10  From the outset, consideration was given to different models, delivery structures, development designs, goals, outcomes, and methods of evaluation. Box 1 provides an overview of the main features of the mentoring scheme that was developed.8,11
Box 1: Main Features of the Mentoring Programme
Mentor Selection and Training
A business case was developed and agreed with PCN leads
An experienced advanced practitioner with a track record of mentoring was selected
A confidentiality agreement and a consulting contract with the PCN were signed.
Learning Contract
At the beginning of the mentoring programme, mentees completed a learning needs questionnaire and a learning contract, which defined the roles and responsibilities of each individual.
Meeting Frequency
Meeting frequency and duration was determined at the first meeting by the mentee, professional supervior, mentor, and PCN
3–4 hours of protected learning time were divided into twice-weekly meetings
Mentoring sessions were undertaken virtually, using digital communication platforms.
Structure and Content
Content was aligned to the mentee's learning needs, outcomes of the learning needs assessment of the CPPE learning pathway,8 and credentialling for the foundation-level pharmacist RPS Framework11
The programme's content and structure were very flexible, and responsive to the immediate support needs and long-term training needs of the individual mentees and the PCN.
Evaluation
Mentee questionnaires and mentor 360-degree peer reviews were collated every 6 months, and provided outcomes and feedback for the mentee's progress reports and for the PCN management team.
PCN=primary care network; CPPE=Centre for Pharmacy Postgraduate Education; RPS=Royal Pharmaceutical Society
We also built a professional network of pharmacy colleagues to support the development of junior pharmacists into confident practitioners, capable of engaging with patients to provide personalised care and advocate for their safety. The professional network comprised a diverse range of primary care, secondary care, and community clinicians, and was convened to support the practice of the junior pharmacists and facilitate their integration into the wider NHS.

The mentoring programme was designed to support junior pharmacists with both their personal and clinical development, as shown in Box 2. 
Box 2: Goals of the Mentoring Programme for Junior Pharmacists
Personal Development
Personal support
Encouragement and emotional support
Building confidence
Challenging assumptions
Adopting a holistic approach
Learning from a role model for advanced pharmacy practice.
Clinical Development
Developing a patient-centred approach to care
Identifying training needs and learning opportunities
Providing professional relationship contacts and encouraging collaborations
Identifying and meeting the needs of the MDT
Gaining critical appraisal skills
Realising opportunities for career development.
MDT=multidisciplinary team
Implementing the Mentoring Scheme
Geographical Context
We implemented the programme in Brighton North & Central PCN, which covers a geographically diverse area within Brighton and Hove. It serves a varied patient population, including the University of Sussex in the north of Brighton and several practices in the city centre. On publication of the Additional Roles Reimbursement Scheme (ARRS) by NHS England in December 2019,12 the PCN approached the PCN link pharmacist at the CCG to gain a better understanding of how to incorporate pharmacists into the PCN MDT, and how they could contribute to the care of the PCN's patient population. With the available ARRS funding, two junior pharmacists were appointed to the PCN.
The Impact of COVID-19
Starting a new job can be daunting under the best of circumstances; however, integrating into primary care in a PCN with a diverse patient population and at the start of lockdown presented significant additional challenges. Because the majority of patient consultations transitioned to being virtual or over the telephone, the opportunity for the newly appointed PCN pharmacists to meet colleagues face to face was limited. Similarly, opportunities to shadow more experienced clinical practitioners to encourage practical decision making and clinical development were restricted as a result of social distancing. In addition, although both PCN pharmacists were enrolled in the Primary Care Pharmacy Education Pathway facilitated by the CPPE,13 which would have provided an ideal opportunity to share best practice and build a pharmacy support network, the course was moved online. All things considered, the advent of lockdown had the potential to lead to the PCN pharmacists feeling increasingly isolated, apathetic, and unable to access the relevant training at the outset of their new roles.
Initiating the Mentoring Programme
To inspire future generations of pharmacy leaders and equip them with the necessary skills, it is essential that junior pharmacists are provided with the opportunity to learn first hand from experienced and knowledgeable pharmacy experts.
Regular weekly meetings were held to provide the PCN pharmacists with a safe environment to discuss any problems with their peers. In these meetings, the junior pharmacists had the opportunity to deliberate on clinical issues while being supported by an experienced pharmacist mentor. Operational understanding and team working were also discussed and promoted at these meetings. The junior pharmacists were encouraged to recognise their specific educational needs, and expert speakers in those fields were invited to virtual meetings to educate the team and share practical guidance.
How the Scheme Supported Career Development
One of the agreed aims of the mentoring scheme was to support the mentees in their successful credentialling as foundation-level pharmacists under the RPS Framework (a bridging curriculum pending publication of the updated curriculum);11 thus, the mentees were encouraged to keep a log of clinical interventions and present case-based discussions (CBDs).11 A monthly timetable slot was allocated to formally assess CBDs and evaluate the mentees' clinical interventions. As a practitioner passionate about developing junior pharmacists, the mentor ensured that the pharmacists developed audit and critical thinking skills, and encouraged them to engage with the RPS's development frameworks to achieve advanced practitioner skills across all five domains (see Figure 1).11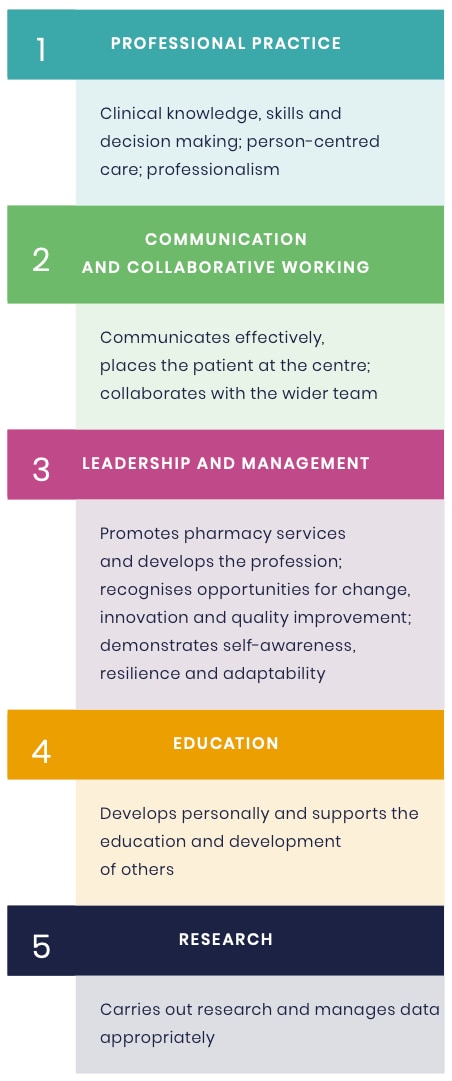 Additional opportunities for ad-hoc contact allowed for knowledge to be shared and the development of a relationship of mutual trust, and enabled the PCN pharmacists to address other issues that may impact their career progression. The mentor encouraged them to find their own solutions, and provided alternative ways of tackling problems, in addition to signposting them to available resources where appropriate. The role of the mentor was not to 'know the answer', but rather to enable the mentee to find the answer themselves and develop independent learning. The mentor provided a vision, helped with short-term problems and long-term development, and acted as a sounding board, someone to share ideas with and approach for help; however, the relationship was dictated by the mentees and their individual learning needs.
Mentees' Experiences of the Scheme During the Pandemic
Mentee 1
'Having worked in both a community pharmacy and a private hospital setting at the start of my career, I felt that a gap existed in my clinical knowledge, which was challenging when transitioning into the PCN practice clinical pharmacist role. Starting the role in the midst of the coronavirus pandemic also concerned me—I felt that minimal contact with my peers and limited patient-facing experience would delay my learning and progression within primary care.
'Initially, my expectation of the mentoring scheme was that I would have a senior pharmacist supporting me in my role, both academically and professionally, to ensure that I was equipped with the key skills required for providing exceptional patient care. However, the mentoring programme has been invaluable in supporting my progression as a PCN clinical pharmacist by providing me with ample opportunities to collaborate with healthcare professionals, advance my clinical expertise, and continuously reflect on my own practice. Regular discussions when presenting CBDs on how to approach complex patient situations has improved my confidence in undertaking holistic structured medication reviews. In addition, the opportunity for networking with other pharmacists and clinicians, through specialist-led talks, has been key in broadening my knowledge and scope of practice. The mentoring scheme has complemented my clinical and professional learning from an early stage, allowing me to put my learning into practice, which I felt was a vital component of my training, considering my limited experience within a clinical setting.
'Mentor support to develop my leadership skills has equipped me with the confidence to play an integral role within the COVID-19 vaccination clinic. In turn, the clinic has given me the chance to collaborate within the MDT across the PCN, which I was prevented from doing at the start of my role. My self-confidence in liaising with professionals within primary and secondary care settings has developed greatly, which is essential for ensuring the provision of high-quality patient care through collaborative working relationships within the healthcare system.
'The programme has exceeded my expectations, and shown me that having a mentor early in your role aids in building the foundations of your daily practice. The provision of constructive feedback and alternative viewpoints on a situation by the mentor allowed appropriate adjustments in my clinical practice, enabling growth within the role. The mentor also provided information on career progression, which is vital as the role of pharmacists in general practice evolves to include becoming integral clinicians within the MDT. Support in additional development opportunities—such as enrolling in the RPS Foundation Pharmacy Framework course,14an accredited learning programme—will empower pharmacists to develop in their career.'
Mentee 2
'Pharmacists have so much to offer in primary care, both to patients and to our colleagues. As specialists in medication, we complement the diagnostic and practical expertise of our GP and nurse colleagues within the MDT, and expand the shared care that general practice can offer to patients. We have so much to contribute to the provision of patient-centred care, but—as for all healthcare professionals starting out in new sectors—excellent clinical work requires investment in developing skills and knowledge tailored to the role.
'I was a community pharmacist for 3 years before I started in primary care as a new PCN pharmacist. I knew that it was going to be a daunting transition and a big jump clinically, but I was keen to move into something that I felt would be a better fit for me, and that would allow me to focus on patient care at the point of prescribing. I was keen to develop my clinical knowledge and grow as a healthcare professional, and excited to work with different professionals more closely as part of the MDT.
'The transition involved a big change in mind-set and approach. I switched from the reactive role of a community pharmacist—checking medication and counselling on minor ailments—to a more proactive stance, answering complex medication queries, making and implementing recommendations for patient-centred treatment, and becoming involved in the safe and effective transfer of information from secondary care. It required a complete change to approaching problems, and a higher level of clinical expertise and input than my previous workload. I was also unfortunate to start during the pandemic when the UK went into its first lockdown, and the necessity of navigating uncertain working conditions added another obstacle to adapting to the new role, which was intensified by the isolation of social distancing.
'Being mentored by an experienced consultant pharmacist proved invaluable in building my clinical skill set and knowledge, and nurturing my confidence to grow in the role. We began meeting remotely twice a week to discuss key topics in primary care, building a support network with colleagues from specialist roles including a consultant cardiology pharmacist, and discussing patient cases in real time to come up with action plans and implement high-quality pharmacy interventions.
'The programme has been multifaceted in helping me to develop and grow as a capable and dynamic PCN pharmacist, expanding my clinical knowledge, improving my critical thinking and problem-solving capabilities, and allowing me to make great strides towards achieving my full potential. Without it, I would not have progressed as far as I have in the past 18 months, and I'm proud to be described by my PCN colleagues as a valued member of the team.'
Evaluating the Programme
To evaluate the impact of the mentoring scheme, satisfaction questionnaires were completed by the mentee and the mentor every 6 months, and celebrated the good work of the PCN pharmacists in addition to identifying areas for development. Formal feedback from the mentees' CPPE educational supervisors was also obtained every 6 months; the results were formally presented to the clinicial supervisors and PCN clinical leads as part of a 6-monthly mentoring progress report, which was further supplemented by 360-degree assessment tools undertaken as part of the CPPE course. These have been invaluable in tailoring the mentoring scheme to the individual professional and clinical development needs of the mentees. The feedback from the mentee questionnaires and progress reports was also essential in encouraging the PCN clinical leads to invest in further pharmacy roles, including pharmacy technicians, and to continue funding the mentoring scheme.
Summary
Pharmacists transitioning from community- or hospital ward-based practice to patient-facing roles as part of the primary care MDT need support to develop the necessary consultation and shared decision-making skills—particularly during the pandemic, when services are under extreme pressure and trainees are experiencing disruption to their career development. A mentoring programme, delivered by a more experienced pharmacist peer mentor and aligned to the RPS and CPPE curricula, can effectively support the development of junior pharmacists into MDT leads for patient-centred medicines optimisation, enabling the provision of high-quality, cost-effective patient care.
Key Points
The success of a mentoring scheme relies on:

willingness to invest time on the part of mentee and mentor
accessibility of mentors
organisational willingness to provide funding and protected learning time
resilience to external factors (for example, COVID-19)
information governance regarding patient confidentiality

Choose a mentor from outside the organisation to ensure impartiality and neutrality; they should be adaptable to the needs of the mentees, and have specialist experience (not necessarily in primary care)
Implement a learning contract defining the roles and responsibilities of each individual, and a contingency plan in case of any changes in circumstances
Mentor with practical, patient-facing experience—consider sessions supported by the clinical supervisor and mentor.
Eoin MoroneySenior Medicines Optimisation Pharmacist, NHS Brighton and Hove CCG; Lead Clinical Pharmacist, Brighton North & Central PCNAnja St Clair JonesConsultant Pharmacist Gastroenterology, University Hospitals Sussex NHS Foundation TrustMerna SamaanPCN Pharmacist, Brighton North & Central PCNChloe BaxterPCN Pharmacist, Brighton North & Central PCN
Implementation Actions for Clinical Pharmacists in General Practice
Written by Ziad Laklouk, Senior Clinical Pharmacist, Soar Beyond Ltd, and Didcot Primary Care Network
The following implementation actions are designed to support clinical pharmacists in general practice to provide effective coaching and mentoring to junior pharmacists appointed by PCNs.
Develop a hybrid model to assist in working towards an optimal blend of remote and face-to-face coaching and mentoring during the COVID-19 pandemic
Create a shared vision and agree a set of competencies with your junior pharmacist
Use a standardised competency assessment framework to inform a structured delivery plan that enables your junior pharmacist to deliver safe and effective services from day one
Map the capability of your junior pharmacist against clear service objectives to identify and highlight clinical and non-clinical training and development needs

utilise this capability map to co-produce a structured development plan based on your service and population needs

Consistently track meaningful metrics and KPIs to demonstrate your junior pharmacist's impact with respect to their role within the wider MDT
Schedule protected time with your junior pharmacist for structured one-to-one support to encourage ownership and accountability for clearly agreed outcomes that are commensurate with their competence, confidence, and scope of practice
Have a succession plan in place to retain your junior pharmacist by enabling career progression.
PCN=primary care network; KPI=key performance indicator; MDT=multidisciplinary team