Louise Ross Discusses Key Recommendations in a New NICE Guideline on Tobacco Dependency, Which Offers Some Positive New Approaches to Smoking Cessation
Read This Article to Learn More About:
the prevalence of smoking, and its impact on health, the NHS, and society
stop-smoking interventions and support for patients who want to quit
smoking cessation strategies in specific populations, such as pregnant women and smokeless tobacco users.
Find key points and implementation actions for STPs and ICSs at the end of this article
In May 2021, the Chief Medical Officer for England, Professor Sir Chris Whitty, stated that, as smoking is estimated to kill more than 90,000 people in the UK each year, smoking-related diseases are likely to have killed more people in 2020 and 2021 than COVID-19.1,2 In its June 2021 report Delivering a smokefree 2030, the All Party Parliamentary Group on Smoking and Health warned the Government that smoking will continue to kill on the same scale as the COVID-19 pandemic until the necessary steps are taken to make it obsolete.3

In addition to causing premature deaths, smoking widens inequalities and reduces healthy life expectancy; on average, smokers need help with everyday tasks 7 years earlier than those who have never smoked.1,4 Although the prevalence of smoking in the UK decreased from 14.1% in 2019 to 13.8% in the first quarter of 2020,5 smoking remains a threat to health, particularly for the most disadvantaged groups in society.6 Many people are influenced to start smoking by exposure to it—for example, a child in a family where parents or siblings smoke is up to three times more likely to become a smoker.7

NICE Guideline (NG) 209, Tobacco: preventing uptake, promoting quitting and treating dependence, brings together a suite of smoking-cessation and tobacco-control guidelines.8 The new guideline replaces older guidelines (see Box 1) and incorporates up-to-date evidence to provide guidance fit to reduce smoking and related avoidable disease and early death.8 It also covers:8
reducing smoking-related harm in people who are not ready to stop in one go
ways to prevent the uptake of smoking among children, young people, and young adults aged 24 years and under
treating tobacco dependence in populations in which smoking carries added risk, such as pregnant women
nicotine-replacement therapy (NRT) and e-cigarettes (vaping)
smokeless (chewed) tobacco (but not heated tobacco products).
Box 1: NICE Guidance Superseded by NG2098
NG209 updates and replaces the following NICE guidelines:
PH5—Smoking: workplace interventions (2007)
PH14—Smoking: preventing uptake in children and young people (2008)
PH23—Smoking prevention in schools (2010)
PH26—Smoking: stopping in pregnancy and after childbirth (2010)
PH39—Smokeless tobacco: South Asian communities (2012)
PH45—Smoking: harm reduction (2013)
PH48—Smoking: acute, maternity and mental health services (2013)
NG92—Stop smoking interventions and services (2018).
NG=NICE Guideline; PH=Public Health Guideline
Key Recommendations in NG209
Important updates in the new guideline include:
greater flexibility in the use of NRT
use of nicotine-containing e-cigarettes as a first-line quit aid
clearer guidance on the use of NRT and incentives to stop smoking in pregnant women
clear recommendations on stopping smokeless tobacco use
the role of harm reduction for those not yet ready to quit
a flexible, tailored approach to quitting, reflecting individual preferences, health and social circumstances, and past experience with quitting.
Of the recommendations in the new guidance, one is particularly relevant to healthcare professionals in primary care—that patients be provided with information about nicotine (see Box 2).8  
Box 2: Information on Nicotine to be Provided to Patients8
Provide the following information about nicotine:
smoking is highly addictive mainly because it delivers nicotine very quickly to the brain and this makes stopping smoking difficult
most smoking-related health problems are caused by other components in tobacco smoke, not by the nicotine
nicotine levels in medicinally licensed nicotine-containing products are much lower than in tobacco, and the way these products deliver nicotine makes them less addictive than smoking.
Provide the following information about the effectiveness and safety of medicinally licensed nicotine-containing products:
any risks from using medicinally licensed nicotine-containing products are much lower than those of smoking; nicotine replacement therapy (NRT) products have been demonstrated in trials to be safe to use for at least 5 years
lifetime use of medicinally licensed nicotine-containing products is likely to be considerably less harmful than smoking.
© NICE 2021. Tobacco: preventing uptake, promoting quitting and treating dependence. Available at: www.nice.org.uk/guidance/ng209
All rights reserved. Subject to Notice of rights. NICE guidance is prepared for the National Health Service in England. All NICE guidance is subject to regular review and may be updated or withdrawn. NICE accepts no responsibility for the use of its content in this product/publication. See www.nice.org.uk/re-using-our-content/uk-open-content-licence for further details.
This is important because people trying to quit are often scared of nicotine, not realising that most smoking-related diseases are caused by the smoke, not the nicotine.8 This misconception can lead patients to avoid using NRT altogether, or they may not use a strong enough dose often enough or for long enough.9 In my experience, this can lead to repeated failed quit attempts, and a perception that quitting is impossible. The intervention of an informed healthcare professional, to reassure patients that nicotine-containing products are safe and effective,8 can make the difference between a poorly informed quit attempt and a successful one.
Implications of NG209 For Primary Care
The new NICE guidance is relevant to everyone in health and social care services, but particularly in primary care. This is where the majority of smokers first contact the health system. They are not hard to reach and can be found in primary care waiting rooms throughout the country, presenting with the early signs of chronic obstructive pulmonary disease, heart disease, or cancer. They may already have a well-established smoking-related illness; successful implementation of this guidance could be your opportunity to get patients smoke free for the first time in their adult lives.

A fresh approach to tackling smoking among patients—and making the point that you are including family, partners, and other household members who also smoke—can result in many more taking up the offer of support. A whole-team meeting to consider the detail of the guidance and how it can be implemented is a good first step towards putting the new guidance into practice.
Delivering Very Brief Advice
Very Brief Advice (VBA) is defined by the National Centre for Smoking Cessation and Training (NCSCT) as 'a 30-second intervention that can be delivered by all healthcare professionals in almost every consultation with patients who smoke.'10 VBA consists of:10
asking patients about their smoking status
advising them on the best methods of stopping smoking
offering information and interventions, and helping them to access stop-smoking support.
NG209 recommends that all front-line healthcare staff are trained to deliver VBA on smoking cessation.8 It may be assumed that everyone knows how to do this already but, in fact, the wrong questions (for example, 'Are you ready to stop smoking?') can raise anxiety and cause defensiveness.11 The NCSCT's evidence-based approach will deliver better outcomes if used correctly.12 I would encourage all health and social care staff who work face-to-face with patients, including GPs, to undertake VBA training—it's free, quick, and effective, and easy to implement.
First Steps When People Want to Stop Smoking
Once a person has decided to give up smoking, NICE states that healthcare professionals in primary care and community settings should:8
discuss with them how they can stop (NCSCT programmes explain how to do this)12
provide stop-smoking interventions and advice
refer them to local stop-smoking support, if available
if they opt out of a referral to stop-smoking support, refer them to a professional who can offer pharmacotherapy and Very Brief Advice.
Stop-Smoking Interventions
NG209 recommends that people who want to give up smoking are made aware of the interventions available and how to access them.8 The following options are accessible to adults who smoke:8
a combination of short-acting and long-acting NRT
varenicline
nicotine-containing e-cigarettes.
However, owing to supply disruption, varenicline is currently unavailable in the UK.8,13 The guideline says that the following interventions are less likely to result in success:8
bupropion
short-acting NRT without long-acting NRT
long-acting NRT without short-acting NRT.
A combination of long- and short-acting NRT is more effective than either option alone.8 This information should be used to inform prescribing.
E-cigarettes
E-cigarettes are an effective aid for smoking cessation, and are now the most popular intervention used by people trying to give up smoking.14 However, in 2021, Action on Smoking and Health found that around one-third of smokers have never tried vaping, with many incorrectly believing that it is as harmful as smoking.15

More could be done to encourage those who haven't tried e-cigarettes to give them a chance. An interest in vaping may be the first time a patient has seriously considered an alternative to smoking; it would be disappointing if this opportunity was lost by not giving them information on the relative safety of e-cigarettes compared with tobacco cigarettes.8 The NCSCT guide to incorporating e-cigarettes into service delivery, although written for stop-smoking services, may be of interest to healthcare professionals in primary care.16

At present, no nicotine-containing e-cigarettes are licensed by the Medicines and Healthcare products Regulatory Agency (MHRA) for use as a medicine.8 Although the MHRA has announced its intention to work towards this,17 patients are currently only able to access commercially available vapes, which are regulated by the Tobacco and Related Products Regulations.18 NG209 states that these can be recommended as a first-line option alongside NRT and varenicline.
Harm Reduction
Although NG209 states that stopping smoking in one go is the best approach, the guidance devotes a substantial section to harm-reduction measures for people unwilling to stop smoking in one go.8 These measures—either with or without the help of one or more medicinally licensed nicotine-containing products to manage withdrawal (used for as long as needed to prevent relapse to previous levels of smoking)—include:8
cutting down before stopping smoking
smoking reduction
temporarily not smoking.
Although NICE acknowledges that the health benefits of reducing the number of cigarettes smoked are unclear, people who reduce their smoking are more likely to stop smoking in future, particularly with the assistance of medicinally licensed nicotine-containing products.8 However, it is important to convey that any smoking is harmful.8
Medications Affected by Smoking Cessation
For people who wish to give up smoking, consider whether they are taking any medicines that may be affected by smoking cessation.8 Medications including clozapine, olanzapine, theophylline, and warfarin require dose adjustment in patients who have stopped smoking.8 Patients with mental ill health taking clozapine may welcome the news that they may be able to reduce their dose once they stop smoking.19
Stop-Smoking Support
NG209 states that stop-smoking interventions are more likely to result in successful smoking cessation when combined with behavioural support.8
Primary Care and Community Settings
In primary care, it is best practice to refer patients to local stop-smoking services,8 but given that these have been decommissioned in some areas, the NCSCT's VBA+ may be helpful, as it describes alternatives to referral (see Figure 1).10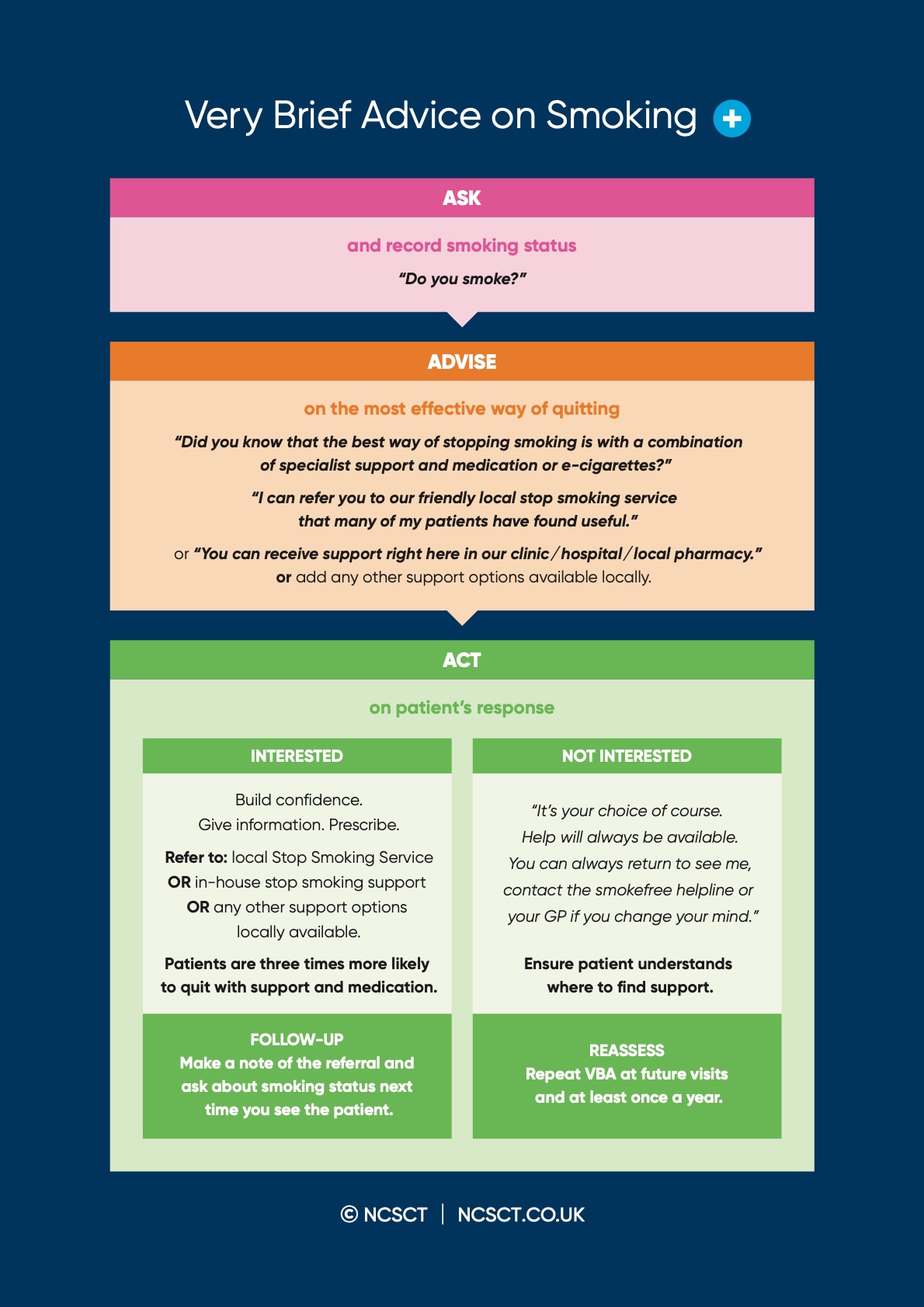 Acute, Maternity, and Mental Health Settings
In acute, maternity, and mental health settings, NG209 states that people should be provided with information on smoking cessation before their appointment, procedure, or hospital stay, and advice (or referral to stop-smoking services) to help them and their visitors manage their smoking on admission.8 The NHS long term plan advocates the use of the Ottawa Model for Smoking Cessation in acute, maternity, and mental health settings, which consists of identification of patients, followed by brief advice, personalised bedside counselling, timely NRT and/or pharmacotherapy, and follow-up after discharge.20 NG209 specifies how this should be put into practice, and covers:8
developing a stop-smoking plan
providing information on the stop-smoking interventions and support available
offering and prescribing stop-smoking options in hospital.
However, a seamless transition from support in hospital to support in the community must be achieved to capitalise these teachable moments.
Special Situations
Smoking During Pregnancy
The value of supporting pregnant women to stop smoking is clearly about more than just the person who smokes—stopping smoking is important for the health of both the woman and her baby.8 This urgency is reflected by NICE's recommendation of an opt-out approach; all pregnant women who smoke or who say that they have quit in the preceding 2 weeks should be referred for stop-smoking support.8 They should also be offered a carbon monoxide test at all antenatal appointments to assess their exposure to tobacco smoke.8 In my experience, being able to immediately see the results of carbon monoxide testing, and link them to the poisonous gas that the baby being is exposed to can have a powerful impact on a woman's decision making.

The guidance also emphasises the importance of including partners and other household members who smoke in a mother's quit attempt. This will increase the likelihood of success for the mother, and could lead to the baby being born into a smoke-free home.

Incentives to quit are recommended; there are a few national schemes in which women are rewarded for quitting,8  and we may see more of these once the NICE guidance is more widely implemented.

When planning a quit attempt for a pregnant woman and other members of her household, NICE recommends that practitioners should not 'favour one course of treatment over another; together, choose the one that seems most likely to succeed.'8 The Smoking in Pregnancy Challenge Group—run by the Smokefree Action Coalition and the Royal College of Midwives—states that, although not completely risk free, the use of e-cigarettes in pregnancy is likely to be far less harmful than smoking.21,22 If a woman is able to remain smoke free with the use of a vape, this should be supported by her healthcare team.23
Smokeless Tobacco Use
A welcome update to the guidance for healthcare professionals in areas of the country where oral tobacco products are commonly used is the inclusion of guidance on stopping smokeless tobacco use.8 Smokeless tobacco products—known in local South-Asian communities by a wide range of names, but commonly paan and gutkha—carry health risks such as cardiovascular disease, oropharyngeal cancer, and periodontal disease,8 but have rarely been prioritised by health services. Dental practices and maxillofacial units in acute care deal with the harms caused by its use. Despite this, in my experience, prevention is patchy at best and nonexistent at worst. Among the recommendations on smokeless tobacco use in NG209 is a call for its perceived benefits (for example, easing indigestion or relieving dental pain) to be challenged, while providing culturally appropriate information about the associated health risks.8
What are the Barriers to Uptake of NG209?
Time constraints and lack of funding tend to be the most frequently cited obstacles to rolling out new guidance; however, in my opinion, implementation of NG209 will actually save time and money. Asking the right questions, instead of getting into a circular debate about stopping smoking, will focus the intervention. Stopping smoking leads to rapid health improvements, in turn reducing long-term harms, hospital admissions, and early deaths, increasing healthy life expectancy, and decreasing inequalities.3 Investment in smoking cessation will also reduce costs to the NHS, and decrease the burden on society of lost productivity due to smoking-related morbidity and mortality.3
The Impact of COVID-19 on Smoking Cessation
During the pandemic, opportunities to raise the subject of smoking with patients were severely curtailed, and there is anxiety in the healthcare system that this will lead to an increase in smoking-related disease and premature deaths. However, stop-smoking services adapted quickly to the need to deliver interventions in a different way, rapidly establishing phone and video-link support, with the result that more people attempted to quit smoking during than before the pandemic.24 It is important to check what your local stop-smoking service offers: most will have resources for patients, allowing you to confidently signpost to or, even better, refer your patients for behavioural support and medication.

With the reduction in face-to-face appointments, texting your patients to remind them of the contact number for local stop-smoking services is a cheap and effective way of offering regular prompts. Tailoring the text to a particular patient pathway—asthma, for instance—is a good example of the communication strategies that NICE recommends in NG209.8
Summary
Some healthcare professionals feel disheartened by the reluctance of patients who smoke to consider quitting, but the new NICE guidance gives us new strategies to explore. NG209 is a long guideline, and not all of it is relevant to primary care practitioners. This article focuses on key points that are easy to implement, particularly around training to effectively deliver VBA. It is possible to tailor support to the individual in a way that is a call to action rather than a rebuke, and the news that e-cigarettes are an effective way to stop smoking can be framed positively.

Although it is extremely valuable that the NHS long term plan has developed intensive and thorough support for inpatients, it is in primary care that the majority of care for people who smoke will be delivered. Just as we encourage people who smoke never to give up giving up, we must say the same to healthcare professionals—never give up asking people if they want to stop smoking. 
Key Points
Smoking-related diseases are likely to have killed a greater number of people than COVID-19 in 2020 and 2021
Most smoking-related health problems are caused by other components in tobacco smoke, rather than nicotine
Patients who smoke are not hard to reach; they are in primary care waiting rooms with the early signs of COPD, heart disease, or cancer
All front-line healthcare staff should be trained to deliver VBA on smoking cessation
Healthcare professionals should emphasise the value of NRT (strong enough, long enough, often enough)
Nicotine-containing e-cigarettes (vapes) can be recommended as a first-line treatment, although none are currently licensed for medicinal use by the MHRA
Stop-smoking interventions are more likely to be successful when combined with behavioural support; the NCSCT's updated VBA model (VBA+) describes alternatives to referral when stop-smoking services have been decommissioned
NRT or e-cigarettes can be used for harm reduction in those who are not ready to stop smoking in one go
Stop-smoking referrals for pregnant women should be opt-out, and carbon monoxide testing should be offered at every antenatal appointment
Challenge the perceived benefits of smokeless tobacco use while giving culturally appropriate information about the associated health risks
Never give up asking patients about stopping smoking.
COPD=chronic obstructive pulmonary disease; VBA=Very Brief Advice; NRT=nicotine-replacement therapy; MHRA=Medicines and Healthcare products Regulatory Agency; NCSCT=National Centre for Smoking Cessation and Training
Louise Ross

Member of the guideline development group for NG92, Stop smoking interventions and services

Retired Stop Smoking Service Manager, Leicester

Clinical Consultant, NCSCT

Business Development Manager, Smoke Free appW
Implementation Actions for STPs and ICSs
Written by Dr David Jenner, GP, Cullompton, Devon
The following implementation actions are designed to support STPs and ICSs with the challenges involved in implementing new guidance at a system level. Our aim is to help you to consider how to deliver improvements to healthcare within the available resources.
Convene a local summit of primary care and local public health commissioners to review this guidance
Establish who is responsible for the different elements of smoking cessation commissioning, and define clear responsibilities
Consider how these responsibilities will be distributed after the formation of ICSs in England in July 2022
Provide clear advice and guidance to primary care as to what stop-smoking services are accessible, as well as what information materials are available to give to patients
Remember the opportunities provided by community pharmacy for smoking cessation interventions
Identify smoking cessation aids, and determine their availability and which can be prescribed—e.g. from local formulary websites.
STP=sustainability and transformation partnership; ICS=integrated care system
Note: At the time of publication (April 2022), some of the drugs discussed in this article did not have UK marketing authorisation for the indications discussed. Prescribers should refer to the individual summaries of product characteristics for further information and recommendations regarding the use of pharmacological therapies. For off-licence use of medicines, the prescriber should follow relevant professional guidance, taking full responsibility for the decision. Informed consent should be obtained and documented. See the General Medical Council's Good practice in prescribing and managing medicines and devices for further information.