Preliminary Findings From the Guidelines in Practice Survey on the NHS Reorganisation Reveal Your Hopes For Its Potential to Improve Patient Care—Provided Obstacles to Implementation Are Overcome
Read This Article to Learn More About:
the impacts of the NHS restructure on patient care and your practice
obstacles to implementing the changes, such as time, funding, and the legacy of COVID-19
your views on whether primary care is adequately represented in integrated care systems.
The NHS in England is undergoing a restructure that has the potential to transform primary care: connections between local health and care services will be enhanced, and services tailored to local population health needs. However, simultaneously, the NHS is experiencing the worst pressure in its 73-year history, coping with patients who have COVID-19, long COVID, and physical and mental health conditions exacerbated by lockdown, and facing a backlog of care delayed by the pandemic.

Last month, Guidelines in Practice conducted a survey to gauge healthcare professionals' opinions on this reorganisation of the NHS (see Box 1 for a breakdown of the respondents). We asked for your views on the impact of the changes: will patient care improve, and how much influence will primary care have in integrated care systems (ICSs), which have taken on the core functions of CCGs? Is the reorganisation feasible in the aftermath of COVID-19, and has sufficient funding been made available? Your answers reveal that you are hopeful of the benefits that the restructure will bring, but wary of the many obstacles to progress that remain.
Box 1: Breakdown of the Survey Respondents by Sector and Role
Of 270 healthcare professionals who responded to the survey:
83% (223) are based in primary care
11% (31) are based in secondary care
6% (16) are based in other sectors of the health service.
Of the healthcare professionals surveyed:
46% (123) are doctors
29% (77) are nurses
15% (41) are pharmacists
11% (29) are allied health professionals and other healthcare workers.
Impacts on Healthcare Professionals and Patients
Under the plans outlined in Integrating care—next steps to building strong and effective integrated care systems across England,1 primary care networks (PCNs) are tasked with expanding the general practice workforce and generating multidisciplinary primary care teams. In all, 65% (176 of 270 respondents) agree that a wider skill mix in primary care will lead to more comprehensive care for patients; 9% (24) disagree, and the remaining 27% (73) are unsure. Efforts to meet this target are already underway, with survey participants indicating that 75% (202) of practices have appointed clinical pharmacists, 57% (155) have appointed social prescribing link workers, and 48% (129) have appointed physiotherapists. Some of the other practice roles are community paramedic (29%; 78), pharmacy technician (29%; 77), and physician associate (26%; 70). 
Impacts on Practice
These data are supported by 50% of respondents (136), who state that they are already enjoying a better skill mix within teams, and 39% (105) say that the restructure has led to improved communication with community care. However, fewer than one-third of the participants feel that the changes have freed up GP time (31%; 84), a stated aim of the reforms,2 and even fewer (26%; 71) think that GP workload has reduced as a result (see Figure 1).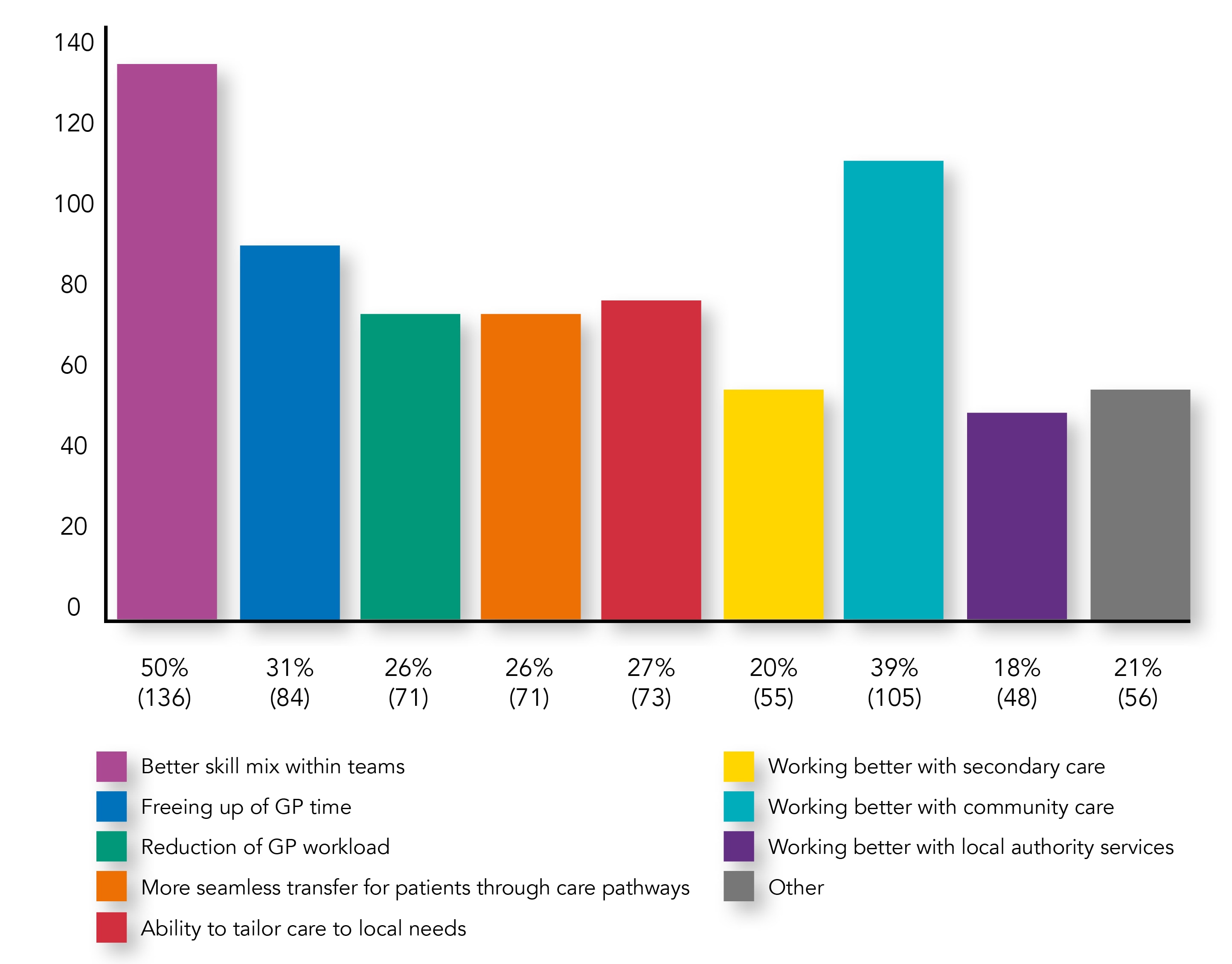 Among the other issues raised are that there has been no visible difference to respondents' practice, that the restructure is a 'false economy' that has increased bureaucracy, that it is poorly organised and managed, and that the blurring of job roles has led to confusion.
Impacts on Patient Care
Some of the expected benefits for patient care appear to have filtered through: respondents have observed improved communication between different healthcare professionals (43%; 116), the ability to adapt care to suit patients' individual needs (37%; 99), faster access to the appropriate healthcare professional (36%; 96), and smoother transition for their patients between care teams (30%; 80).

In addition, 25% (68) identify other benefits for patients, including improved access to different services and increased patient satisfaction. However, many survey participants report negative consequences—such as 'more disjointed care for patients with a lack of continuity' and 'substandard care … [creates] more queries and return visits' —and some suggest that the situation is now worse than it was before the restructure.
Identifying Obstacles to Implementing the Changes
Integrating care—next steps to building strong and effective integrated care systems across England emphasises the importance of strong local partnerships, with primary care playing a central role in providing joined-up care.1 For 17% of respondents (45), this is a very feasible objective; 61% (165) state that it is possible, whereas only 22% (60) regard it as unrealistic. With readers optimistic about the potential for partnership working, Guidelines in Practice sought to identify other potential barriers to implementation of the changes.

Primary care budgets, formerly administered by CCGs, are now the responsibility of ICSs.1 Crucially, more than half of those surveyed feel that funding is insufficient to support the development of a multidisciplinary workforce, with a further 22% (59) expressing uncertainty (see Figure 2).
Primary care is well placed to shape the new care pathways forming within each ICS, but to achieve this it will need to be represented at all levels of the ICS. However, this is not reflected in respondents' observations, with the majority (93%; 252) disagreeing with the statement that PCNs and ICSs have equal weight (see Figure 3). Although a small number feel that PCNs and ICSs are working well together, half of the survey participants (135) think that ICSs exert top-down control over PCNs, and a considerable number believe that PCNs are not adequately represented in ICSs.

Can the Restructure Succeed in the Context of COVID-19?
Although the COVID-19 pandemic has underscored the need for a health improvement agenda—which aligns with the stated aims of the reorganisation1,2 —the backlog of work it has created may be an impediment. Healthcare professionals face the competing priorities of addressing long waiting lists and implementing new service specifications, coupled with workforce burnout and staff shortages. Against this backdrop, three-quarters of respondents (75%; 202) lack confidence that the restructure will improve patient care; 41% (111) think that it will make no difference, and 34% (91) say that it should be reconsidered. Only one-quarter (25%; 68) believe that it will help patients.

The reasons for this are varied (see Box 2). Many respondents are critical of the time, staff, and funding available to implement the restructure. Others suggest the timing is wrong because it is difficult to predict the 'new normal'. Some survey participants anticipate increased bureaucracy and government interference, and there are concerns that entrenched views will prevent real change. A more positive view is that, despite the inevitable upheaval, the restructure will resolve difficulties with the previous model and improve care delivery. Many report that practices are already working in successful local partnerships and that, with appropriate funding and close collaboration, barriers between care providers can be broken down, quality and efficiency can be maximised, and variations in care can be reduced.
Box 2: Reasons Given by Respondents for Positive or Negative Attitudes Towards the Restructure
Positive

'[has the potential to]change fatigue, understaffing, underfunding … relentless workload pressure' —GP respondent

'There is a need for change as it will help [to improve] healthcare' —GP respondent

' [Gives patients] access to people more suited to meet their needs in a timely fashion' —GP respondent

'Services want to work with each other' —Nurse respondent

'Alleviates the burden of care from GP practices' —Nurse respondent

'GPs should work with local collaborations to help deliver the most appropriate care for the patient [from] the most skilled person' —Nurse respondent

'Broader range of services, more specific tailoring to needs, sharing workload' —Pharmacist respondent

'On the way to good collaborations with local partners to make a difference to patient outcomes' —Pharmacist respondent

'The more dialogue there is at every level, the more seamless services can be' —Pharmacist respondent

Negative

'We need GPs, not a dilutional system to cope with the lack of GPs' —GP respondent

'I have been through multiple reorganisations in my time. Nothing really changes from the patient's point of view' —GP respondent

'Still underfunded, still waiting lists' —GP respondent

'Too top heavy. Primary care will be given more work and little resources' —GP respondent

'Now is not the time to sideline GP opinion' —GP respondent

'We need to recover from the pandemic and reassess' —GP respondent

'Top-down bureaucracy and involvement of private investors in the NHS in the decision process will ultimately be costly for the taxpayer and threaten the core values of the NHS' —Nurse respondent

'Too much money is drifting from services for expensive management structures' —Nurse respondent

'No staff, no time. Too many patients needing care. How do we spend time trying to change when we're fighting fires?' —Nurse respondent

'Different GP surgeries have different priorities, there is a lack of collaboration and this is unlikely to change' —Pharmacist respondent

'Patients are being badly let down by the new GPs services with many with severe conditions going unseen and rocking up at pharmacy patently beyond our help' —Pharmacist respondent
Summary
Although some GPs, nurses, and pharmacists recognise the potential of the restructure to enable more seamless care for patients, many are dismayed about the limited time and resources available to implement the changes. The healthcare professionals who responded to the survey expressed scepticism that primary care would have enough of a voice in ICSs, and many are concerned that the reorganisation will not deliver the anticipated improvements for patients or healthcare professionals. It is clear that additional funding and support is needed if primary care is to harness the potential benefits of the new NHS model.

Nina Buchan, PhD

Features Editor, Guidelines in Practice
Commenting on the survey's findings, Dr Anthony Cunliffe, Joint National Lead Macmillan GP Adviser; Macmillan GP Adviser London; Joint Clinical Chair, South East London Cancer Alliance; and Editorial Advisory Consultant for Guidelines in Practice, said: 

It is understandable that not everyone is optimistic about the recent changes to primary care teams and structures, although I personally feel very positive. Those of us who have worked in the health system for a while have seen changes come and go that often don't deliver on their potential, so an element of cynicism sets in. However, real, impactful change takes time, and the oft-quoted 'change moves at the speed of trust'A seems very relevant currently. Inevitably, there will be a period of transformation but, as we become more accustomed to the new roles in primary care teams and see the benefits for patient care and shifting workloads, positive change will beget more positive change. Funding for new ARRS roles may perhaps be less direct or flexible than usual, with DES implementation added to the primary care workload at the same time, but hopefully it will lead to a longer, more durable impact, altering the way we work in the long term and benefiting us all.

Note A: Covey S, Merrill R. The speed of trust. Salt Lake City, UT, USA: FranklinCovey, 2008.

ARRS=Additional Roles Reimbursement Scheme; DES=Directed Enhanced Service
The winner of a £100 Amazon voucher for participating in our survey is:
Dr Rachel Clark
GP, Greater Manchester
Keen to learn more?
Read Dr Karen Kirkham's article on the new NHS model to understand the role of general practice in realising the objectives of the NHS long term plan, how primary care network (PCN) service specifications contribute to the delivery of place-based care, and the relationship between GP practices, PCNs, and integrated care systems in the changing NHS.