A nurse who led "a campaign of violence" and enjoyed "playing God" has been found guilty of murdering seven babies at a hospital after a 10-month trial – making her the UK's most prolific child serial killer.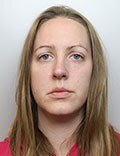 Lucy Letby, 33, was also convicted of trying to kill six other babies at the Countess of Chester Hospital's neonatal unit during a year-long killing spree between June 2015 and June 2016.
The trial head shocking details of how a total of 17 babies — all but one premature — were allegedly murdered or injured by Letby, described by the prosecution as a "devious", "calculating", and "cold-blooded" killer.
She attacked infants by injecting insulin, milk, or air into their tiny bodies, leading to their sudden collapse, and was even accused of physically assaulting one child and causing a liver injury akin to a road traffic collision.
Letby took four attempts to kill one baby girl, attacked three sets of twins, and murdered two triplets within 24 hours of each other.
Tears in the Dock
She denied the 22 charges against her — seven counts of murder and 15 counts of attempted murder — but was convicted on 13 charges after the jury had deliberated for more than 99 hours. The verdicts were delivered in three stages over a series of days, causing Letby to break down in tears, and she refused to appear in the dock for the final verdicts.
When the trial opened at Chester Crown Court in October, prosecutor Nick Johnson KC told the jury that Letby was a "constant, malevolent presence" at the hospital's neonatal unit. He claimed she was the "common denominator" and the baby's deaths coincided with her shifts. Babies who had not been unstable "suddenly severely deteriorated" while others who had been sick and recovered, suddenly deteriorated "for no apparent reason", he said.
Nurse 'Played God'
Letby was variously accused of "getting a thrill" out of murdering babies, "playing God", and killing one infant because she wanted to get the attention of a doctor she had a crush on. 
The prosecution described Letby as an "opportunist" who had targeted sick children while she was alone with them and used their vulnerabilities to "camouflage" her attacks, which had "patterns" or similarities. They claimed she was caught red-handed on two occasions, once by a mother whose baby son was murdered and another time by a doctor as she tried to murder a baby girl.
But Letby was able to get away with her crimes for so long, the jury heard, because colleagues simply couldn't contemplate there was a murderer on the unit. She was eventually removed from front-line duties in July 2016 when doctors raised concerns about her involvement in baby deaths and first arrested 2 years later.
"I Am a Horrible Evil Person" Note
A 'confession' Post-it note, found by police at her home, read: "I don't deserve to live. I killed them on purpose because I'm not good enough to care for them."
She added: "I am a horrible evil person" and: "I AM EVIL I DID THIS".
Letby carried out social media searches of babies' parents and was accused of being "a killer who was looking at your victims". But she denied harming babies and told the jury: "I only ever did my best to care for them." She claimed the babies were the victims of poor care and accused a "gang of four" consultants of a conspiracy to cover up failings at the neonatal unit. And for a system that wanted to apportion blame, it was claimed, she became the "obvious target".
For legal reasons, the babies, referred to as Child A to Child Q, their parents, and some witnesses couldn't be identified.
In heart breaking evidence, parents described seeing their babies collapse. One mother, according to the prosecution, had unknowingly interrupted Letby as she was in the process of killing one of her newborn twin sons — Child E — by injecting him with air on 4 August 2015. The woman recalled his "horrendous" screams and seeing blood around his mouth and "feeling frightened" because she knew something was "very wrong".
Letby told the panicked mother that the bleeding was caused by a feeding tube rubbing her baby's throat and "got rid" of her by saying: "Trust me I'm a nurse."
But Child E suffered significant blood loss and when the mother later returned to the neonatal unit she found medics desperately trying to resuscitate her son, to no avail.
Letby attempted to kill the boy's brother — Child F — the following day by injecting insulin into a nutrition bag, but he survived.
She later showed "unusual interest' in the twins' family, the jury heard, with many social media searches of them following Child E's death, including on Christmas Day.
Letby Sent Sympathy Card to Grieving Parents
The jury was told how a "smiling" Letby spoke to the mother of Child I after murdering her at the fourth attempt by injecting air into her feeding tube and bloodstream on 23 October 2015. The mother had witnessed medics trying to resuscitate her baby and after she died, Letby asked if she wanted to bath her daughter's body and offered to take photos for her to keep.
Letby also later sent a sympathy card to the girl's grieving parents just hours before her funeral which contained the message: "Your loved one will be remembered with many smiles."
It was claimed a "completely out of control" Letby went on a "murder spree" in June 2016 after returning from holiday to Ibiza. She murdered two triplet boys, Child O and Child P, and allegedly attempted to murder another baby boy, Child Q, over three successive days.
Letby had already "got away" with so much already, Mr Johnson claimed, it gave her "the misplaced confidence" she could do what she wanted.
She was accused of deliberately causing Child O's collapse, so she could call and get the "attention" of a doctor "she had crush on".
Mr Johnson said that when Letby spoke to a colleague about Child P and asked, "He's not leaving alive is he?", it was because she knew what was going to happen. "She was controlling things. She was enjoying what was going on and happily predicting something she knew was going to happen," he said.
"She, in effect, was playing God."
Colleagues Had Not Contemplated a Nurse Could Kill
The prosecution claimed her "campaign of violence" went undetected for so long because Letby's colleagues had not contemplated the remotest possibility of a nurse killing babies, and her methods left little trace. They said she was "calculating and devious" and had "gaslighted" staff by persuading them what they knew to be "utterly abnormal' was "just a run of bad luck".
Mr Johnson said an "opportunist" Letby attacked babies when they were alone because other nurses were busy or their parents weren't at their bedside, with some attacks taking place on "milestone" dates, such as their due date or when they were 100 days old.
The "power of circumstantial evidence" and "patterns" between attacks pointed to her guilt, he said, which included unusual rashes on babies' bodies, blood in their throats, babies heard screaming or in distress, and making miraculous recoveries when resuscitated or moved to another hospital.
He asked if it was just "coincidence" that Letby completed a course on intravenous lines and the dangers of an air embolus 2 weeks before her first attack – and eight babies had died or been harmed in this way.
Giving evidence, Letby denied "getting a thrill" from the "grief and despair" of parents whose children she murdered. She also claimed there had been a conspiracy by four senior doctors at the hospital to blame her for babies' deaths. Asked for their motive, she replied: "I believe to cover failings at the hospital."
Meanwhile, her lawyer Ben Myers KC claimed that babies had received "sub-optimal" care and it was "unfair and inaccurate" to blame her. The prosecution case, he claimed, was "fuelled" by a presumption of guilt, and he described Letby as a hardworking and dedicated nurse who "loved" her job.
He pointed out that she had worked on the unit for years and treated hundreds of children prior to the alleged events. Letby's behaviour did not change, he argued, and the reason babies had collapsed or died was their health or condition, staffing pressures, failings in care, and the unit taking on too many babies with high care needs.
The blame for "absolutely everything had been heaped on her", the jury heard, despite no direct evidence she carried out any of alleged acts.
Mr Myers also claimed that the scientific research into air embolus was so poor it could not be used to support the prosecution case.
"A Complete Betrayal of Trust"
In a statement, Pascale Jones, of the Crown Prosecution Service (CPS) said: "Lucy Letby sought to deceive her colleagues and pass off the harm she caused as nothing more than a worsening of each baby's existing vulnerability. "In her hands, innocuous substances like air, milk, fluids — or medication like insulin — would become lethal. She perverted her learning and weaponised her craft to inflict harm, grief and death.
"Time and again, she harmed babies, in an environment which should have been safe for them and their families. Her attacks were a complete betrayal of the trust placed in her.
"My thoughts are with families of the victims who may never have closure, but who now have answers to questions which had troubled them for years."
For more news, follow Medscape on  Facebook,  Twitter,  Instagram, and  YouTube