Radiotherapy in colorectal cancer is evolving at a rapid pace, with many novel treatments being adopted; Dr Claire Arthur outlines where NICE can update its guidance to reflect current practice and enhance the delivery of non-surgical options
Read This Article to Learn More About:
The role of total neoadjuvant therapy in locally advanced and early rectal cancers, and the aims of treatment
How updates to NICE guidance could support current practice
Current trials investigating the use of immunotherapy in rectal cancer treatment.
Key Points can be found at the end of this article

Reflect on your learning and download our Reflection Record
In 2020, 34,405 incidences of colorectal cancer were registered in England.
1
Of these, 8960 were rectal cancer.
1
In general, rates of diagnosis are on the rise—between 2016 and 2019, the incidences of rectal cancer in England increased from 9609 to 10,330. The lower rates recorded in 2020 were likely due to a change in the patterns of cancer diagnoses as a result of the coronavirus pandemic (see Figure 1).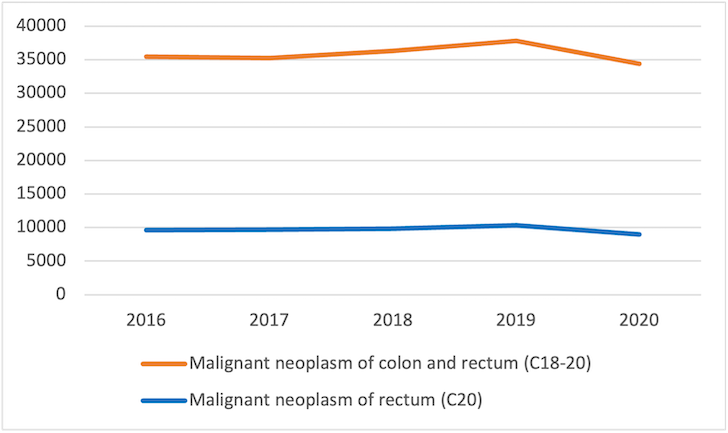 Historically, rectal cancer treatment focused on reducing the risk of local recurrence. In the 1980s, improvements in surgical techniques led to the use of total mesorectal excision (TME),2 as the surgical standard of care. Patients were sometimes given neoadjuvant treatment—in particular, neoadjuvant radiotherapy—to achieve clear (R0) resection margins and reduce the risk of postoperative recurrence in the years following treatment.
Since then, rates of local recurrence have been very low, at 6–11%, and have now plateaued.3,4 But these improvements in local control have not resulted in similar improvements in overall survival.4
Nowadays, treatment for rectal cancer is guided by the tumour's stage and characteristics. The tumour, node, metastasis (TNM) classification developed by the Union for Interventional Cancer Control (UICC) is typically used to describe the stage of rectal cancer.5 Early rectal cancers are classified cT1–T2, cT3a–b, cN0, and M0,6 and locally advanced rectal cancers (LARCs) are classified as T3c–d, T4, N1, and N2.7,8 Alongside the TNM staging, the presence of extramural vascular invasion (EMVI) and circumferential resection margin (CRM) status are key factors in determining the treatment approach.
The focus is now on improving overall survival rates and reducing the risk of distant recurrence, and what can be done in either the adjuvant or neoadjuvant setting to try and improve those outcomes. There is also an increased interest in organ preservation and alternative treatments that do not require a permanent colostomy.
Total Neoadjuvant Therapy
Total neoadjuvant therapy (TNT) is a novel approach for treating LARCs that delivers systemic chemotherapy and neoadjuvant chemoradiotherapy sequentially,9 and it is fast becoming routine clinical practice in the UK for selected patients. In view of published trials to date, the primary role of TNT is in the management of LARC. However, there is growing interest in using TNT not only to downstage primary disease but also to achieve a clinical complete response (cCR) and enable organ preservation. A cCR describes a situation in which no residual disease is identifiable on clinical and radiological assessment following neoadjuvant treatment. There are some important distinctions to make about the aims of treatment with TNT, and a number of considerations that apply throughout the treatment pathway.
Locally Advanced Rectal Cancers
LARCs require neoadjuvant treatment to downstage disease in advance of TME to achieve a clear resection margin and reduce the risk of local recurrence. Until recently, the standard of care was to offer neoadjuvant chemoradiotherapy, whereas TNT includes a period of chemotherapy, either before or after (chemo)radiotherapy. Previous studies have already demonstrated lower rates of local recurrence when radiotherapy is delivered in the neoadjuvant rather than the postoperative setting.4 The focus has switched to intensifying the neoadjuvant treatment schedule to improve other patient outcomes further. Primary endpoints in TNT trials were the reduction of distant relapses (metastases) and improvement of organ preservation/stoma-free survival, with local recurrence a secondary endpoint.10–13
Early Rectal Cancers
To date, TNT trials have recruited patients with LARCs,10–13 and therefore it is not considered standard of care for early rectal cancers. However, there is now increasing interest in a possible future role in treating earlier rectal cancers. Non-operative management (NOM) aims to achieve cCR and organ preservation, avoiding a permanent colostomy, which requires long-term, intensive endoscopic and radiological surveillance to monitor for tumour regrowth, alongside management of possible long-term treatment-related side effects.
Important Considerations
Sequencing and Scheduling
The radiotherapy fractionation and chemotherapy schedules used in published TNT trials vary considerably, as does the sequencing. For example, the OPRA and PRODIGE 23 trials adopted long-course radiotherapy (5 weeks), whereas the Polish II, STELLAR, and RAPIDO trials used short-course (1 week) radiotherapy schedules.10–12,14,15 Chemotherapy schedules in the trials differed between doublet (FOLFOX: folinic acid, fluorouracil, and oxaliplatin; or CAPOX: capecitabine and oxaliplatin) or triplet regimens (FOLFIRINOX: folinic acid, fluorouracil, irinotecan, and oxaliplatin) of varying duration.10–12,14,16
Toxicity
It is important to note the patient selection and reported acute toxicity within many of the published TNT trials. Most patients were PS 0–1, with Grade 3 acute toxicity (defined as a significant impact on daily function requiring medical intervention and an adjustment to treatment) that ranged from 26.5% in the STELLAR trial15 to 48% in the RAPIDO trial.10 Baseline performance status, symptoms, and comorbidities must be carefully considered when selecting patients for TNT.
Complete Clinical Response—Surgery or Surveillance?
When TNT is offered in LARC, downstaging to such an extent may result in a cCR. Defining cCR based upon clinical and radiological parameters can be challenging, and international consensus recommendations are available.16 Careful multidisciplinary discussion and communication with the patient is essential when determining the appropriate ongoing management pathway. In some instances, a patient may still proceed to surgery (anticipating a pathological complete response, pCR). This may be due to concerns about the initial tumour characteristics, for example, difficulties offering curative surgery if tumour regrowth occurs, or patient factors, including anxiety associated with a surveillance pathway or patient preference. However, patients who achieve cCR may elect for NOM of their rectal cancer and enter a surveillance pathway. Three modalities are used in ongoing surveillance: clinical assessment (including a rectal examination), magnetic resonance imaging (MRI) pelvis, and endoscopic assessment.
The frequency of endoscopic, clinical, and radiological surveillance may vary according to local guidance and patient factors. Surveillance is most intensive in the first year after neoadjuvant treatment, when patients are monitored for tumour regrowth every 3 months (endoscopy, clinical examination, and MRI pelvis). After this, the interval between assessments may increase. Co-ordinating the assessments presents logistical and resourcing challenges for hospitals, and also relies upon a high level of patient compliance.
Consent
The aims of TNT treatment may change as patients progress through treatment, and this can complicate the process of obtaining consent at the beginning of the TNT pathway. TNT trials are heterogeneous in their trial endpoints, approach, and planned surgery following TNT. The RAPIDO10 trial looked at 3-year disease-related treatment failure (distant metastases and locoregional failure). All patients proceeded to surgery following neoadjuvant treatment, and a pCR was reported in 28.4% of patients who received TNT (compared with 14.3% on chemoradiotherapy alone). The primary endpoint in the OPRA,11 STELLAR,15 and PRODIGE 2312 trials was 3-year disease-free survival. Within the OPRA and STELLAR trials, patients who had achieved a cCR following TNT could choose to enter a surveillance programme rather than proceed to surgery.11,15 OPRA demonstrated that organ preservation could be achieved in half of patients treated with TNT (3-year TME-free survival was 41% and 53% in each TNT treatment arm).11 In comparison, in the PRODIGE 23 trial, all patients proceeded to TME after TNT; the rate of pCR in the TNT arm was 27.8%, compared with 12.1% for patients who received chemoradiotherapy (standard of care).12 Secondary endpoints in these trials included organ preservation (TME-free survival) and overall survival.10–12,15
When seeking consent from patients, it is important to be clear about the aims of treatment and to acknowledge that tumour reassessment following TNT will determine the ongoing treatment pathway. A personalised approach, based upon tumour characteristics and patient preference, is also necessary. Consider a patient with LARC who is offered TNT to downstage before surgery due to concerns about surgical margin, and who demonstrates cCR on clinical reassessment. Discussion within the multidisciplinary team (MDT) and with the patient should determine whether to still proceed with planned surgery or offer a surveillance pathway.
Long-term Impact of TNT
Patients who achieve cCR and enter a surveillance pathway should also be mindful of side effects related to neoadjuvant treatment; these are discussed when obtaining consent for TNT. Avoiding surgery and a permanent colostomy is an attractive option for many patients, but TNT carries significant acute toxicity and potential late effects (long term, and sometimes permanent, side effects). In the months and years following pelvic radiotherapy, may develop long-term changes in bladder and bowel function, requiring lifestyle adjustments or medical intervention. Patients can also experience tiredness, as well as changes in sexual function and fertility, and in pelvic bone health, and are subject to an increased risk of secondary malignancies.17 Long-term effects of chemotherapy, for example, oxaliplatin-induced peripheral neuropathy, should also be considered.
What's the future for TNT in the treatment of rectal cancer?
TNT Escalation and De-escalation
The use of TNT is still evolving; the heterogeneity of TNT trials suggests a personalised approach in relation to sequencing, radiotherapy fractionation, and chemotherapy duration is required. It is still unclear whether all patients with LARC require such an intensive approach, or whether it might be possible to escalate or de-escalate TNT regimens depending on the individual patient and tumour factors. TNT might also have a future role in the treatment of earlier rectal cancers when the primary treatment aim is to achieve cCR, but TNT-related toxicity must be carefully considered. Whether there is a role for a TNT approach alongside other treatment options for early rectal cancers which aim to achieve organ preservation—for example, local excision or (chemo)radiotherapy—requires further research.
The Role of Immunotherapy in TNT
Immunotherapy is revolutionising the systemic treatment of all cancers, and its role in the treatment of rectal cancers is emerging. A recent phase II trial investigated the use of dostarlimab in patients with locally advanced mismatch repair- (MMR-) deficient rectal cancer requiring neoadjuvant treatment. A total of 12 patients with MMR-deficient stage II or III rectal adenocarcinoma received dostarlimab and underwent at least 6 months of follow up. All patients achieved a cCR, with no evidence of tumour on restaging,18 and did not require subsequent chemoradiation as initially planned. No Grade 3 toxicity was reported. A current UK phase II trial investigating the use of durvalumab alongside TNT is open to patients with LARC, regardless of their MMR status.19
We await with interest the findings from a greater number of patients with longer follow-up periods in these and similar trials that are currently underway; questions about duration of cCR and late toxicity remain unanswered.
The Role of Clinical Guidance
NICE published its most recent guideline on colorectal cancer in January 2020.6 The rapid pace of change in the non-surgical management for rectal cancer means that some of these UK recommendations now need to be reviewed and updated.
NICE recommends that clinicians:6
offer surgery to people with rectal cancer (cT1–T2, cN1–N2, M0, or cT3–T4, any cN, M0) who have a resectable tumour
do not offer preoperative radiotherapy to people with early rectal cancer (cT1–T2 cN0, M0), unless as part of a clinical trial.
These recommendations no longer align with current UK clinical practice, which likely reflects patients' increasing preference for organ preservation, and clinicians' increasing confidence in offering a surveillance programme for cCR. As little as 5 years ago, surgery was the gold standard, and clinicians were wary of offering non-surgical management to patients with rectal cancer. But now it is appropriate for certain patients and tumours and, in time, could become the gold standard. NICE will need to address this in their next update to the colorectal cancer guideline, as well as provide guidance about organ preservation and cCR pathways, both of which are now routine in clinical practice.
And, if the UK is to fully adopt TNT as a treatment strategy in LARCs, there are several other areas where NICE needs to review the evidence, and make recommendations to guide clinical practice.
Radiotherapy Dosing
The Royal College of Radiologists' National rectal cancer intensity-modulated radiotherapy (IMRT) guidance,20 has been widely adopted in the UK. This practical document looks at techniques, fractionation, and treatment volumes in the delivery of radiotherapy. NICE must also recognise international debate about the role of short- (25 Gray [Gy] in fractions) versus long-course radiotherapy (45–50Gy in 25 fractions) schedules in neoadjuvant treatment. And, NICE recommendations on dose escalation in radiotherapy at doses beyond 50Gy would also be helpful.
Treatment Schedules
TNT chemotherapy schedules vary significantly in duration, number of cycles, and whether doublet or triplet regimens are employed.10,12 Although it is difficult for NICE to offer definitive guidance about optimal TNT regimens due to the varying evidence base, some recommendations on optimum chemotherapy schedules for performance status and patient selection for TNT would be helpful. Patient selection was a common feature across the trials—patients were PS 0–1 and clinically significant rates of Grade 3 toxicity were reported. Therefore, TNT may not be a suitable approach for all patients with LARC, and neoadjuvant (chemo)radiotherapy alone may remain the appropriate neoadjuvant approach for downstaging in some patients.
Standardising MRI Reporting
Staging of rectal cancer using pelvic MRI and the identification of local risk factors is a key tool when assessing the need for neoadjuvant treatment and determining the optimum treatment approach and patient options. Rectal cancer is not classified solely by TNM staging,5,7 and is also influenced by identification of adverse risk features, including EMVI and CRM status. Accurately determining the location of the tumour is also important for informing decisions about surgery and whether a permanent stoma might be required. A complete MRI reporting dataset to guide MDT decision making is therefore crucial; recommendations from NICE on standardising MRI scan sequences and reporting would help to guide teams.
Surveillance and Monitoring
The current standard for surveillance and monitoring of patients with rectal cancer following treatment is challenging for individual patients and resource-intense for hospitals. Different surveillance programmes are required for patients who have achieved cCR—and elected to avoid surgery—versus postoperative surveillance pathways. A NICE review of international data on the cCR pathway that examines time to recurrence and type of recurrence (whether local or distant) would be helpful, as would recommendations on a standardised approach to surveillance that offers the best use of resources without compromising the standard of patient care.
Resourcing and Multidisciplinary Collaboration
Treatment timelines were typically very tight in the TNT trials—for example, the interval between completing radiotherapy and starting chemotherapy was 11–14 days in the RAPIDO trial, although up to 4 weeks was accepted.10 If required, surgery may follow just a few weeks after completion of radiotherapy. However, in routine practice, these timelines are exceptionally difficult to follow, partly because patients need time to recover from treatment toxicity before their next treatment, and also because of the complexity of multidisciplinary working.
Recognition from NICE of TNT as standard care—and its requirements in terms of infrastructure, clinicians, and resources—would provide local cancer networks with the evidence they need to fund specific roles. In addition, recommendations about treatment and scheduling across the treatment pathway would offer cohesion and could facilitate multidisciplinary collaboration, reducing the complexity of communicating between different teams and the delays this causes.
Conclusion
This is an exciting time to be to be part of a multidisciplinary team treating patients with rectal cancer, with the landscape of treatment undergoing significant change. Non-operative management has the potential to become the standard of care in the future in selected cases, particularly for patients with early rectal cancers where organ preservation may now be considered a primary aim of treatment. Organ preservation has been a focus for other tumour types for many years, so rectal oncologists and surgeons can learn from other organ preservation pathways.
In LARC, TNT has fast become established as a treatment modality, but clinicians are still debating the best approach in terms of patient selection and treatment scheduling. Clear, definitive, national guidance would help clinicians with decision making, and could also lead to improved access to funding for treatment. There is still uncertainty about optimal TNT treatment regimens, but as trial data are gathered from longer follow-up periods, some of those questions will be answered, and it is to be hoped that guidance will quickly follow suit. Change is happening at a fast pace, and NICE and other organisations producing guidance in this area must keep abreast of developments.
Key Points
The focus in rectal cancer treatment has switched from preventing local recurrence to prevention of distant metastases, organ preservation, and stoma-free survival
Neoadjuvant chemoradiotherapy was considered the standard of care in LARC until recently
LARCs can now also be treated using TNT, which delivers systemic chemotherapy and neoadjuvant chemoradiotherapy sequentially
A growing preference for organ preservation and the use of surveillance programmes for cCR means that non-surgical management is increasingly being offered
Sequencing, scheduling, and toxicity are important considerations in TNT
Patients require ongoing surveillance after TNT, if a cCR is achieved. This consists of clinical assessment (including a rectal examination), MRI pelvis, and endoscopic assessment
Treatment pathways and aims may change as tumours are reassessed following TNT; it is important to acknowledge this, and to discuss treatment-related late effects, when seeking consent from patients
Changes in treatment preferences mean that the NICE guideline on colorectal cancer no longer aligns with current clinical practice
Oncologists would greatly benefit from updated NICE guidance on:

Non-operative management of colorectal cancer
organ preservation and cCR
scheduling of TNT chemotherapy and dose escalation in radiotherapy
standardising of MRI reporting for staging of rectal cancer
surveillance and monitoring following treatment

NICE recognition of TNT as standard of care for selected patients with rectal cancer would aid cancer networks and collaborative working in MDTs.
LARC=locally advanced rectal cancer; TNT=total neoadjuvant therapy; cCR=complete clinical response; MRI=magnetic resonance imaging; MDTs=multidisciplinary teams.