The scenarios are fictitious but similar to those experienced by real patients, and are designed to help you reflect on what you have learnt after reading the article. They could be also be used for group discussion in an education or practice meeting. There are no right or wrong answers but some pitfalls to avoid.
The following case studies, written by Dr Caroline Ward, relate to her article Adopt a stepped approach to atopic eczema management.
Case 1: Sophie, 8 Months Old
Sophie is 8 months old and is brought to see you by her mother, who has noticed dry skin around her face, her elbows, and the backs of her knees for a few months. On examination, Sophie has dry skin, with localised erythematous patches behind both knees. There is no skin thickening or excoriation.
Context
Her mother has been applying an emollient cream each evening after bathing. In the last week, the skin behind Sophie's knees has become red.
Questions for Reflection
What severity of eczema does Sophie have?
What is the appropriate treatment?
What other advice and information should you give to Sophie's mother?
How to Manage This Patient
Sophie has mild eczema (dry skin with localised areas of redness)
Increased frequency of emollient application. You should advise against the use of soaps, and recommend use of an unperfumed emollient for washing. You should consider prescribing a mild topical steroid (for example, hydrocortisone 1%) if increased emollient use and soap avoidance fails to resolve Sophie's symptoms
If prescribing topical steroids, you should advise on duration and safe usage to avoid side effects. Aim for a maximum of 14 days' use. Give safety-netting advice to return if Sophie's skin is worsening or not resolving with treatment. Treatment with regular emollients should continue between flares. You may wish to advise Sophie's mother that most children grow out of eczema by the age of 16 years.
Case 2: Zuzanna, 26 Years Old
Zuzanna is 26 years old and has had eczema since childhood. She has chronic symptoms, requiring topical steroid treatment for flares two or three times a year. She has had a flare on her right arm for around 3 days that is not responding to regular use of emollients and twice-daily topical clobetasone butyrate 0.05% cream. On examination, her temperature is 36.5°C, her heart rate is 70 beats per minute, and her blood pressure is 115/70 mmHg. She has a 5 x 4 cm erythematous patch in her right antecubital fossa, with chronic skin thickening, areas of cracking, and some weeping.
Context
She does not feel unwell. Zuzanna's only other significant medical condition is mild seasonal asthma.
Questions for Reflection
What is the diagnosis?
How would you manage her condition?
What safety-netting advice would you give Zuzanna?
How to Manage This Patient
Zuzanna may have bacterial infection of her eczema
She is systemically well, without any signs or symptoms of a more serious condition; therefore, antibiotic treatment will be of limited benefit and is not currently indicated. She should continue with regular emollients and topical steroids. Consider offering a higher-potency steroid to control her symptoms
She should be advised to return if her skin is worsening or not improving, or if she experiences increasing pain. 
Case 3: Samuel, 6 Years Old
6-year-old Samuel has had eczema since he was 2 years old. He requires regular emollients, and experiences flares requiring mild topical steroids several times a year. His father brings him to see you because he has a painful rash on his face that is not responding to his usual treatment. On examination, Samuel's temperature is 38.3°C. He has a rash on his face (see Figure 1).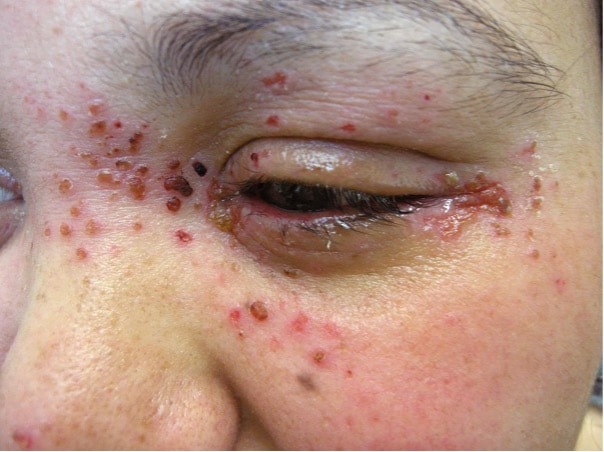 Context
Samuel has had a fever overnight. He seems miserable, and has been more lethargic than usual today.
Questions for Reflection
What is the diagnosis?
How would you manage Samuel's condition?
How to Manage This Patient
Samuel has eczema herpeticum
Eczema herpeticum is caused by herpes simplex virus infection and is considered a medical emergency. Samuel needs immediate admission to hospital for antiviral treatment.