Guidelines presents Primary Care Hacks, a series of clinical aide-memoires across a range of topics. Developed by Dr Kevin Fernando, Primary Care Hacks aim to provide a quick and easy resource for primary healthcare professionals and ultimately help improve patients' lives.
Take a Look at Medscape UK's other Primary Care Hacks
Identification and Management of People with MASLD and MASH
Recent international consensus has renamed non-alcoholic fatty liver disease (NAFLD) to metabolic dysfunction-associated steatotic liver disease (MASLD)
,
to increase awareness of the condition, improve patient identification, and reduce stigma. MASLD is primarily a metabolic condition, not a liver condition, and management approaches should reflect this. This Primary Care Hack aims to define MASLD and provide guidance in the identification and management of MASLD in primary care.
Download a PDF version of this Primary Care Hack by clicking on the link below
Identification and Management of People with MASLD and MASH
What is MASLD?
There has been recent international consensus to rename non-alcoholic fatty liver disease (NAFLD) to improve awareness and patient identification and reduce stigma[1]
NAFLD is now termed metabolic dysfunction-associated steatotic liver disease (MASLD)[1]

MASLD encompasses individuals who have hepatic steatosis and at least one cardiometabolic risk factor[2]

Metabolic dysfunction-associated steatohepatitis (MASH) replaces non-alcoholic steatohepatitis (NASH).[2] MASH is defined by inflammation of hepatocytes and carries a risk of progression to fibrosis, cirrhosis, and hepatocellular carcinoma (HCC)
MetALD describes individuals with MASLD who consume more than recommended amounts of alcohol per week (around 17.5 units/week for women and 26 units/week for men)
MASLD is primarily a metabolic disease heavily influenced by lifestyle factors, and is the liver's manifestation of the metabolic syndrome (MetS) alongside hypertension, insulin resistance and dysglycaemia, dyslipidaemia, and obesity/increased waist circumference.[4] [5]
How Common is MASLD?
MASLD is now the most common liver disorder in Western countries, and has been estimated to affect up to 30% of adults in the UK[6] [7]

MASH has been estimated to affect up to 5% of the UK population[6]

MASLD (specifically the progressive MASH) is the fastest growing indication for liver transplantation in Western countries[8]
MASLD is also associated with an increased prevalence and incidence of cardiovascular disease (CVD)[9]

CVD is a more common cause of death than liver disease in MASLD[9]

MASLD is highly prevalent in people living with type 2 diabetes (T2D); the global prevalence of MASLD in T2D is 67%.
Steatotic Liver Disease Management Flowchart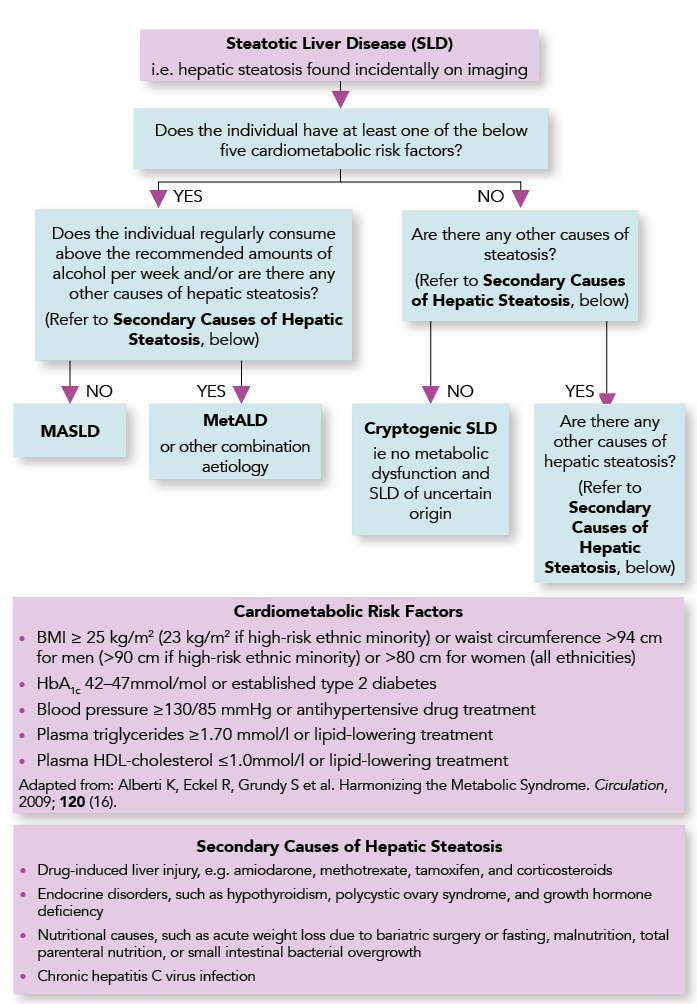 Screening in Primary Care
The appearance of steatosis on abdominal ultrasound (USS) are operator-dependent and a normal USS does not rule out MASLD[15]
Consider screening all individuals with steatosis (e.g. incidentally found on USS) for features of MetS, independent of liver blood tests
Consider screening for MASLD with liver blood tests and/or USS in people living with obesity or MetS
In high-risk individuals (aged >50 years, T2D, MetS) active case finding for advanced disease (that is, MASH) is recommended (see below).
Diagnosis of MASLD Using the FIB-4 Non-invasive Scoring System[17] [18]
Fib-4 Score (Aged ≤65 Years)
Risk Status for Liver Fibrosis
Recommended Action
<1.30
Low risk for fibrosis
Continue monitoring every 2 years in primary care
1.30–3.25
Intermediate risk for fibrosis
Second-line non-invasive testing to rule out advanced fibrosis, for example, ELF test, FibroTest, or Fibroscan. If advanced fibrosis excluded, individuals can be treated as low risk and monitored in primary care as above
>3.25
High risk for advanced fibrosis
Consider referral to hepatology
Note: For individuals >65 years of age, FIB-4 score <2.0 suggests low risk for liver fibrosis. This table draws on BSG guidance and FIB-4 cut-offs. Healthcare professionals should refer to their own local pathways where they exist.
ELF=enhanced liver fibrosis; FIB-4=Fibrosis-4
Managing MASLD in Primary Care
What can we do in primary care for those with MASLD to lower their risk of advanced fibrosis?
Strongly encourage and facilitate weight loss where possible: weight loss 3–5% reduces hepatic steatosis, ≥5–7% can lead to resolution of MASH, and ≥10% improves hepatic fibrosis[19]
Aim for moderate-intensity exercise training for 150–200 minutes per week in 3–5 sessions where possible
The EASL recommends a Mediterranean diet,[20] which can reduce liver fat even without weight loss
Active management of any coexisting features of MetS, for example, dysglycaemia/T2D, hypertension, dyslipidaemia, and abdominal obesity/increased waist circumference
Ideally alcohol abstinence is advised, otherwise maintain alcohol intake within recommended limits
Assess CV risk using QRISK3, and consider statin therapy, including those with abnormal baseline liver blood tests. Statins can be initiated as long as liver blood tests are <3x ULN[21]

there is emerging evidence that statin use is associated with a reduction in liver cancer risk[22]

Coffee might help! 

there is evidence brewing that coffee is good for liver health, and decreases the risk of fibrosis, cirrhosis, and HCC in chronic liver disease, including MASLD[23]
no specific recommendations have been made; however, a moderate intake of coffee of 3–5 cups a day may be beneficial[24]

There are no current licensed drug therapies for MASLD/MASH, however there is emerging and compelling evidence for pioglitazone, sodium–glucose cotransporter-2 inhibitors, glucagon-like peptide-1 (GLP-1) receptor agonists, and the dual GLP-1 and glucose-dependent insulinotropic polypeptide receptor agonist, tirzepatide[25] [26]

NICE and EASL guidance suggest that pioglitazone can be used off-label in those without T2D for MASH

Follow up in primary care:

if identified as intermediate or high risk, consider referral to secondary care gastroenterology for transient elastography (FibroScan)
ensure those with MASLD found to have a low risk of advanced fibrosis are under recall and reviewed regularly in primary care, using clinical judgement and the BSG guidance.
Useful Resources
The British Liver Trust:
The European Association for the Study of the Liver:
This Primary Care Hack was developed by Dr Kevin Fernando, GP Partner, North Berwick Health Centre, GP with special interest in CVRM and medical education, and Content Advisor for Medscape UK and Medscape Global. Primary Care Hacks are for information for primary healthcare professionals in the UK only. They bring together currently available recommendations and/or prescribing information and indications for therapeutics licensed within Great Britain. Licensed indications and/or prescribing information for Northern Ireland may differ. You are advised to review local licensed indications before prescribing any therapeutic. Primary Care Hacks are reviewed intermittently to ensure the information is up to date at the time of publication. Primary Care Hacks are independently produced by WebMD, LLC and have not been created in conjunction with any guideline or prescribing body.