Experts have developed a method for using portable MRI scanners to pick up brain problems in babies at the bedside.
A team from the Evelina London Children's Hospital and King's College London developed scanning techniques using a weakened magnetic field, instead of the stronger ones needed for traditional MRI machines.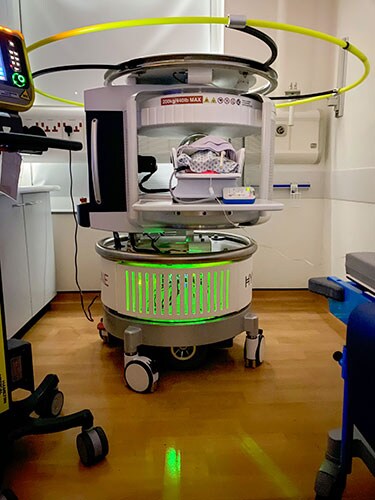 The new way is safe for use on small babies and means portable machines can be used cot-side or in intensive care units. As a result, very sick babies do not need to be moved around the hospital to have regular MRI scans.
For the study, published in the Lancet eClinicalMedicine journal, researchers carried out more than 100 paired scans at the Evelina Newborn Imaging Centre, part of Guy's and St Thomas' NHS Foundation Trust. These compared scans taken using the portable MRI scanner with those on a traditional MRI scanner.
Portable MRI Scanners Can Provide Sufficient Contrast, Signal, and Resolution
The results showed the new method could accurately detect both normal brain anatomy as well as a wide range of clinically important abnormalities with sufficient detail.
Experts now hope the news can be shared globally to help hospitals in other countries.
Dr Paul Cawley, lead author for the study and consultant neonatologist at Evelina London Children's Hospital and King's College London, said: "This study is a much-needed first step in establishing the potential of portable MRI scans for newborn babies. MRI is critical for diagnosing and deciding the best course of treatment for infants with suspected brain abnormalities.
"However, over half the world's population have severely limited or no access to MRI facilities. Even within highly resourced healthcare settings, transporting vulnerable infants needing intensive care to radiology departments for their scans can be challenging. Portable scanners could democratise access to brain imaging and offer many novel solutions to these challenges."
This research is part of the Unity Project, which is funded by the Bill and Melinda Gates Foundation.
Steve Williams, professor of neuroimaging at King's College London and principal investigator for the Unity Project, said: "We have shown that our portable Hyperfine MRI can visualise brain health and pathology in the baby. These results will inform our planned studies and new treatments of malnutrition, infection, and birth complications across sub-Saharan Africa and South-East Asia."
For more news, follow Medscape on  Facebook, Twitter, Instagram, and YouTube