This Guidelines summary includes pointers to help practitioners identify potential victims of abuse, initiate sensitive routine enquiries, and respond effectively to disclosures of abuse. It only covers information from section 4: practitioners responding to victims. For more information, refer to the full guideline.
This guideline draws on the NICE multiagency guideline on domestic violence and abuse.
The Role of Practitioners
Domestic abuse is a serious health and criminal issue. Practitioners are in a key position to identify and help interrupt domestic abuse. A summary of the role of practitioners from the NICE guideline on domestic violence and abuse: multi-agency working is shown in Algorithm 1
Knowing about the specific contexts and the impact of domestic abuse can be a helpful step in understanding the individual needs of victims
Practitioners will be able to provide more effective support to victims of any age if they are trained, confident, and competent in:

their professional responsibilities
using the local integrated care pathway
early identification
assessment
interventions—short-term (coping) and longer-term (recovery)
gathering and recording information
confidentiality and sharing information.
For information on health professionals' responsibilities, refer to the full guideline.
Algorithm 1: Summary of the Role of Practitioners from NICE Guidance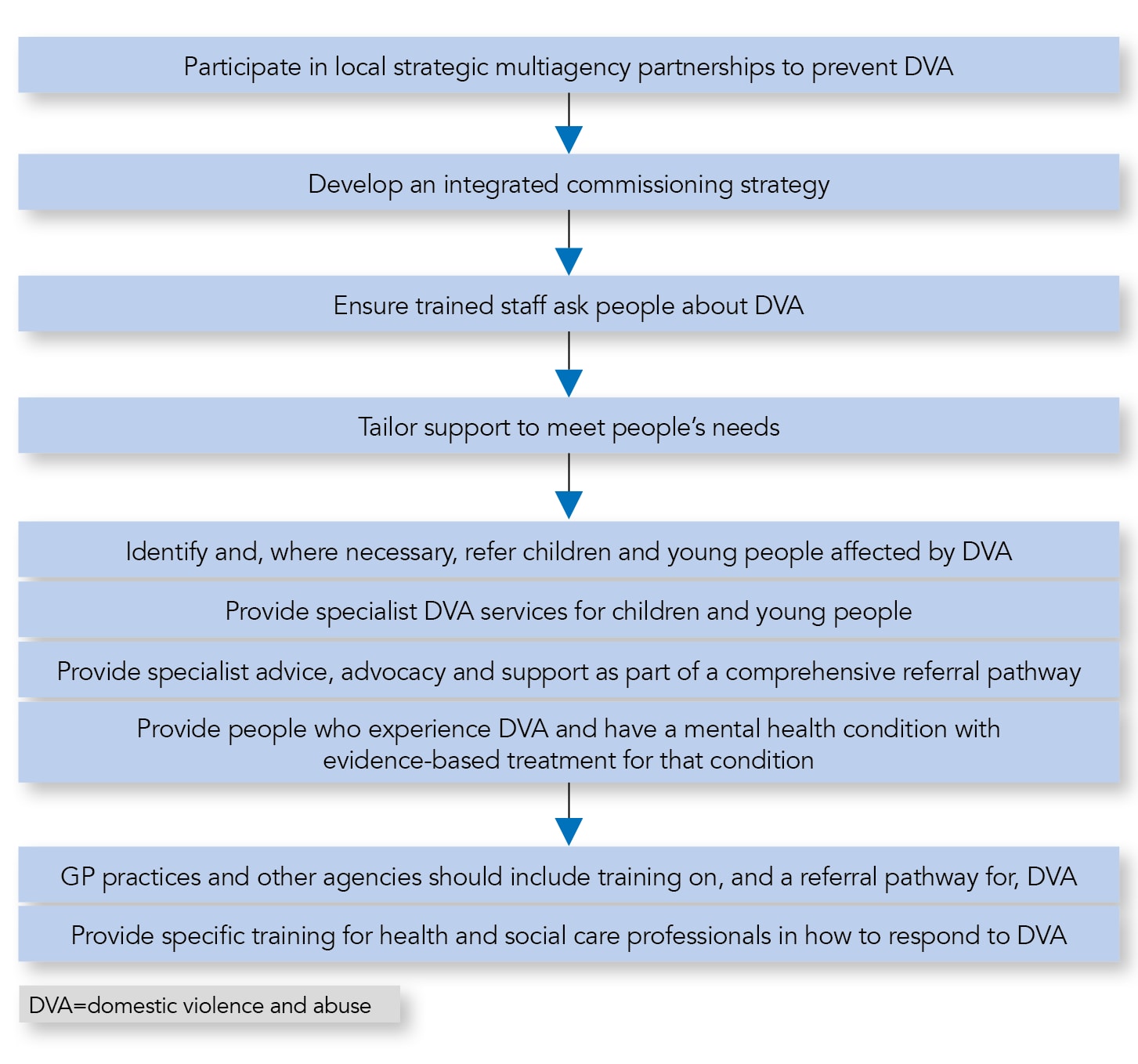 Early Identification
To tackle domestic abuse, it is essential that victims are identified and disclose their abuse as early as possible. As a health professional, you will be a first point of contact for many. You have a responsibility to:

know and recognise the risk factors, signs, presenting problems, or conditions, including the patterns of coercive or controlling behaviour associated with domestic abuse
facilitate disclosure in private without any third parties present, be attentive and approachable, and use selective, routine enquiry to question what you hear and decide if the presentation of the patient warrants concern.
Sensitive Enquiry
There is a whole range of indicators to warn health professionals that a patient may be experiencing domestic abuse. Some of these are quite subtle, and it is important that professionals remain alert to the potential signs and respond appropriately
Some victims also drop hints in their interactions with health and care staff and their behaviours may also be telling. They rely on staff to listen, persist, and enquire about signs and cues. They need staff to follow up conversations in private, record details of behaviours, feelings, and injuries seen and reported, and support them to take action suitable for their organisation's systems and local pathways
Where the patient is an adult with mental capacity issues, action is taken in line with their preferences and consent.
Box 1: Signs to Look Out For
Inconsistent Relationship with Health Services
Frequent appointments for vague symptoms
Frequently missed appointments, including at antenatal clinics
Non-compliance with treatment or early discharge from hospital.
Physical Symptoms
Injuries inconsistent with explanation of cause or the woman tries to hide or minimise the extent of injuries
Multiple injuries at different stages of healing or repeated injury, all with vague or implausible explanations (particularly injuries to the breasts or abdomen)
Problems with the central nervous system—headaches, cognitive problems, hearing loss
Unexplained:

long-term gastrointestinal symptoms
genitourinary symptoms, including frequent bladder or kidney infections
long-term pain.
Reproductive/Sexual Health Issues
Unexplained reproductive symptoms, including pelvic pain and sexual dysfunction
Adverse reproductive outcomes, including multiple unintended pregnancies or terminations/miscarriages
Delayed antenatal care, history of premature labours or stillbirths
Vaginal bleeding, recurring sexually transmitted infections, or recurring urinary tract infections.
Emotional or Psychological Symptoms
Symptoms of depression, fear, anxiety, post-traumatic stress disorder, sleep disorders
Self-harming or suicidal tendencies
Alcohol or drug misuse.
Intrusive 'Other Person' in Consultations
Partner or spouse, parent, grandparent (or, for elder abuse, a partner or family member) always attends appointments unnecessarily
The patient is submissive or afraid to speak in front of the partner or relative, escort or spouse. The escort is aggressive, dominant, or overattentive, talking for the patient or refusing to leave the room.
Young Women
Young women can have additional signs such as indicators of sexual exploitation, going missing, and gang involvement.
None of these signs automatically indicates domestic abuse, but even if the patient chooses not to disclose at this time, knowing that you are aware of the issues and are supportive builds trust and lays the foundations for them to choose to approach you or another practitioner at a later time.
Privacy and Direct Questions
Privacy
Many health settings are busy places, with people passing in and out of cubicles and offices, and this will not be conducive to revealing vulnerability or talking about feelings

'I thought about saying something to the nurse because she was quite friendly to me. But she kept getting called away—you know how it is with nurses—and she looked stressed. I didn't want to add to that.'

Only ever raise the issue of domestic abuse with a patient when you are alone with them in private and, if not, ask the escort to wait elsewhere

'When I went to hospital, he would always come with me. The only time he left me was in X-ray. Can't the nurses see he is not leaving me? Can't they be trained to spot this? Why can't they take me into another room and ask this?'

Even if a patient is accompanied by someone of the same gender, that person could be related to the abuser or could be the abuser

'I was admitted to A&E twice. Each time my daughter was with me. When they asked if anything had happened to cause these severe panic attacks, she was there, so what could I say? The third time I was seen at home by a locum GP, he asked her to wait outside the room… I told him.'
Ask Direct Questions
Explain that you are concerned (or, if it is a routine enquiry, that you ask everyone), and respectfully ask direct questions, such as:

'Has anyone ever hit you? Who was it? What happened? When? What help did you seek?'
'Are you ever afraid at home or in your relationship?'
'Have you been pressured or made to do anything sexually that you did not want to?'

Where you have contact with children, give your attention to every child and talk sensitively and directly to each one to create opportunities for a disclosure
There are children who do not want to talk at all. Others disclose indirectly, not sharing the details without being prompted, or they disclose in a roundabout way, for example: 'Sometimes my stepdad upsets my mum'. The child is hoping that you will take up the hint they are offering
Many children are unsure because the abuser is someone they love. School nurses are in a good position to identify children experiencing harm

'I don't feel safe at school because my dad says he's going to come and take me away. I just try and stay with friends, near teachers, and near buildings where teachers are.'

Do not interrogate the child. Ask simple questions, such as:

'Is there something you're sad or worried about?'

Reassure the child, but only so far as is honest and reliable—that is, do not say: 'Everything will be all right now'. You could say:

'I believe you'
'I am glad you came to me'
'I am sorry this has happened'
'You're not to blame'
'We are going to do something together to get help' —this will ensure that the child will not be surprised that you share the information.
Seen and Heard
 is a training resource for healthcare professionals to help recognise the signs of abuse. It includes ways to listen to children who may have things on their mind that they want to talk to professionals about.
For information on multiagency assessment, refer to the full guideline.
Interventions
Health professionals have a responsibility to address the health impacts on people directly or indirectly affected by domestic abuse. They also have a duty to ensure that other agencies are engaged to address the social, environmental, and wider impacts. People experiencing domestic abuse may choose to disclose to health professionals, including GPs
Do not advise a victim to leave their partner without all the support in place, including police involvement, because they are at high risk of injury or murder when they leave a violent and abusive partner
If a person discloses that they are suffering domestic violence or abuse, an initial risk assessment can inform a number of options to address the immediate and longer-term health, social, and environmental impacts.
Table 1: Options for Addressing the Health, Social, and Environmental Impact
Short-term Interventions
Health
Social
Environmental

Acknowledge the disclosure. Being believed is very important
Address presenting physical injuries and refer for more serious injuries
Undertake a comprehensive physical and mental health assessment
Refer to appropriate health services as relevant, e.g.:

maternity services
SARC in the case of sexual abuse
substance misuse services
trauma-focused mental health treatment

If you are not the GP, refer to a GP for a psychological or mental health assessment for a decision on suitable therapy

Refer people under 18 years old to children's social care services, including early years services
Refer to safeguarding adults groups/boards

Initial safety plan
If below MARAC threshold, and there are no other concerns, help the person contact local specialist domestic violence services for help, such as:

changing locks
advice on legal routes (e.g. restraining orders or injunctions)
emergency refuge accommodation
IDVA advocacy and support

Make a MARAC referral if at threshold
Report to police if immediate risk is very serious, with consent if it is about a competent adult. If no consent, consider public interest test

Longer-term Interventions

NHS psychological therapy, physical, or mental health treatment

Safeguarding measures in place for vulnerable adults
Child protection plan for children

Support the person to develop resilience and seek help through local specialist services for domestic abuse

Abbreviations: IDVA=independent domestic violence advisor; MARAC=multiagency risk assessment conference; SARC=sexual assault referral centre
Gathering and Recording Information
You should record sufficiently detailed, accurate, and clear notes to show the concerns you have and indicate the harm that domestic abuse may have caused. Records can be used in:

criminal proceedings if a perpetrator faces charges
obtaining an injunction or court order against a perpetrator
immigration and deportation cases
housing provision
civil procedures in family courts to assess the risks associated with granting an abusive parent contact with children
serious case reviews, safeguarding adult reviews, and domestic homicide reviews

Always keep a detailed record of what you have discussed with a patient—even if your suspicions of domestic abuse have not led to disclosure. The patient might disclose information in the future
For confidentiality, ensure that the record can only be accessed by those directly involved in the victim's care
Domestic abuse should never be recorded in handheld notes, such as maternity notes
A patient's permission is not required for you to record a disclosure of domestic abuse or the findings of an examination. Make it clear to a person or child that, as a duty of care, you have a responsibility to keep a record of their disclosure and injuries
Data protection regulations exempt information from being released as a result of an access request that 'would be likely to cause serious harm to the physical or mental health or condition of the data subject or any other person'
Even if an abuser was able to sustain a right of subject access, information provided by their wife/partner about the abuse could still be withheld on the grounds that it would be likely to result in further abusive behaviour causing serious physical or mental harm to the wife/partner
When recording information, you should:

describe exactly what happened. For example, patient states 'my husband kicked me twice in stomach' rather than 'patient assaulted'. Diagnostic codes for domestic violence will be included in electronic patient records
use the patient's own words (with quotation marks) rather than your own
document injuries in as much detail as possible, using body maps to show injuries, and record whether an injury and a victim's explanation for it are consistent. For example, 'patient has four small two-pence-sized bruises on her upper arm, 2 cm apart. Patient reported "I fell down, I can't really remember what happened"'
take photographs (sign and date them) as proof of injuries

In general practice, domestic abuse records should be seen in the context of the whole health record to get a clear understanding of repeat consultations for health problems connected to the abuse. However, practices that encourage handheld records should record abuse separately

you should record concern or disclosure of domestic abuse on the records of dependent children
if your organisation has computerised records, ensure that nothing about domestic abuse is visible on the opening screen (which could be seen by a perpetrator or another member of staff)
where selective or routine enquiry is practised, devise a code to indicate whether the question has been asked and information provided, when it was carried out, and what the outcome was—to alert staff to potential risks.
Box 2: What to Include in Notes
Your notes on domestic abuse should include:
suspicion of domestic abuse which has led/not led to disclosure
whether routine or selective enquiry has been undertaken and the response
relationship to perpetrator, name of perpetrator
whether the woman is pregnant
the presence of children in the household and their ages
nature of psychological and/or physical abuse and any injuries
description of the types of domestic abuse/any other abuse experienced and reference to specific incidents
whether this is the first episode, or how long regular abuse has been going on
presence of increased risk factors
results of completed Domestic Abuse, Stalking, and Honour Based Violence (DASH) risk assessment for the adult, and a Domestic Violence Risk Identification Matrix or DASH assessment for each child, if relevant
indication of information provided on local sources of help
indication of action taken (for example, direct referrals).
Confidentiality and Sharing Information
Confidentiality
It is vital that information on domestic abuse is kept confidential to protect victims from injury or death. However, in some instances, failure to share information can put victims at risk
Confidentiality: NHS Code of Practice sets out the standards required for confidentiality of patient information and consent. The General Medical Council and other professional regulators also provide members with helpful guidance on confidentiality and consent
Be particularly careful in situations where confidentiality could accidentally be broken and cause harm, such as:

in general practice, where health professionals might treat other members of a victim's family—including the perpetrator of the domestic abuse. The perpetrator may punish their victim for disclosing the abuse or use the GP surgery as a source of information to track down a victim who has moved away.
Sharing Information
Where consent cannot be obtained or is refused, or where seeking it is likely to undermine the prevention or interruption of a crime, professionals may lawfully share information if this can be justified in the public interest, such as:

where there is a risk of harm to the victim, any children involved, or somebody else if information is not passed on as a referral
to inform a risk assessment (where the definition of 'harm' to a child includes impairment caused by seeing or hearing the abuse of another person)
when the courts request information about a specific case

If you do pass on information without permission, you should be completely sure that your decision does not place somebody at risk of greater violence. Record your reasons to be able to justify your decision, and subsequently, record confirmation that the information you passed on has been received and understood
Always follow local single and multiagency guidelines for sharing information. These should comply with the Data Protection Act 1998, Caldicott principles, and safeguarding guidance for children or adults
Sometimes failure to share information can be as dangerous as breaking confidentiality. For instance, the definition of 'harm' to a child as a result of domestic abuse includes impairment suffered from seeing or hearing ill treatment of another person. Only ever consider giving information to reputable agencies—never to individuals making enquiries about a victim's circumstances.