The Pandemic has Changed Attitudes to Self Care and Enhanced its Role; Dr Peter Smith Explores How it Developed, and Its Importance for Sustainable Healthcare
Read This Article to Learn More About:
the origins and meaning of self care
the evidence for self care
self care during the pandemic, including practical tools for use in consultations.
For more information on self care, visit Guidelines for summaries of Self Care Forum fact sheets
During the pandemic, repeated lockdowns have, of necessity, led to the population having to turn increasingly to self care. This article outlines the effects of the pandemic on attitudes to self care, its benefits, and how to embed the positives of self care in our professional lives.
A Brief History of Self Care
The concept of care of the self and of our dependents is a basic human instinct. It was arguably espoused by the ancient Greeks, but self care as we understand it today really developed in the late 19th century (see Box 1).1–4
Box 1: Key Dates in the Development of Self Care
1852: Dr John Skelton,1 a qualified physician and medical herbalist published The family medical adviser, championing the idea of self care and reaching a wide, largely working class audience. It included guides to the management of most common conditions without the need for a physician. Treatments included herbal remedies with descriptions of how to prepare them at home
1859: Samuel Smiles published Self help.2 It restated the maxim: 'Heaven helps those who help themselves', and also reached a vast popular audience
1924: David Lyon wrote one of the first academic papers to be published on the self management of type 1 diabetes,3 including self-administration of the newly discovered insulin, and monitoring of urine
1971: Dorothea Orem, an American nurse, published the influential Nursing: concepts of practice.4 It was based on the idea of patient agency and the 'self-care deficit', which states that people are able to look after themselves until they reach the limits of their own capacity and resources and enter into a state of 'self-care deficit'. At this point, support from a professional, particularly a nurse, is required. Orem's views are still used extensively to examine self-care issues, particularly in nursing.
Self Care in the NHS
It is not perhaps generally appreciated that the UK is recognised internationally as having an unusual approach to self care, which is accepted as a mainstream issue in the NHS and beyond; this has been particularly helped by the efforts of the Self Care Forum (SCF) and its predecessor organisations.

The first reference to self care in an NHS policy document—The NHS plan. A plan for investment. A plan for reform —was in 2000.5

In 2002, Derek Wanless's Securing our future health: taking a long term view was published by HM Treasury. It presented the concept that self care, especially with a population 'fully engaged' with their health, was mandatory if the NHS was to remain viable by 2022.6

In 2004, the SCF built on the stance set out by Wanless and proposed the Self care continuum (see Figure 1).7 The first NHS self-care policy, Self care—a real choice: self care support—a practical option, was published in 2005 and this also included the self care continuum.8

The NHS Five year forward view (FYFV) published in 2014 championed patient empowerment and self care, stating that 'many (but not all) people wish to be more informed and involved with their own care, challenging the traditional divide between patients and professionals, and offering opportunities for better health through increased prevention and supported self-care'.9 Similarly, when discussing empowering patients, the FYFV quoted the charity National Voices to highlight that personalised care will only happen when statutory services recognise the need to promote patients' own life goals, support families, carers, and communities, and promote wellbeing and independence.9

At the start of the pandemic in 2020, most NHS 111 Coronavirus Clinical Assessment Service advice was largely contained under the heading of self care, as was most government advice in relation to COVID-19.
The Definition of Self Care
Despite the recognised importance of self care, there is still no single accepted definition for self care, with different organisations having their own nuanced definitions. The World Health Organization, for example, defines self care as 'the ability of individuals, families, and communities to promote health, prevent disease, maintain health, and to cope with illness and disability with or without the support of a healthcare provider'.10 In 2011, Godfrey et al identified 139 different definitions of self care.11
The Self Care Forum Definition
The Self Care Forum is a national, multi-stakeholder charity which aims to further the reach of self care and embed it into everyday life. 
'Self care is the actions that individuals take for themselves, on behalf of and with others in order to develop, protect, maintain and improve their health, wellbeing or wellness.' 7
This comprehensive definition reflects the fact that everyone engages in self care of some sort already, and most of what we do has implications for our health, which is to some extent under our control. Self care is also carried out, for example, by carers and parents on behalf of others.
The Self Care Continuum
To illustrate this comprehensive definition, the SCF developed the self care continuum in 2004 (see Figure 1).7,12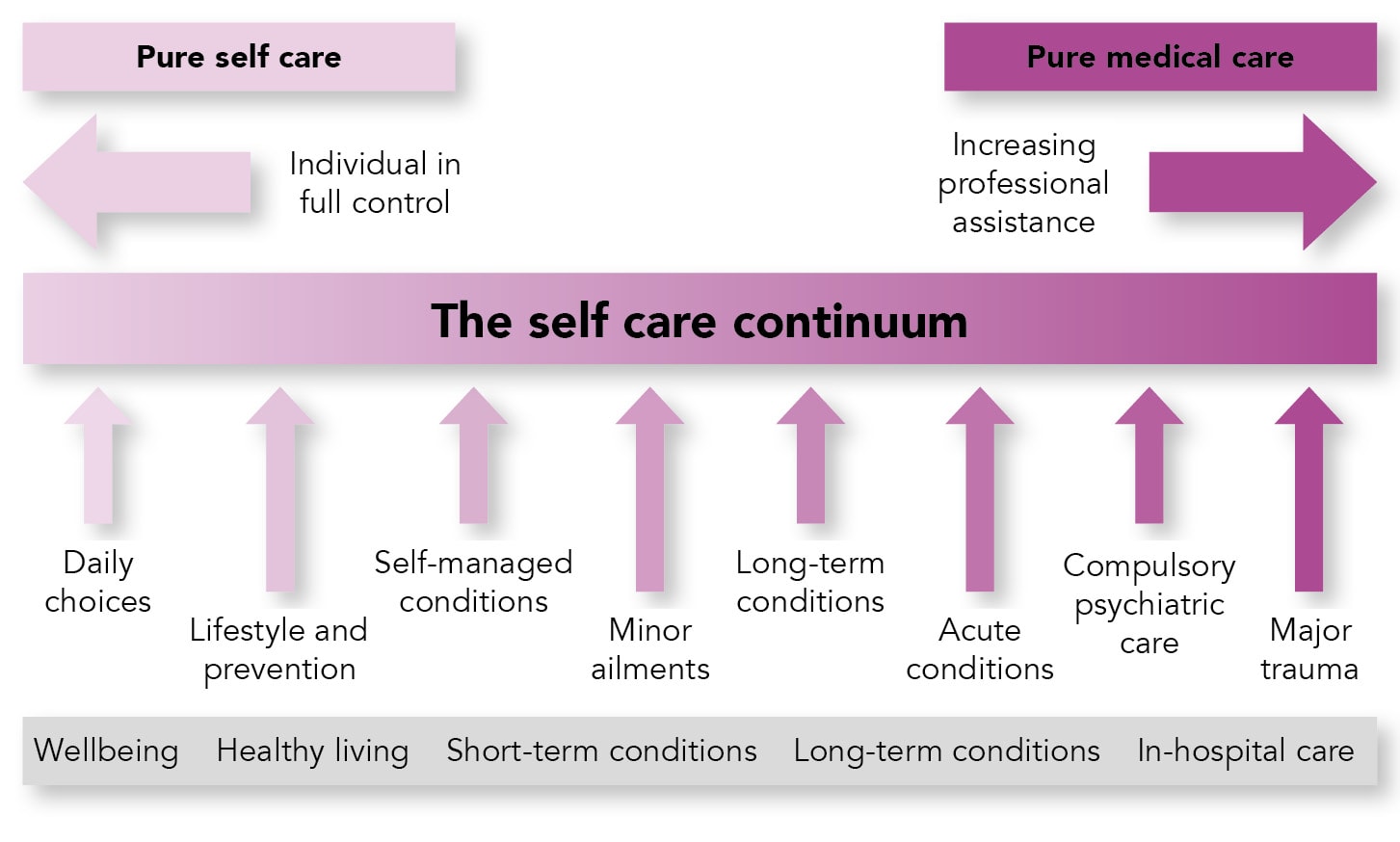 In this model, people are central and empowered, and professionals should assist them rather than to take over care in a paternalistic fashion. It reflects the breadth of self care, from daily decisions to lifestyle choices, preventing disease, and managing short-term and long-term conditions. The other end of the continuum represents fields where professionals have greater responsibility, acknowledging that self care has a role throughout, apart from rare exceptions.
The self care continuum was also developed to bridge the gap between the decisions and pastimes that make up people's day-to-day lives and the professionals' view, which may only be relevant for a short time in any year.
Health literacy represents the bridge between the individual and the professional, and is a much misunderstood field that has been championed by the SCF over the years. It is defined as 'the ability of an individual to obtain and translate knowledge and information in order to maintain and improve health in a way that is appropriate to them and system contexts'.13
It is easy to view the many self-care supplements in our national newspapers (often unfettered by the need for evidence) as a substandard form of self care, even though they touch on areas of great importance to people's lives. The pragmatic approach implied by the continuum is that we should start with people's own views on self care, and encourage lifestyle and management advice that has an evidence base, rather than imposing a biomedical view.
For example, a person who has a mild COVID-19 infection and a long-term condition may have contact with a health professional for 10 hours in 1 year. This would leave 8750 hours of self care—more than 99% of their life during that year. Even when a person requires admission to hospital for COVID-19 infection and subsequent management of long COVID, the vast majority of their care will still be self care.
Wellness and Wellbeing
Positive personal mental wellbeing—as opposed to a purely biomedical approach of avoiding or treating illness—has increasingly been advocated as a way to improve overall health. It sits at the heart of self care, whether in the public or professional realm. Several conventions and systems have been developed to categorise areas of focus for improved wellbeing.
For example, the 'Five ways to wellbeing' advocated in the 2008 Government Office for Science report, Mental capital and wellbeing: making the most of ourselves in the 21st century,14 was widely adopted in the NHS and remains in use today. It offers five fundamental individual actions that people can take to help improve the wellbeing of themselves and those around them: 'connect', 'be active', 'take notice', 'keep learning', and 'give' (see Box 2).14
Box 2: Five Ways to Mental Wellbeing14
Connect…
With the people around you—with family, friends, colleagues and neighbours. At home, work, school, or in your local community. Think of these as the cornerstones of your life and invest time in developing them. Building these connections will support and enrich you every day.
Be Active…
Go for a walk or run. Step outside. Cycle. Play a game. Garden. Dance. Exercising makes you feel good. Discover a physical activity you enjoy and that suits your level of mobility and fitness.
Take Notice…
Be curious. Catch sight of the beautiful. Remark on the unusual. Notice the changing seasons. Savour the moment, whether you are walking to work, eating lunch or talking to friends. Be aware of the world around you and what you are feeling. Reflecting on your experiences will help you to appreciate what matters to you.
Keep Learning…
Try something new. Rediscover an old interest. Sign up for a course. Take on a different responsibility at work. Fix a bike. Learn to play an instrument or how to cook your favourite food. Set a challenge you enjoy achieving. Learning new things will make you more confident, as well as being fun.
Give…
Do something nice for a friend, or a stranger. Thank someone. Smile. Volunteer your time. Join a community group. Look out, as well as in. Seeing yourself, and your happiness, as linked to the wider community can be incredibly rewarding, and creates connections with the people around you.
Government Office for Science. Mental capital and wellbeing: making the most of ourselves in the 21st century: final project report. London: Government Office for Science, 2008. Available at: assets.publishing.service.gov.uk/government/uploads/system/uploads/attachment_data/file/292450/mental-capital-wellbeing-report.pdf
© Crown Copyright 2008
A holistic view of wellbeing is becoming more widely acknowledged, and is an approach that GPs will immediately recognise that they were taught and have used for decades. The eight dimensions for 'holistic and multidimensional' wellness were recently formally redescribed by Swarbrick as:15
physical
spiritual
emotional
environmental
social
occupational–leisure
intellectual
financial.
A further comprehensive model for self care is the 'self-care matrix', developed by Imperial College's Self-Care Academic Research Unit.16 It is a synthesis of the self care continuum and the International Self Care Foundation's 'seven pillars of self care',17 and other models.16
Patient Activation
Patient activation is a key component of patient empowerment and recognises that individuals may be at different points in their journey towards wholesale adoption of self care.18 The Patient Activation Measure (PAM®) includes the four stages of activation (see Figure 2). It has been widely used in the NHS, but the licence for its use was not renewed by NHS England in April, other than for research purposes.
To address this gap, the Imperial College London Self-Care Academic Research Unit is developing the Self-Care Capability Assessment, which is based on the 'seven pillars of self care': health literacy, mental wellbeing, healthy eating, physical activity, good hygiene practices, risk avoidance, and resources.17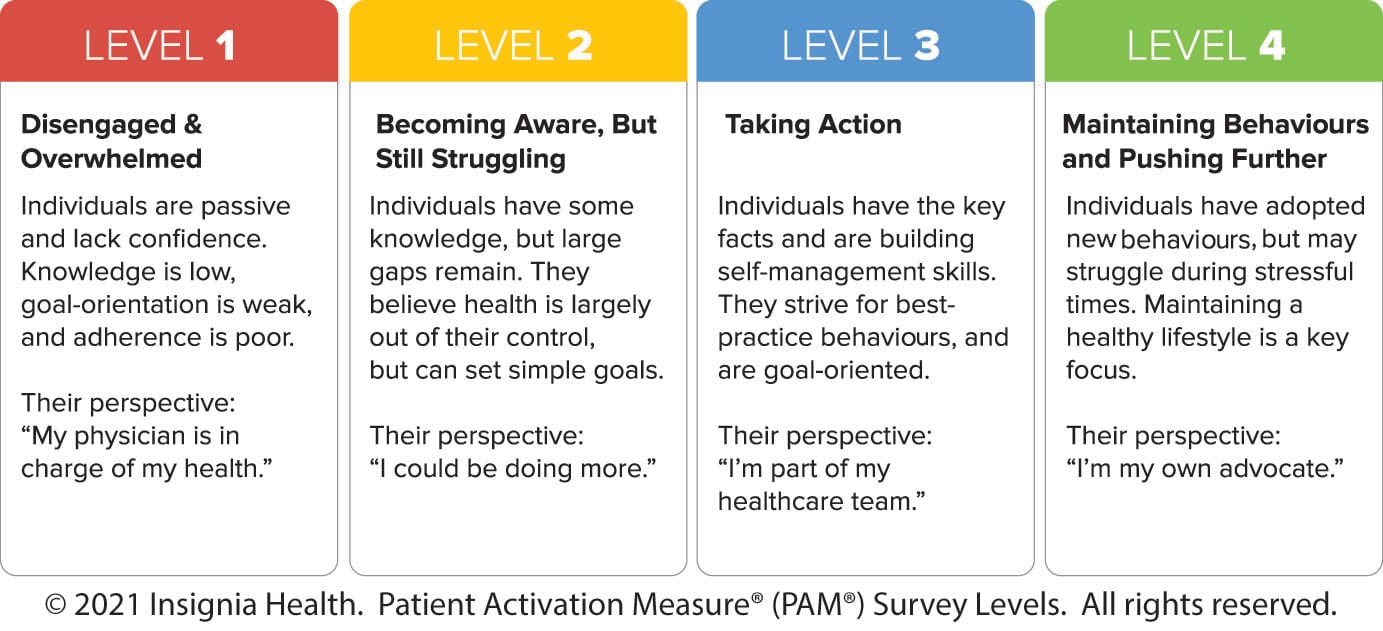 People and Self Care: What Does the Evidence Say?
These are a few of the seminal findings on self care:
The 2005 DH Public attitudes to self care: baseline survey19 established that the majority of the public say they are active in self care often or all of the time, in terms of:
living a healthy lifestyle: 77%
caring for their own ailments: 87%
caring for their long-term conditions: 82%.
The Proprietary Association of Great Britain (PAGB) established that 18–20% of GP attendances in 2006–2007 were for minor ailments, amounting to 57 million consultations at an estimated cost to the NHS of £2 billion.20 In 2011, McAteer et al established that more than 75% of the population experienced a symptom of some kind in a two-week period21 —50% did nothing, 24% used over-the-counter medicines, and only 8% sought help from their GP.22

The PAGB also established that 19% of A&E attendances in 2014 (3.7 million) were for self-treatable conditions, amounting to a cost of £290 million.23

In 2018, the Health Foundation concluded that if patients with long-term conditions who were currently least able to manage were supported to better manage their condition, 436,000 emergency admissions to hospital and 690,000 attendances at A&E could be prevented each year.24

There is a scarcity of academic papers on self care compared to demand for information about it. To begin to address this deficit, the SCF and The International Self Care Foundation joined forces with Imperial College in 2017 to set up the Self Care Academic Research Unit (SCARU), the first university academic unit dedicated specifically to the study of self care.25
Effects of the Pandemic
During the pandemic, self care initially became the norm by default and eventually became the norm by design. Virtually all government advice has revolved around good self care, whether advising the use of masks, washing hands, isolation, having a test, or getting a vaccine.
Public views have rapidly changed accordingly. In 2020, a PAGB survey of more than 2000 adults established that 69% of people who might not have considered self care as their first option before the pandemic said they were more likely to do so in the future, and 77% agreed that the pandemic should change the way we think about using GP appointments and A&E.26
For the first time, helping to reduce pressure on NHS resources has become a key motivator to support self care, alongside empowerment and prevention of illness. This is also reflected in Europe: according to a survey of 4400 people conducted by GlaxoSmithKline and IPSOS in 2020, with respondents from the UK, Italy, Spain, and Germany, the vast majority of people consider it important to take their health into their own hands to relieve pressure on healthcare systems: 84% in Spain, 77% in the UK, 75% in Italy, and 63% in Germany.27
Where to Start with Self Care
There are several useful ways to begin to increase your use of self-care advice in daily practice.
The Self Care Aware Consultation
Self care is relevant to all consultations, but introducing the subject manageably into a short consultation during a busy surgery can be a problem. The self care aware consultation was developed in 2005 to provide a choice of tested opening questions to achieve this, and recognises the importance of active involvement of patients in their own care.28
The six questions are:28
what have you already tried?
how long have you tried this?
what were you trying to achieve by doing/taking this?
has it worked and how?
have you stopped doing what you tried—and why?
what could you do next time?
eLearning for Health has an online eLearning programme on the self care aware consultation, produced in partnership with the SCF.29
Self-care Guidelines
Many of NICE's condition-based guidelines now include self-care aspects. The WHO also published the first international self-care guideline in 2017, covering sexual and reproductive health.30
On a practical level, the fact sheets produced by the SCF (such as those featured in Guidelines)31 are designed for use in professional consultations and feedback from users describes them as useful.32 They are never more than two sides of A4, are fully evidence based, and provide useful background information on common conditions to improve shared understanding about how best to self care. Crucially, they also include good safety-netting advice that describes when to seek medical help. All 19 are available on the SCF website.33
The fever in children factsheet is a particular favourite as it provides a good example of a safety-netting guide (see Figure 3).34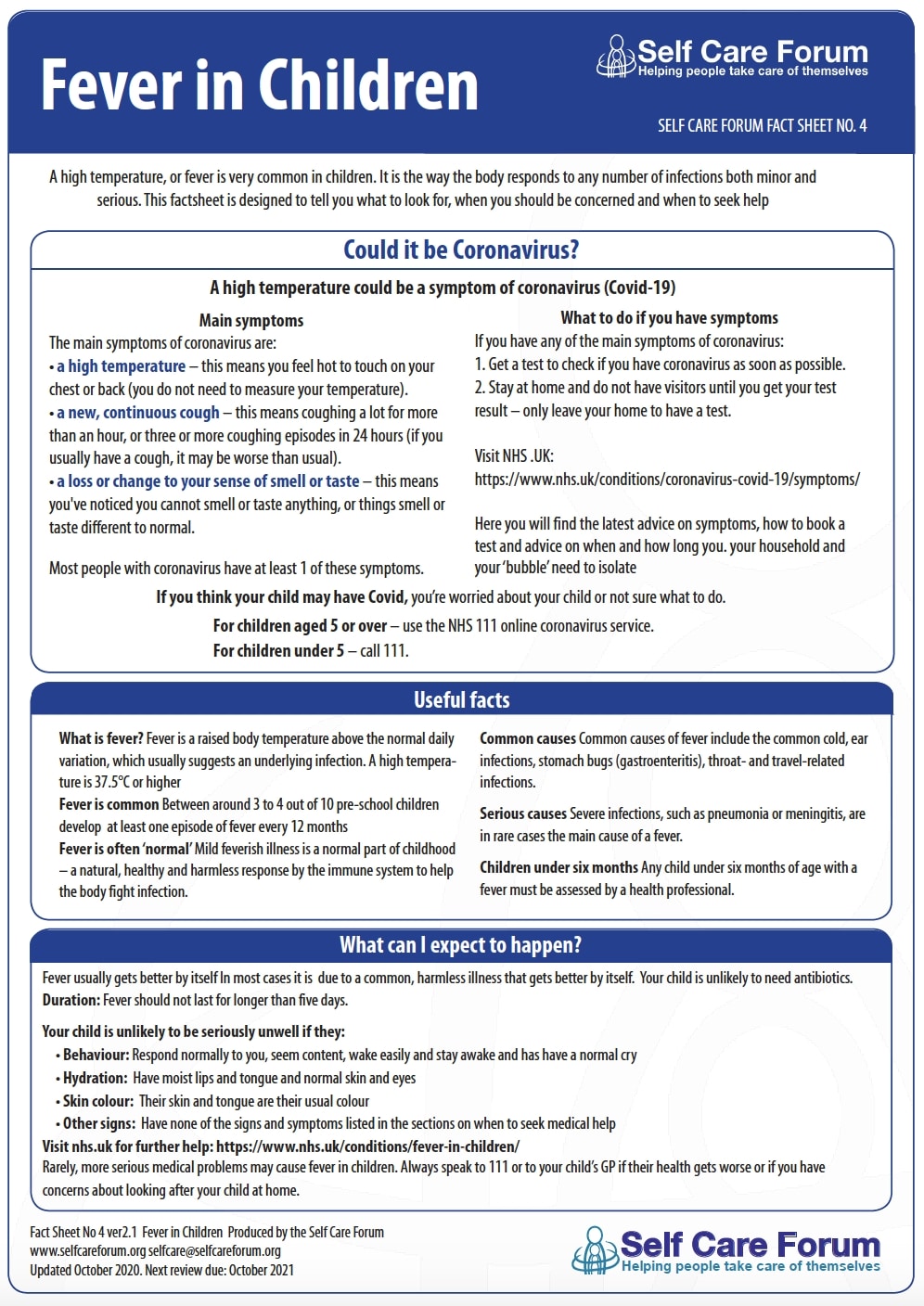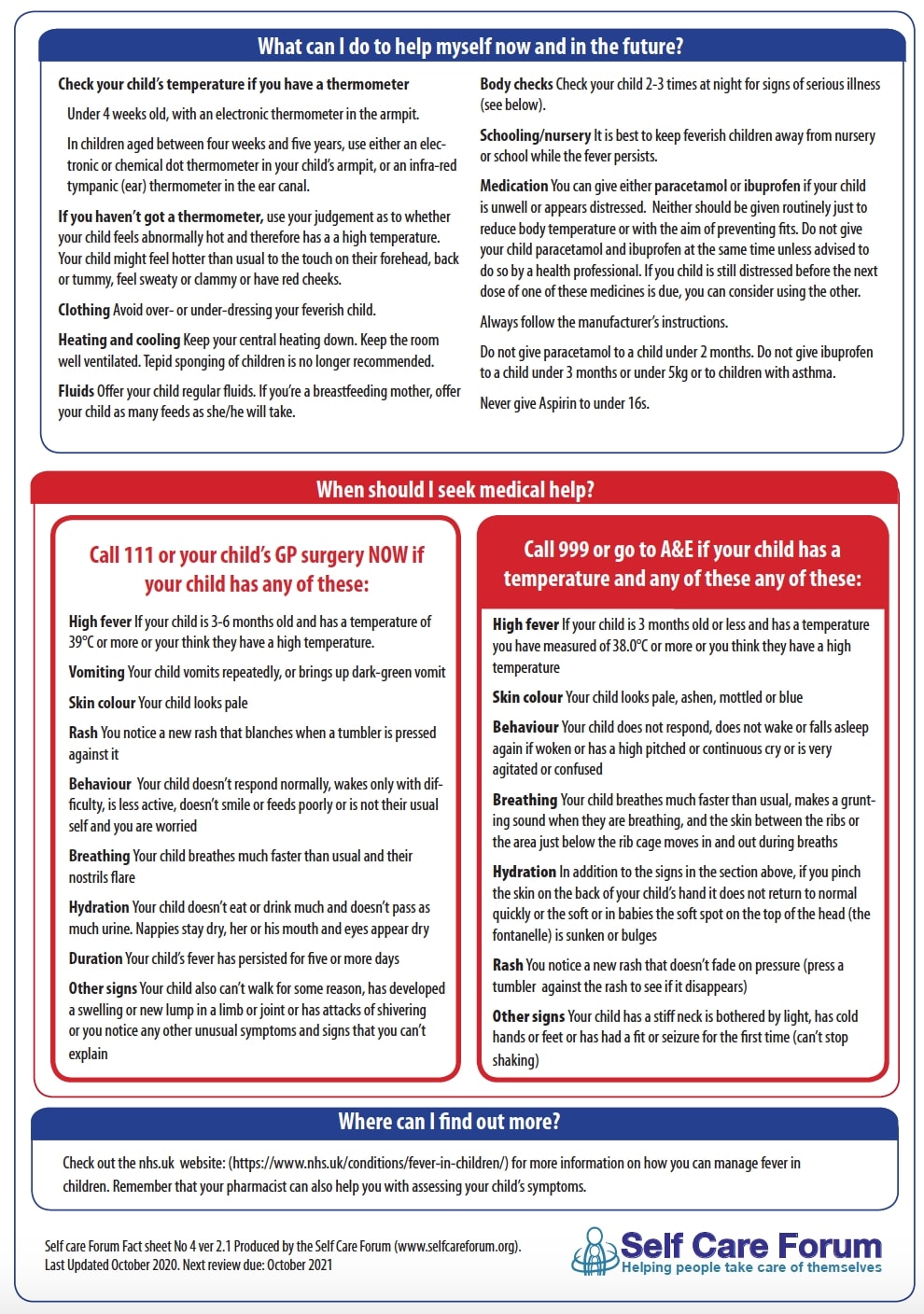 The fact sheet Long COVID and post-COVID syndrome in adults35 will prove particularly useful in implementing the long COVID enhanced service.36 Of particular importance is the short paragraph listing key symptoms suggestive of cancer, as part of efforts to address the drop-off in cancer referrals.
Self-care Initiatives in General Practice
The NICE Shared Learning Award in 2014 was won by a practice in Kingston which was able to reduce antibiotic prescribing by 15 percentage points from a relatively low level by advising self care rather than antibiotics.37,38 This was written up in the journal SelfCare, and full details, including all the background patient information and search criteria, are also available on the SCF website.39
Every year the SCF runs National Self Care Week, during which the winners of an annual award are announced. In 2021, it will run from 15–21 November, and the subject will be 'Practise self care for life'.40 The award is given for 'good practice and innovation in self care, personalised care, and social prescribing that have made a difference to individuals, groups, or organisations'.
Summary
Self care is not a new concept, but it does not always sit well with the biomedical approach to medicine. Nonetheless, it is pivotal to good health, wellbeing, and to the sustainability of health services. The holistic approach that underpins it is recognised by all professionals in health and care settings.
It is also the bridge between people and professionals—witness the explosion of interest in 'self care' across all media. Despite this, the subject of self care is rarely taught in professional curricula; it occupies a position where it is everyone's job but no-one's responsibility, and it is left to the enthusiasts to champion it.
As has been demonstrated, most care is self care, with the level of professional support offered (if any) dependent upon the context, as illustrated in the self care continuum.
During the pandemic, self-care messages and personal responsibility (for example, hands, face, space) formed almost the totality of government messages and were accepted by the population. The pandemic ushered in an era for individuals where there was little alternative but to fully engage in self care. It is hoped that the NHS will capitalise on this in a strategic way, with permanent mainstream encouragement to self care and inclusion of self care as a discipline in professional training.
Self care is nothing less than living the healthiest, longest, most fulfilling life possible. What could be a better aim for the NHS, whatever its structure?
Dr Peter Smith
President, Self Care Forum
Founding member and Honorary Senior Research Fellow at Imperial College London's Self Care Academic Research Unit (SCARU)