A group of young people picketing under a sign for New Cross Hospital's emergency department. It is a cold morning on the second day of the junior doctors' strike, but they have been there since 7 am, wrapped up warm and determined.
Junior doctors represent around 45% of the medical workforce, and two thirds of them are members of the BMA union. They are not out on the picket lines to talk to speak to the press, as journalists rarely visit here. Rather, they are here to explain to the public why they are on strike – and the public responds, honking their horns during the morning rush hour.
James, has been a doctor for 5 years, 2 of which were spent in the Royal Wolverhampton Trust. He pointed out that doctors have a lot of expenses. Aside from paying for at least 5 years of training, after graduation there is the cost of additional exams as well as fees for professional bodies.
"Being a doctor is something we have trained for a long time, and the gradual erosion of pay is demoralising, especially given the increasing challenges that our health system is facing. For the government to imply that they do not understand what this is about, I find it even more demoralising. It takes about 10 years for a junior doctor to qualify, and this is why this is so insidious – knowing that someone who was at your grade 10 or 15 years ago had a pay packet that went further," he said, referring to the 26% pay cut, as calculated by the BMA, which take inflation since 2008 into account.
'Gruelling' Work and Low Pay
Junior doctors know that everyone is struggling with the cost-of-living crisis, but they point out that most people do not have to make life and death decisions while working for £14.50 per hour. Jenny, another junior doctor who only wanted to be identified by her first name, says that one third of doctors after their foundation years do not remain working in the profession. She referred to her place of work as a "warzone" and said she did not imagine that conditions would be so "gruelling" when she started 7 months ago. 
Meanwhile, Tayyib Mubashar, a junior doctor who has worked in paediatrics for 4 years was very clear why he was out on the street holding a placard which read: "Pay Restoration for Doctors".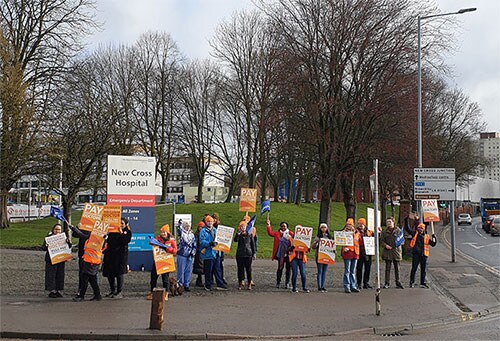 "I'm here to try to secure the future of the NHS. For me this goes beyond pay, it goes beyond current patient safety. As most of the doctors are saying, we are haemorrhaging healthcare staff. More and more health care staff are leaving the NHS. I personally know paediatric nurses who have quit to become administrative staff because they get paid more and the pressure is less," he said. "I also know doctors who have left to start their own businesses – there is less pressure, and it is more lucrative for them.
"My father moved here from Pakistan to this country because he believed in free health care at the point of service for everybody. We believe in this idea. He is a doctor, he works for the NHS as well. And that was the ideal that he enforced in me."
During the 3-day strike of the junior doctors, New Cross Hospital has cancelled all elective surgery and is only doing emergency surgeries as well as bringing staff from other hospitals to cover for the junior doctors.
Dr Mubashar said that the government needs to be aware that if pay conditions do not get better, the NHS is going to lose junior doctors.
Fears of Privatising the NHS
Asked if he thinks the Government strategy to recruit doctors from other countries might not solve this problem, he answered: "That is putting a bandage on a leaking pipe. The NHS tried this in 2001 and in 2003 when they mass recruited people across the world by offering a specific visa for people to come in. When the Tory government came in 2010, they revoked that right. A lot of people were then sent back home. My father knew personally two of his fellow staff who weren't able to get citizenship and had to return to India. These were qualified staff who had given 5 plus years to the NHS.
Dr Mubashar also expressed fears that the current Tory government is interested in privatising the NHS.
"That is something all the doctors and NHS staff fundamentally are against – this is why we need help from the public. We need the public to state that they will be changing the way they vote because of the way this government is running the NHS to the ground," he said.
"I am standing on the picket line because I want the government to understand and acknowledge that they need to be pushing more funds into NHS and changing their mindset about the NHS," Dr Mubashar added.
"[The Government] has to have part of the national insurance ringfenced for the NHS as is the case in Australia, New Zealand, parts of Canada – and we can have the NHS revitalised with the amount of funds we'd get. At the moment, it is quite clear if you look under the subtext that the government does not want the NHS to survive as it is and that is what we fundamentally want to change."
'Doing the Job of Three Doctors'
A young woman holding a placard in her hands, nodded. Madeleine Parrot is a newly qualified doctor who graduated from the University in Birmingham only 6 months ago. New Cross Hospital is her first working experience, and she decided to join the strike. 
"This is a scary thing, 6 months in and I am already considering leaving the NHS," she said. "It is devastating. I have been watching a lot of interviews with politicians recently and they are saying we have a 48-hour week and how can we be overworked? It doesn't count as 48 hours week when we are doing the job of three doctors now because everyone is leaving. We are pulled in every direction. We are leaving late every day; I am not getting a lunch break every day. It is just too much."
When asked if her generation will be the one to resolve the chronic problem of underfunding the NHS, Dr Parrot became visibly emotional.
"I don't know, I think a lot of people standing here are doing it because they truly think that we are at a point now where we honestly don't know what to do," she said. "There was a strike in 2016 and then the NHS was on its knees and in crisis. Six years on and nothing has changed, so if that didn't make a difference then what else are we to do than strike longer because they won't listen to us otherwise?"
Dr Parrot said that she lives with her partner, but she still gets a lot of help from her parents to help cover costs. She said she has to work extra hours in the hospital just to be in a warm building. "I should not get back from a 12-hour shift, when I have been running around all day to an 11-degree house. "
The Pull of Moving to Another Country
When asked what other options she was considering, Dr Parrot said that Australia is a strong pull for a lot of junior doctors because the training program is transferable. 
"I am so family oriented, I don't want to be moving to the other side of the world. But being a family oriented person, I want to be able to afford to have a family and spend time with my family and I don't think that the NHS is conducive to that at the moment," she said.
Dr Pamote, a doctor from Nigeria, arrived at the picket line with a young baby in a sling. After working for 10 years as a doctor, 6 of which in the UK, she said she came to support her colleagues. 
"I came here for a better change, for improved training, for an improved quality of life, which includes remuneration. I came all the way here but one of the factors is not met. We are doing the work but we need the other end of the deal, to get adequate pay for the work we put in," said Dr Pamote.
Asked if she, like her other colleagues standing beside her, would consider moving countries and go to Australia or Canada in search for a better life, she said: "When you see colleagues moving on, it is in your face. I hope I do not get to that point but if things continue this way, I may be left with no choice. 
"The baby is just about 12 weeks now, but it is very important that I stand here with my colleagues and demand change. She will know eventually that this fight was for her."