Guidelines presents Primary Care Hacks, a series of clinical aide-memoires across a range of topics. Developed by Dr Kevin Fernando, Primary Care Hacks aim to provide a quick and easy resource for primary healthcare professionals and ultimately help improve patients' lives.
Take a Look at Medscape UK's other Primary Care Hacks
Subclinical Hypothyroidism in Primary Care
Subclinical hypothyroidism (SCH) is commonly observed in primary care. Nearly two-thirds of those with the condition normalise their thyroid function without intervention within 5 years; most do not require treatment and it is often over-treated in primary care. This Primary Care Hack guides the primary care management of SCH to help avoid over-treatment, as well highlighting some practical pointers and pitfalls to avoid when managing primary hypothyroidism.
What is Subclinical Hypothyroidism?
SCH is commonly observed in primary care and affects up to 10% of the population, with highest prevalence in women and older people[1]
SCH is a biochemical state where TSH is elevated (usually <10 mIU/l) but with normal FT4 levels[2]
Many individuals with SCH are asymptomatic. A recent cross-sectional study found that SCH did not confer a symptom burden particularly in people age >65 years, and treatment was not recommended;[3] treat the person, not the number!
SCH often normalises without intervention within 5 years.[4] The risk of progression from SCH to overt hypothyroidism is around 2–5% per year; the presence of TPOAb and higher TSH levels increase this risk.
Managing Subclinical Hypothyroidism[5]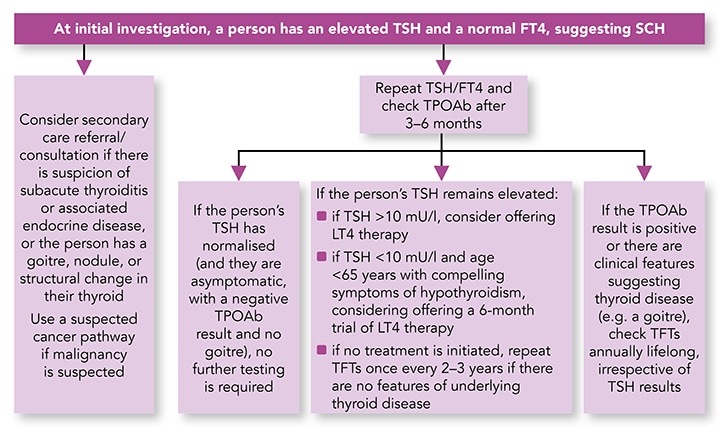 Managing Subclinical Hypothyroidism
Most individuals with SCH do not require treatment; a recently published clinical practice guideline gave a strong recommendation against thyroxine for all adults with SCH (at least 2 consecutive tests with or without mild-to-moderate symptoms)[6]

important exceptions are women who are trying to conceive or individuals with TSH >20

additionally, this recommendation may also

 

not apply to individuals with severe symptoms or young adults aged <30 years.
Hypothyroidism, SCH, and Pregnancy
Hypothyroidism is common in women of childbearing age and occurs in 2–3% of all pregnancies[7]

suboptimal thyroid function (including SCH, although evidence is weak[8]) in pregnancy is associated with adverse outcomes

refer all women with SCH or overt hypothyroidism who are planning a pregnancy, or who are pregnant, to endocrinology

check TFT results before conception if possible; if levels are not within the euthyroid range, advise delaying conception and using contraception until stabilised on LT4 treatment

ensure the patient understands that there is likely to be an increased need for LT4 treatment during pregnancy, and LT4 dose must be adjusted as early as possible in pregnancy to reduce the chance of adverse outcomes

discuss dosing urgently with endocrinology; as a rule, hypothyroid women require a 25–50% increase in thyroxine dose on conception; increase thyroxine dose by 25 mcg if usual dose ≤100 mcg, or by 50 mcg if ≥100 mcg

early pregnancy vomiting, antacids, and iron therapy may also reduce thyroxine bioavailability

QIA: as a clinical team, discuss preconception counselling strategies for women with SCH or hypothyroidism. Consider using the British Thyroid Foundation leaflet,

Your guide to pregnancy and fertility in thyroid disorders

.
Hypothyroidism in Primary Care: Practical Pointers
Screening
There is no evidence for population screening for thyroid disease. However, offer an annual TSH test to those:

with Down's syndrome or Turner's syndrome

taking lithium, amiodarone, or rifampicin

who have received radioiodine treatment or neck radiotherapy

who have undergone subtotal thyroidectomy

with T1D or PAI (Addison's disease)

the British Thyroid Association recommends that people living with T2D should be screened for thyroid disease at diagnosis only.[9] 
Initiation and Titration of LT4
[10]
The BNF recommends for those aged 18–49 years, initially commence 50–100 mcg od taken on an empty stomach at least 30–60 minutes before food, caffeine-containing liquids, or other drugs (particularly antacids, PPIs, calcium, and iron)

adjust dose 25–50 mcg every 3–4 weeks according to response; usual maintenance dose is 100–200 mcg od

The BNF recommends for those aged >50 years and those with cardiac disease or severe hypothyroidism, start 25 mcg od and adjust by 25 mcg every 4 weeks according to response; usual maintenance dose is 50–200 mcg od

Aim to resolve symptoms and signs of hypothyroidism and to maintain serum TSH and FT4 levels within or close to the normal reference range

A longitudinal study found that long-term outcomes remain similar across a wide range of 'normal' TSH levels,[11] supporting individualisation with LT4 dosing regimens and TSH targets

fine-tuning of TSH levels inside the reference range can therefore be considered for some individuals. Consider aiming for the lower half of the reference range for those whose symptoms persist

Note: deterioration of symptoms with LT4 treatment can be suggestive of coexisting PAI and can lead to adrenal crisis if steroid replacement is not introduced[12]

25% of those with PAI have hypothyroidism

There is no high-quality evidence for the use of desiccated thyroid extract, triiodothyronine, or dietary supplementation for hypothyroidism.
Treatment-refractory Hypothyroidism
[13]
Explore non-compliance with LT4 and reinforce correct administration

Exclude drug interactions for both prescribed and over-the-counter medications

GI conditions causing malabsorption (e.g. coeliac disease,

H. pylori

gastritis, inflammatory bowel disease) may reduce absorption of LT4 in the gut

check bloods to screen for malabsorption—FBC; vitamin B12 and folate; ferritin; calcium; albumin; and coeliac serology

Weight gain and pregnancy may increase LT4 requirements.
Click on the link below for a downloadable PDF of the Primary Care Hack.
Subclinical Hypothyroidism in Primary Care
BNF=British National Formulary; FBC=full blood count; FT4=free thyroxine; GI=gastrointestinal; od=once daily; LT4=levothyroxine; PAI=primary adrenal insufficiency; PPI=proton pump inhibitor; SCH=subclinical hypothyroidism; T1D=type 1 diabetes; T2D=type 2 diabetes; TFT=thyroid function test; TPOAb=thyroid peroxidase antibodies; TSH=thyroid-stimulating hormone; QIA=quality improvement activity.
This Primary Care Hack was developed by Dr Kevin Fernando, GP Partner, North Berwick Health Centre, GP with special interest in cardiovascular–renal–metabolic conditions and medical education; and Content Advisor for Medscape UK and Medscape Global. Primary Care Hacks are for information for primary healthcare professionals in the UK only. They bring together currently available recommendations and/or prescribing information and indications for therapeutics licensed within Great Britain. Licensed indications and/or prescribing information for Northern Ireland may differ. You are advised to review local licensed indications before prescribing any therapeutic. Primary Care Hacks are reviewed intermittently to ensure the information is up to date at the time of publication. Primary Care Hacks are independently produced by WebMD, LLC and have not been created in conjunction with any guideline or prescribing body.