Overview
This concise Guidelines summary provides information from Antibiotic Research UK on talking to your patients about antibiotic resistance, including advice and shared decision making, and links to further resources.
Reflecting on your Learnings
Reflection is important for continuous learning and development, and a critical part of the revalidation process for UK healthcare professionals. Click here to access the Guidelines Reflection Record.
Advice and Shared Decision Making
Shared decision making helps to manage patient expectations. Increasingly, people trust their healthcare provider's advice and want information on whether or not they need antibiotics. Clinicians should:

reassure patients. You want them to have antibiotics when necessary and to be confident that they will work when required
discuss how self-care can help them to treat their symptoms effectively when antibiotics are not appropriate
provide a delayed prescription if appropriate. Research shows that only one-third of patients use a delayed prescription
use leaflets interactively to provide information on specific infections, stewardship, and antibiotic resistance, and to stimulate discussion
reinforce the importance of completing the course, not sharing antibiotics, and returning unused antibiotics to the pharmacy
ensure that patients are clear about how to take their antibiotics and what to do if they experience side effects that they cannot tolerate
stress the importance of regular handwashing to reduce the spread of infections
discuss penicillin de-labelling with those who believe that they have a penicillin allergy but are unsure. A patient information leaflet on penicillin allergy is available: www.antibioticresearch.org.uk/wp-content/uploads/2021/10/Penicillin-Delabelling-Patient-Leaflet_21Apr21.pdf.
Five Ways to Keep Antibiotics Working
Give this information to patients to spread awareness:

wash your hands properly and often to avoid spreading infections
never take anyone else's antibiotics, and never share yours
always take all the antibiotics you are prescribed, even if you feel better before you have finished them
trust your health professional's advice; not all infections require antibiotics
dispose of any unused antibiotics at the pharmacy—not in the bin or down the toilet.
Further Resources
For Healthcare Professionals
For Patients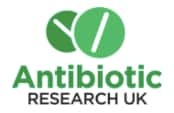 Antibiotic Research UK provides the only Patient Support Service specifically for people with antibiotic-resistant infections, consisting of:
a confidential phone and email service providing support and evidence-based information to answer queries
online groups to reduce isolation
information leaflets on specific infections
support for those caring for a loved one with a drug-resistant infection.