Dr Emma Nash Offers 10 Top Tips for Primary Care Practitioners on Improving the Provision of Healthcare for Transgender and Gender-Diverse Individuals
Read This Article to Learn More About:
the respectful and appropriate treatment of transgender and gender-diverse patients
how to manage the medical records of transgender and non-binary people in general practice
approaching situations in which a transgender patient's biological sex is clinically significant, including for national screening programmes.
Reflect on your learning and download our Reflection Record.
A significant minority of the British population identifies as transgender. According to 2021 census data for England and Wales,[A] transgender people make up around 0.54% (262,000) of the population aged 16 years or older, and 1.00% (63,000) of those aged 16–24 years.1 This group has the same fundamental health needs as any other, but is known to have a poor experience of care:2,3 approximately 40% of transgender people report difficulty accessing healthcare because of their transgender status, and 37% of transgender people report avoiding treatment of any kind for fear of discrimination.4 
Primary care practitioners are often the first point of contact in the provision of care to this patient group. It is therefore important that members of the primary care team know how to communicate with and support their transgender and gender-diverse patients.5 This article offers 10 top tips on improving the provision of everyday healthcare services to these patients.
1. Use the Person's Chosen Name and Gender
The Gender Recognition Act 2004 describes the means by which a Gender Recognition Certificate (GRC) is issued, enabling a person's affirmed gender (the gender that matches their gender identity) to be legally recognised in the UK.6,7 Although names and titles can be legally changed via deed poll,8 this does not automatically change a person's registered gender. A GRC can be used to update the recorded gender on documents such as birth, marriage, and death certificates, but is not required for an individual to be recognised as the gender with which they identify—including in clinical interactions and medical records.7 
A patient can request that the gender marker on their medical records is changed at any time—there is no requirement for them to be undertaking gender reassignment treatment in order to do so9—and they have the right to change the name and gender on their medical records, irrespective of whether they intend to obtain a GRC.5 Practices do not need to, and should never, ask a patient for a GRC to 'prove' their transgender status.5
When interacting with transgender and non-binary patients, it is best practice to use their preferred name and pronouns regardless of any official documentation—misgendering or 'deadnaming' (referring to patients with the name they used prior to transition) can be extremely harmful, and may deter these patients from accessing healthcare in future.2,5,10–12 Under the Equality Act 2010, transgender and non-binary people are protected from discrimination; failure to use the right name can constitute harassment under this Act.5,13–15 
2. Adopt the Appropriate Terminology 
Terminology changes over time, and the way in which someone describes themselves can be very personal. This means that the right terminology to use depends on the individual, and should be asked about sensitively when discussion is necessary.3,5 Some terms are generally accepted and widely used, such as 'trans man', 'trans woman', and 'non-binary', but individualised use is still important.3 See Table 1 for definitions of certain key terms.3,5,16–20
Table 1: Definitions of Key Terms Related to Gender Identity3,5,16–20
| Term | Definition |
| --- | --- |
| Cisgender  | Someone whose birth sex fully matches their gender identity |
| Transgender | The person's birth sex does not fully match their gender identity (generally considered synonymous with 'trans') |
| Trans man | A man who was registered as female at birth |
| Trans woman | A woman who was registered as male at birth |
| Gender-diverse   | An inclusive, umbrella term that is 'used to describe gender identities that demonstrate a diversity of expression beyond the binary framework'.20 Broad descriptors, such as 'non-binary' or 'genderqueer', are usually adequate descriptors for gender-diverse people, but individuals may use more specific terms to describe themselves |
| Non-binary | The person's gender identity does not fit into binary male or female categories. 'Non-binary' is an umbrella term, and there are many more specific identities within this group with which a person may choose to describe themselves (such as agender, genderflux, genderfluid, or pangender) |
In general, it is advisable to take the lead from the patient and ask for clarification if unsure.
3,5
To avoid individuals being misgendered in future or having to repeat themselves (and therefore having to come out in every consultation), clinicians should clarify and record the essential information in patients' medical records: primarily, their gender, preferred name, title, and pronouns.
5,10
Sex, Gender, Gender Identity, and Gender Expression
The terms 'sex' and 'gender' are related but not interchangeable.5,16,17 'Sex' is defined by an individual's biology, whereas 'gender' refers to characteristics that are socially constructed.16 Regarding use of the right terminology, the most important thing to consider is someone's 'gender identity', described by the World Health Organization (WHO) as 'a person's deeply felt, internal and individual experience of gender, which may or may not correspond to the person's physiology or designated sex at birth.'16 'Gender expression' is how someone's gender identity is manifested outwardly, generally through behaviour or appearance.5,17
Partners
Clinicians should remember that being transgender or non-binary relates to a person's gender identity, not their sexual orientation. As for all patients, default use of the term 'partner' is more appropriate when discussing sexual relationships because it avoids assumptions about sexuality.5 It is best practice to mirror any language that the patient uses5—for example, if the patient clarifies that their significant other is their wife, the clinician should then use that term to describe the relationship.
3. Disclose Gender Information Only When Necessary
'Gender reassignment' is a protected characteristic under the Equality Act 2010.13 Furthermore, if a person has a GRC, it is a criminal offence to disclose their gender history without their consent.6,10 Therefore, before disclosing any information that may relate to gender history, careful consideration and discussion with the patient are advisable.5,10 The General Medical Council (GMC) has provided guidance on appropriate disclosure of gender history, which applies regardless of whether a GRC has been issued.10 At the heart of the guidance is the following statement: 'If you are communicating with other health professionals, you don't need to disclose a patient's gender history unless it's directly relevant to their condition or likely treatment.'10
There may be occasions when an adult with capacity does not agree to disclose their gender history, despite its relevance to the current issue. The GMC cites its core ethical guidance on confidentiality for this situation, which now states: 'You should explain to the patient the potential consequences of a decision not to allow personal information to be shared with others who are providing their care. You should also consider with the patient whether any compromise can be reached. If, after discussion, a patient who has capacity to make the decision still objects to the disclosure of personal information that you are convinced is essential to provide safe care, you should explain that you cannot refer them or otherwise arrange for their treatment without also disclosing that information.'10,21
4. Manage Medical Records Effectively
Changing a person's gender marker in their medical records will result in Primary Care Support England (PCSE) issuing them with a new NHS number.5,9 This change is not reversible, so a third NHS number would be created if the person wishes to change their gender marker again in future.9 Non-binary identities are not yet recognised by the NHS clinical system and cannot be included in this section; for this reason, it is particularly important that name, title, and preferred pronouns are recorded on the clinical system.5,17 Figure 1 outlines this process.22
The practicalities of transferring a patient's medical information without including information about their previous identity may be challenging, so it may be worth discussing with the patient the importance of maintaining their clinical records.23 They may be happy for the old records to be kept under the new identity, or they may prefer name and gender to be redacted in the old records without removing clinical information that reveals a previous gender identity (for example, prescriptions, diagnoses, or investigations that are specific to a particular sex).23 If the patient does not consent to this measure, then it may be best to summarise as much information as possible in a gender-neutral way.23
Figure 1: Process for Registering a Patient Gender Reassignment22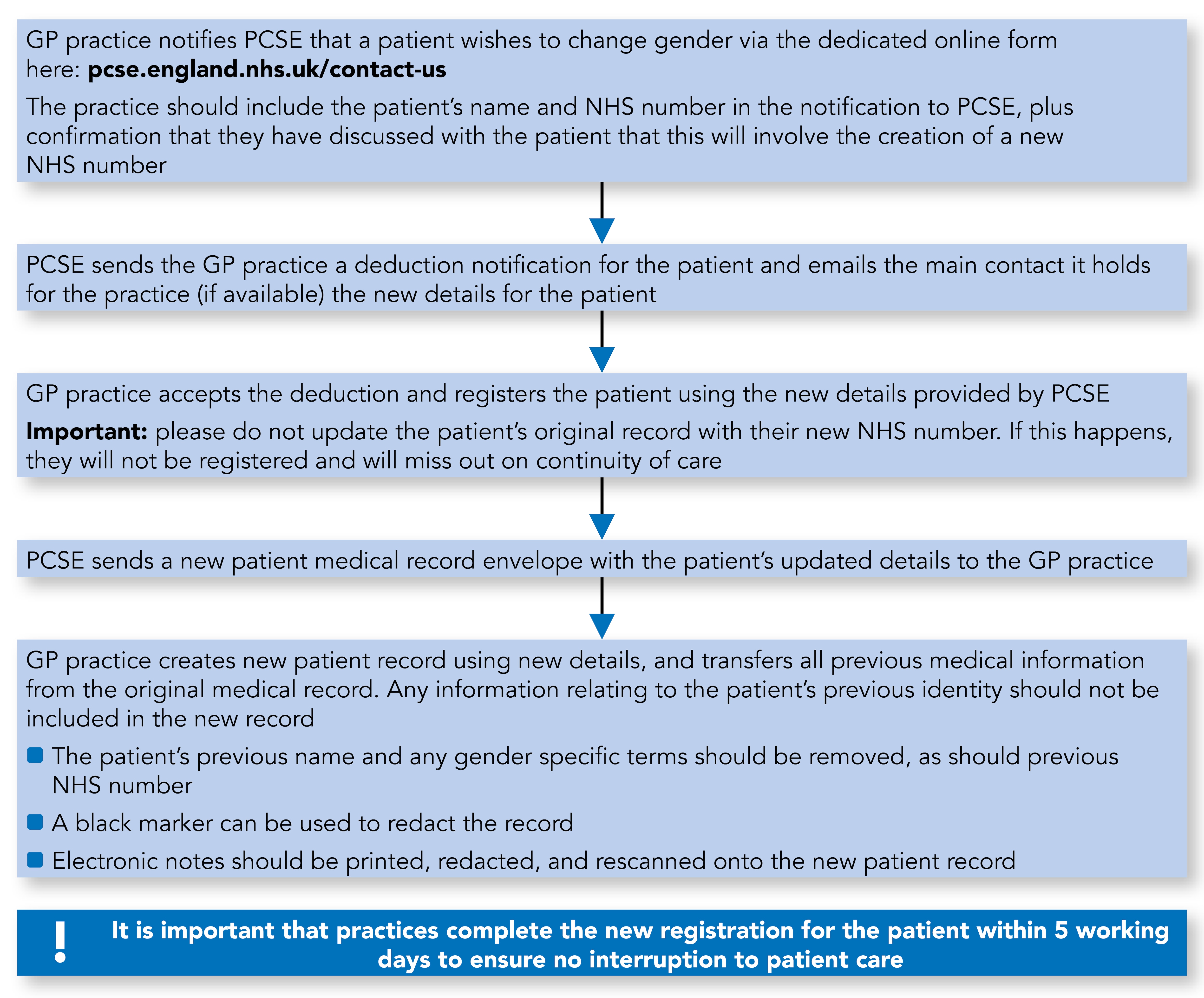 5. Understand How Screening Is Affected by NHS Medical Record Gender 
Despite calls for both sex and gender to be recorded in medical records separately,24 screening programmes can currently only base their recall system on the gender attached to someone's NHS number.5,10,25 Therefore, transgender patients who have reregistered with a new NHS number are likely to receive invitations for screening procedures that they do not need, and miss out on screening appointments for conditions that they are still at risk of.3,5,25 Screening invitations and procedures can also exacerbate feelings of gender dysphoria (distress caused by an incongruence between sex registered at birth and gender identity3,5,26), if present.5,25
By default, people designated as 'female' in their NHS records will receive invitations for breast, cervical, and bowel screening.25 People recorded as 'male' will instead receive invitations for bowel and abdominal aortic aneurysm (AAA) screening.25
Breast Screening
Breast screening is offered to all individuals registered as female, with the first invitation between ages 50–53 years.25 Table 2 shows who will be invited, and when GP referral for mammography may be useful.25
Table 2: Breast Screening Recalls and Recommendations for Referral25
|   | NHS Gender Registration | Automatic Screening Invite | Notes |
| --- | --- | --- | --- |
| Trans woman | Female | Yes | Long-term hormone therapy can increase the risk of breast cancer, so screening is encouraged |
| Trans woman | Male | No | Long-term hormone therapy can increase the risk of breast cancer, so GPs should consider requesting screening |
| Trans man | Female | Yes | If the man has not had 'top surgery' (chest reconstruction, usually to remove breast tissue), or if there is any breast tissue remaining, screening is encouraged |
| Trans man | Male | No | If the man has not had 'top surgery' or if there is any breast tissue remaining, screening is encouraged. The practice should refer to a breast screening unit for mammography, with the person's consent |
| Non-binary person | Female | Yes | If the person has breast tissue, or has had long-term female hormone treatment, screening is recommended |
| Non-binary person | Male | No | If the person has breast tissue, or has had long-term female hormone treatment, screening is recommended. The practice should refer to a breast screening unit for mammography, with the person's consent |
For trans men and non-binary people, the prospect of attending a breast screening clinic may be daunting or cause gender dysphoria, but breast screening services can make adjustments if requested.
5,25
These could include offering appointments at the beginning or end of a clinic, or screening in the hospital breast unit (where there may be other men with breast symptoms) rather than in a mobile unit.
25
The practice may need to help with arranging this. If an individual does not want to be invited for breast screening, they must contact their local breast screening office for guidance on the opt-out process.
25
Cervical Screening
When a trans woman is reregistered as female, the national cervical screening team should contact the practice for a 'no cervix' confirmation.9 On the other hand, when a trans man is reregistered as male, he is not automatically added to the national screening programme—even though he may still have a cervix—and cervical screening becomes the responsibility of his registered practice.9,25,27 A blank screening form can be downloaded from Open Exeter that allows the clinician to register the patient's gender appropriately.
When screening takes place, the responsibility for communicating results also lies with the practice.9,25,28 Therefore, at the time of a sample being taken, it is important to find out how the person would like the result communicated to them, and whether they would like a standard reminder for recalls at the appropriate interval.27,29 These reminders will need to be stopped if the person's cervix is subsequently removed.27,29
Abdominal Aortic Aneurysm Screening
By default, everyone recorded as male in their NHS records will receive invitations for AAA screening when they are aged 65 years.25 Trans men registered as male will therefore be invited and can choose to attend if they wish, although they do not have a high risk of AAA.25 Nobody recorded as female in their medical records is automatically invited for AAA screening, but anybody can request to participate, and it may be advisable for trans women to do so.25 Practices should take a proactive approach to identifying individuals whom it would be appropriate to invite for AAA screening.
Prostate Screening
At the time of writing, there is no prostate cancer screening programme in the UK.30 However, if one is established in future, similar safeguards will be required to prevent people with prostates missing out on invitations for screening.
6. Make Simple Adjustments to Improve the Cervical Screening Experience
As with adjustments to breast screening, minor modification of cervical screening practices within surgeries to avoid the 'female-specific' experience that can come from dedicated smear or 'well woman' clinics can make for a more comfortable experience for trans men and non-binary people. To this end, organisations such as Jo's Cervical Cancer Trust31,32 have adapted their language around screening to include 'anyone with a cervix' in order to focus on anatomical need and avoid framing cervical screening as a gender-specific procedure.
Making an Appointment
Staff should be trained to know that it is not just women who need cervical screening, and to book the procedure without questioning when someone with a male gender marker in their notes requests it.31 As with other, similar interactions, staff should not make assumptions based on a person's gender expression or voice, and should ask for the name and date of birth of the person who needs the appointment.31 Careful wording is essential in this situation, as it is easy to default to questions that are better avoided, such as 'What's her name?' or 'What's her date of birth?'. Staff should not question the patient details given or assume that the person has misunderstood and is giving their own information in error.31 This could force the patient to disclose gender-related information without proper confidentiality or privacy.31
The Procedure
Transgender people can find revealing their anatomy to be distressing, and the physical process of having a smear test can provoke anxiety and exacerbate gender dysphoria.28,31,33 Indeed, evidence shows that trans men and non-binary people undergoing cervical screening prefer to have their smear tests performed at trans-specific health clinics33—offering this option may therefore improve uptake. A trial of self-sampling for human papilloma virus was conducted between 2021 and 2023 to see if vaginal self-sampling could be offered as an alternative option to the traditional cervical screening test.34 Depending on the results, this might be an option to consider in the future.
Service providers can improve the screening process for this cohort by making certain adjustments, such as:28,31
ensuring that there is enough time at the start of the appointment to talk through the procedure
informing the patient that they can bring someone with them
offering a speculum to practise with at home
ensuring that the sample-taker is confident and informed about the distinct needs of transgender and non-binary patients.
Educational Materials
Patients who are no longer in the NHS Cervical Screening Programme are recalled by the practice, so in-house health-promotional material can be tailored to their needs. Many NHS cervical screening information leaflets are woman-focused in design and language, so it may be best to exclude these in recall materials for these patients.
7. Accept that Being Transgender or Gender-Diverse Is Not a Mental Illness
In the 11th revision of the International Classification of Diseases, the WHO deliberately placed 'gender incongruence' with 'Conditions related to sexual health' instead of 'Mental and behavioural disorders', recognising that 'trans-related and gender diverse identities are not conditions of mental ill-health, and that classifying them as such can cause enormous stigma'.35,36 Also, in recognition of the fact that being transgender or gender-diverse is not a mental illness, gender identity clinics (GICs) typically no longer require assessment by a psychiatrist before referral.5,37
That said, mental health conditions are more common among transgender people than in the general population.4,26,38 Depression, anxiety, suicidal ideation, drug and alcohol misuse, and eating disorders are all more common in transgender people4,11,38—indeed, a 2018 national survey found that as many as 46% of transgender people aged 16 years or older had considered suicide.4 Key to the aetiology of this is the fact that transgender people are regularly subject to discrimination, stigma, misuse of language, and abuse.4,39 Delays in access to GICs have also been identified as a contributing factor.11 In addition, gender dysphoria, although not in itself a mental illness, is another element of poor psychological wellbeing in transgender people.3,5,26
8. Recognise that Discrimination Is Widespread in the NHS
One-third of transgender people report that they have received unequal treatment from healthcare staff.4 Some of this treatment is overt, such as questioning the validity of the person's gender identity, attributing mental illness to their transgender or non-binary status, or persistently using misgendering language.4 Indeed, around one-fifth of transgender people have witnessed discriminatory or negative remarks from healthcare staff.4 
However, discrimination can also be expressed less deliberately, and can be the result of ignorance or poor professional practice. Nearly half of transgender and more than one-third of non-binary people have experienced inappropriate curiosity from healthcare staff because of their gender identity, such as intrusive and irrelevant questions about transitioning.4 Furthermore, more than one-quarter of transgender people have been outed without their consent in healthcare settings—this is often repeated and without a justifiable reason.4 
To combat this discrimination, both the British Medical Association and the General Medical Council recommend equality and diversity training for all healthcare staff, including specific training on trans-inclusive care.3,10
9. Appreciate the Spectrum of Gender Affirmation 
'Gender affirmation', also referred to as 'gender transition', is the series of changes an individual makes so that they can live in their affirmed gender.3,18,26 Gender affirmation can be social, medical, and legal, and every person's gender affirmation is different.3,18,26 The steps someone takes to affirm their gender rely upon what they feel is right for them so that they can live well in their gender, and in a way that society recognises.3,18,26
Social affirmation may include changing one's name and pronouns, clothing choice, taking action to modify the appearance of one's body shape, and generally living in society as one's affirmed gender.18,26 Medical affirmation options include hormone therapy and surgical procedures, such as chest, genital, or facial surgery, whereas legal affirmation includes actions that affect a person's legal status, such as the receipt of a GRC or a new birth certificate.3,5,7,26 Importantly, legal and medical changes are not necessary for someone to live in their affirmed gender, and there is no threshold of social, physical, or legal change required for a person's gender to be affirmed.5,18,26 The extent to which a person pursues medical options is individual to them.5,40 They may be influenced by many factors, including the length of waiting lists and the potential side effects of treatments.5,40
Healthcare practitioners must recognise and respect this individuality of experience, as they play a key role in the affirmation process through their behaviour and communication.3,5,26 Transgender and non-binary people who wish to take steps to medically affirm their gender require specialist input, so prompt referral to a specialist gender identity service is recommended.3,5,10,37,40 However, it is well recognised that waiting times are long.5,11 See Figure 2 for an outline of the standard gender dysphoria assessment pathway in England.40
Figure 2: Gender Dysphoria Pathway—Initial Assessment40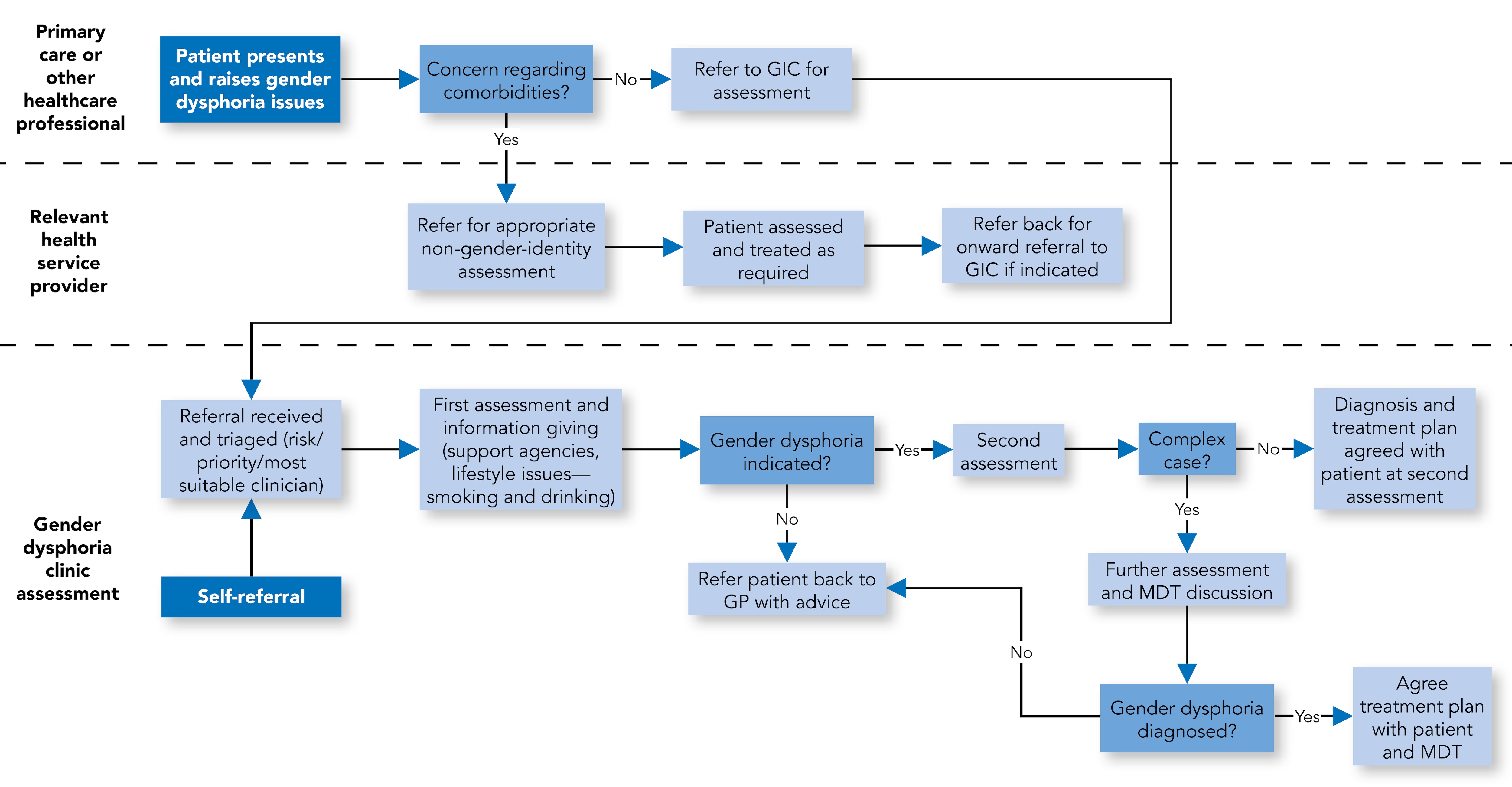 10. Remember that Biology Still Matters—Clinically
Because medical affirmation varies in extent and transgender people remain vulnerable to the medical conditions that affect everyone else, it is important that clinicians know a transgender person's relevant anatomy when clinically necessary.3,5,10 However, cautious and sensitive discussion is needed whenever a condition affects bodily structures associated with gender, such as reproductive organs, genitals, or breasts, especially when physical examination is indicated.5,10 It may be appropriate to offer more than one visit to the practice in such a circumstance, so that the person has the opportunity to prepare themselves and potentially bring someone with them for support.
Contraception and Pregnancy
Trans men who have not had a hysterectomy will typically still have periods, and may need contraception. Trans men and non-binary people with a uterus should be informed that testosterone therapy and gonadotrophin-releasing hormone (GnRH) analogues, if they are taking them, do not provide adequate contraceptive protection.41 Those on testosterone should also be informed that pregnancy is an absolute contraindication to its use.41 
In terms of contraceptive choice, oestrogen-containing preparations will counteract the effects of testosterone, so are not recommended for patients pursuing masculinisation.41 However, progestogen-only contraception does not appear to interfere with hormone treatment regimens, so is recommended in national guidance.41 Contraceptive injections and intrauterine contraception containing progestogen may be preferred because these methods can reduce or stop bleeding,41 although insertion of an intrauterine device may cause gender dysphoria.
Trans women who have not undergone orchidectomy or vasectomy should not rely on oestrogen or GnRH analogues for contraception, even though they do impair spermatogenesis.41 As with cisgender men, barrier protection and vasectomy are the available methods of contraception for this group.41 
Other Relevant Conditions
Clinicians should be aware that bottom surgery (gender-affirming surgery to the genitals) in trans women does not involve removal of the prostate.42,43 This would need to be taken into account when a trans woman presents with symptoms that would normally prompt consideration of prostatic enlargement, malignancy, or infection.42,43 Equally, ovarian and endometrial cancers can still occur in trans men and non-binary people who have not had a hysterectomy or bilateral salpingo-oophorectomy.43
Medical Records
Clinicians should ensure that medical records reflect the sensitive nature of these situations.3,5,10 Notes could be written in collaboration with the person, and it may be helpful to amend the online visibility of the associated medical records or mark them for redaction should that be required. 
Summary
Transgender and gender-diverse individuals are known to experience significant difficulty when accessing healthcare. Primary care practitioners can improve this issue by treating these patients with respect and working with them to establish their individual healthcare needs. This principle applies in all areas of care, from interactions in a consultation room through to record-keeping and screening practices.
Some useful resources are included in the box below.
Useful Resources
GMC=General Medical Council; BMA=British Medical Association; BMJ=British Medical Journal
Footnote
[A] In answer to some uncertainty about the validity of the 2021 England and Wales census data, the Office for National Statistics conducted an investigation and has published its findings here.