Dr Vasumathy Sivarajasingam Sets Out 12 Top Tips on Adopting More Environmentally Friendly and Sustainable Practices in Primary Care
Read This Article to Learn More About:
empowering staff and patients to make positive changes for the benefit of the environment
low-waste prescribing and low-carbon inhalers, with practical tips on their implementation
using the 'five Rs' of waste management (refuse, reduce, reuse, repurpose, recycle) in the provision of healthcare.
Implementation actions for clinical pharmacists in general practice can be found at the end of the article.
Climate change is recognised by many as the biggest global public health threat of the 21st century.1 According to NHS England and NHS Improvement, 'Climate change threatens the foundations of good health, with direct and immediate consequences for our patients, the public and the NHS.'2,3
If the global healthcare system was considered a separate country, it would be the fifth-largest emitter on the planet.4,5 The NHS is the largest publicly funded health system in the world—in England, the NHS comprises more than 1.3 million staff,6 equating to nearly a tenth of the UK economy4—and is responsible for around 5.4% of the UK's total carbon footprint (defined as the total greenhouse gas emissions caused by an individual, organisation, event, service, place, or product, generally measured as the carbon dioxide equivalent [CO2e]).7,8 Figure 1 shows the sources of carbon emissions by activity and care setting in the NHS.3
Figure 1: Sources of Carbon Emissions by Activity and Care Setting in the NHS3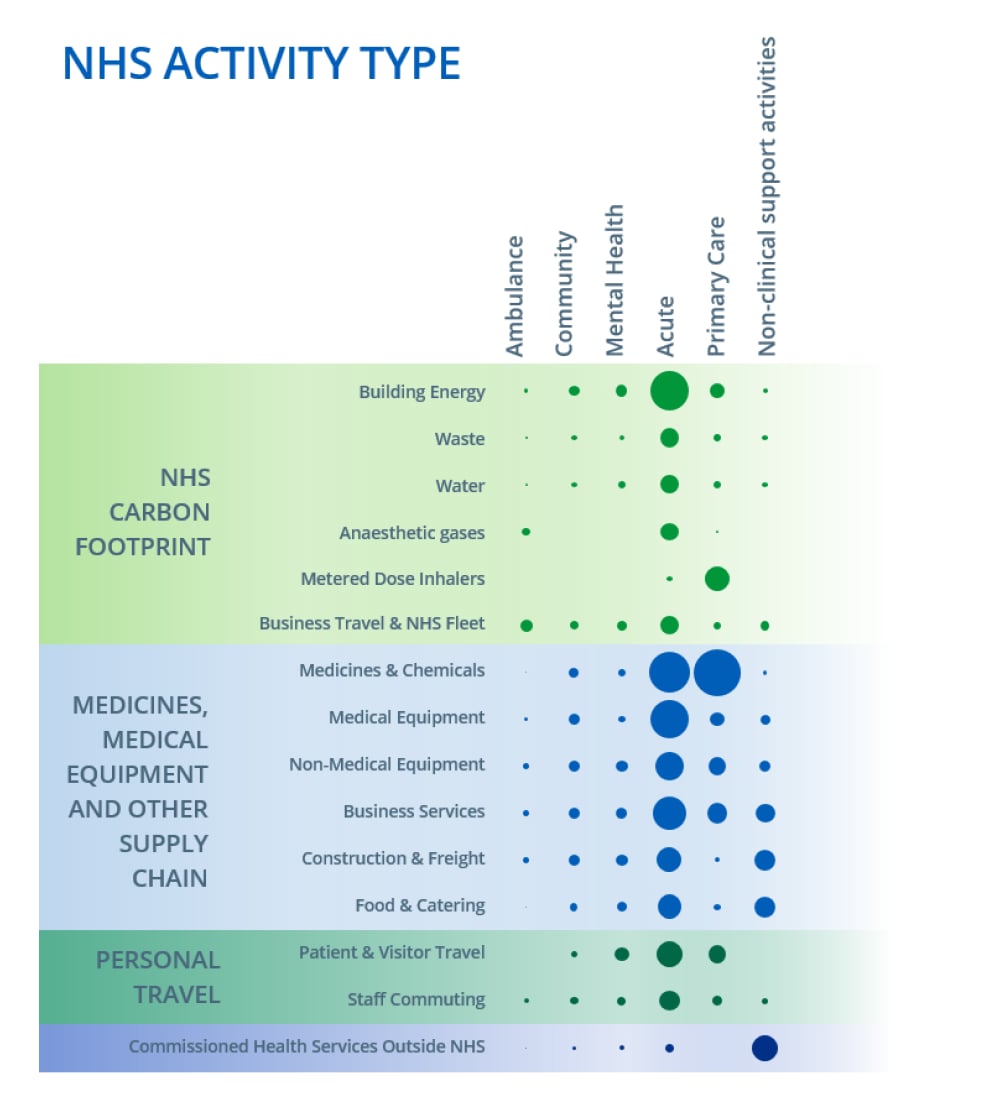 A 'Net-Zero' Health Service
In October 2020, NHS England published Delivering a 'net zero' National Health Service,3 which outlined its ambition for the NHS to become the world's first healthcare system to reach net-zero emissions—by 2040 for emissions controlled directly by the NHS, and by 2045 for emissions influenced by it.3 This report, along with the NHS long term plan,6 commits the health service to reducing its carbon footprint while also providing sustainable healthcare.3
Steps have already been taken towards this goal. A key first step was for every trust and integrated care system across the country to develop and implement a Green Plan, describing any carbon-reduction initiatives already underway, and any plans for the subsequent 3 years.9 In 2021, the Greener NHS team launched the Healthier planet, healthier people campaign to highlight how staff action is already making the NHS greener.4,10 In addition, in primary care, domains called 'A Sustainable NHS' and 'Providing High Quality Care' were incorporated into the Investment and Impact Fund incentive scheme in 2022 to help move NHS England towards its net-zero targets.11
If the NHS is to succeed in its climate change goals, it needs to consider both the health-related and environmental impacts of climate change, recognising the key role it can play in cutting its own carbon emissions while building resilience and capacity into the way care is delivered. Climate solutions are unquestionably possible, given the knowledge and technology currently available.
How Can Primary Care Help?
According to 2019 figures, primary care accounts for around 23% of the NHS's total carbon footprint, producing an estimated total of 5.77 million tonnes of CO2e, which equates to approximately 1% of UK greenhouse gas emissions.12,13 Sixty percent of emissions from primary care are from clinical work, with a significant amount coming from prescribed pharmaceuticals, but nonclinical emissions (particularly related to travel) are also significant.12,14
Around 90% of NHS patient contacts are through primary care,15 and general practice in England provides around 370 million patient consultations each year.16 This highlights that doctors and nurses—the most trusted professionals in the UK17—and their teams are ideally placed to drive environmentally focused behavioural changes, both within the NHS and among patients. Indeed, the Royal College of General Practitioners (RCGP) has acknowledged the climate crisis, accepted its duty to provide leadership, and committed to escalating its actions at the local, regional, and national levels to decarbonise and promote environmental sustainability.14 Reducing the carbon footprint of individuals and practices can improve staff morale, practice efficiency, and the wellbeing of staff and patients alike, and has the potential to reduce workloads, expenses, and health inequalities.
The principles of sustainable healthcare include:18
disease prevention and health promotion (through actions such as screening, case finding, or preventative lifestyle interventions)
patient education and empowerment (for example, with personalised asthma plans, or support for self-management of long-term conditions)
lean service delivery (getting the maximum value for patients while reducing any wasted time, money, or carbon)
favouring lower-carbon treatment options where possible (including lower-carbon inhalers and reusable personal protective equipment).
For sustainability to work in primary care, it must be accepted as a core value and not as an additional demand on general practice. The aim is to deliver the best possible health outcomes with marginal financial and environmental costs, while adding positive societal value at every opportunity. This article offers 12 practical tips on improving the carbon footprint of your practice.
1. Calculate Your Practice's Carbon Footprint
An easy first step would be to use the free GP carbon calculator tool19 to calculate the practice's nonclinical carbon emissions, in order to have a baseline from which to measure changes and move towards net-zero emissions. This may help practices to identify and work out a plan for targeting and reducing key sources of emissions—such as by reducing unnecessary travel, using electronic systems instead of paperwork, changing lightbulbs to light-emitting diode equivalents, installing smart meters or double-glazed windows, or turning off monitors when not in use.20 This calculation could also prompt a practice to consider switching to a renewable electricity provider, using sustainable goods such as eco-friendly cleaning products or fairtrade products, or switching to a greener banking provider.20
2. Sign Up to the Green Impact for Health and Greener Practice Websites
The Green Impact for Health toolkit, developed by Students Organising for Sustainability and funded by the RCGP, is a free-to-use online resource for practices that offers simple, practical tips on delivering sustainable healthcare.21 The toolkit suggests activities and actions that a practice can undertake to improve its sustainability and environmental impact, and it can be used by staff or volunteers—be they formal volunteers, patient participation group members, students, or willing friends or family.21 Additionally, there is a 'continuing improvement process', through which practice teams can collect points and awards to recognise their positive achievements.21
This drive may also be improved by signing up to Greener Practice,22 an organisation that encourages sustainable primary care, provides peer support, and offers useful, accessible sources of information for patients, carers, and practitioners.
3. Advertise that Your Practice is 'Going Greener'
Transparency about a practice aiming to be more sustainable would likely help patients, staff, and other stakeholders to understand the practice's values and goals. Practice management may benefit from developing climate and health initiatives in cooperation with the patient population14 and implementing environmental policies that also prioritise staff health and wellbeing. It may be useful to display information in waiting rooms about ways to reduce one's carbon footprint (for example, about active travel, inhaler use and disposal [see Tip 6, Reduce the Carbon Footprint of Inhaler Prescribing], or medicine wastage) and use other communication methods (such as websites, social media, or newsletters) to highlight ways of mitigating climate change. Communication could also include informing local community pharmacists about the practice's initiative, as well as liaising with school nurses in primary and secondary schools, so that they can reiterate the message to patients and potentially get involved.
4. Raise Staff Awareness and Offer Training on Sustainable Healthcare
The climate crisis is everyone's responsibility, and everyone has a role in preventing climate change. Practices may therefore gain from including their green agenda as a recurring item in staff and clinical meetings,20 encouraging staff to share their experiences and offer suggestions on improving the practice's carbon footprint. This could be part of a wider effort to consider sustainable healthcare regularly, with further actions including the following:18,23
nominating green champions, who will attend external meetings and share knowledge with the wider practice team
engaging with the multidisciplinary team and other stakeholders (for example, the Additional Roles Reimbursement Scheme team and the social care, community, and voluntary sectors)
providing accessible sources of information and regular training (for example, on sustainable respiratory care or greener inhalers) to staff, and being open to their attendance at courses and events.
5. Review Prescribing Habits, and Offer Low-Carbon Alternatives When Possible
Medicines play a key role in the prevention, treatment, and management of most conditions. However, estimates suggest that 65–90% of the carbon footprint of general practice is associated with pharmaceutical prescribing.
24
Overprescribing (whereby patients are given medications that are unnecessary or unwanted, or for which harms outweigh benefits or a better alternative could have been given
25
) and pharmaceutical wastage can have a negative impact on patient wellbeing, healthcare expenditure, and a practice's carbon footprint.
24
Where possible, they should be avoided.
Through structured medication reviews, clinical pharmacists in particular can support patients to optimise their medicines while reducing waste and promoting self-care. Tips for low-waste prescribing are shown in Box 1.
Box 1: Tips on Low-Waste Prescribing20,26
Lower-carbon alternatives should always be offered where appropriate (and there is an option)—for instance, Vagifem® has multiple applicators in the pack, whereas Vagirux® has a reusable applicator and is no more expensive
Deprescribe where appropriate (online tools can help clinicians and patients to make decisions about reducing or stopping medications, and Choosing Wisely UK is an essential resource for improving consultations between patients and clinicians)
Stop unnecessary third-party ordering
Encourage patient-led ordering using the NHS app, and advise patients to order only what they need
Avoid unnecessary waste for care home residents and people living independently
Encourage patients to check their prescription is correct before leaving the pharmacy—medication returned before the patients leaves the pharmacy can be reused, but if medicines are taken home they have to be destroyed.
Preventative Care
In general, and where appropriate, clinicians can also try to implement preventative care wherever possible (as opposed to reactive care), discussing with patients whether they are able to incorporate lifestyle changes in the first instance so as to limit unnecessary medication use. General nonpharmacological options include:
smoking cessation6
following the Government's Eatwell guide (better food choices improve health, and locally sourced food reduces emissions related to agriculture, transport, storage, and waste across the supply chain)3
incorporating walking and/or cycling into daily life.20
Promoting Self-Care Practices
Clinicians can also emphasise the importance of self-care practices as part of daily living (for example, regular physical activity, healthy eating, adequate sleep, avoidance of harmful substances) and recommend managing self-limiting minor ailments with over-the-counter medications. These kinds of self-management interventions for long-term issues will not only reduce needless practice visits, but also minimise the costs of overprescribing and medical interventions.
6. Reduce the Carbon Footprint of Inhaler Prescribing
Inhalers are one area in which a change in prescribing can have a significant effect on carbon emissions, particularly considering that carbon emissions from inhalers account for approximately 3% of all NHS carbon emissions.27 Pressurised metered dose inhalers (pMDIs) contain hydrofluoroalkane propellants, which are potent greenhouse gases—1300–3350 times more potent than carbon dioxide.28 As the majority of the emissions in pMDIs come from the propellant used to deliver the medicine, reduction in their use is widely encouraged, either through switching to dry-powder inhalers (DPIs), reducing the amount the pMDI is used, or switching to lower-carbon inhalers.28 Sweden is an exemplar of this transition, as only 13% of prescribed inhalers in Sweden are pMDIs—compared with 70% in England.29 Sweden also has a lower rate of asthma deaths than England.30 Switching to these alternative inhalers has financial benefits as well; for every 10% of MDIs changed to DPIs, drug costs reduce by £8.2 million per year.31
Choosing an Inhaler
When choosing inhalers, Greener Practice's How to reduce the carbon footprint of inhaler prescribing includes a crib sheet for easy reference and comparison of different inhaler types (specifically pMDIs, breath-actuated inhalers [BAIs], DPIs, and soft-mist inhalers [SMIs]).28 In general:28
a typical 120- or 200-dose preventer pMDI/BAI produces 10–20 kg of CO2e
a typical DPI or SMI produces less than 1 kg of CO2e.
Furthermore, switching to stronger inhalers with fewer doses (for example, a dosage of one puff of 200 mcg twice daily, instead of two puffs of 100 mcg) will likely reduce wastage, improve compliance, and reduce carbon footprint.
28
 When considering pMDIs (for example, if they are needed or preferred), it is important to note that there are low- and high-carbon options:
28
for example, for short-acting beta2-agonist inhalers, the Ventolin 100 mcg Evohaler® has a significantly greater carbon footprint than other salbutamol pMDIs (28 kg of CO2e per inhaler, compared with 9–20 kg of CO2e)
for inhaled corticosteroid/long-acting beta2-agonist combination inhalers, Flutiform® and Symbicort® pMDIs also have significantly greater carbon footprints than other pMDIs (more than 34 kg of CO2e per inhaler, compared with 10–20 kg of CO2e).
Box 2 provides some further ideas for reducing the carbon emissions of inhaler prescribing. It is important to consider clinical appropriateness when making these decisions, and to make any prescribing choices as a result of individualised, shared decision-making conversations with patients.
28
Box 2: Practical Ideas for Reducing the Carbon Emissions of Inhaler Prescribing27,28,32
NICE's patient decision aid may help clinicians and patients to discuss the benefits and risks of switching to a lower-carbon inhaler for their respiratory disease
Prescribe by brand name only—if a GP prescribes generic salbutamol, for example, any brand can be issued to the patient (according to the pharmacy's choice)
A practice's medication formulary may need to be updated to reflect environmental considerations, noting the lower-carbon alternatives
Sharing case studies can help individuals and other healthcare providers to improve their practices
Patients may benefit from consultations specifically around disease control, device choice, and inhaler technique
System IT administrators may be able to incorporate a prompt into the practice's IT systems relating to asthma/COPD, reminding clinicians about environmental considerations (such as inhaler disposal) during relevant consultations.
IT=information technology; COPD=chronic obstructive pulmonary disease
Educating and Supporting Patients with Inhaler Use
Patients may also benefit from education and support concerning inhaler use. General education for those with asthma or chronic obstructive pulmonary disease (COPD) about well- and poorly controlled asthma or COPD, including the benefits of inhalers that suit them well and the dangers of poor adherence, is certainly beneficial. Further support for patients could involve:
assessing and optimising their inhaler technique to prevent wastage (for example, using inhalers with no dose counter or spacers with pMDIs)—patients may also benefit from the RightBreathe app and website20
encouraging patients to look after their inhalers and not over-order them if possible,27 with an understanding that asthma control is the priority and they should not deny themselves inhalers for environmental reasons
giving patients the option of using lower-carbon inhalers (without compromising clinical care)
prioritising person-centred care (shared decision making)
encouraging patients to return their used or unwanted inhalers to pharmacies for environmentally safe disposal.27
7. Empower Patients to Take Action for the Climate and for Their Health
According to a 2021 Ipsos MORI survey of 1858 UK adults, the public considers climate change to be a huge threat to their health (as big a threat, for example, as injuries/accidents and mental ill health), but fails to identify the role of the NHS as a major contributor of emissions.
33
Only around a quarter of people surveyed believed that the NHS is contributing to climate change; however, the majority supported the NHS's net-zero commitments when informed about them.
33
With this in mind, it is important that clinicians take the opportunity to make the appropriate connections between health problems and climate change during consultations.
For instance, increased physical activity and improved access to nature-based health interventions (green prescribing) can improve both the physical and mental health of an individual and their carbon footprint. Social and environmental prescribing has been shown to enhance patients' health and wellbeing while reducing medication usage, practice attendance, and wider NHS attendances.12 Clinicians can therefore inform patients about the physical, psychological, and social benefits of nature-based activities that are ecologically friendly.34
Understanding the practice's patient population, and having positive conversations involving practical advice, is essential for clinicians wanting to promote sustainable and healthy activities among their patients. Given the time pressures associated with consultations, clinicians may decide to focus on one piece of practical advice at a time, tailored to the individual patient's needs (see Box 3). Involving patient participation group members in practice actions may also be beneficial.
Box 3: Practical, Sustainable Actions to Suggest to Patients During Consultations32
Food
Considering a plant-based/vegetarian diet
Eat seasonal vegetables (healthier, cheaper, fresher, and tastier)
For meat eaters, have a meat-free day during the week
Use herbs grown in your own garden
Consume local and seasonal products where possible.
Active Travel/Exercise
Start walking or cycling
Enjoy local parks and green spaces in the local environment
Stop smoking.
Women
Consider bamboo-based, rather than cotton-based, sanitary products
Consider reusable pads/menstrual cups, where safe and appropriate.
Medicines
Use and dispose of inhalers optimally
Return used, unwanted, and expired medications to the pharmacist
Do not flush medicines down the toilet.
Activities
Plant trees (e.g. the Plant-for-the-Planet initiative allows people to sponsor tree-planting around the world)
Form local groups or joining existing initiatives
Participate in smaller projects in the community, e.g. supporting a local school in educational initiatives
Garden in communal areas.
Clinicians can also consider other actions in everyday life that are environmentally sustainable, and mention these to patients (see Tip 10,
Implement the 'Five Rs' of Waste Management
).
8. Reduce Unnecessary Visits to the Practice
The NHS long term plan commits to delivering high-quality patient care while also reducing health inequalities and carbon emissions (for example, through digital care, reduced staff/patient travel, and self-care/self-testing).3,6 Some simple measures in this area can also reduce costs, travel time, and unnecessary healthcare appointments.
Consider Efficient Appointment Timings for Patients
Making the appointment-booking process more efficient may help to reduce needless patient visits to the practice. For example, a patient with a learning disability needing an annual health check, medication review, and diabetes check could do these in one visit (instead of three).
Remote Consultations/Hybrid Working
Remote consultations (by video or telephone) and the use of digital technologies are suitable for certain patient interactions (such as reviews of stable asthma or skin problems like acne and pigmentation, the provision of fit notes, or the sharing of test results), and they offer greater flexibility and reduced travel time. Clinicians can also encourage patients to register online to review their medical records and results, saving time and unnecessary travel to the practice. Hybrid working offers flexibility as well, and may increase staff retention.
9. Recommend Active Travel for Staff
A simple step clinicians can take towards a more sustainable practice is to encourage staff to walk or cycle to work, or to share cars when possible. Moving away from cars and towards cycling, walking, and public transport decreases air pollution and improves physical activity. Employees can join the Government-supported Cycle to Work Scheme,35 and practices may wish to install bike lockers and changing facilities if required, as well as electric vehicle charging points for cars and bikes.20 Signing up to the Active Practice Charter can also help the practice to become one of a national network of practices making positive changes in staff and patient welfare.36
10. Implement the 'Five Rs' of Waste Management
One fundamental improvement would be to incorporate the 'Five Rs' (refuse, reduce, reuse, repurpose, recycle) at the practice—to minimise landfill waste and reduce carbon emissions (Box 4). Medical equipment and instruments are particular contributors to NHS carbon emissions, but these are used minimally in primary care; nevertheless, there is still room for improvement, especially regarding aprons, gloves, and minor surgical instruments, including specula.
Box 4: Actions to Implement into Practice Culture—Refuse, Reduce, Reuse, Repurpose, Recycle3,20,23,37
Refuse
Say 'no' to things that you do not need
Refuse to buy wasteful or nonrecyclable products.
Reduce
Put up signs reminding staff to print only if necessary, and encourage double-sided printing
Only print pathology forms when patients attend for the test
Opt for office snacks with compostable or recyclable packaging
Reduce single-use plastics, plastic packaging, and so on
Optimise existing stocktaking practices (i.e. order only what is used, ensure that resources are used before their expiration date, and avoid over-ordering)
Reduce waste from overdiagnosis and overinvestigation in primary care; consider digital prompts/templates
Switch off lights and electronic appliances when they are not in use
Change lightbulbs to LED equivalents.
Reuse and Repurpose
Encourage staff to reuse as many items as possible, instead of buying new ones
Encourage the use of reusable water bottles, plates, and coffee cups
Use scrap paper and paper clips instead of post-it notes
Consider adopting Sharpsmart® reusable sharps bins
Prioritise refurbished, repaired, and reused items over new ones (e.g. blood pressure or ECG machines)
Consider how existing or second-hand items can be utilised (e.g. using an old projector stand as a standing desk).
Recycle
Recycle whatever you can—particularly paper, plastic, metal, and glass
Increase paper recycling by ensuring each room has a box to put paper in (while ensuring appropriate disposal of confidential paper)
Recycle food waste into compost, or as food for a local farm
Recycle all fabric—even stained or ripped clothing
Recycle all electronics
Consider how to recycle 'hard-to-recycle' items, such as lotion tubes/pumps, medicine blister packets, or printer toner.
LED=light-emitting diode; ECG=electrocardiogram
11. Inspire Your Team to Help with SusQI Projects
In 2022, the RCGP curriculum introduced the principles of sustainable clinical practice into postgraduate training with the topic guide Population and planetary health, linking these principles to the core capabilities of Being a GP.38 In light of this, the clinical team—including students, trainees, nurses, pharmacists, and GPs—will benefit from being involved in sustainable quality improvement projects (SusQI).23 Some examples of SusQI activities are listed in Box 5.
Box 5: Examples of SusQI Activities14,26,28,39,40
Prescribing Behaviours
Deprescribing (e.g. reducing anticholinergic burden, minimising opiates for chronic pain)
Encouraging social prescribing or nature-based interventions
Developing better and greener asthma care (see Tip 6, Reduce the Carbon Footprint of Inhaler Prescribing)
Favouring Vagirux® (one reusable applicator) instead of Vagifem® (multiple applicators).
Chronic Disease Management
Focussing on patients with the greatest health needs
Empowering patients towards self-management
Preventing complications (e.g. supporting endometrial protection for patients with PCOS).
Procurement and Consumption Patterns
Considering the environmental sustainability of providers and products.
Staff and Patient Surveys
Improving attitudes towards and awareness of green issues
Considering and changing travel patterns (e.g. reducing the length and frequency of journeys; using more sustainable transport modes).
PCOS=polycystic ovary syndrome
12. Showcase/Celebrate Achievements
It is important to acknowledge, share, and celebrate the achievements of teams and individuals who are contributing to carbon reduction and sustainable healthcare, however small they may seem, to motivate them and promote further improvements.23
Summary
To benefit the health and wellbeing of current and future generations, GPs and their teams should view clinical care through a sustainability lens. Everyone has a role to play in countering climate change, and every positive change made will bring benefits to staff, patients, society, and the planet. Reducing a practice's carbon footprint not only helps to mitigate climate change, but can also improve patient health, reduce workload, and save money.
Implementation Actions for Clinical Pharmacists in General Practice
written by Riad Choudhury, Clinical Services Pharmacist, Soar Beyond Ltd
The following implementation actions are designed to support clinical pharmacists in general practice with implementing guidance at a practice level.
According to the Royal Pharmaceutical Society, approximately 25% of NHS carbon emissions are caused by the manufacture, procurement, transport, and use of medicines.[A] Therefore, pharmacists have a responsibility and an opportunity to support the NHS's aim of achieving net-zero carbon emissions by 2045.[B] The work carried out by clinical pharmacists to optimise medicines has the potential to deliver improvements for sustainability and the greener prescribing agenda.
Clinical pharmacists in general practice can support the development of a greener practice by implementing the following practical actions:
Reduce the carbon footprint of inhaler prescribing, but change inhalers safely and effectively[C]

Follow national guidelines to optimise treatment for COPD and asthma. When clinically appropriate, offer DPIs or SMIs as the first option. If a pMDIs is needed, choose the brand and treatment plan carefully to minimise carbon footprint. Ask patients to return their unused or unwanted inhalers back to community pharmacies or dispensaries for recycling
Focus on finding the right medication and device for each individual in consultation with them and their carers through shared decision making. Assess and optimise inhaler technique at every opportunity. Follow up with patients to ensure device suitability and disease control. Avoid blanket switching if changing the device type or medication

Undertake medicines optimisation[A] 

Review medication regularly to improve adherence and reduce waste, and deprescribe when appropriate

Practise low-waste prescribing[D],[E] 

Switch to less carbon-intensive options. Avoid placing unnecessary orders from third parties. Encourage patients to use the NHS app for patient-led ordering, and advise them to only order what they need. Ask patients to check that their prescriptions are correct upon collection before leaving the pharmacy—medication returned before the patient leaves the pharmacy can be reused

Discuss preventative care to limit unnecessary medication use[A]

Talk to patients about improving their health by undertaking lifestyle changes such as smoking cessation, healthy eating, and exercise.
For more information on reducing the carbon footprint of inhaler prescribing, take the COPD module on the i2i Network. The i2i Network offers free implementation resources and a suite of training to clinical pharmacists in general practice on a range of long-term conditions. Become a free member at www.i2ipharmacists.co.uk/ or find out more about our services at www.soarbeyond.co.uk.
[A] Royal Pharmaceutical Society website. Sustainability policies. www.rpharms.com/recognition/all-our-campaigns/policy-a-z/sustainability-policy/policies (accessed 13 February 2023).
[B] NHS England and NHS Improvement. Delivering a 'net zero' National Health Service. London: NHSE&I, 2020. Available at: www.england.nhs.uk/greenernhs/wp-content/uploads/sites/51/2020/10/delivering-a-net-zero-national-health-service.pdf
[C] Greener Practice. How to reduce the carbon footprint of inhaler prescribing, a guide for healthcare professionals in the UK. Greener Practice, 2021. Available at: s40639.pcdn.co/wp-content/uploads/Reducing-Carbon-Footprint-of-Inhaler-Prescribing-v3.3.2.pdf (accessed 13 February 2023).
[D] NHS England. 10-point green plan for practices 2022 to 2023. Cheshire: NHS England South West, 2022. Available at: www.england.nhs.uk/south/wp-content/uploads/sites/6/2022/06/10-point-green-plan-for-practices-2022-to-2023-1.pdf
[E] Greener Practice website. Reducing waste in health care. www.greenerpractice.co.uk/information-and-resources/organisational-considerations/reducing-waste-in-health-care/ (accessed 13 February 2023).
COPD=chronic obstructive pulmonary disease; DPI=dry power inhaler; SMI=soft-mist inhaler; pMDI=pressurised metered-dose inhaler