Dr Vasumathy Sivarajasingam Explains the Importance of Effective Human Resource Management, Offering 10 Top Tips for Primary Care
Read This Article to Learn More About:
the definition and functions of human resource management (HRM)
opportunities and challenges related to HRM in general practice
the benefits of clear, concise HRM plans, policies, and procedures for staff and patients.
Human resource management (HRM) is the strategic management of the people in an organisation, and aims to develop and maintain an effective workforce.1,2 It is an integral part of any institution, and plays a key role in organisational development and success.2 Without proper HRM, it would be a struggle to successfully recruit and retain employees, improve and develop the organisation, and cultivate a healthy, positive working environment.1 In fact, HRM facilitates many aspects of employees' personal development: it can safeguard their dignity in the workplace, provide an environment that uses and furthers their professional creativity, and foster healthy interpersonal relationships between individuals.3
HRM can be challenging, but it can also be extremely rewarding when it is done well. This is certainly the case in healthcare, in which the delivery of high-quality, efficient, and equitable patient care relies on the knowledge, skills, and attitudes of the people delivering it.4 The development, motivation, management, maintenance, and retention of staff are essential for creating a balance between increasing the workforce and enabling practitioners to practise effectively and safely.4 Healthcare professionals' concerns about pay, training, and promotion opportunities must also be recognised in any healthcare system for that system to be effective.5 Therefore, HRM is essential for improving the delivery of healthcare services and, in turn, overall patient health outcomes.4
General practice is considered the bedrock of the NHS.6 The vision for general practice of the Royal College of General Practitioners (RCGP), illustrated in its 2019 policy document Fit for the future: a vision for general practice, is that it should 'have the skills and resources it needs to meet the healthcare needs of the population' by 2030.6 The document emphasises the importance of prevention, diagnosis, and treatment of disease, alongside the empowerment of patients to live healthy, fulfilling lives.6 This is a radical change from the conventional, biomedical model of healthcare, which focuses on health exclusively in terms of biological factors; the shift also requires expansion of the practice team to generate a multidisciplinary workforce consisting of a range of clinical and nonclinical roles that can offer a wider range of services.6 The RCGP considers this approach essential for providing more holistic, enhanced care, and sees HRM as one area in which significant development and professionalisation will improve healthcare systems.6 Well-defined career pathways, consistent competency frameworks, and better access to training opportunities are all crucial developments that may facilitate this evolution of HRM in general practice.6
A strong understanding of HRM and its associated challenges is required to ensure the successful functioning of the primary care team.4 However, there is very little—if any—formal training in HRM during undergraduate and postgraduate training years. For example, the 2019 RCGP curriculum only mentions HRM in passing, requiring that trainees 'develop the financial and business skills required for [their] role'.7 When we embark on a career in primary care, many of us immediately encounter people-management issues and, regrettably, this critical branch of managerial skill usually has to be learnt on the job.
This article aims to help GPs and other practice staff to understand the crucial role of HRM in primary care, and includes useful information about the challenges currently affecting the implementation of HRM in general practice.
1. Identify the Core Functions of HRM in Primary Care
The key role of HRM is to ensure that a practice is working legally and effectively—adhering to guidelines and regulations and solving any liability concerns—while maintaining staff satisfaction and development.2 Under this umbrella term of HRM, it is generally accepted that there are seven core functions, outlined in Box 1, which contribute to employee retention, wellbeing, motivation, and performance.1,8,9
Box 1: The Seven Core Functions of HRM1,8,9
Recruitment and selection—this involves developing staffing plans, writing job descriptions, setting salary budgets, advertising, screening, interviewing, and making offers of employment; this is a particularly important role in light of current workforce shortages in primary care
Training and development—this involves developing employees' confidence and motivation by keeping their knowledge and skills up to date; it can also include CPD, communication training, team building, policy and legal training, and job skills training
Employee relations and communication—this involves preventing and resolving disputes between employees and management, as well as helping to create, implement, and ensure employees are aware of fair and consistent policies (for example, fair compensation, reasonable working hours, and disciplinary procedures); monitoring and preventing burnout is another key facet of this role
Performance management—this involves monitoring employees' progress and evaluating their performance, behaviour, and effectiveness, including through regular appraisals
Compensation and benefits—this can cover areas such as pay, pensions, holidays, sick leave, childcare facilities, healthcare benefits, and more
Administration, payroll, and HRM systems—this involves organisational tasks such as calculating and paying taxes, maintaining employee data, and organising payroll
Employment law and compliance—this involves ensuring that organisational policies, procedures, and processes comply with the latest regulations and are followed; adherence to employment law is essential for practices to avoid legal complications or discrimination, and to ensure equality and safety for all staff; privacy and adherence to data laws and GDPR are other considerations that must be addressed.
HRM=human resource management; CPD=continuing professional development; GDPR=General Data Protection Regulation
2. Understand the Importance of HRM and Compliance
Practice Organisation, Staff Wellbeing, and Service Delivery
HRM is essential for the smooth running of any practice. Behind the scenes, HRM teams work hard to ensure that the practice is running as smoothly as possible while keeping within its budget.9 When done well, HRM can lead to the effective and efficient delivery of services for administrative staff, clinical staff, and patients.9
HRM staff are also responsible for ensuring a suitable distribution of clinical and nonclinical staff in a practice,4 so that the needs of the practice are met effectively; both teams are essential for the delivery of patient services, and one would not work without the other.
In 2009, the Boorman report stressed that staff health and wellbeing are essential for the delivery of high-quality patient care in the NHS,10 and a group of studies by independent researchers has made the same association, linking better quality of services with greater staff engagement, advocacy, motivation, and involvement.11–13 One study stressed that more effective HRM practices, including effective appraisals and high-quality training, are key to better outcomes for patients and organisations.11 In another, good staff engagement was linked to lower absenteeism, higher patient satisfaction, higher-quality financial management, and lower patient mortality.13 Without effective HRM, therefore, the quality of patient care at a practice would likely decline.9
Ethics and Compliance
In addition to making sure that a practice runs smoothly, HRM staff are also accountable for ethical and compliance matters.9,14,15 It is essential that ethical matters—both medical and social—and issues between employees and patients are handled appropriately because all organisations and employees need to comply with employment law, rules, and regulations.15 In healthcare in particular, HRM requires a proactive approach to meeting legal obligations.15 Day-to-day responsibilities include health and safety considerations, contractual issues, and statutory workplace entitlements.15 Fair recruitment policies, workplace discrimination, and fair pay are other ethics and compliance concerns that are within the remit of HRM.15 This means that HRM staff need to keep abreast of any changes in employment law, as failure to meet legal obligations can lead to disputes and tribunal claims.15
Actively taking steps to support staff welfare beyond simply complying with the essential legal requirements has additional benefits for staff and practices. Examples include offering better employment terms, such as more annual leave or flexible working patterns, or providing a better working environment, both of which show that the practice cares about the wellbeing of its staff, and would likely help with recruitment and retention.15,16 In a 2018 study of the adult social care workforce in Devon, for example, employers with an annual staff turnover of less than 10% ascribed this success to investing in learning and development, embedding the values of their organisation, celebrating achievements, and involving colleagues in decision making, all of which are important HRM considerations.16
3. Recognise the Evolving Role of HRM and the Impact of the COVID-19 Pandemic
The NHS must adapt to the changing needs and expectations of the UK populace—from the ageing population, to the changing demographics of the workforce, to the increasing emphasis on prevention over treatment in healthcare.17 These changing requirements may be met in part by digital technologies, remote working, and technological and scientific innovation in the areas of artificial intelligence and genomics, which may contribute to the evolution of the workforce and transformation of working patterns and organisational boundaries.17
The future of NHS human resources and organisational development, a 2021 report by NHS England and NHS Improvement (NHSE&I), outlined a vision and action plan intended to deliver the four pillars of the People Plan 2020/2021 by 2030, incorporating the seven elements of the People Promise (see Figure 1).17 In the document, it is stressed that healthcare professionals must be encouraged to 'be their very best and reach their full potential',17 so that they can deliver the highest quality of care possible. This emphasis on supporting those who work in the NHS underlines the importance of developing and implementing HRM policies and processes.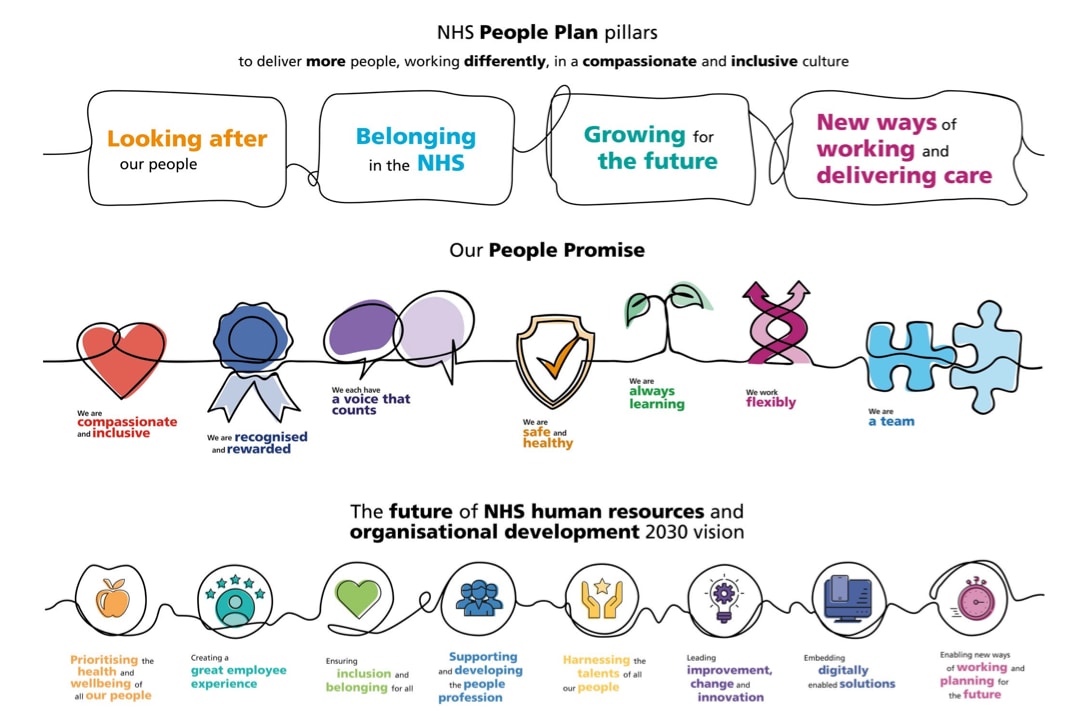 The COVID-19 pandemic created some complex challenges for HRM teams (for example, remote working and its impact on wellbeing, individual risk assessments of personnel, flexible working, and hybrid working patterns).18 These challenges warranted solutions that ensured continuity of services while also supporting the employees coping with the crisis. Furthermore, HRM faced additional challenges caused by the direct impact of the pandemic on staff welfare.18 Processes had to be adapted to establish a healthy work culture and a healthy work–life balance for each person.17 In many ways, the pandemic brought the key role of effective HRM into sharp focus.10–13,17
It is also a time of development and increased demand for HRM because of the NHS restructure; specifically, the creation of primary care networks and integrated care systems (ICSs), which are intended to transform primary care and increase connections between local healthcare services.19–21 In the context of these changes, both the British Medical Association (BMA) and the RCGP have highlighted the importance of nonclinical practice staff and improvements in HRM in reducing the workloads of GPs and practice nurses.22,23 In particular, the BMA has emphasised the ability of HRM and support staff to reduce the pressure on GPs exerted by the care backlog.22 In addition, NHSE&I has urged ICSs to create HRM systems and organisations that can be universalised across practices, promising to simplify and standardise core NHS HRM policies and processes to make them more consistent and easier to implement countrywide.17
4. Be Aware of the Difficulties Inherent in HRM
There are many obstacles that can prevent HRM from helping staff to deliver high-quality healthcare.4 The list of barriers is long, and includes lack of finance, absenteeism, differences in staff members' values, high turnover, and low morale and satisfaction.4 Challenging staff situations take valuable time, energy, and emotion to tackle—it can be difficult and time consuming, for example, to deal with the persistent lateness of a staff member. It can also be hard to make sense of staff-related administrative issues, such as understanding the rules around pro-rata holiday pay for part-time staff.
Keeping up with any changes to the law and ensuring that the practice complies with them is another difficult and ongoing task for HRM—in healthcare as in any other area.8 Patient records and information have largely become digital, making privacy and compliance with data laws a significant challenge for HRM in primary care.9 It was recently announced that more than 16 million repeat prescriptions were ordered through the NHS app in the past 12 months, indicating the growing reliance of the healthcare system on digital access to healthcare.24 Managers must source appropriate software, and ensure that all staff have the correct access to patient data and training in data protection, and that they adhere to the relevant data laws and policies applicable in both healthcare and general settings.9 General Data Protection Regulation laws, for example, pose a challenge to healthcare HRM because all staff must be aware of and compliant with them.9
5. Develop Organisational Policies for HRM
Effective HRM policies not only improve the performance of an organisation, but also protect its employees in the event of any disputes. In some cases, HRM policies are actually a legal requirement: any organisation with five or more employees, for example, must have a written health and safety policy.25 Box 2 contains some practical tips that may assist in the process of making and enacting policies within a practice.
Box 2: Tips for Making and Enacting Policies in General Practice
Develop procedures and policies that align with your practice's mission, vision, and goals

be aware of how they could support the ongoing development and wellbeing of staff

for example, having a fair and transparent appraisal process will help the practice to ensure that staff meet the objectives of the organisation while developing their own skills

Update policies regularly and share them with the whole team

remind staff of the importance of reviewing policies—in particular, policies related to safety and risk management, discrimination and bullying, and other, similar topics
ensure that information is easily accessible to those who need it

Communicate effectively

encourage open communication and share relevant information

this creates a culture in which employees feel free to give suggestions and collaborate to improve the practice

Offer training sessions whenever possible

encourage managerial leads to revisit any learning needs, either on an ad-hoc basis or when a learning opportunity arises

Create an organisational chart

knowing the hierarchical structure of the practice will help members of the team to understand who they report to

this is particularly crucial when encountering disputes, such as formal complaints or disciplinary issues, as the correct process will be easier to follow

Acknowledge any concerns raised by staff, whether informal or formal, and act promptly

this will reassure the staff concerned that their voice has been heard, and reduce any consequential anxieties or ill health.
6. Decide Who Handles HRM in Your Practice
There are several ways to organise HRM for a practice: it could be coordinated by one person who is in charge of the entire practice, run by a team led by a human resource manager, or outsourced to an external organisation.8,15
It may be difficult to ensure that a practice's legal obligations to its staff and patients are being met, particularly if HRM is organised by a manager or GP partner.15 Some legal responsibilities may seem relatively simple (such as complying with the national minimum wage), but others may not (for example, following a fair, nondiscriminatory recruitment policy that accords with equality laws).15 Therefore, to ensure compliance and promote staff wellbeing, HRM must be appropriately resourced, and the staff in charge of HRM must understand the organisation's obligations and be able to identify areas where action or training is needed.15
It is easy to overlook HRM issues concerning increased workload and external pressures, particularly if HRM is perceived to focus on just recruitment and discipline.26 Managing staff takes time and requires specific skills, especially considering the complexities of employment law, and many practice owners may not feel comfortable taking it on themselves. Failure to follow policies and procedures in a timely fashion may prove to be a costly mistake, and can affect employee satisfaction, workplace culture, and the long-term success of any organisation. When staff feel unsupported, work long hours, or are not given opportunities to develop, there is a knock-on effect on their motivation to perform well.26 In the NHS specifically, it is clear that low levels of employee wellbeing are linked to higher absenteeism, higher staff turnover, and worse patient outcomes.11–13 In contrast, better HRM policies are associated with greater wellbeing and health of staff.12 Ultimately, the practice may suffer if HRM is organised by unskilled and inadequately trained personnel.
Depending on the size of the practice, it may be beneficial to consider outsourcing HRM to an external company, thus keeping the practice compliant and the staff engaged while allowing them to give their undivided attention to the delivery of good-quality patient care and the growth of the business. When considering outsourcing, it is important for practice managers to assess which HRM functions to keep in house and which to outsource; this will vary based on the time, resources, and expertise available in each practice.8
7. Involve HRM at the Highest Level of Strategic Planning
Given the evolution of the primary care team at present, HRM should not be viewed in isolation. HRM teams should be involved in all areas of the organisation (including strategy, finance, and operations), not just the functional and managerial aspects. NHSE&I's 2021 action plan for HRM and organisational development stresses that most NHS organisations should have an HRM professional on their board by March 2023, as they are a key part of any healthcare body17—there is no reason not to extend this attitude to the practice level.
8. Seek HRM Assistance Swiftly When Needed
In certain situations, particularly ones in which there are legal implications, expert assistance can be vital. It is advisable to seek professional support early in the case of any employee disputes in order to protect the organisation.27 Even if a practice's policies and procedures are up to date and HRM staff have a lot of experience, seeking professional advice on an HRM or employment law matter can be valuable, and should not be avoided.27 Keeping effective, accurate, and up-to-date records of any incidents is paramount at all times.27
In my experience, it is best to carefully consider all of the options proposed by the experts and follow their advice, even if you do not agree with all that is recommended. Be mindful that the advice given is aimed at protecting the organisation—to minimise its exposure and liability related to allegations of unfair employment practices. Following employment law and working in line with best practice at all times is best for employers, employees and, ultimately, patients.
9. Learn from Mistakes and Receive Regular Training
HRM staff can use any event as a learning process, whether it is a mistake or a success. It may be advantageous to introduce new policies and processes, or adapt those already in place, using professional advice received in response to mistakes or changing circumstances.
It is essential that all managers receive regular training and updates on HRM, both to ensure compliance with policies and laws, and to help them to support their staff's wellbeing and professional development. All staff should be regularly reminded to familiarise themselves with the policies, and encouraged to ask questions.
10. Capitalise on Useful Resources that Are Available
Box 3 contains some suggestions for useful resources to consider when making HRM-related decisions. It is best to seek legal advice in many cases, but it depends on the severity of the situation.
Box 3: Useful Resources
The BMA offers HRM and employment advice to all of its members—bit.ly/3vJW4t428
Your LMC may be able to offer HRM support at a regional level29
State-backed GP indemnity schemes, launched in 2019, cover GP contractors and their staff, any clinical negligence liabilities arising in general practice in relation to incidents that occur on or after 1 April 2019, and any NHS-commissioned work, including out-of-hours work30
The MDU and MPS give medicolegal and HRM advice to their members, and offer training and educational resources designed for general practice staff31,32
Surgery insurance providers often include an HRM helpline service with their insurance package
ACAS is an independent, Government-funded body that promotes good workplace relationships; it operates a national helpline (0300 123 1100), and provides free, independent advice on employment issues to both employees and employers—bit.ly/3JAgom433
BMA=British Medical Association; HRM=human resource management; LMC=local medical committee; MDU=Medical Defence Union; MPS=Medical Protection Society; ACAS=Advisory, Conciliation, and Arbitration Service
Summary
HRM is at the heart of every organisation, be it in healthcare or otherwise, because proper people management is essential for staff wellbeing, motivation, and development. Well-organised HRM is therefore central to the smooth running of any practice—without it, the delivery of high-quality patient care would not be possible.
Dr Vasumathy Sivarajasingam
GP Partner, Hillview Surgery, West London