Dr Vasumathy Sivarajasingam Offers 10 Top Tips on the Role of the GP in Identifying and Supporting Patients Experiencing Domestic Abuse
Read This Article to Learn More About:
the many forms of domestic abuse (DA) and their impact on patients and their families
screening tools for use in general practice to assess the risk of DA
phrases to use to open up a conversation about DA with patients
sources of help and support for patients living with DA.
Domestic abuse (DA) is a global public health problem and a violation of human rights. Although it is almost invisible in primary care, DA can affect people of all genders and sexualities and have an enormous impact on the wellbeing of victims and their families.

The Crime Survey for England and Wales for the year ending March 2020 found that approximately 5.5% of adults aged 16–74 years (equating to 2.3 million people) had experienced DA in the preceding year.1 Most victims of domestic homicide are women; on average, two women are killed by their partner or ex-partner every week in England and Wales.2,3 For the year ending 31 March 2017, the estimated annual cost of DA to health services, including both emotional and physical health costs, was more than £66 billion.4

Since lockdown began, the National Domestic Abuse Helpline has experienced a 50% increase in calls compared with pre-COVID-19, and a 400% increase in visits to its website.5 Similarly, in May 2020, the National Society for the Prevention of Cruelty to Children helpline received its highest number of contacts about DA since records began in 2016.6

The tips in this article focus on how primary care clinicians can identify and support victims of DA, especially during the COVID-19 pandemic.
1. Be Aware of the Extent and Risk Indicators of DA
Domestic abuse is defined as any abusive, coercive, or controlling behaviour between adults who are or have been intimate partners or family members.3 DA can take many different forms, including physical, sexual, emotional or psychological, verbal, and financial abuse.3 DA can happen to anyone, regardless of age, ethnicity, gender, sexuality, class, or geographic location;3 however, some groups in the population are at higher risk of DA (see Box 1).3 Clinicians should be especially aware of the 'toxic trio'—DA associated with substance abuse and mental illness.
Box 1: Populations at Increased Risk of DA3
Women
Young people
Women who are pregnant or new mothers
People with substance abuse problems
People with mental ill health
Individuals with a chronic illness or disability
People who are isolated or disadvantaged for cultural or language reasons
People who have previously experienced DA or sexual assault
Individuals who have left a violent relationship
People who have been subject to stalking.
DA=domestic abuse
Victims of DA find it very difficult to disclose their experience of abuse—reasons for this include:3
the victim's perception that the abuse may escalate
loss of self-confidence
shame, embarrassment, or stigma
cultural reasons
the victim may still love their partner
concerns that children may be removed from their care
fears that they will not be believed or cannot be helped.
2. Be Alert to Comments, Behaviours, and Symptoms that May Suggest Abuse
Clinicians are encouraged to look beyond what patients are saying in the hope of identifying victims of DA—be hypervigilant to signs of abuse that can be exhibited by any adult or child. In addition, when conducting a discussion with patients presenting with indicators of DA, NICE recommends that: 'Health and social care practitioners should understand equality and diversity issues and ensure that assumptions about people's beliefs, values, gender identity, or sexuality do not stop them from recognising and responding to domestic violence and … abuse'.7
Children Living with DA
According to Women's Aid, one in seven children and young people aged less than 18 years will be affected by DA at some point in their lives.8 The impact of abuse on a child varies according to the child's resilience and their particular circumstances and characteristics.8 As a result of witnessing DA, children can experience both short- and long-term cognitive, behavioural, and emotional effects; children who are themselves the victims of DA may suffer direct physical consequences, including injuries and death.8 Some children may blame themselves for the abuse.9

Children are individuals, and their responses to witnessing or experiencing abuse may vary. They may experience feelings of anger, guilt, insecurity, loneliness, fear, powerlessness, or confusion, and may develop ambivalent feelings towards the abusive and the non-abusive parent or guardian.8 Children who witness DA may exhibit psychological symptoms such as aggression, anxiety, depression, and withdrawal; they may report physical symptoms such as bed-wetting or stomach ache; and they may display antisocial behaviour, self-harm, abuse drugs or alcohol, and have problems at school.3,8 Every situation is unique, and the assessment should consider risk and protective factors.
Employees Experiencing DA
Employers have a duty of care to their employees and a legal responsibility to provide a safe and effective work environment. According to guidance issued by the DH and SafeLives, 'The workplace can be a lifeline for survivors of domestic abuse as it offers an opportunity to seek help'.10

Signs that an employee may be experiencing DA include:10
unexplained injuries
decreased productivity
frequent lateness or absence
changes in behaviour.
Because these behaviours may lead to disciplinary action, it is important to establish their cause; the safety of people experiencing DA should be prioritised over productivity in cases of DA.10
3. Consider the Impact of COVID-19 on the Prevalence of DA
The number of reported cases of DA has increased since lockdown began in March 2020;11 as a result of social distancing and lockdown restrictions deemed necessary to control the spread of the disease, more people at risk of abuse are forced to stay indoors with their abusers. Likewise, adults and children who live with DA have no escape from their abusers during quarantine.12 Social restrictions and stay-at-home orders may also amplify pre-existing mental and psychosomatic distress reactions (for example, depression, anxiety, insomnia, or obsessive–compulsive disorder).12 In addition, such measures have also reduced the ability of victims to access external support.12

Given the reluctance of victims of DA to report their abuse,3 the increase in reported cases of DA since lockdown began has prompted concerns that unreported cases of DA have also increased.13
4. Understand the Role of the GP in Safeguarding Patients
General practitioners are not specialist DA workers and are not expected to provide a specialist service. However, we are in a unique position to help victims of DA—we are often the victim's first or only contact and represent a lifeline to safety.

Data published by SafeLives show that victims of DA experience abuse for an average of 3 years before getting help and visit their GP an average of 4.3 times during this time.14 Some victims of DA, including older individuals, Black, Asian, and minority ethnic people, and/or people with a disability, are likely to endure abuse for much longer before disclosure.14 Many people experiencing abuse believe that their GP can be trusted with disclosure and GPs can offer practical support to protect people who disclose abuse. GPs are often able to develop a good relationship with a patient over time, which increases the chance of the patient disclosing abuse and seeking advice.

As GPs, we also have an important role to play in assisting people experiencing DA because we deal with injuries caused by abuse in our day-to-day work. We have a duty to do everything we can to help and support victims of DA, and by doing so could potentially save their lives. We must recognise DA, respond, refer appropriately, and record.
5. Adopt an Open and Non-judgemental Approach
Clinicians can be reluctant to ask about DA directly; however, research has shown that women experiencing DA consider it appropriate that healthcare professionals ask direct questions about abuse.3 Different patients will be at different stages in their readiness to disclose their experience of abuse and may minimise it.

Once you recognise that a patient is experiencing DA, it is important to approach the issues tactfully and sensitively. Make sure that the environment is comfortable, so that patients feel able to disclose information freely. Aim to carry out discussions with the patient in private on a one-to-one basis. Healthcare practitioners should also ensure that professional interpreters are used when needed; do not use family members or friends.7

Healthcare professionals should ask open questions, respond in a non-judgemental and understanding way, and offer referral to a specialist if appropriate. Ways to start the conversation include:
'Do you have anything to tell us?'
'Do you want to tell me what has happened?'
'Has anyone hurt you or upset you?'
'Would you like to talk to someone?'
Validate a patient's answers by saying:
'I believe you'
'I am glad that you have told me'
'It's not your fault/you're not to blame'
'I am sorry that this has happened to you.'
It is important to reassure the patient and make them aware of the confidential nature of the conversation, but that there are limits to confidentiality, particularly when children or vulnerable adults are involved.
6. Acknowledge the Challenges of New Ways of Working Necessitated by the Pandemic
Stay-at-home and social-distancing orders have restricted access to many channels of support for victims of DA, and those who have been isolated with their abusers have had to find alternative means of accessing support. New ways of working necessitated by the COVID-19 pandemic—such as video, email, and telephone consultations—have made identifying, approaching, and supporting patients experiencing DA even more challenging. In-person contact with victims of DA is now scarce; it is rare for these patients to come to the surgery alone. With remote consultations, it is hard to assess who is present while the call takes place, and victims of DA may find it difficult to say what is happening to them.

We need to reach out to patients at risk of DA and refer them to the appropriate support and help. NICE Quality Standard 116 does not recommend routine screening for or enquiries about DA;7 however, the Pathfinder guidance issued by the DH and SafeLives recommends that GPs make enquiries, setting a low threshold for asking questions, and using the information from the interaction with the patient to make an assessment.14 The World Organization of Family Doctors webinar on family violence during the COVID-19 crisis emphasises that any contact between the patient and the healthcare system is a window of opportunity to diagnose abuse or neglect.15

Given the unprecedented challenges posed by the pandemic, it is good clinical practice to ask all patients about DA routinely, in line with the Pathfinder guidance,14 even where there are no indicators of abuse. This not only ensures victims are identified, but also raises public awareness of DA. Furthermore, this may even prompt perpetrators of DA to recognise and seek support.

It is challenging for clinicians to know how best to phrase questions regarding DA, especially during remote consultations and in a busy clinic. One option is to consider using a universal, unobtrusive screening tool.
7. Consider Using Screening Questions in Triage/Remote Consultations to Assess Risk
Assessment tools and guidelines are available to help promote the recognition of and outline the support available to people experiencing DA.16,17 Evidence suggests that routine screening for DA improves victim identification in healthcare settings.18

Lack of time is a barrier to effective screening for victims of DA, but this can be overcome by self-administered screening.18,19

Ideally, given the time constraints of a busy general practice, we need a short, simple, and precise screening tool.
The WAST-Short Screening Tool
The Woman Abuse Screening Tool (WAST)-short was developed in Canada and is used by family doctors to identify and assess women who are being subjected to emotional and/or physical abuse by their partner.20,21 It consists of the first two questions of the full WAST tool (see Figure 1),21,22 which assess the degree of tension and difficulty of resolving arguments within a relationship, and has demonstrated good validity and reliability for discriminating between abused and non-abused women.21 If a woman answers affirmatively to these two questions, the clinician can then use the remaining WAST questions, or other appropriate questions, to elicit more information about the patient's experience of abuse.22,23 At the time that the WAST was developed, 100% of clinicians surveyed reported feeling comfortable asking the WAST questions, and 91% of respondents reported feeling comfortable or very comfortable being asked the questions.20

The WAST-short questionnaire has been widely used in other countries—it has a sensitivity of 91.7% and a specificity of 100%, validated in the US by both the Centers for Disease Control and Prevention and the National Institutes of Health.23 Regarding self-administered screening for DA, the WAST-short has been shown to be the most cost-effective tool.19

Non-gender specific screening questionnaires like the WAST-short can be incorporated into daily consultations in general practice because they only take a few minutes to conduct (see Figure 1). Furthermore, the WAST questionnaire uses words that do not describe violence directly, which may be more acceptable to some clinicians and patients, particularly for cultural reasons. Developing a template that is integrated with primary care information technology systems will enable accurate, consistent recording with ease.

Asking all patients the same standard questions can help to legitimise the need for a conversation about DA and effectively communicate to a victim that they are not alone in their experiences.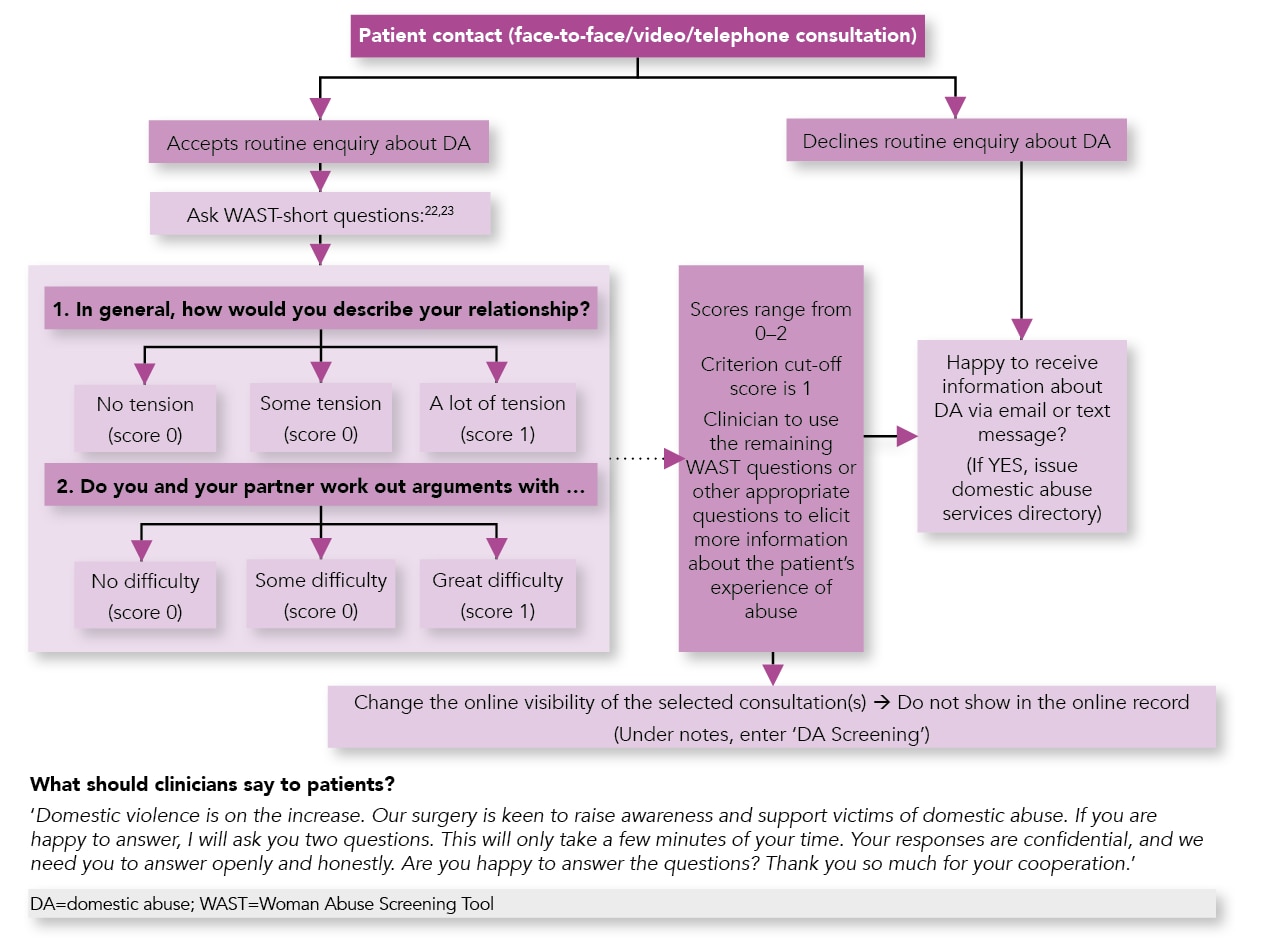 8. Offer Training to the Whole Team
Many healthcare professionals lack confidence in making routine enquiries with sensitivity or having 'difficult conversations' about DA. They may also lack awareness of the signs of DA or skills and/or knowledge about the support available.

To alleviate this, encourage staff to complete training modules on DA and safeguarding adults and children and keep up to date. It may also be helpful to organise formal (for example, by IRISi24) or informal, in-house training for the whole team. Training will enhance the knowledge and skills that healthcare professionals need to support victims, including their understanding of epidemiology, safety risks, attitudes and perceptions about DA, referral pathways, available support services, and appropriate ongoing follow up by the clinician. Furthermore, it provides support for staff and ensures that the safety and general wellbeing of each staff member is addressed.

By inspiring staff to share their experiences (for instance, with colleagues, line managers, nominated 'DA champions', or safeguarding clinicians) in informal or formal meetings, it is possible to create a culture of open, honest discussion and break down the stigma around DA. This may help staff who are victims of DA to come forward; furthermore, it may help staff to recognise signs of DA in their colleagues and prompt them to disclose abuse if they are victims.

Having support systems in place for all staff (such as an Employee Assistance Programme) is valuable because working with victims may raise personal issues, particularly if you yourself have been in an abusive relationship; it is important to manage your personal needs as well as those of your patients.
9. Be Proactive and Promote your Practice as 'DA Aware'
Promote your surgery as a 'DA-aware practice' through channels such as the surgery website, Twitter, YouTube, and newsletters, and by displaying posters in waiting areas and/or toilets—this will raise awareness and break down the stigma among staff and patients. It is important to create an environment in the practice in which staff can openly discuss the topic in order to provide a supportive workplace.
10. Signpost Sources of Support
Providing useful resources for those experiencing DA and advice on where and how to seek help (for example, charities, national helplines) on the surgery website, and sharing up-to-date information with patients electronically, will help to support victims of DA. For a list of resources, see Box 2.
Box 2: Sources of Support for People Experiencing DA
Resources for Patients
General:
For women:
For children and young people:
For men:
For perpetrators of DA:
Resources for Healthcare Professionals
DA=domestic abuse; NSPCC=National Society for the Prevention of Cruelty to Children; DHSC=Department of Health and Social Care; PHE=Public Health England; MARAC=Multi Agency Risk Assessment Conference; DASH=domestic abuse, stalking, and honour-based violence; AVA=Against Violence and Abuse
Summary
Domestic abuse is a strategic priority for NHS England and it is 'everyone's business'.25 Increasing awareness of DA is a key preventive strategy. As front-line workers, we need to be proactive in reaching out to our patients experiencing abuse and offering support. In addition, we must ensure that healthcare professionals have appropriate training to improve their knowledge and skills, are aware of the referral pathway to support services, and offer ongoing support to patients. This will make a difference to victim's lives, with associated financial benefits for the health service.10,14

In a busy general practice, we need a short, validated, non-threatening screening tool that can be used for both women and men. Using a universal screening tool like the WAST-short in our daily clinics, we can not only improve the identification of victims of DA, but also help to raise awareness in society of the negative implications of such abuse. In turn, this may encourage people to talk about the issues more openly and combat potential reasons for unreported DA, such as taboo, shame, fear of reprisal, financial implications, and perceptions that help and support is not available.3 An additional advantage is that it may also raise awareness among perpetrators of DA, who may accept support.

Dr Vasumathy Sivarajasingam

GP Partner, Hillview Surgery, West London