Dr Victoria Barber Scrutinises the Role of Primary Care in the Identification of Ovarian Cancer, an Often-Overlooked Malignancy
In the UK each year, there are more than 7000 new diagnoses of ovarian cancer,1 and 4100 deaths are caused by the condition.2 Ovarian cancer is often considered difficult to diagnose, but it has a clear range of symptoms that can be recognised by clinicians who are alert to them. Symptoms can occur at the earliest stage, and early diagnosis improves outcomes—indeed, the proportion of women diagnosed with ovarian cancer who survive 1 year ranges from 97.8% for those diagnosed at stage 1 to 90.7% at stage 2, 74.2% at stage 3, and 56.3% at stage 4.3
Prompt identification and referral of suspected ovarian cancer in general practice is therefore important for improving outcomes. This article provides 10 top tips for primary care clinicians on the identification and investigation of potential ovarian cancer in primary care, covering symptoms, history-taking, investigations, and potential pitfalls to avoid.
1. Recognise and Investigate the Symptoms of Ovarian Cancer
The symptoms of ovarian cancer are not specific to the disease, but they are sensitive for it. The main symptoms are:4,5
pelvic or abdominal pain
persistent abdominal distention (bloating)
early satiety or loss of appetite
urinary urgency or frequency that is greater than usual.
NICE guidance on suspected cancer recommends carrying out cancer antigen 125 (CA125) testing and ultrasound imaging in primary care in an individual who experiences any of these symptoms on a persistent or frequent basis, particularly if the symptoms are experienced more than 12 times per month or the patient is aged 50 years or over.
4,5
Premenopausal women are more likely to have false-negative CA125 test results, but should still be tested if they have suggestive symptoms.
6
Other red-flag symptoms that are associated with ovarian cancer and may warrant testing in primary care include:4,5
unexplained changes in bowel habit
unexplained weight loss
unexplained fatigue.
These symptoms are considered red flags for both ovarian cancer and a number of other cancers—including abdominal cancers (bowel or pancreatic), leukaemia, and lung, prostate, and urological cancers.
4,5
NICE recommends assessing patients with these symptoms for any additional symptoms, signs, or findings that would clarify the most likely cancer,
5
and ovarian cancer should not be overlooked in this assessment.
2. Clarify the Patient's Symptoms When Taking a History
In recent years, general practice has adapted to new ways in which people can interact with a healthcare professional (HCP). A clinician may receive a written statement or a questionnaire in which a patient has ticked off their symptoms, or they may speak with a patient over the phone, in a video consultation, or face to face. 
In any of these scenarios, particularly when considering abdominal symptoms, the language a patient uses may not match the list of symptoms. For example, 'early satiety' may be described by a patient in this way: 'I've got indigestion. I can't eat a normal meal anymore, can't seem to get the food down, don't want to eat.' In this example, the clinician may need to ask supplementary questions to find out exactly what is meant by 'indigestion', and whether it should be interpreted as early satiety, an unexplained change in the patient's bowel habits, or something else.
3. Determine Whether Symptoms Are New, Persistent, and Frequent
NICE guidance emphasises that symptoms and signs of ovarian cancer should be 'persistent or frequent' to warrant testing in primary care.4,5 'Frequent' is described as 'more than 12 times per month', or around 2–3 times per week.4,5 'Persistent' is defined as 'the continuation of specified symptoms and/or signs beyond a period that would normally be associated with self-limiting problems', the period varying based on clinical judgement and the severity of symptoms.5
If a patient is unsure about symptoms or their frequency, or a clinician decides not to organise investigations or referral but does want to review the patient's symptoms, it may be beneficial for the patient to keep a symptom diary, for example by using the template provided by Target Ovarian Cancer (see Figure 1).7,8 A template diary can be printed off at the practice, a link sent to the patient via text or email, or printed copies ordered from Target Ovarian Cancer free of charge and given to patients.9
Figure 1: Target Ovarian Cancer Symptoms Diary7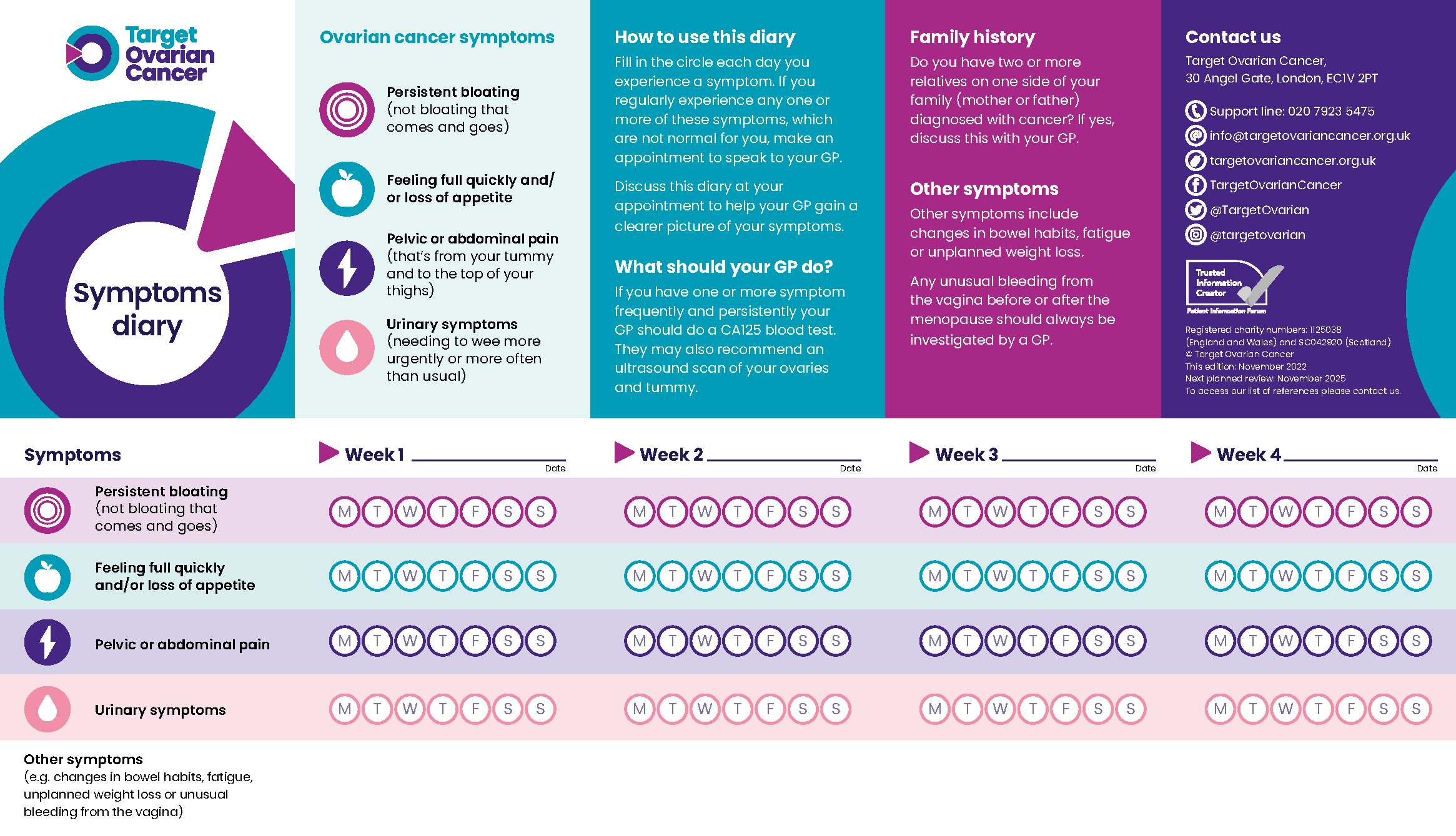 4. Ask About Family History and Consider Genetics
Ovarian cancer is linked to mutations in particular genes, including the BRCA1 and BRCA2 genes and certain others associated with Lynch syndrome.10,11 If an individual has one or more first-degree relatives (such as parents or siblings) with history of breast or ovarian cancer, or two or more second-degree relatives (such as grandparents, cousins, aunts, or uncles), this could warrant further exploration of family history and potentially genetic testing, especially if these relatives were aged under 40 years at diagnosis.11 More specific information is available in the NICE guideline on familial breast cancer12 and in this fact sheet: Familial ovarian cancer: a guide for primary care.11 A NICE guideline on familial testing in ovarian cancer is also due to be published in 2024.13
Men can also pass on genetic mutations. However, only individuals with a breast or ovarian cancer diagnosis and known carriers of mutations from the maternal or paternal line can be used to work out risk.
5. Be Alert to Sterile Urine Results 
It is relatively common for women to present to the GP or nurse practitioner with an apparently straightforward urinary tract infection (UTI)—they have new urinary frequency and urgency—but, when a midstream urine (MSU) sample is tested, the result is negative and is filed without concern. Such patients may then come back and get a second prescription of antibiotics, as the symptoms have not cleared, or they may present several times in a few months with symptoms of UTI. The presence of urinary symptoms without evidence of a UTI should prompt consideration of other conditions14—unless clinicians are aware that sterile MSU results and ongoing symptoms indicate possible ovarian cancer, they may miss this possible diagnosis. 
In this scenario, it is important that patients suspected of having ovarian cancer are advised to return to the GP if their symptoms become more frequent or persistent,4,5 and technology can be used to help with this kind of safety netting. Something as simple as a standard text message could be effective, informing the patient that their urine test was free from infection and telling them to contact the surgery if their symptoms are ongoing. 
6. Do Not Diagnose New Irritable Bowel Syndrome in People Aged Over 50 Years Without Considering Other Causes
Irritable bowel syndrome (IBS) rarely occurs for the first time in people aged over 50 years, and NICE guidance recommends testing for ovarian cancer in any woman in this age group with IBS symptoms.4,5 However, according to the 2016 version of Target Ovarian Cancer's Pathfinder report, 21% of women aged over 50 years who had been diagnosed with ovarian cancer were told that they may have IBS when they initially presented to their GP with symptoms.15
In younger women, a thorough history may help to distinguish between IBS and ovarian cancer as a cause for bloating, with other symptoms indicating one diagnosis or the other. In general, bloating related to IBS tends to come and go throughout the day, be related to meals or stress, and be helped by defaecation.16,17 With ovarian cancer, the bloating tends to last all day, can be there on waking, and is usually unaffected by defaecation.16
7. Utilise CA125 Blood Tests and Transvaginal Pelvic Scans—the Most Useful Tools for Diagnosis
When investigating suspected ovarian cancer, NICE recommends serum CA125 tests and ultrasound scans of the abdomen and pelvis (see Box 1).4,5 
CA125 Testing
CA125 is a tumour marker that is released in ovarian cancer and can be detected using a simple blood test. If a person's CA125 level is below 35 IU/ml, it is considered normal.4,5 However, if it is above 35 IU/ml, clinicians should request an urgent transvaginal ultrasound scan.4,5 If the scan is also abnormal, suggesting ovarian cancer, the patient must be referred urgently via the 2-week-wait gynaecological cancer pathway.4,5
There are a few further considerations to make about the limitations of CA125 blood testing:8,18–23
approximately 20% of ovarian cancers do not affect CA125 levels
false-negative CA125 results are more likely in people with early stage disease, nonepithelial cancers, and premenopausal status, so are more common in younger, premenopausal women, who tend to develop different histological types than those aged over 50 years. More than 50% of those with stage-1 disease will have a normal CA125 level. Therefore, it is important to provide safety netting for these patients, and to refer them onwards if they continue to have worrying symptoms
other conditions can also cause an elevated CA125 level, potentially leading to false-positive results; notably, endometriosis, benign cysts, and fibroids can all cause elevated CA125 results, as can endometrial, breast, and lung cancers. Premenopausal women should be advised to avoid being tested during a menstrual period, as this causes a temporary rise in CA125
as well as being a tumour marker, CA125 is a general marker of inflammation, so can rise for the same reasons as other inflammatory markers, such as erythrocyte sedimentation rate or C-reactive protein. Some possible reasons include inflammatory arthropathies, congestive heart failure, and colitis.
If a patient's CA125 result is above 35 IU/ml but their transvaginal scan is normal, further assessment and investigation are recommended to rule out other possible causes.
4,5
When reviewing the patient, it may be advisable to remeasure their CA125 level after 6–8 weeks and refer them to secondary care if it is rising significantly. If there is any doubt in interpreting CA125 results or scans, primary care clinicians can always consult their specialist colleagues via
Advice and Guidance
24
or
Consultant Connect
25
(if they have access), especially if there are normal results but classic symptoms. 
Pelvic Examination
Ovarian tumours are rarely detected by pelvic examination, and they can easily metastasise around the abdominal cavity before a clinician would be able to feel anything on examination.26 However, if a clinician does feel a pelvic mass or find ascites on examination, they must refer the patient on an urgent 2-week wait pathway without delaying to wait for test results.4,5
8. Inform Patients that National Screening Programmes Do Not Cover Ovarian Cancer
Currently, there is no national screening programme for ovarian cancer, and there is no guidance for random asymptomatic testing involving either a regular CA125 test or an ultrasound scan.27 Certain patients may ask for regular asymptomatic checks for ovarian cancer if a family member has had the condition, but this is not appropriate; if a patient has a strong family history (see Tip 4, Ask About Family History and Consider Genetics), they may be eligible for referral for genetic testing, for which they may need to complete a genetics questionnaire (usually specific to the local area).11 However, this kind of testing is not within the scope of general practice. 
Despite this, approximately 40% of women in the UK wrongly think that cervical screening can detect ovarian cancer.28 It is therefore important that women are made aware that cervical screening does not test for ovarian cancer—HCPs giving cervical screening tests are uniquely placed to inform their patients of the differences. In this and other relevant clinical situations, HCPs can offer information about both ovarian and other gynaecological cancers, informing them of the symptoms and offering information leaflets. Leaflets can be ordered from Target Ovarian Cancer, covering both symptoms and any other aspect of diagnosis, support, and treatment.9
9. Think of Ovarian Cancer as an Abdominal Cancer
The symptoms of ovarian cancer closely overlap with those caused by other bowel conditions, including malignancy, so clinicians should be approaching ovarian cancer as a potential differential diagnosis for these conditions.5,29 For example, if a clinician is concerned that one of their patients may have a bowel malignancy and is organising an endoscopy or faecal immunochemical testing, it may be beneficial for them to consider the possibility of ovarian cancer and order a CA125 test when symptoms appear to overlap. The same may be true if they are organising an endoscopy for a patient with suspected diverticular disease. This approach could help with the safety netting of these patients, and may also prevent the delay in diagnosis that can occur when patients are told that their bowel investigations have revealed nothing but they continue to experience symptoms.
10. Utilise Useful Resources 
Box 2 details some resources that could prove useful for both primary care practitioners and their patients with suspected or confirmed ovarian cancer. Target Ovarian Cancer provides a variety of leaflets, templates, posters, and services for both clinicians and patients.
Summary
Ovarian cancer is an often-overlooked malignancy that is generally considered difficult to diagnose. However, primary care clinicians can aid the early identification and diagnosis of this cancer by being aware of the symptoms, investigating suspicious results, organising appropriate CA125 testing and ultrasound scans, and referring patients promptly.