Dr Toni Hazell Completes her Two-part Series on Managing STIs in Primary Care, Focusing on Best Practice Tips for Non-chlamydia STIs 
Read This Article to Learn More About:
clinical symptoms of various sexually transmitted infections (STIs) and diagnosing in primary care
when to refer patients to a genitourinary medicine (GUM) clinic
first-line treatment options and when to review.
If this article had been written a few years ago, many of the sections would have been much shorter and would just have said 'refer to your local genitourinary medicine (GUM) clinic', on the assumption that every patient had a local and accessible clinic. Sadly, that is no longer the case—a 2019 report from the Health and Social Care Committee1 showed that the majority of local authorities have reduced spending on sexual health (see Figure 1)2 and pointed out that this is a false economy, which will increase pressures on other areas of the NHS and lead to increased numbers of cases of HIV, with the resulting costs of HIV treatment.
The report also pointed out that commissioning is increasingly fragmented, which can reduce access to services like cervical screening; if funding arrangements do not allow a smear to be taken when a patient is examined at the GUM clinic, the patient may not go back to their GP to be examined a second time. Given that uptake of cervical smears is at a 20-year low, it seems lunacy that a trained smear-taker examining a woman in a GUM clinic is not allowed to take the smear at the same time.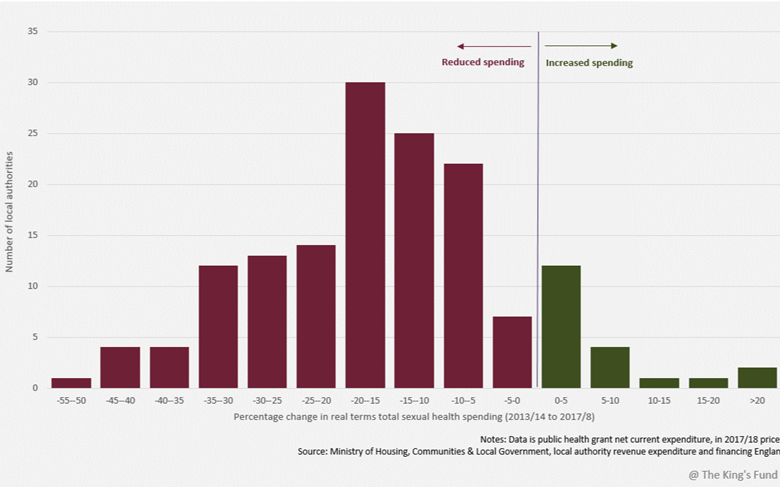 In my own CCG, the excellent consultant-led GUM and HIV clinic where I used to work was closed down and patients aged over 25 years now have to go outside the borough, travelling much longer distances. This is a tragedy not just for the patients, many of whom are socially deprived without easy access to transport, but also for the team who had worked together for decades and are now scattered, some having decided to leave the NHS altogether.
The phenomenon of patients with sexually transmitted infections (STIs) refusing to go to a GUM clinic and wanting their GP to treat them is therefore likely to be increasingly common; this article reflects this trend, noting when it is good practice to refer but also what can be done in primary care if referral is not available or is declined due to distance or other reasons.
Note: Not all of the treatment preparations and combinations, topical or oral, discussed in this article currently (June 2019) have UK marketing authorisation for the uses described, or for use in children and young people. The prescriber should follow relevant professional guidance, taking full responsibility for all clinical decisions. Informed consent should be obtained and documented. See the General Medical Council's guidance on Good practice in prescribing and managing medicines and devices3 for further information.
1. Be Aware that Antibiotic Resistance to Gonorrhoea is Increasing
Over 90% of men with gonorrhoea experience dysuria or urethral discharge,4 in contrast to chlamydia where only 50% of men are symptomatic.5 Conversely, only 50% of women with gonorrhoea and 30% with chlamydia are symptomatic. Most symptomatic women with gonorrhoea experience vaginal discharge and around 50% have pelvic pain.5,6 Abdominal or pelvic tenderness on examination is unusual in women who do not also have chlamydia.
Diagnosis in primary care is usually made with a nucleic acid amplification swab test and all patients should be referred to a GUM clinic for specimen culture before treatment is commenced. If a referral to a GUM clinic is not available or is declined, then cultures can be taken in primary care and treatment given with 1 g ceftriaxone intramuscularly as a single dose.4 This recommendation is due to high levels of antibiotic resistance (see Figure 27); there have been some reports of multi-drug resistant strains of gonorrhoea.8 Alternatives to intramuscular ceftriaxone include ciprofloxacin and cefixime, but resistance to these is higher.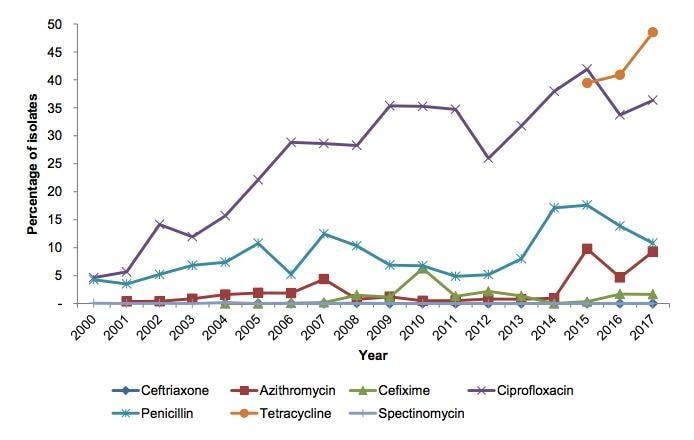 2. Do not Forget HIV
To cover HIV adequately would go beyond the scope of this article, but suffice to say it is an important STI and GPs should be testing more.
3. Do not Examine if There is an Allegation of Sexual Assault
A patient alleging sexual assault should be referred to a sexual assault referral centre (SARC), where swabs can be taken with the appropriate precautions so that they may be used in court if necessary.9,10 Patients should be signposted to support organisations9 and a child protection referral may be necessary if there are children in the house or if there is a pregnant woman.
4. Know the Clinical Symptoms of Syphilis
Syphilis is not an extinct disease. Although rates of syphilis declined in the late 1980s and 90s (largely due to increased condom use in the early days of AIDS), there has been a 12-fold increase in incidence from 1997–2007 and continued rises since then. Men who have sex with men (MSM) are at the highest risk of primary syphilis.11  The box below describes the clinical symptoms and signs.
Box 1: Clinical Symptoms and Signs of Syphilis11
Primary syphilis:
single painless genital ulcer with or without local lymphadenopathy
(less common) a painful non-genital ulcer, particularly in the mouth or on the hands
(in people with HIV) multiple genital and extragential ulcers that are larger, deeper, and more persistent (extragenital ulcers are usually painful)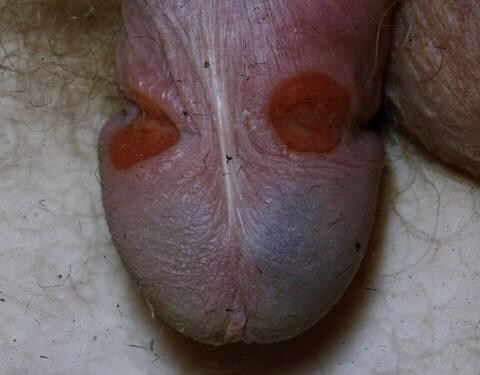 Secondary syphilis:
non-itchy maculopapular rash, often affecting the palms and soles
fever, malaise, headache, and generalised lymphadenopathy
condylomata lata—warty lesions in the perianal region, under breasts, or in axillae
patchy lesions on the oral mucosa (snail tract lesions)
(less common) patchy alopecia, uveitis, iritis, hepatitis, nerve palsies, and meningitis
skin features will usually fade without scarring, though they may persist for longer in patients with HIV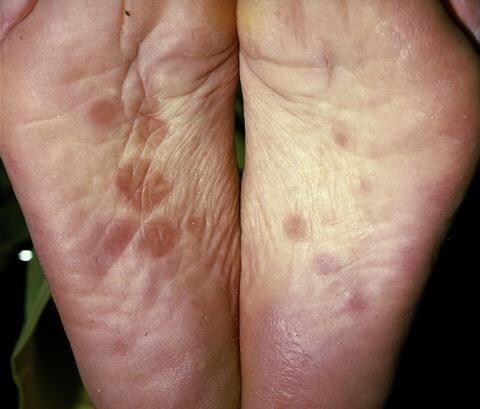 Tertiary syphilis:
is rarely seen but should be excluded in a patient with an apparent new diagnosis of dementia
gummatous lesions in the skin, bones, or liver
neurological manifestations such as meningitis, stroke, and tabes dorsalis
The interpretation of blood tests for syphilis ranks alongside the interpretation of hepatitis serology as something that can be fully understood one day and completely forgotten the next time a set of results needs examining! The principles are set out below:11
no tests are specific for syphilis—all available tests will be positive if the individual has a history of other treponemal diseases such as yaws. This is particularly relevant for patients born in countries where these diseases are endemic, such as parts of the Caribbean and Latin America
specific treponemal serology tests such as T. pallidum haemagglutination (TPHA) and treponemal enzyme immunoassay (EIA) measure antibody bound to the surface protein of T. pallidum. They remain positive for life in 80% of people, and a positive test does not necessarily indicate active syphilis

EIA can usually detect immunoglobulin M after 2 weeks of primary syphilis and immunoglobulin G a few weeks after that
other treponemal assays, including TPHA and T. pallidum agglutination are positive in secondary or early latent syphilis

rapid plasma reagin (RPR) test and venereal disease research laboratory (VDRL) carbon antigen test measure active disease. They become positive 1–2 weeks after the clinical appearance of primary syphilis (and can be falsely negative if performed too early) and peak in secondary syphilis
RPR is expressed as a dilution at which it is positive. A titre of 1:64 is more significant than a titre of 1:2, as the former is positive with much more dilute blood. A titre of less than 1:16 may not indicate active disease.12
Interpretation of syphilis serology and subsequent management is a specialist area and all patients with suspected syphilis should be referred to a GUM clinic.11 If there is clinical suspicion of primary syphilis, referral should be rapid, as the clinic may be able to prepare a slide from the chancre and examine it using dark ground microscopy. (Note from the author: I remember huge excitement in the GUM clinic where I used to work on the odd occasion when a positive diagnosis of syphilis was made under the microscope!)

If the patient declines referral, your local GUM consultant may be able to guide treatment in primary care. For people in whom syphilis serology, done as part of a dementia screen, indicates possible tertiary syphilis for which there are no other symptoms—and in particular if the patient comes from a part of the world where yaws is common—oral treatment in primary care with 4 weeks of doxycycline might be appropriate.13
5. Consider Not Treating for Genital Warts
Patients may present to primary care with an initial attack of warts, or a flare of known genital warts. Patients with a new diagnosis should be referred to a GUM clinic for a full STI screen, but if this is unavailable or refused, the following treatment options are reasonable:14
no treatment (if acceptable to the patient)—warts will resolve spontaneously within 6 months in 30% of people
podophyllotoxin 0.15% cream twice daily for 3 consecutive days, followed by 4 days of no application. This should be repeated weekly for a maximum of four 3-day courses. This treatment works less well on keratinised warts. Not licensed in pregnancy or for children, or for anal warts
imiquimod 5% cream applied three times a week for up to 8 weeks. Not licensed in pregnancy or for children
cryotherapy (consider if appropriately trained and resourced).
6. Check if You Have the Correct Swabs for Diagnosing Genital Herpes Simplex in Primary Care
A symptomatic first-time attack of genital herpes simplex virus (HSV) will usually present with multiple painful blisters, which burst to form erosions and ulcers. This may cause dysuria and some patients may also have constitutional symptoms such as fever and malaise. On examination, multiple small ulcers may be seen and the patient may have palpable lymphadenopathy in the groin.15 NICE recommends that the diagnosis should be made in a GUM clinic, but if this is not possible then you may be able to take a swab in primary care and send for culture but only if you have the right swabs. Check with your local microbiology department to confirm which swabs they will accept, and whether they have to be kept refrigerated. 

Practitioners should note that herpes serology is neither sensitive nor specific and therefore taking serum samples and interpreting results is best left to a specialist.

If a patient has had a positive swab then it is likely that they have HSV, as swabs are nearly 100% specific. However, sensitivity is lower, with viral culture missing around 30% of cases. Nucleic acid amplification is more sensitive with an increase in sensitivity of 11–71% compared with viral culture.15
7. Be Careful What you Say When Giving a Diagnosis of Genital Herpes
Practitioners should be mindful when communicating a diagnosis of herpes to a patient as it may cause considerable distress. It is important that a patient in a long-term relationship understands that a new diagnosis of herpes does not imply infidelity in their partner. Only one-third of first-time infections with HSV are symptomatic and it is therefore possible that they contracted this infection in the past, possibly in a previous relationship, and were asymptomatic at the time. Patients are likely to want to know about treatment options, prevention of future attacks, and whether they will infect their partner. The points in Box 2 may be useful when having this discussion.15
Box 2: Management of Genital Herpes15
All patients should be advised about the following self-care measures:

clean the affected area with plain or salt water
apply petroleum jelly or topical lidocaine to aid painful micturition
increase fluid intake so that urine is more dilute, which will reduce dysuria
take adequate over-the-counter analgesia
wear loose clothing to avoid irritating lesions

Pharmacological treatment options:

first episode: oral aciclovir 400 mg three times daily for 5–10 days, or 200 mg five times daily for 5–10 days
recurrent episodes (less than six attacks per year): oral aciclovir 800 mg three times daily for 2 days. If new lesions are still appearing at 5 days it may be necessary to double the dose, or continue beyond 5 days.16 It would be sensible to give the patient a three- or five-day course of aciclovir to keep at home, so that they can treat a recurrence immediately without having to wait to access the GP for a prescription
recurrent episodes (six or more attacks per year): oral aciclovir 400 mg twice a day (or 200 mg four times a day). Treatment can be given for a maximum of 1 year and then stopped until the patient has had at least two recurrences, to see how frequently they occur
refer to the NICE Clinical Knowledge Summary on herpes simplex15 for additional treatment options

Avoid pharmacological treatment if the patient presents more than 5 days after symptom onset, new lesions have stopped appearing, or if systemic symptoms resolve13
The average patient with genital HSV will have four outbreaks per year; this number usually falls over time
Sexual activity should be avoided when lesions are present as transmission can occur during intercourse and other forms of genital contact
HSV can be transmitted when the patient is asymptomatic—the risk is reduced by the use of condoms and treatment with suppressive therapy
Advise patients to disclose their HSV status to their partner, as not doing so puts them at potential risk of legal action for transmission—there are resources and support groups available to help the patient to do this.17,18
8. Be Aware that the Prevalence of Trichomoniasis Increases with Age
The prevalence of trichomoniasis increases with age, from 2.2% in women aged under 20 years to 6.1% in women aged over 25 years (0.8% and 2.8% for men respectively). GPs should be aware that up to 50% of women with trichomoniasis are asymptomatic. Most women who are symptomatic will have discharge, but less than a one-third will have the profuse frothy yellow-green discharge described in textbooks. Around 20–60% of men will have urethral discharge, other presenting symptoms include dysuria and (less commonly) balanitis and increased urinary frequency.19
Trichomoniasis can be diagnosed in women using a high vaginal swab but ideally this should be done in a GUM clinic, as the sensitivity reduces significantly within a few hours of the swab being taken. Not all laboratories automatically test for Trichomonas vaginalis (TV) so it is worth highlighting TV on the request form.
Treatment of trichomoniasis is with metronidazole, either a 2 g single dose or 400 mg twice a day for 5–7 days. The single dose option should be avoided in pregnant or breastfeeding women. NICE advises seeking specialist advice for the management of women who are pregnant and asymptomatic: trichomoniasis is associated with premature delivery and low birthweight and can be transmitted vertically. Patients with TV who are HIV positive should be treated with metronidazole 500 mg twice daily for 7 days. A full STI screen should be offered to patients, partners should be tested and treated if necessary, and sexual abstinence should be advised until at least 1 week after the patient and their partner have been treated.19
9. Refer All Men with Suspected Urethritis to a GUM Clinic
Urethritis presents with urethral discomfort or irritation, dysuria, or discharge but can also be asymptomatic. All men with suspected urethritis should be referred to a GUM clinic, but if the patient declines then a first-void urine sample can be sent to test for chlamydia and gonorrhoea in some localities.20 If this is unavailable then a urethral swab should be taken instead. Over 50% of men who do not have gonorrhoea (non-gonococcal urethritis [NGU]) will have no identifiable cause.18 Where a cause is found, it may include chlamydia, Mycoplasma genitalium, TV, or a urinary tract infection.
Treatment for NGU (if chlamydial infection is suspected) is with doxycycline 100 mg twice a day for 7 days—the use of a short course of azithromycin has been relegated to second line because of the increasing resistance of Mycoplasma genitalium to azithromycin and the fact that Mycoplasma testing is not widely available.21
For the treatment of urethritis caused by gonorrhoea, refer to the treatment options outlined in tip 1.
10. Review Patients if Actinomyces-like Organisms Appear on Smear Test 
Trichomonas vaginalis and actinomyces-like organisms can sometimes be reported on a smear test result. NICE advises that TV on a smear should be treated in the same way as any other asymptomatic TV.22  Actinomyces-like organisms are a potential cause of pelvic inflammatory disease (PID) and their presence on a smear should prompt the woman to be reviewed. If she is asymptomatic then no action need be taken, and if she has an intrauterine device in place then it need not be removed. If she has symptoms (e.g. pelvic pain, dyspareunia, or abnormal bleeding) then she should be examined and investigated for PID. Consideration should be given to removing any intra-uterine device if the patient requests it, or if symptoms have not improved after 72 hours of appropriate PID treatment.22,23
Dr Toni Hazell

Part-time GP, Greater LondonFormer Clinical Assistant in Sexual Health and HIV