Dr James Thambyrajah Shares Top Tips on Diagnosing, Assessing, and Managing Tinnitus in Primary Care and Discusses how Patients Should be Supported with Self-care 
Read This Article to Learn More About:
possible causes of tinnitus
the importance of assessing the impact of tinnitus on the patient
treatment and management strategies
The word 'tinnitus' stems from the Latin 'tinnire', meaning 'to ring'. Tinnitus is not a disease, but a symptom of an underlying cause within the auditory pathway; it is defined as the perception of sound in the absence of any corresponding external auditory stimulation.

Approximately 10% of adults in the UK experience prolonged tinnitus and men and women are equally affected.1 Tinnitus is more common in people with hearing loss.2 The prevalence of tinnitus increases with age, but it can occur at any age, including in children.3

Tinnitus can be debilitating so it is important that clinicians recognise the impact that the condition has on the individual patient. GPs have an important role to play in educating the patient about the underlying causes, referring to secondary care when appropriate, and helping them to manage their tinnitus and the impact on their overall health.
1. Take a Thorough History
An important part of a tinnitus assessment is a thorough history. GPs should aim to define the type and characteristics of the patient's tinnitus, for example, is it pulsatile, non-pulsatile, unilateral, bilateral, intermittent, or continuous?2 Ask the patient about any accompanying hearing loss, hyperacusis, otalgia, otorrhoea, or problems with balance.2,3

When taking a history it important to rule out:
ear infections, for example, otitis media and otitis externa3
neurological disorders, for example, acoustic neuroma (also called vestibular schwannoma) and multiple sclerosis2
metabolic disorders, for example, thyroid disorders, diabetes, lipid disorders, and zinc deficiency2,4
psychological disorders, for example, anxiety and depression3
mechanical disorders, for example, trauma of the head or neck and temporomandibular joint disorders.3
2. Classify the Patient's Tinnitus
Tinnitus has multiple causes and it is typically classified as 'subjective' or 'objective'. Subjective tinnitus is most common; it occurs in the absence of any physical sound and is only heard by the patient. Objective tinnitus occurs in approximately 1% of patients and it is audible to others as the sound transmits via body tissue (a phenomenon known as somatosounds).5 The causes of tinnitus are many and varied (see Figure 1).6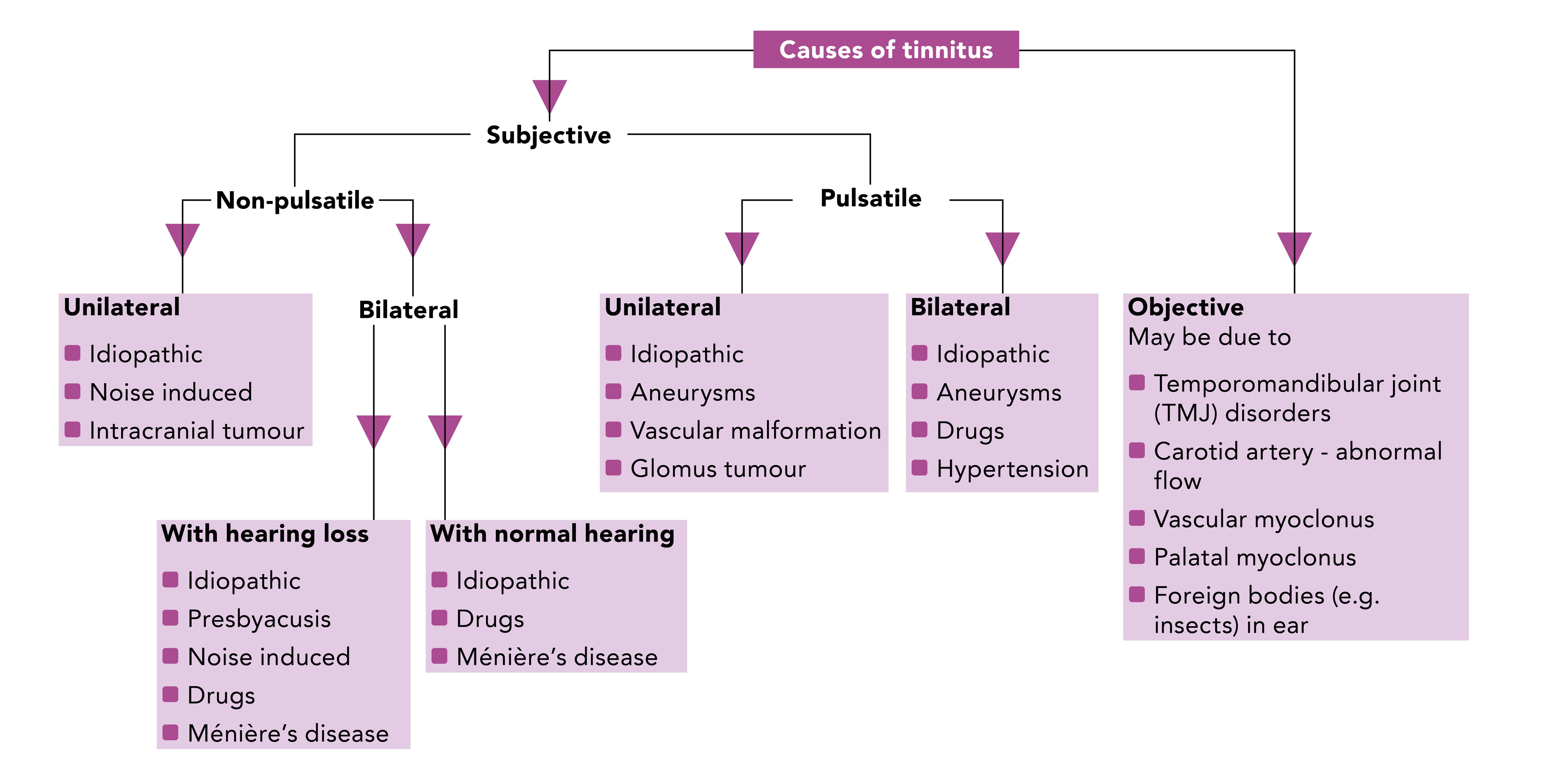 3. Be Aware of Possible Causes
Tinnitus can be a side-effect of certain drugs so it is important to assess the patient's current medication.2 A list of ototoxic drugs can be found in Box 1.
The patient's occupation should also be taken into account. Occupations associated with loud noise exposure are associated with an increased risk of tinnitus.2,3
Box 1: Ototoxic Drugs2
Ototoxic drugs include:

valproate
loop diuretics (including furosemide and bumetanide), which can cause tinnitus and reversible hearing loss
aspirin and nonsteroidal anti-inflammatory drugs, which can cause tinnitus and reversible hearing loss
antimalarials (quinine and chloroquine)
tetracyclines (such as doxycycline and minocycline)
macrolide antibiotics (such as erythromycin)
aminoglycoside antibiotics (such as gentamicin) that can cause tinnitus and permanent hearing loss associated with cochlear injury
cytotoxic drugs (including cisplatin) that can cause tinnitus and permanent hearing loss.
NICE. Tinnitus. NICE Clinical Knowledge Summary. NICE, 2017. Available at: cks.nice.org.uk/tinnitus. All rights reserved. Subject to Notice of rights. NICE guidance is prepared for the National Health Service in England. All NICE guidance is subject to regular review and may be updated or withdrawn. NICE accepts no responsibility for the use of its content in this product/publication. See www.nice.org.uk/re-using-our-content/uk-open-content-licence for further details. 
4. Perform a Thorough Examination
Thorough examination is required as it is important to exclude, and treat where possible, multiple possible causes of tinnitus. The examination should include:2
otoscopic examination of the ears to exclude wax, infections, and otitis media with effusion
blood pressure checks, and routine blood tests if clinically indicated. Various metabolic abnormalities may be associated with tinnitus, including hypothyroidism and hyperthyroidism, hyperlipidemia, anaemia, vitamin B12 or zinc deficiency4
checking of the cranial nerves
auscultation of ears, head, and neck in cases of pulsatile tinnitus to exclude a bruit
asking the patient to classify their tinnitus using a visual analogue scale of 0 to 10 to assess the severity and the impact on the patient's life.
5. Look Out for 'Red Flags'
There are certain 'red flags' for referral that clinicians must be aware of when assessing or examining a person with tinnitus (see Box 2).

Patients with unilateral or pulsatile tinnitus should be referred to a tinnitus clinic for further assessment by a multidisciplinary team (MDT) and imaging. Magnetic resonance imaging is recommended in the presence of asymmetrical tinnitus or hearing loss as 13% of vestibular schwannomas present with asymmetrical tinnitus and normal hearing.7
Box 2: Red Flag Symptoms in a Patient with Tinnitus that Should Prompt Referral2
Refer as an otologic emergency people with:

sudden onset pulsatile tinnitus
tinnitus in association with significant neurological symptoms and/or signs (for example facial weakness)
tinnitus associated with severe vertigo
tinnitus secondary to head trauma
tinnitus associated with unexplained sudden hearing loss

Refer urgently to an ear, nose, and throat specialist people with:

objective or pulsatile tinnitus
unilateral tinnitus
tinnitus associated with unilateral or asymmetric hearing loss
tinnitus associated with persistent otalgia or otorrhoea that doesn't resolve with routine treatment
tinnitus with vestibular symptoms (for example dizziness, vertigo)

Refer less urgently to an ear, nose, and throat specialist (using clinical judgment):

tinnitus of uncertain cause—this includes people with tinnitus that is not associated with hearing loss, ear pain, drainage or malodour, vestibular symptoms or facial weakness and people with hearing loss that cannot clearly be distinguished as either sensorineural or conductive
tinnitus that is causing distress despite primary care management

Refer all people with tinnitus for an audiological assessment, particularly if it is persistent (lasting 6 months or more).
NICE. Tinnitus. NICE Clinical Knowledge Summary. NICE, 2017. Available at: cks.nice.org.uk/tinnitus All rights reserved. Subject to Notice of rights. NICE guidance is prepared for the National Health Service in England. All NICE guidance is subject to regular review and may be updated or withdrawn. NICE accepts no responsibility for the use of its content in this product/publication. See www.nice.org.uk/re-using-our-content/uk-open-content-licence for further details.
6. Assess the Impact of the Patient's Tinnitus
A patient's tinnitus may also impact on their daily living and quality of life.8 Tinnitus can be extremely debilitating and can have a profound impact on a patient's emotional and psychological wellbeing. When gathering history, make sure to look out for:7
anxiety
depression
distress
frequent mood swings
irritability or frustration
pain (particularly when tinnitus is accompanied by hyperacusis)
poor concentration
sleep disturbances.
GPs are a regular point of care for patients and should therefore seek to manage the patient's emotional and psychological consequences of tinnitus in primary care. It is important to provide the patient with information and advice about self-care, and signpost them to charities, support groups, and sources of information such as the British Tinnitus Association (BTA)9 and NHS Choices.10 Arrange a follow-up appointment to assess their response to treatment after 1–2 weeks.
7. Involve the Multidisciplinary Team
After a referral to secondary care, management of tinnitus requires a holistic, multidisciplinary approach. To ensure that people with tinnitus receive adequate clinical and holistic support, it is important to involve an MDT, which includes the following healthcare professionals:8
audiovestibular physician/otolaryngologist
hearing therapist
audiologist
psychologist.
Involvement of the MDT should be reserved for patients who cannot be managed in a primary care setting and require referral to secondary care.
8. Be Aware of the Management Options
Tinnitus is managed through improving the patient's understanding of the condition, talking therapies, sound therapies, and group support. The BTA has developed a decision aid for patients and healthcare professionals about the different options for tinnitus care.11
Sound therapies include:12
masking—exposing the patient to an external noise at a loud enough volume that it partially or completely covers the sound of their tinnitus
distraction—using external sound to divert a patient's attention from the sound of tinnitus
habituation—helping the patient's brain reclassify tinnitus as an unimportant sound that should be consciously ignored
neuromodulation—the use of specialised sound to minimise the neural hyperactivity thought to be the underlying cause of tinnitus.
Common masking devices are known as white noise generators and produce a gentle rushing sound. The device is similar in size to a standard hearing aid and normally sits behind the pinna. If the patient also has hearing loss then both a hearing aid and masking device are worn simultaneously and work in concert to alleviate tinnitus.
Hearing aids can also be used for patients with tinnitus. Digital hearing aids seem to be more effective than analogue hearing aids as they can amplify higher frequencies where tinnitus occurs. They provide the additional benefit of amplification for patients who have minimal hearing loss associated with their tinnitus.13
Talking therapies are focused on addressing the way the patient approaches tinnitus. Stress is known to exacerbate tinnitus; talking therapy reduces stress and therefore reduces tinnitus. Similarly, group therapies are incredibly useful as patients have the opportunity to discuss the different treatment and management options and share their experiences of their condition, which can also help to alleviate the stress and symptoms.13
Surgery may be indicated in certain otological causes of tinnitus, for example, vestibular schwannoma, otitis media, perilymph fistulae, and otosclerosis.14
9. Provide Reassurance, Information, and Advice
Most cases of tinnitus are managed sufficiently within a primary care setting. If the patient does not have red flag symptoms, reassure them that tinnitus is very common, it usually improves, and is unlikely to get worse.
Improving the general wellness of the patient is a management priority. Focusing on wellbeing helps the patient to manage the consequences of tinnitus and its impact on their day-to-day living.15 Encourage the patient to eat a healthy diet and partake in physical, social, and recreational activities, as these can help to reduce the severity and impact of their tinnitus.
Signpost useful sources of patient information, such as the self-help information sheets produced by the BTA. The BTA has also developed resources for GPs, including Tinnitus guidance for GPs16 and an Eight-minute primary care tinnitus consultation4 guide referenced earlier in this article.
Dr James Thambyrajah
Full-time salaried GP, Cheam Family Practice, Sutton