These are the UK coronavirus stories you need to know about today.
Nurse Gives 'Historic' Jab
Nurse May Parsons made history in Coventry this morning by being the first in the world to administer the Pfizer/BioNtech COVID-19 jab following regulatory approval.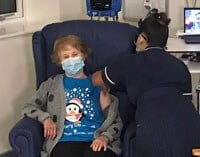 Wearing a festive penguin jumper, Maggie Keenan, who turns 91 next week, was first to receive the jab at 6.31am. May Parsons, from University Hospitals Coventry and Warwickshire NHS Trust, originally from the Philippines, said in a news release: "It's a huge honour to be the first person in the country to deliver a COVID-19 jab to a patient, I'm just glad that I'm able to play a part in this historic day.
"The last few months have been tough for all of us working in the NHS, but now it feels like there is light at the end of the tunnel."
Maggie Keenan said: "I feel so privileged to be the first person vaccinated against COVID-19, it's the best early birthday present I could wish for because it means I can finally look forward to spending time with my family and friends in the New Year after being on my own for most of the year.
"I can't thank May and the NHS staff enough who have looked after me tremendously, and my advice to anyone offered the vaccine is to take it – if I can have it at 90 then you can have it too!"
She'll be back for her second dose in 3 weeks.
The vaccination programme is being phased across the UK. Patients aged 80 and above who are already attending hospital as an outpatient, and those who are being discharged home after a hospital stay, and health and care workers, are among the first to receive the jab.
In Northern Ireland, Sister Joanna Sloan, Belfast Royal Victoria Hospital Emergency Department, became the first person on the island of Ireland to receive the vaccine.
https://twitter.com/BelfastTrust/status/1336229198030123009?s=20
England's Health Secretary Matt Hancock called today "V-Day".
BMA Council Chair Dr Chaand Nagpaul described the start of vaccinations as a "landmark moment" but warned that the scale of the programme ahead means "staff can't be in two places at once".
Oxford Vaccine Phase 3 Results
Phase 3 interim trial results from the Oxford/AstraZeneca vaccine have just been published in The Lancet. Previously, interim results were issued in a press release.
In today's paper, for participants who received two standard doses, vaccine efficacy was 62.1%.
In participants who received a low dose followed by a standard dose, efficacy was 90.0%.
This was described as "intriguingly high compared with the other findings in the study. Although there is a possibility that chance might play a part in such divergent results."
Professor Andrew Pollard, director of the Oxford Vaccine Group, Department of Paediatrics, University of Oxford, told a news briefing hosted by the Science Media Centre that the half dose, full dose approach that gave the best results wasn't planned. He dismissed concerns about the age of participants in that group saying the result "doesn't appear to be an age phenomenon".
Overall vaccine efficacy across both groups was 70.4%.
Regulators and UK vaccination advisers would have to assess which regimen might be selected for approval, Prof Pollard said.
The vaccine was found to be safe, the authors said, with only three out of 23,745 participants over a median of 3.4 months experiencing serious adverse events that were possibly related to a vaccine; one in the vaccine arm, one in the control arm, and one in a participant who remains masked to group allocation. All participants have recovered or are recovering, and remain in the trial.
The paper said: "A case of transverse myelitis was reported 14 days after ChAdOx1 nCoV-19 booster vaccination as being possibly related to vaccination, with the independent neurological committee considering the most likely diagnosis to be of an idiopathic, short segment, spinal cord demyelination."
Prof Pollard said: "I think today is an important landmark for us because the data package that is in this paper is being put forward to regulators to consider and to scrutinise so there's these two different aspects of scrutiny, there's the scientific peer review for publication, and also the regulatory processes which I'm sure we'll hear more about in the weeks ahead."
Professor Sarah Gilbert, Jenner Institute, Nuffield Department of Medicine, University of Oxford, said: "This is a really good day in the UK. This is probably the best day we've had in 2020. Not only today are we seeing the first rollout of NHS vaccinations against COVID-19, from our side we're able to present to you our data in a full peer reviewed publication."
Reaction
In a linked comment, Dr Maria Deloria Knoll and Dr Chizoba Wonodi, Johns Hopkins Bloomberg School of Public Health, USA, who were not involved in the study, said: "Despite the outstanding questions and challenges in delivering these vaccines, it is hard not to be excited about these findings and now the existence of three safe and efficacious COVID-19 vaccines, with 57 more in clinical trials."
Professor Stephen Evans, professor of pharmacoepidemiology, London School of Hygiene & Tropical Medicine, commented: "These results reflect the headlines given in previous press releases, but with both a fuller explanation of what was done and more detail around the uncertainty in the estimates of efficacy.
"The unfortunate [half dose] measurement technique problem that occurred with some doses produced in Italy is going to be seen by some as raising questions about this trial. It is clear however, that national and international regulators were fully apprised of what had happened and a plan for analysis was determined prior to knowledge of the results." 

Regulator 'Scaling the Peak'
MHRA Chief Executive Dr June Raine wrote an article for The Times and the MHRA website today explaining the process behind the approval of the Pfizer/BioNTech vaccine.
She pointed to being able to review several submissions of trial data before the final clinical submission.
"This is why I like to think of it as climbing a mountain – months of careful planning and preparation; ready at the base camp when the interim data arrive; and when the final package arrives, we are ready to scale the peak," she said.
Vaccines Taskforce Report
The UK's Vaccines Taskforce (VTF) has been praised in an independent review of its progress against its goals by Sir Richard Sykes, chair of the Royal Institution and former chair Imperial College Healthcare NHS Foundation Trust.
The report said the VTF has:
built an attractive portfolio of the most promising vaccines for the UK population
shaped new collaborative arrangements to ensure that successful vaccines will be distributed internationally
supported the UK's industrial strategy by reinforcing long-term vaccine capability to prepare the UK for future pandemics, helping to place the UK at the forefront of vaccine R&D, manufacturing and distribution, but more is needed
Sir Richard concluded: "We are at the early stages of managing the pandemic and while the scientific and governmental response to this pandemic is far from over, I would pay tribute to Kate Bingham and the Vaccine Taskforce for the drive, focus and creativity they have shown in getting the UK so far forward in such a short time."
Kate Bingham leaves the post of VTF chair this month. Deputy chair Clive Dix takes over as interim chair.
The UK has ordered 357 million doses of the most promising COVID-19 vaccines.
ONS Data
The latest Office for National Statistics (ONS) weekly data show deaths registered in the most recent week in England and Wales ending 27 November were 20.3% above the 5-year average.
Professor Sir David Spiegelhalter, chair, Winton Centre for Risk and Evidence Communication, University of Cambridge, commented via the Science Media Centre: "These are extra deaths that would not normally have occurred, and substantially larger than any excess in the last 10 years, even in very bad flu years."
COVID-19 was mentioned in 24.4% of all deaths.
More Cancer Research Cuts
Cancer Research UK has announced another £45m cut from its research budget due to a drop in income from fundraising during the pandemic. The charity made cuts of £44m at the start of the pandemic.
The new cuts mean 24 fewer research programmes, 68 fewer projects and 12 fewer fellowships.
Chief Executive, Michelle Mitchell, commented: "COVID-19 has slowed down our efforts to beat cancer. The closures of our charity shops and the cancellation of our fundraising events across the country means we have less money available for life-saving research, but we will never stop."
Dr Iain Foulkes, executive director of research and innovation, added: "The recent Government spending review was a step in the right direction for cancer services in the UK, but we need urgent clarification to what measures are being put in place to support medical research charities through the Life Sciences Charity Partnership Fund. As a country that relies so heavily on charity-funded research, the UK risks weakening its reputation as a world-leader in science if charities don't receive the right support."
One of the recent preprint King's College London studies funded by the charity looked at the impact of screening delays. It suggested that women who were unable to attend cervical screening during the first wave could have a seven-fold increased risk of cervical cancer if they have to wait for their next screening cycle, compared with women who are screened with only a few months delay.
Cardiologist Gets Visa Extension
The Guardian reported on a 12 month visa extension for an Egyptian NHS cardiologist who was worried he'd be deported because he was too ill with COVID-19 complications to continue working.
Dr Basem Enany, a locum at York teaching hospital, had been on a ventilator after developing Guillain-Barré syndrome.
"The visa extension means that I have time to recover properly," Dr Enany told the paper.
"I hope to be able to return to my work as a cardiologist as soon as I can. I love what I do and I'm really missing my patients."
Targeted Travel Restrictions
International travel restrictions should be targeted to help control the spread of COVID-19, according to London School of Hygiene and Tropical Medicine led research published in The Lancet Public Health.
Flight data was used to compare the number of expected COVID-19 cases arriving from international flights (assuming no travel restrictions) with the number of infections arising from transmission within individual countries.
International travel restrictions were most effective at limiting local transmission of the virus during earlier stages of the pandemic.
By September 2020, without travel restrictions or reduction in passenger numbers, imported cases would account for more than 10% of infections in 56 out of 162 countries.
Study lead, Professor Mark Jit, said: "We recognise that these measures carry a high economic and social cost, so it's important that governments use travel restrictions in a targeted way. Before introducing restrictions, they should take into account local infection figures, epidemic growth rates, and the volume of travellers arriving from countries heavily-affected by the virus."
Bedroom 'Mini Atomic Bomb' Experiment
Loughborough University modelling of coughs and sneezes without face coverings published in Physics of Fluids suggests 2m social distancing may not be enough.
Because labs were closed under lockdown, Dr Emiliano Renzi carried out experiments in his bedroom helped by student Adam Clarke.
Droplets can reach in excess of 3.5m they found, helped by a 'buoyant vortex' motion, and the way people tilt their heads when coughing or sneezing.
Dr Renzi said: "In some cases, the droplets are propelled in excess of 3.5 metres by the buoyant vortex, which acts like a mini atomic bomb.
"Therefore, guidelines suggesting 2m physical distancing limits may not be adequate to prevent direct transmission via droplets of large size.
"Our model also shows that the smaller droplets are carried upwards by this mini-vortex and take a few seconds to reach a height of 4m.
"At these heights, building ventilation systems will interfere with the dynamics of the cloud and could become contaminated."
See more global coronavirus updates in Medscape's Coronavirus Resource Centre.