Dr Vasumathy Sivarajasingam Asks What Primary Care Practitioners Can Do to Recognise and Support People Experiencing Domestic Abuse
Read This Article to Learn More About:
the role of primary care in enquiring about, identifying, and addressing domestic abuse (DA)
ways in which primary care practitioners and managers can overcome barriers to recognising and supporting victims of DA
the potential benefits of brief DA screening tools and widespread screening for DA in primary care.
Key points can be found at the end of this article.
 
Domestic abuse (DA) is a growing public health concern1 with short- and long-term impacts on everyone exposed to it, including victims, families, friends, and perpetrators. DA is often characterised by recurrence and escalation,2 and creates physical and emotional scars that can last a lifetime. Children who witness DA can be adversely affected in an array of age-dependent ways, with consequences including physical, cognitive, behavioural, and emotional issues.3–5
In the UK, most people seem to have a good understanding of the impacts of DA, but many fail to recognise specific instances of it in their daily lives.3 This inability to recognise DA—in the general population, but also among healthcare professionals (HCPs)—is an issue that contributes to its prevalence, particularly as DA may be under-reported by victims.
In this article, I discuss DA in general, then focus on the role of primary care in identifying potential DA and enabling disclosure. I move on to the ways in which primary care can overcome barriers to the recognition of DA, and examine the potential for DA screening in primary care, with reference to the use of short screening tools.
How Common is DA?
In the Crime Survey for England and Wales, in the year ending March 2022, an estimated 10.4 million adults aged 16 years and over reported having experienced DA since the age of 16 years, equating to a prevalence of 21.9%.6 Around one in 20 adults (6.9% of women and 3.0% of men) aged 16 years and over said that they had experienced DA in the previous year, equating to around 2.4 million adults.6
Therefore, DA is so prevalent in the UK that all healthcare staff are likely to be in regular contact with victims and perpetrators.7 Nearly half a million DA survivors seek assistance from medical professionals each year.8
The Legal Definition of DA
The Domestic Abuse Act 2021 provides a statutory definition of DA based on previous Government definitions.9,10 For someone's behaviour towards another person to be DA, they must be aged 16 years or over and 'personally connected' to one another and the behaviour must be abusive.9 The Act states:9 'Behaviour is "abusive" if it consists of any of the following—
physical or sexual abuse
violent or threatening behaviour
controlling or coercive behaviour
economic abuse
psychological, emotional, or other abuse.'
To be 'personally connected', the people must be, or have been, intimate partners irrespective of gender or sexuality (through marriage, civil partnership, agreement to marry or enter a civil partnership, or an intimate personal relationship), or have a familial connection (as relatives or in a parental relationship to the same child).
9,11
Because
'parental relationship
[s]
'
are included and defined in this Act, it also recognises children aged under 18 years who see, hear, or experience the effects of abuse as victims in their own right.
9–11
Government Guidance on DA 
The Care Act 2014 reinforces HCPs' roles in preventing, recognising, and responding to abuse and neglect.12 More recently, the Domestic Abuse Act 2021 was published with the aim of raising awareness of DA, providing protection and support for victims (including by recognising children as victims), holding more perpetrators to account, and improving the response of the justice system.9,10 In conjunction with this, related statutory guidance was published to provide clear information on what DA is, and support front-line professionals tackling DA in all its forms (including controlling and coercive behaviour, and psychological, emotional, and financial abuse) by providing standards, best practice, and information about sources of tailored support.10,13
These guidelines are part of a wider plan by the Government to tackle DA and domestic homicide by 'prioritising prevention, supporting victims, pursuing perpetrators, and building a stronger system'.14 The Tackling Domestic Abuse Plan was published by the Home Office in 2022 for this purpose14 and, in early 2023, a £36-million Domestic Abuse Perpetrator Intervention Fund was launched, alongside related standards for delivering interventions to perpetrators of DA.15
The Role of the Extended Primary Care Team in Identifying DA
It is widely acknowledged that primary care plays an important role in the healthcare response to DA, particularly as a common first point of contact for victims.16,17 GPs and the extended primary care team (including nurses, social prescribers, pharmacists, paramedics, mental health link workers, and physiotherapists) are often able to develop a good relationship with a patient over time, increasing the chance of the patient disclosing abuse and seeking advice. In the UK, about 90% of NHS patient consultations are in primary care18—more than 300 million consultations in an average year19—so there are many opportunities for victim disclosure. 
The primary care team has a duty of care to prevent, recognise, and respond to abuse and neglect,17 and this is reflected in the attitudes of regulatory bodies. For all HCPs, the General Medical Council stresses the importance of protecting patients and taking prompt action if their safety, dignity, or comfort is or may be seriously compromised, and the British Medical Association's adult safeguarding toolkit covers doctors' roles in safeguarding adults who may be at risk of abuse or neglect.20,21 The Royal College of General Practitioners (RCGP) also recognised the responsibility of primary care to protect patients with the launch of its Safeguarding adults at risk of harm toolkit in 2017,17 and the Nursing and Midwifery Council's code expects nurses to raise their concerns appropriately if they believe someone is vulnerable or at risk of harm.22
The Royal Pharmaceutical Society has also published related safeguarding guidance for pharmacists.23 Many pharmacies are part of the Government-supported codeword scheme, Ask for ANI (Action Needed Immediately), which was launched in January 2021 to help victims access emergency support from the safety of their local pharmacy.24
Victim Identification
The primary care team is expected to be able to recognise the indicators of DA, and make sensitive, targeted enquiries about DA with at-risk patients on a one-to-one basis.7,25–27 However, DA can be difficult to identify, as every DA situation is unique, DA can happen to anyone (regardless of age, ethnicity, gender, sexuality, lifestyle, or geographic location),28 and anybody can be an abuser. 
People experiencing DA are often frequent health service attendees, and may receive needless investigations and medications to address their health symptoms.3,29 Clinicians should be vigilant for the 'toxic trio'—the co-existence of DA, substance misuse, and mental illness—as the three are often linked and, in combination, are associated with an increased risk of abuse of the individual and/or any dependents.30 Further information on identifying victims of DA, in particular the presentation, symptoms, risk indicators, and behaviours that are associated with DA, can be found in a previous Guidelines in Practice article by this author, Top Tips: Identifying Domestic Abuse.31
Appropriate Enquiry
People experiencing DA may be at different stages of readiness to disclose abuse, and may minimise or deny it.32 However, research has indicated that victims of DA consider it appropriate (perhaps even preferable) that HCPs ask them directly and respectfully about DA in a private consultation, and may be more likely to disclose DA in such a situation.7,28,33 Victims of DA tend to prefer questions and responses that are nondirective, tailored, and appreciative of the complexity of their situation.33 Therefore, clinicians should always ask open, nonjudgemental questions and validate their patients' experiences, and may help a person to feel more at ease with disclosure by clarifying their concerns and any reasons behind them.7,28 If an interpreter is needed, a professional interpreter must be used, ideally one who has had DA training.7,34 
It is also essential that any enquiry into DA is safe, and that clinicians consider any associated risks.7 In this regard, remote consultations (that is, via telephone, video, or email) can be problematic, and should prompt clinicians to be more vigilant—it is harder to assess safety from a distance, and the perpetrator may be present.35 Remote consultations can be a useful alternative to face-to-face appointment, but their impersonal nature may deter people from voicing their experiences and it may be more difficult for the primary care team to initiate conversations about DA.35 Considering the continuing emphasis on digital-first primary care as part of the NHS long term plan,36 coupled with the sensitive nature and high prevalence of DA, further barriers may be forming to the identification of DA in primary care, which should necessitate a review of NICE guidance and common practices.
Once trust is established, safety has been considered, and a clinician has decided to enquire about DA, they may benefit from using the flowchart from Responding to domestic abuse: guidance for general practices, a resource produced by the RCGP, SafeLives, and Identification and Referral to Improve Safety (IRIS). This flowchart is intended to guide next steps following an enquiry about DA.26 
Responding to a Disclosure
All practices should have a simple care pathway that clinicians are able to follow after the disclosure of DA. Clinicians are encouraged to identify DA through targeted enquiry and facilitate referral of victims to support services, as per NICE guidance,25 and in some areas an external specialist DA service practitioner may work with practices to enable this.7 Some practices may have a 'designated person' (either an external specialist DA service practitioner, or an internal HCP with the requisite training) responsible for a person's initial assessment.25,26
Following a disclosure, clinicians are responsible for identifying immediate safety concerns (for the victim and dependents), initiating safeguarding procedures as required, arranging a referral to (or an appointment with) the designated person for DA for initial assessment, and directing the victim towards appropriate specialist support.7,25 Clinicians should reassure victims that any discussion with them is confidential, and that the information they provide will only be shared with their consent, except in exceptional circumstances (for example, if there is a risk of significant harm to a child or adult).25 If a decision is made to share information without consent, or if consent is refused, an HCP should record the decision and its associated reasons in detail, and must be sure that the decision does not place someone at risk of greater harm.7,25 In this situation, it is always best to seek expert advice, for instance from the local Caldicott guardian.25 
When responding to a disclosure, it is important to undertake a risk assessment, such as the Domestic Abuse, Stalking, and Honour-Based Violence tool provided by SafeLives.7,25,37 In this assessment, a clinician should assess both mental and physical health, evaluating the extent of the person's injuries, any risk of further abuse, and whether referral to other medical services for treatment or escalation to the police is needed.7,25 The risk of further harm to any children or vulnerable adults in the household should also be considered.7,25
A primary care clinician should not advise a victim to undertake any course of action, such as to leave an abusive partner, particularly if they do not have support in place.7,25 Ultimately, the decision is that of the individual, regardless of an HCP's opinion, and it is important that clinicians respect the wishes of people who decline further action at the time of disclosure.25 If a person is unwilling to engage with services, or is reluctant to disclose abuse, clinicians can signpost them to DA support services, provide a basic safety plan, and reassure them that they can return at a later time when they are ready.25,26
Correct Coding
It is crucial that HCPs record all relevant information (ideally, in the victim's own words), and code consultations relating to disclosures and DA correctly (as 'history of domestic abuse', in line with RCGP guidance).38 The consultation must be hidden from online access, as this information must never be accessible to perpetrators, and redacting it from the patient's record helps to prevent any unwanted visualisation of the content during access to records.38
Challenges Facing Primary Care in Victim Identification 
HCPs in primary care face many challenges in identifying and supporting victims of DA, including:
the fact that DA does not have a straightforward path like many other medical conditions (from symptoms, to diagnosis, to treatment, to cure)
reluctance to ask patients directly about DA, or uncertainty about how to phrase these questions
fear that breaching the topic will insult the patient, or lead to an escalation of violence
lack of personal confidence or relevant competencies
clinician burnout, escalating workload, and time pressures
new ways of working, particularly increasing remote consultations and decreasing face-to-face appointments.
Victims also face obstacles that could prevent them from disclosing DA, including stigma and shame, fear, financial implications, denial, misconceptions about DA, and a misguided perception that support is unavailable or the healthcare system is untrustworthy. 
Furthermore, it is acknowledged that the identification of DA is difficult, in part because its early symptoms are often vague, and victims may not be aware of their situation;2 this may be particularly true of instances of emotional, economic, or coercive control. These complexities go some way to explain the lack of disclosure of DA in healthcare consultations, despite national policy calling on clinicians to identify and discuss DA wherever possible.
How Can Primary Care Overcome These Challenges?
There is no 'one-size-fits-all' approach to dealing with DA, as it is a complex issue and the root causes are multifactorial. However, the World Health Organization encourages the health sector to play an active role in prevention, emphasising that sustained, multilevel, community-facing interventions need to be implemented and targeted at individuals of all ages and walks of life to change the social climate and bring DA into the open.1,3 Table 1 outlines some potential interventions, at various levels of society, that may improve DA outcomes.3
Table 1: Socio-ecologic Grouping of Proposed Interventions to Tackle DVA in the Community Setting3
Level
Example Intervention
Scale/Reach
Individual (Micro Level)

Personal empowerment
Self-referral/online referral
Counselling (medical, psychological, legal)
Coping strategies when abused.

Home setting
Relationship (Meso Level)

Friendships/community support
Individual social responsibility in the community
Mentoring
Teaching/skill-building programmes
Rehabilitation.

Education, workplace, and community settings
Community (Meso Level)

Use of screening tools for early identification
Increased visibility of existing support services
School curriculum
Education and training initiatives
Workplace support
Online resources
Free helplines
Awareness-raising campaigns
Police protection orders and the prosecution service.

Societal (Macro Level)

Promoting social norms
Policies and legal framework to support victims
Funding, charities, and supportive services, including safe spaces
Advocacy.

Social milieu, society, and culture
DVA=domestic violence and abuse
Sivarajasingam V, Webber I, Riboli-Sasco E et al. Investigating public awareness, prevailing attitudes and perceptions towards domestic violence and abuse in the United Kingdom: a qualitative study. BMC Public Health 2022; 22 (2042).Adapted under the terms of the CC-BY 4.0 attribution licence.
Raising Awareness and Providing Education
Raising awareness and sharing information about DA, among both healthcare staff and the general public, is a fundamental step primary care can take towards better identification and support for both victims and perpetrators of DA.
For all practice staff, particularly HCPs, education and training on DA is essential,7,26,27 and compulsory training—especially during inductions for new staff—should be standard for all. DA training for primary care should cover how to safely ask about, respond to, and record instances of DA, as well as how to identify, refer, and follow up with victims of DA, but more specialist training could be useful for certain staff members.7,26,27 It is worth bearing in mind that greater factual knowledge about DA among HCPs does not automatically translate into a willingness to manage DA or increase referral rates to support services.39 Nevertheless, combined with follow-up training, long-term support of staff, integrated referral pathways, and system-level backing, this essential measure has the potential to improve detection, documentation, and referrals. Training can be provided in a variety of ways, including through programmes and modules organised by the RCGP (bit.ly/3ZfjnXO) and IRIS (irisi.org).7,26,27
Other simple measures that a surgery could implement include signposting local support services in case a victim wishes to self-refer, and promoting that the surgery is aware of DA and working to combat it, using traditional means (such as via posters in waiting rooms or toilets) and/or digital methods (such as on the practice website, via social media, or in an e-newsletter). Introduction of 'safeguarding' as a recurring item on practice and clinical meeting agendas may also help staff to raise any DA-related concerns. All of these changes will hopefully help to break down the stigma surrounding DA among staff and patients alike, and alter their attitudes towards and perceptions of DA.
Supporting Staff, Including Staff Experiencing DA
Clinicians should always remember to look after their own wellbeing and promote self-care in practices, particularly in relation to DA. A 2021 study highlighted how the internalised stigma of abuse among female doctors affected their sense of identity and professional belonging, causing social and professional isolation.40 In this study, peer support and compassionate HCPs were identified as effective avenues of support.40 Therefore, any measures intended to improve awareness, understanding, and support in relation to DA would hopefully not only improve staff members' knowledge and skills, but also help them to reach out for support if they need it. 
It is best practice to implement a clear in-house DA policy, with details of available resources, how the policy would be carried out, how victims of DA can seek help at work, and any provisions, adjustments, or special safety considerations that can be offered in the workplace.7,41 Further accommodations and support may also be needed for staff who have experienced DA and are interacting with service users having similar experiences.7 
Screening in Primary Care
Routine screening for DA in primary care is a contentious issue; there is a paucity of evidence on its effectiveness and NICE does not recommend it, instead suggesting that HCPs should have a low threshold for enquiring about DA.34,42,43 However, proactive screening in primary care does have potential benefits, and may help to increase the early detection of DA, raise awareness, and give victims access to alternative routes of support.
A key argument in favour of screening is that asking all patients the same standard questions enables clinicians to ask more victims about DA and facilitate more disclosures, as research indicates that women experiencing abuse want to be asked direct questions about it by their doctors so that they can seek help.7,28,33 Indeed, the primary benefit of routine DA screening seems to be that it gives HCPs more opportunities to identify victims, particularly those who do not present with signs generally associated with abuse and those who are struggling to disclose their situation. 
Even if not using the tools for all patients, nonspecialist clinicians may also find it easier to initiate conversations without resistance when using standard screening questions instead of broaching the topic in their own words, especially during remote consultations. In addition, discussing DA in a standard way with more people could improve public awareness of the issue and assist in primary prevention for nonabused individuals, as well as prompting perpetrators to consider their own actions and seek support. 
Potential Screening Tools
Given the time constraints on consultations and the continuing use of remote methods, the use of screening tools that are brief and comprehensive and that have been tested on a diverse population may prove effective for many clinicians. There are a number of short, validated screening tools available for primary care use,44–48 a selection of which are outlined in Table 2. 
The short version of the Woman Abuse Screening Tool (WAST-Short) is a two-question, unobtrusive screening tool45,46 that can be incorporated into routine practice relatively easily. See Figure 1 for a potential workflow based on this tool. Crucially, the WAST-Short does not use words that describe violence directly and is very brief, so may be more acceptable to patients and clinicians alike. In fact, women experiencing abuse have identified these two questions as the ones in the WAST Questionnaire that they are most comfortable being asked, and clinicians have broadly reported feeling more confident in discussing DA when using the WAST Questionnaire.44,45 In studies, both the WAST and WAST-Short have demonstrated good reliability, validity, sensitivity, and specificity, and have effectively discriminated between abused and nonabused women.44–46 Training HCPs in administering a brief, nonthreatening DA screening questionnaire such as the WAST-Short may therefore be an effective measure for tackling DA in the community.
Table 2: Short Validated Screening Tools for DA44–48
Screening Tool
Details
Measurement
WAST[A]
Eight questions addressing physical, emotional, and sexual abuse

The first two questions have answers graded on degrees of tension (no/some/a lot of tension) and of difficulty working out relationships (no/some/great difficulty), and the other six questions are graded by frequency (never/sometimes/often)
Each answer receives a score of 1–3 (for a total of 8–24)
In general, scores of ≥13 are considered a positive result for DA, but this can vary.

WAST-Short[A]
The first two questions of the full WAST, intended to assess degrees of tension and difficulty working out arguments in a relationship and prompt further discussion (or use of the full WAST)

If the person says they experience a lot of tension in their relationship or great difficulty working out arguments with the person (the most extreme responses), it is considered a positive result for DA and warrants further investigation.

HITS[B]
Four questions assessing the psychological and physical aspects of DA (not sexual abuse)

Answers based on frequency (never/rarely/sometimes/fairly often/frequently) are graded 1–5, giving a score between 4 and 20
Score of ≥10 means the person is at risk of DA
In the original study, participants were considered victims of DA if their score was ≥10 for women, and ≥11 for men.

HARK[C]
Four questions assessing emotional, sexual, and physical abuse, based on the earlier AAS

Each question has a yes/no answer, with 1 point given for each 'yes'
A score of ≥1 is considered an indication of DA.

[A] Available at: www.mdcalc.com/calc/10396/woman-abuse-screening-tool-wast [B] Available at: www.mdcalc.com/calc/10417/hurt-insult-threaten-scream-hits-score

[C] Available at: www.ncbi.nlm.nih.gov/pmc/articles/PMC2034562

DA=domestic abuse; WAST=Woman Abuse Screening Tool; HITS=Hurt, Insult, Threaten, Scream; HARK=Humiliation, Afraid, Rape, Kick; AAS=Abuse Assessment Screen
Figure 1: DA Screening Questionnaire Workflow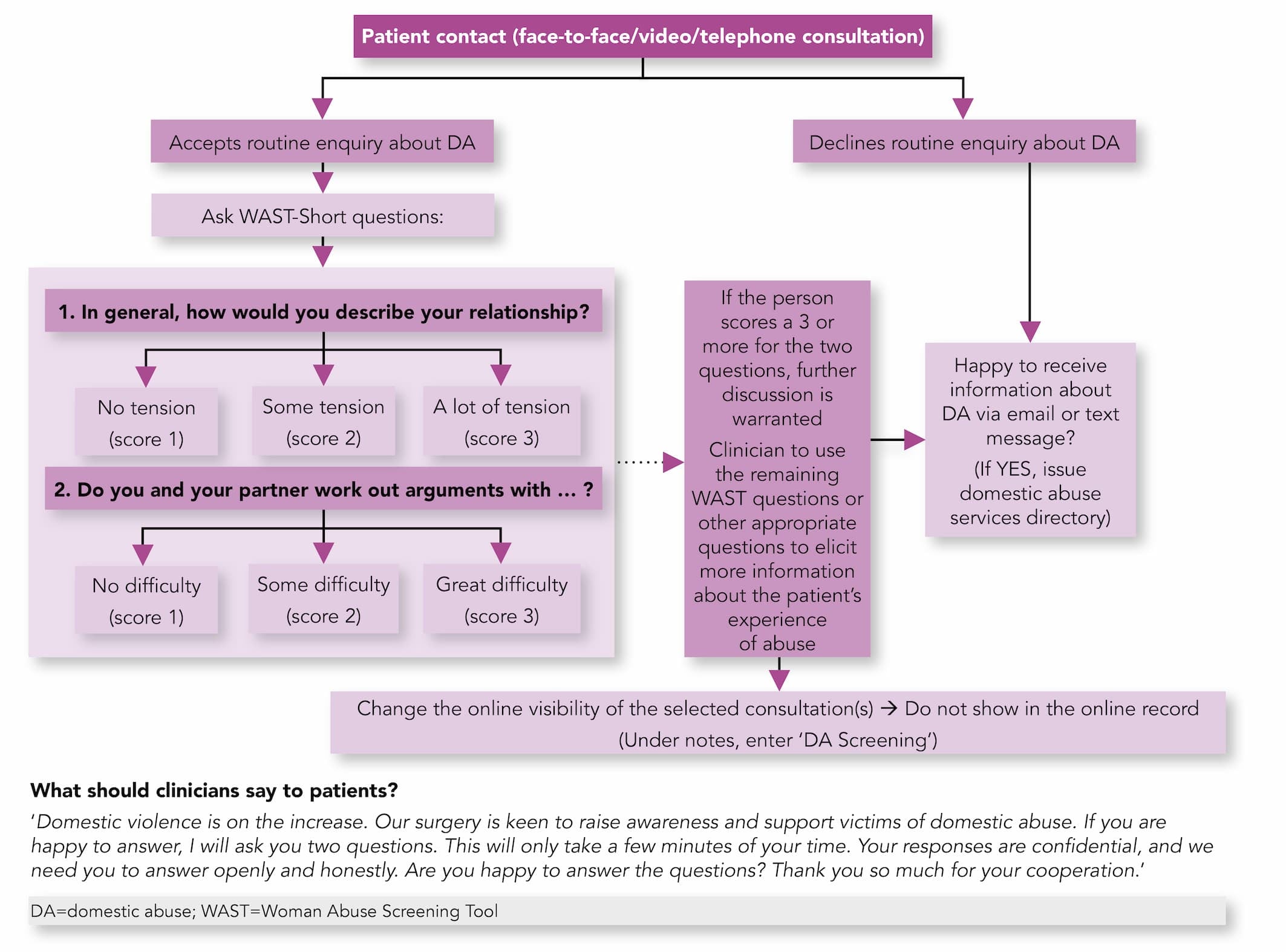 Other Considerations for Screening
DA screening can be implemented in various ways in primary care, and certain measures may improve it. Of note, provision of information about accessible support services during the screening process may help people who do not want to disclose their situation to HCPs, giving them alternative avenues of support and encouraging health-seeking behaviour. Self-administered DA screening may also be effective, and has been shown to be more cost- and time-effective than clinician interview.49 There is potential for introducing DA screening tools as part of annual health checks as well.
Barriers to Effective Screening in Primary Care 
In addition to the lack of evidence or endorsement from NICE, there are several other barriers facing the implementation of screening for DA in primary care. The lack of time for proper discussion in a normal consultation has been identified as a key barrier to effective screening, but there are a number of others, including the scarcity of:42,50
training and education
privacy
guidance and clear policies
support from employers.
Hopefully, appropriate training, clearer policies, and wider system support will empower HCPs to feel more confident and competent in identifying DA, and future research may demonstrate that the use of screening—potentially with short screening tools or self-administered methods—furthers this progress.
Summary
DA affects every layer of society and is an urgent public health concern. To tackle DA across the NHS, progress must be made on providing HCPs with mandatory training, making them aware of referral pathways and local support services, and ensuring that they have close working relationships with wider healthcare systems. The implementation of standardised DA screening questionnaires in primary care may improve early identification and support, as well as aiding prevention, raising awareness among nonabused individuals, and reducing societal tolerance of DA.
Key Points
DA often starts with unhealthy controlling behaviours, and—although people generally have a good understanding of the impacts of DA—many fail to recognise it in their daily lives
Victims of DA are generally frequent health service attendees, and often receive needless investigations and medications to address their symptoms 
According to the Domestic Abuse Act 2021, DA can occur between any individuals aged 16 years or over with a close intimate or familial connection, and includes any behaviour that is violent, threatening, controlling, or coercive, or is consistent with sexual, physical, economic, psychological, emotional, or other abuse
Identifying and addressing DA—among both victims and perpetrators—is a core responsibility of the primary care team, and HCPs must prevent, identify, and respond to DA, while also addressing children's exposure to it
Education and adequate training of HCPs on how to safely question, respond to, refer, record, and follow up with people affected by DA is essential for improving the health system's response
Clinicians should ask about DA directly and respectfully in a private consultation, using questions and responses that are nonjudgemental, nondirective, and tailored to the individual, and recognise the complexity of their situation
All practices should have a simple care pathway for clinicians to follow after disclosure of DA, allowing for appropriate safeguarding measures, risk assessment, and commencement of healthcare support
All DA should be coded appropriately in clinical systems, with DA consultations hidden from online access and inaccessible to perpetrators
Practice staff who are victims of DA also require support, and practices should have clear policies that enable them to disclose DA and access resources, services, and workplace accommodations as appropriate
Screening for DA in primary care has the potential to enable the early detection of abuse, increasing opportunities to identify victims, facilitate their disclosures, and offer them access to medical, mental health, and community resources while also providing clinicians with a short, simple way to broach the topic of abuse
Screening may also increase opportunities to identify individuals with less clear signs and more complicated situations, notably relating to emotional, economic, or coercive control
There are a number of validated DA screening tools available for primary care, including WAST, WAST-Short, HITS, and HARK.
DA=domestic abuse; HCP=healthcare professional; WAST=Woman Abuse Screening Tool; HITS=Hurt, Insult, Threaten, Scream; HARK=Humiliation, Afraid, Rape, Kick