Underuse of the expert knowledge of locally based directors of public health has led to the UK's most vulnerable populations suffering disproportionally as a result of COVID, according to Jeanelle de Gruchy, who heads the Association of Directors of Public Health (ADPH).
Dr de Gruchy, who is also Director of Public Health in Tameside and Glossop, Greater Manchester, is frustrated by what she sees as a lack of understanding of the role of public health, by both politicians and even the medical profession, which limited the involvement of directors of public health (DPHs) in the early stages of the pandemic response to identify and support the most hard hit communities.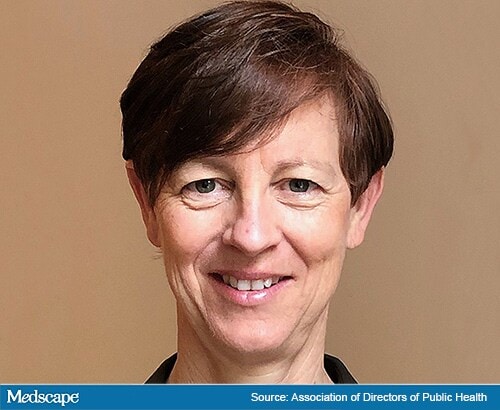 Part of the difficulty, she believes, is the existence of a two tier public health system consisting of the national organisations that work with the Department of Health to commission a range of public health services nationally including immunisation, alongside the directors of public health who have been based in local government since 2013. The Government announced the abolition of Public Health England in September, but its successor - the National Institute for Health Protection - is not yet up and running.
"We're probably some of the few people who understand the two systems and how they come together," says Dr de Gruchy. "That's why we're so exercised when nationally the response has been to develop systems outside, rather than strengthen, build on, and finance the public health systems we already have."
A King's Fund analysis reveals that like-for-like public health spending in cash terms was virtually the same in 2019-20 as in 2013-14. The Health Foundation says that this translates into a reduction of almost 25% in spending per person from 2014-15 to 2019-20.
South African-born Dr de Gruchy qualified in medicine at the University of Cape Town and worked in a number of clinical roles in South Africa and the UK before completing her public health training, including 12 months at the Department for International Development. Her passion is health equality.
Q&A
What do you count as public health's biggest success so far in the handling of the pandemic?
The whole system has done a fantastic job. By that I mean Public Health England (PHE), the directors of public health based in local government, and the academic parts of public health. But it has been demoralising to have the abolition of PHE in the middle of it all, which suggests that its role was not well understood by Government and that it was not well funded to respond adequately and to scale.
As far as DPHs, public health teams, and local areas are concerned, we've done an incredible job in stepping up to be visible leaders in our local communities, working with other parts of the public sector on areas such as PPE, testing, vaccination, as well as contact tracing and outbreak management. We advise a wide range of partners, front media events, and support political leaders in difficult decisions.
What's the most difficult decision you have had to make? 
The most difficult times for me have been when I have had to provide an expert public health view into decisions around bringing in restrictions that will, in the short-term be damaging to the economy and to children's education, but which in my opinion need to be taken in the medium and longer term. Being able to convey the course of a disease, what we see coming, and the need for action now, is a tricky one.
What are the challenges you yourself have faced in getting public health's voice heard in the national COVID response?
The main challenge is that people do not understand what public health is. That is general  in the NHS too, meaning that, going into a pandemic, public health was under-valued and under-funded. So we DPHs did not have a voice in planning the response for a very long time, despite trying to make the case for why we needed to be involved. Before the reorganisation of public health in 2013 DPHs were leaders of vaccination, but now we have a statutory role in assurance and reducing inequalities but we have not really been involved in designing the programme, which frustrates me.
How has COVID heightened inequality?
This country has got health inequalities and the epidemic has shone a light on these as well as exacerbating them, and that will continue for some time to come. Being DPH in a place we can see how the social determinants of health are pertinent, even with infectious diseases. If you are on a zero hour contract, in multi-occupancy housing, you don't have money or access to the internet or education, these factors all increase your chances of contracting COVID, as well as other underlying conditions in those populations.
What about vaccination? 
We have to pay particular attention to who isnot vaccinated because often they are the most vulnerable. We need to understand about their beliefs. We have anecdotal evidence that certain BAME groups have vaccine hesitancy and we do not know who or where they are because the system does not record ethnicity very well.
Has local public health knowledge played a sufficient role in influencing national decisions such as school closures?
Not in the early days. These decisions need to be taken by national and local expertise working together. What has happened is decisions are designed in silos by Westminster, handed down to us locally for us to put together as a coherent strategy and operation. If we were involved in the actual design at the start that would be much more effective.
If healthcare only contributes to 10% of our state of health, should we be tackling social determinants to minimise future pandemics? 
Totally - at the moment our big worry is about people who should be self-isolating. The reasons they give for not doing so is that they are on zero hour contracts, they will lose their jobs, or if they do not work they will have no income. Some countries have put effort into paying people to self-isolate but this country has limited its financial input and imposed very strict eligibility criteria. The consequence is that we have people going into work who are either COVID cases or contacts of cases.
Is vaccination the magic bullet against COVID and inequality? 
There is no magic bullet. We need a combination approach because vaccination is not going to give us 100% protection. It's an amazing achievement - the science, the production, and the roll out - and worthy of much optimism, but it's going to take time. With the different variants we may be able to adapt the vaccines over time but we may have to continue to vaccinate and to pay attention to who is NOT coming forward where transmission continues. Testing, isolating, social distancing, hand washing, and mask wearing will continue for some time to come.
The ADPH called on the Government to draw up a 6-month exit strategy from restrictions. What should that look like? 
We do not know how long the restrictions will last because there are many questions still unanswered about COVID and its behaviour. So we need a public narrative that is both hopeful and realistic, with some pragmatism thrown in. A strategy needs to include support for businesses and for individuals without incomes, a well-functioning test trace and isolate system, vaccination roll out, and attention to inequalities.
Isn't communication the key to keep the public on side? 
'Eat out to help out' was pretty clear, but was it the right message? Part of the difficulty has been the conflicting messaging emerging from Government. There is more that can be done nationally. From the public health point of view, more can be made of opportunities to communicate during interventions rather than regarding them as performance activities.
Should the medical profession be planning to work differently? 
It's not my field, but we are going to have to take stock. If it's not this pandemic it will be another one, and we have to look at how we reduce nosocomial infection for sure.
Benjamin Disraeli said: "The care of the public health is the first duty of the statesman." Has the state done its duty by public health over the past years?  
Yes. Having the NHS is a huge part of that and absolutely reaffirms what this country has got right. However, the NHS and its treatment approach does tend to dominate the public state response and in terms of prevention it does tend to privilege the secondary and tertiary prevention. What the NHS is not good at is primary prevention and dealing with the social determinants of health.
How has COVID affected you personally?
I was supposed to get married in January back home in South Africa with my parents. Instead, I and my partner went for a walk and the snow came down like confetti.
My partner is a nurse and I can see the tensions between her focus on the individual patient and mine on the population.
What keeps you awake at night? 
For this country it's the huge impact on society and the economy. I can see that and it is worrying. Personally, I worry about South Africa and my parents, because I do not know when they will get vaccinated and when I will get to see them.